Every once in a while, I'll browse around for events going on in Boston that might be of interest to me. And then I'll see something and never wind up actually going. But when I saw an event on Eventbrite titled The Key to Getting What you Want, I was intrigued. Everyone wants what they want, but how in the world do you get it?After reading the even't's description I realized that it was geared towards dating, social skills, and communication which, hello, also intrigued me. Being single in Boston isn't the simplest thing and when an event like this pops up, you just go. And bring a friend 🙂 I really wish I majored in psychology or sociology in college. I love knowing as much as possible about human interaction and why we act certain ways in different situations. And I also like learning how to possibly be a more normal human being so I figured, if nothing else, I'll at least get educated and improve my social skillzzzz.
I think dating is such a funny thing. When I was in my early 20s I thought it was actually fun. I looked forward to going on dates. Now, I kind of dread it. (I probably shouldn't be sharing this information on the internet, but we're all friends here). Dating can be awkward and uncomfortable, if you're not out with the right person. And, hayyy hayyy, I'm still single, so clearly I haven't gone on a date with "the right person" ever.
When you want to improve your social skills, who better to help you than founder of The Professional Wingman, a dating and lifestyle company that offers in-person meetings, Thomas Edwards. Getting dating advice from guys often blows my mind. It's pretty interesting to hear what they really think. I mean, I love talking to my girl friends about dating but getting the other perspective is always helpful. When a group of girls sit around and talks dating, it looks like a scene snagged right out of He's Just Not That Into You.
The event was held last Thursday evening at Via Matta and sponsored by Eventbrite where they served us ladies (and two gentleman!) beverages and some yummy appetizers, too.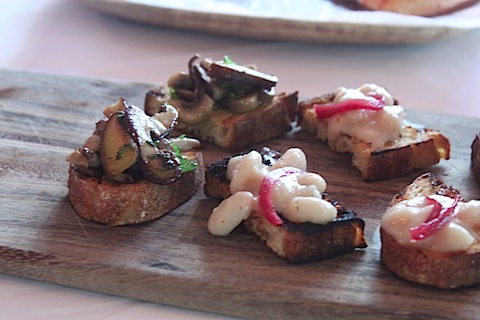 Now, more of Thomas's talk. I'll try to keep this short! I took over 4 pages of notes since my ticket was comped by Eventbrite to cover the event but I'll share my most favorite pointers with you!
He started by sharing his story and how his company of three years came to be. After a bad breakup during his college years, he became a sponge when it came to personal growth. He read a lot (recommend The 7 Habits of Highly Effective People) and really honed his social skills for the rest of college. Doing this left him feeling empowered and now you can definitely say he is an expert in the field.
After learning how The Professional Wingman started, Thomas began to speak about flirting, which he described as behaving in a manner to attract or be attracted to another person. Flirting doesn't always have to be deemed as something negative, if it's done the right way. Just little things like making eye contact and being aware of your body language are naturally a good place to start.
My favorite thing Thomas said was "complementing and teasing should be equal." I can be pretty sarcastic at times (sometimes overly, hehe), so hearing that was kind of an eye opener. Compliment more! Noted.
He also pointed out that in Boston (and I'm sure most places), almost everyone is plugged in. Cell phones, Ipods, kindles, etc. If you sit on the train and look at around, it seems like everyone is looking down at some sort of electronic device. There's very little human interaction. He challenged us to just unplug and look around and take in our surroundings. Give off good energy and optimism, or "E and O" as he called it. Smile at strangers. I've tried this many times before and it's oddly satisfying.
I think the overall message I took home from Thomas's presentation was to just be more aware of what I'm doing and how I present myself and my body language. Half the time I walk around town on a mission to get things done and very rarely even notice who else is around. And I also loved how he opened the conversation up and encouraged questions. I joked around that it was like dating therapy 😉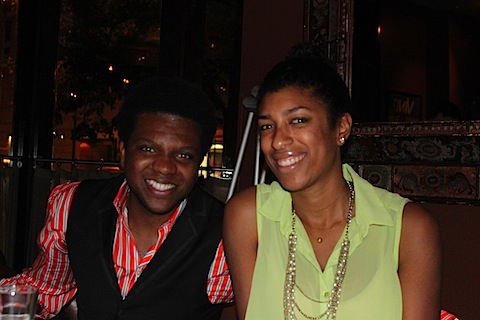 This is a makeup-less me with Thomas, hehe.
To all you single ladies: What are your tips for surviving singledom in your city?
You can follow The Professional Wingman on Twitter and on Facebook.
You can also follow Eventbrite Boston on Twitter and Facebook to stay up-to-date on all of their events happening in and around Boston! Lots of fun (and educational!) ones coming up!
[Chels]