I can't even describe my excitement when I walked by a "coming soon" sign for The Meat House a couple months ago. The Meat House? In Coolidge Corner? Under the gym? This could be awesome and maybe kind of dangerous. Then, my sister was on her way home from hanging out by our pool this afternoon and sent me a text: "The new butcher is open!" It took about .5 seconds for me and Chris to get off the couch and run down the street.
We were that excited.
First of all, when we walked in, everyone was SO friendly. We were handed wrapped samples of marinated steak tips to take home with us and encouraged to indulge in the samples that were offered around the store.
One of the partners of The Meat House, Chris, gave us a tour around the store and answered any questions we had.
The Meat House has pretty much any kind of meat you can imagine. From beef, to pork, to poultry, and on and on and on. Their deli cases are absolutely beautiful! And they do carry some organic meats as well.
They also have plenty of fancy meats that you don't even have to do anything to prepare, like these beautiful beef florentine.
Speaking of meats you don't have to do anything to, they have a HUGE selection of marinaded meats. I love these because they're perfect for keeping in the fridge or freezer when I don't feel like cooking, but still want a meal involving meat.
They also carry all the Boar's Head deli meats and make deli sandwiches, too. I see a few midweek lunches happening here!
Check out their back kitchen. I need that grill in my house. It was revealed to me that once the Meat House gets situated in the neighborhood, they could possibly be doing some kitchen demonstrations (the demand for this would be SUPER high in Brookline!).
If all this meat isn't enough to get you excited (or if you're a vegetarian), don't worry- The Meat House has PLENTY of goods for you to fall in love with. Pretty much all of the products they sell are local products. Their produce is from Brookline's Allandale Farm and Watertown's Russo's.
How about pretty much any Stonewall Kitchen product you could desire?
You know how we feel about the Stonewall Kitchen here at We are not Martha, so it makes me happy to have all their products so accessible to me.
Seriously, all of them.
The Meat House also has their own line of spices and herbs.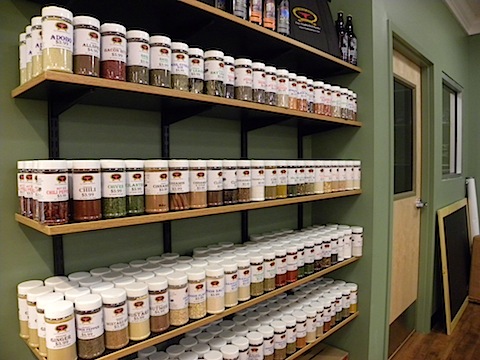 Pretty much anything you could ever need to fill up your spice rack.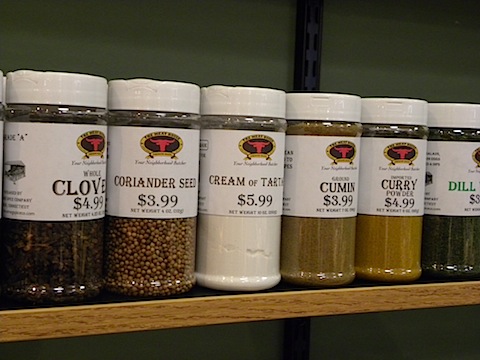 Oh, and can we talk about the craft beers and amazing selection of wines?
The wine is all pretty moderately priced, with most coming it at under $20. And I was told the selection is unlike what you'll find at other places. I did happen to see one of our favorites, Layer Cake 🙂
There are also rumors The Meat House will eventually be having wine tastings. I'm so there!
This is one of my favorite features: The Ariston olive oil and balsamic station!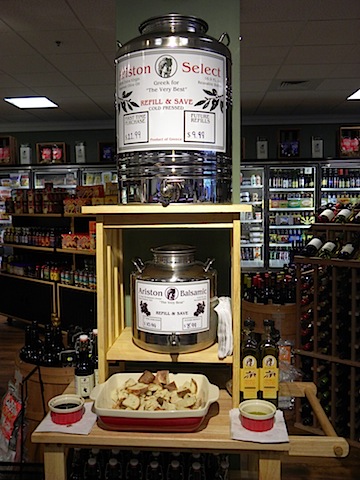 Olive oil makes me all kinds of happy. You can pour your own bottle and then come back when you run out. Which is pretty much once a week for me.
Look what else I spotted?! popchips!! You have to love a store that carries popchips.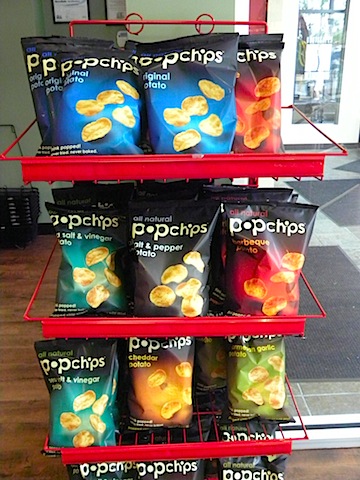 And Emack and Bolio's ice cream! Sure, the ice cream shop is only down the street and Washington Square, but now everyone in Coolidge Corner has it right at their fingertips!
So basically, this store is so much more than I thought it would be. Yes, it's glorious meat, but it's also an amazing selection of local products. I definitely see myself popping in to The Meat House for a some fresh produce, a container of hummus (Joseph's!), baked goods (Emily's Bakery), local cheeses, a chicken pot pie (what? I LOVE chicken pot pie), or a 6-pack of beer or a bottle of wine.
In fact, Chris and I bought quite a nice selection of foods to stock our fridge up with. We got some marinated meats, some ground lamb, beer, cheese, and more. Having The Meat House in the neighborhood is basically a dream come true to a cook. Especially a cook who hates buying meat at the grocery store because she has no idea what she's doing and nobody wants to help her.
Welcome to Coolidge Corner, The Meat House!
The Meat House
1285 Beacon St.
Brookline, MA 02446
[Sues]