Of course you don't need a valentine in order to celebrate Valentine's Day in a big way. Maybe you'd rather just celebrate with a bunch of friends anyway. Right? And maybe you don't feel like making a glorious 4-course meal. Who needs that? We kinda think you should just have a pizza-making night instead. Pizza? Alcohol? Friends? Seriously, what's not to like?
If you have one in your area, Bertucci's has the best pizza dough, which they happen to sell very cheaply. Otherwise, you can probably get it from your favorite pizza place or grocery store. So, pick up some dough and sauce and make sure you get a bunch of toppings so everyone can customize their own personal pizza. We had everything from mozzarella cheese, goat cheese, pepperoni, sausage, red and green peppers, green onions, and more. No relationship means no sharing!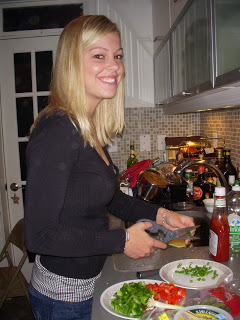 Sara doesn't think she can cook, but she was an awesome sous-chef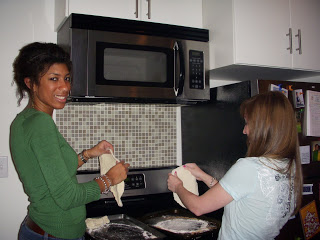 Chels and Katie hard at work creating the perfect pizza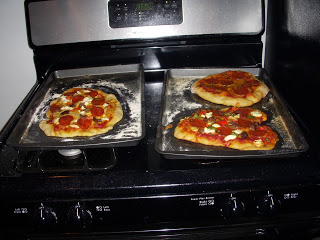 Pizzas right out of the oven

And if you really want to get into the Valentine's Day spirit, feel free to make your pizza in a heart-shape.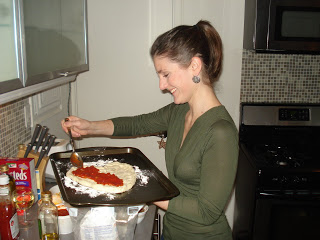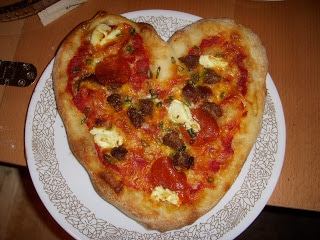 Erin managed to make the perfect heart!
(Or if you happen to be bitter toward Valentine's Day, you can cut that heart right in half when it comes out of the oven.)
Whether you're single or in a relationship, Valentine's Day is a time to love those you're close to. So, make sure you spend some quality time with your friends, whether you're making pizza together or ordering delivery from that place down the street.
Oh, and don't forget the wine. You'll want lots of it. 2 Guys Uncorked recommend the 2005 Los Vascos Cabernet because it works well with the cheese and toppings. Or the 2005 Ravenswood Zinfandel because…well, because it's 15% alcohol. If that's not a good enough reason, we're not sure what is. And we also can't quite think of a reason why you shouldn't just take both of 2GU's recommendations. It is Valentine's Day after all.
We meant to go out to the bars after our pizza, but we ended up just sitting around, drinking wine, and chatting until we looked at the clock and realized how late it was. Sometimes those are the best kinds of nights. Did someone say it was Valentine's Day? Oops, we must have forgotten.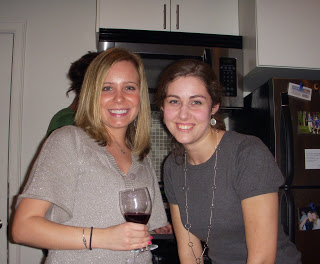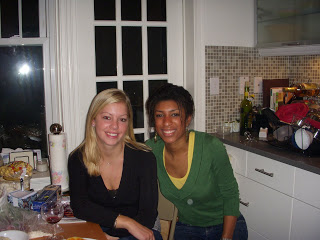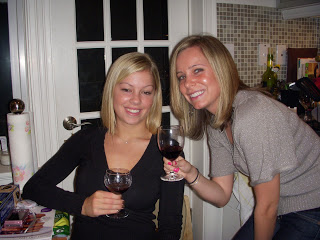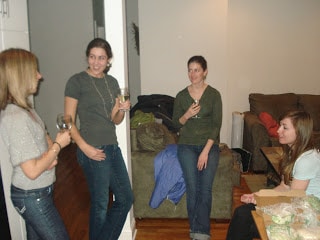 No matter what you do or whom you're with, we hope you have a fabulous Valentine's Day! And try to get some good food, good wine, and good friends in there somewhere <3
[Sues and Chels]