Finally! I've long been waiting for the Regal Beagle to open in Brookline's Coolidge Corner, ever since I heard about it on Grub Street Boston (my favorite website for the latest and greatest Boston food news). You wouldn't believe how ridiculously excited I was to check this place out. It finally opened tonight (after a few delays) and I knew I had to get there right away.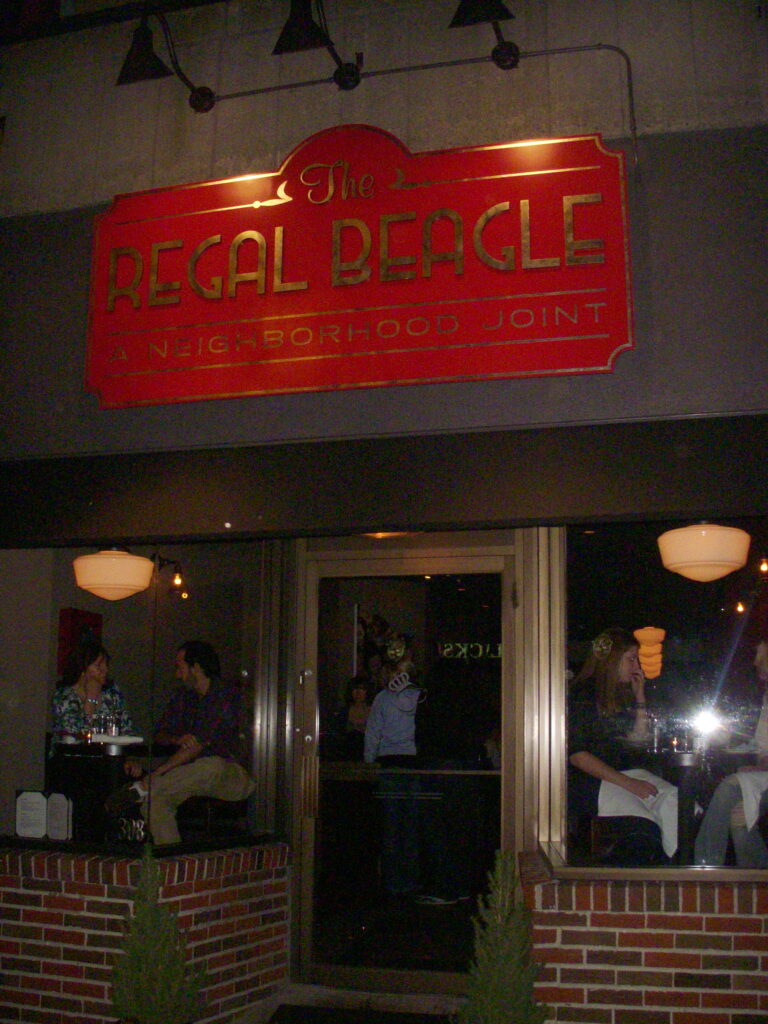 I've lived in the Coolidge Corner neighborhood for over 4 years now and, while I love the diverse food choices, I've never really found a spot that's exactly my kind of place. I've always wanted a place with a bar, but not a sports or college bar. A spot I can go hang out at with my friends, but that's also suitable for a date. A place with good food, but with options for all appetites and budgets. A restaurant that's classy, but not stuffy.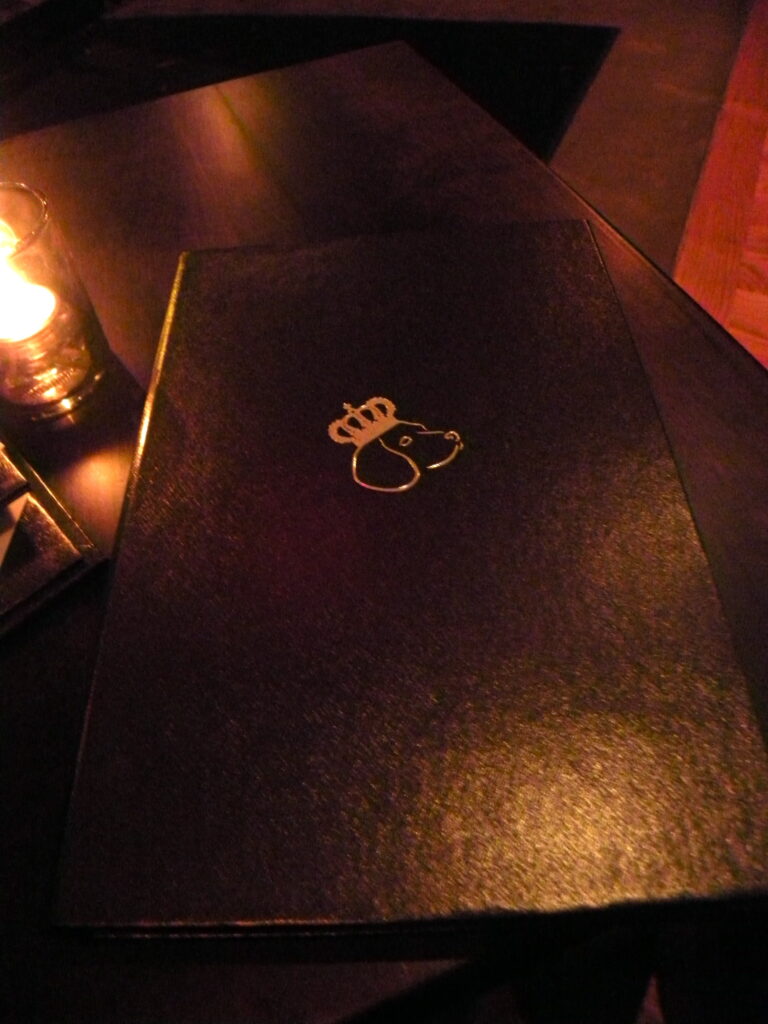 Welcome, Regal Beagle. The answer to all my wants. You might recognize the name as a throwback to the neighborhood bar on Three's Company. But the name and friendly vibe are all the two spots really seem to have in common. When we walked into the Regal Beagle tonight, we were greeted by two very nice hostesses who seemed genuinely excited for the grand opening of the restaurant.
There was about a 10 minute wait for a table, so they gave us menus and we took a seat in the waiting area. While we were waiting, another waitress came by to take our drink order.
The Regal Beagle has a pretty nice drink list; a wide selection of craft beers (but they really should have beer glasses instead of serving their beer in water glasses) and several fun cocktails too. I had the Girl Next Door, which was Absolut Ruby Red, Orange Liqueur, Fresh Squeezed Grapefruit Juice and Castellar Cava Brut. It was perfectly fruity and refreshing.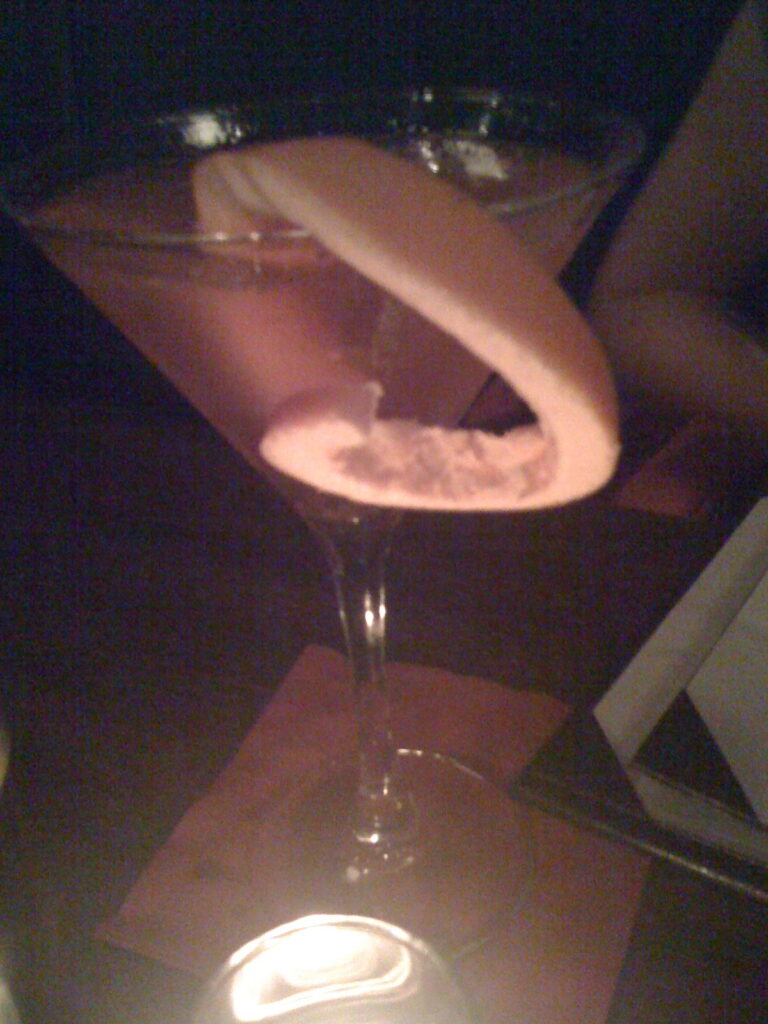 The menu consists of bar bites (which can be ordered as appetizers at the table), appetizers, and entrees. I love this because you can sit down and have a nice meal, or just pop in for a quick inexpensive bite if you just want something small.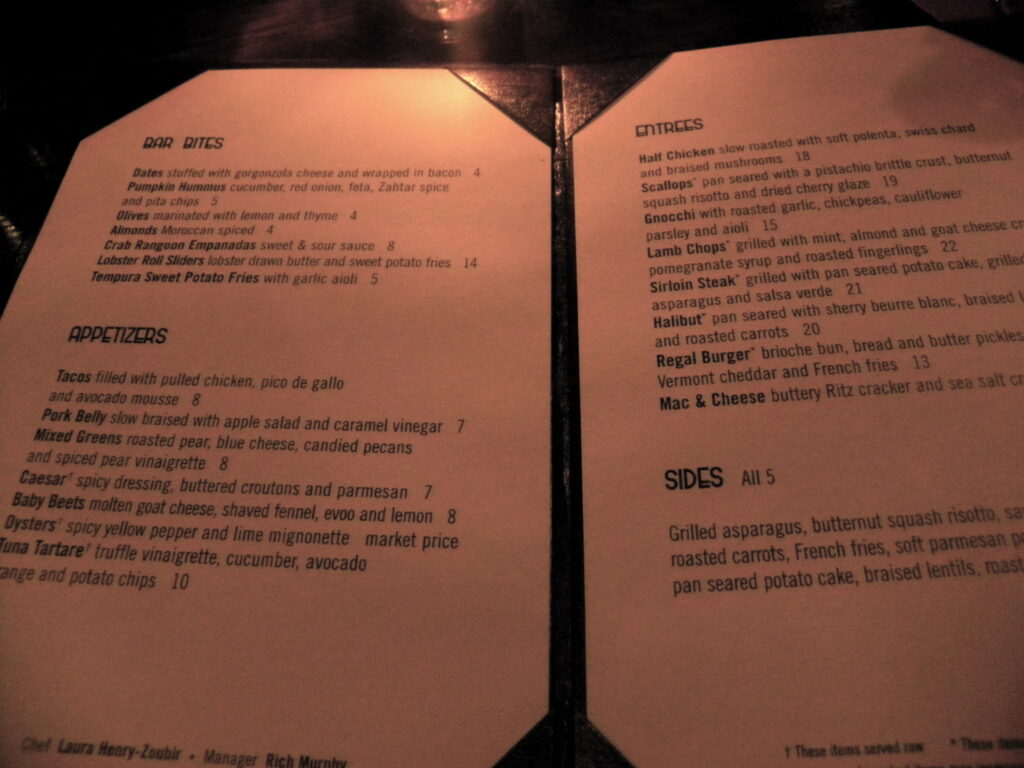 For an appetizer, we ordered the Pumpkin Hummus with cucumber, red onion, feta, zahtar spice, and pita chips. It hit the spot as a small appetizer; creamy and flavorful, but the pumpkin and spices weren't over-powering.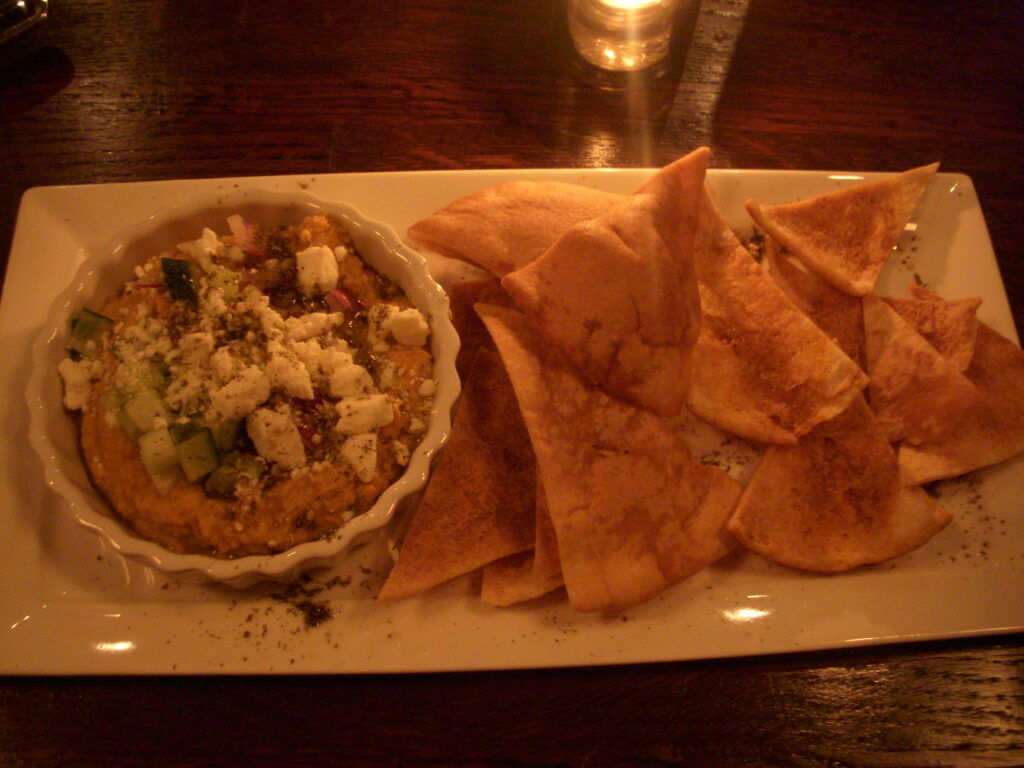 For my meal, I couldn't resist the Scallops, pan-seared with pistachio brittle crust, butternut squash risotto, and dried cherry glaze. Oh my God. Some may call it a little bit excessive, but I thought this dish was absolutely perfect for a nice autumn night. It was incredibly flavorful and I loved every bite of it. Every bite, I was trying to get a little bit of each part of the dish on my fork- a little scallop, risotto, squash, and cherry. And yes, I ate every single bite of this dish.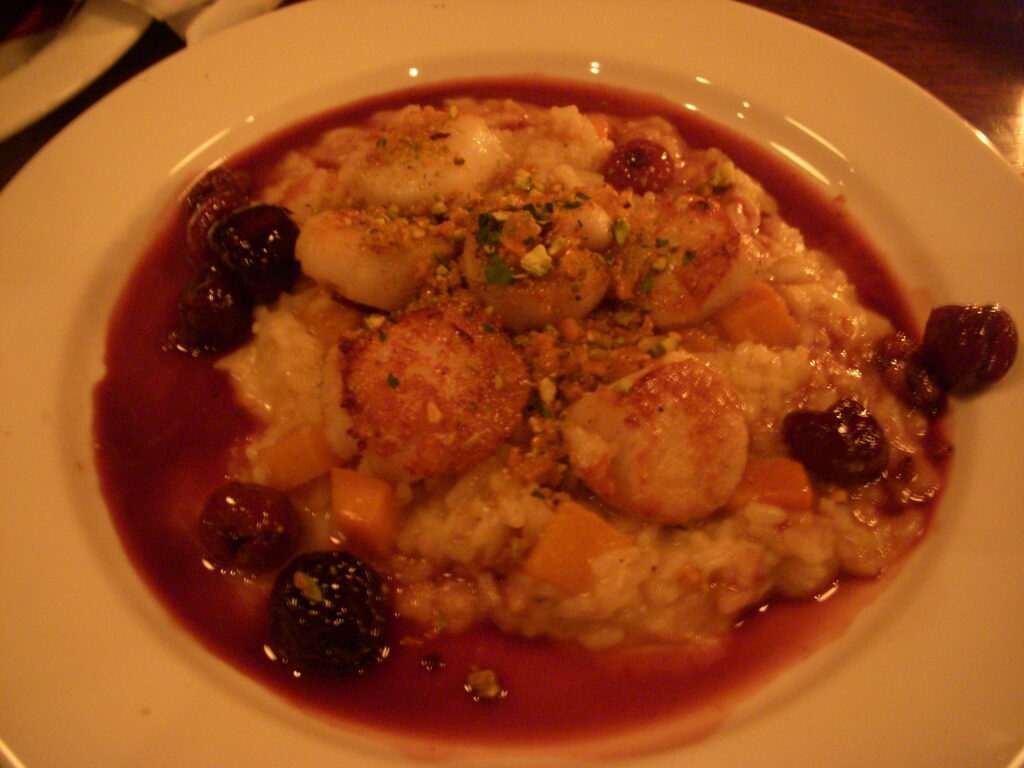 Chris ordered the Mac 'N' Cheese with buttery Ritz cracker and sea salt crust. Before we even sat down, the waitress said she loved it and a diner sitting at the table next to us said his friend had just tried and loved it. Mac and cheese is a no brainer when to it comes to wanting comfort food, but it's also something that restaurants tend to get wrong a lot. The Regal Beagle did an excellent job with their mac and cheese; it was deliciously creamy and they used a nice sharp cheese. It was a tad bit salty (but at least we know it was delicious sea salt) and could have used a bit of an extra bang. Perhaps a bacon or pancetta option? Or maybe even a seasonal veggie. Don't get me wrong, the mac and cheese was totally delectable; but didn't really compare to the scallops. I can't get over the scallops.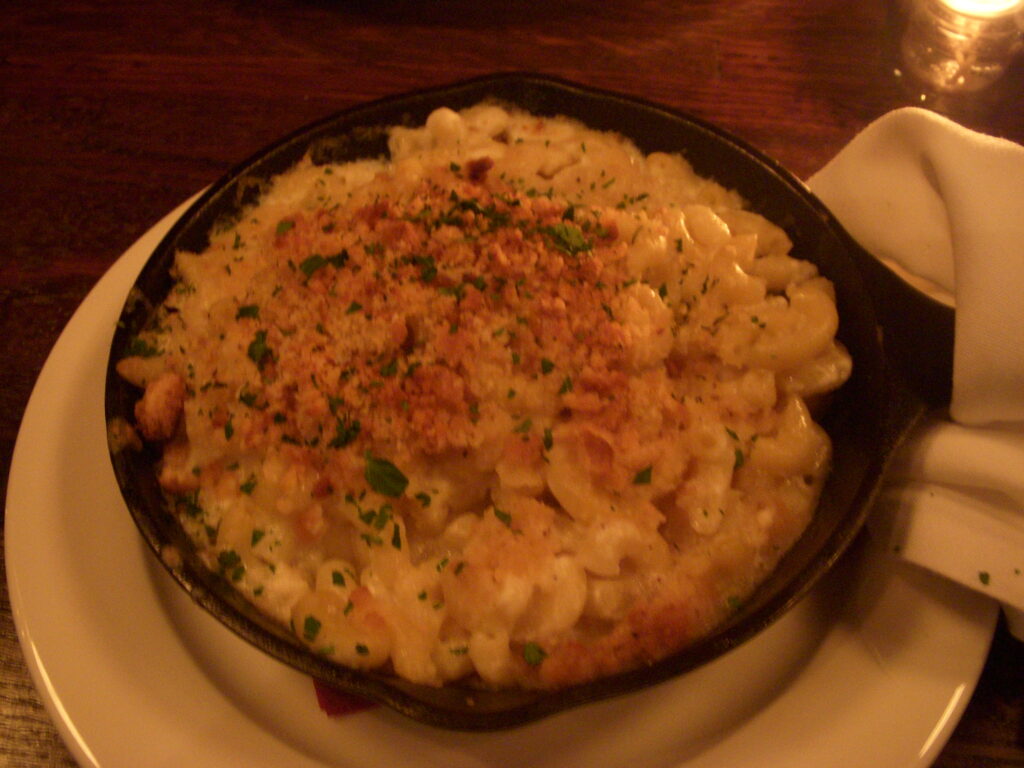 We really didn't need dessert and we almost didn't get it, but then we decided we had to try something. It was between the Pumpkin Creme Brulee and White Chocolate Bread Pudding with banana and blueberries. The bread pudding won out and we were soo happy we ordered dessert because it was another incredibly warm, comfort-food dessert full of flavor. Again, every bite was gone.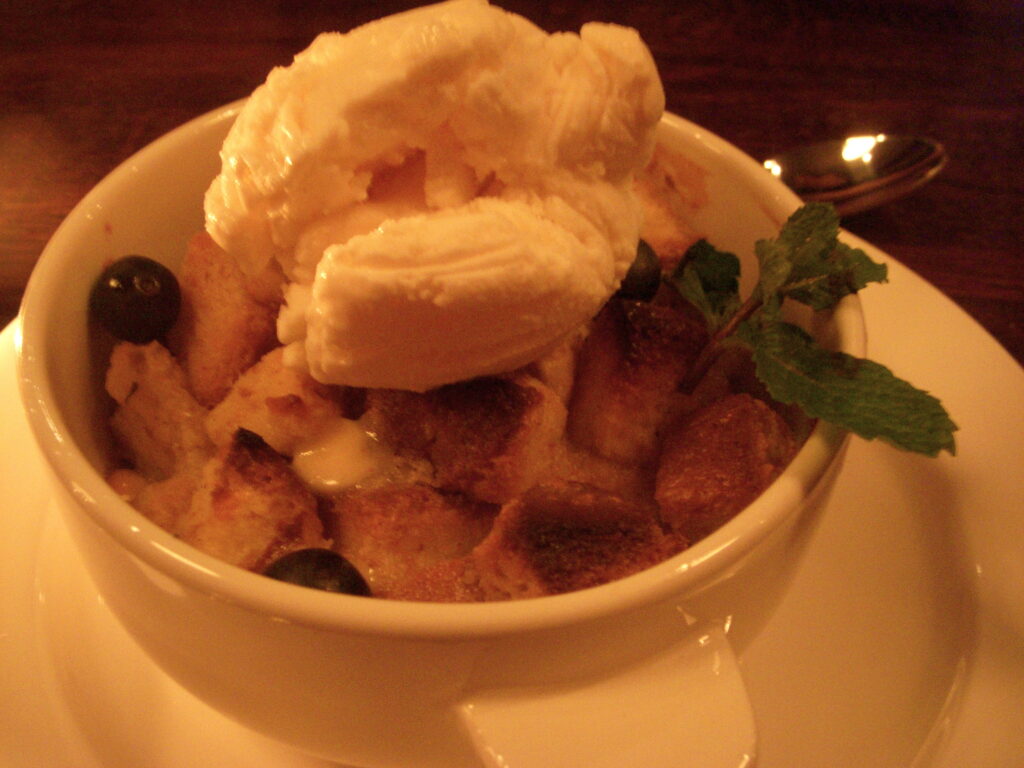 I really enjoyed the atmosphere of the restaurant, too. It's dimly lit with booths lining the walls of the narrow and long room. It was a tad bit noisy tonight, but the bar is set back in the restaurant and away from most of the tables, which is a very good thing.
The service was quite good, especially for it being their first night open to the public. It was slightly slow at times, but we actually expected it to be much slower and hectic. Everything seemed pretty well under control.
In case you can't already tell, I'm extremely excited the Regal Beagle has come to my neighborhood. I will definitely be heading back soon either for another meal, a few bar bites, or just a couple drinks. It's clear why they named the bar Regal Beagle; they're hoping it will become everyone's favorite neighborhood spot. And I have a feeling it will.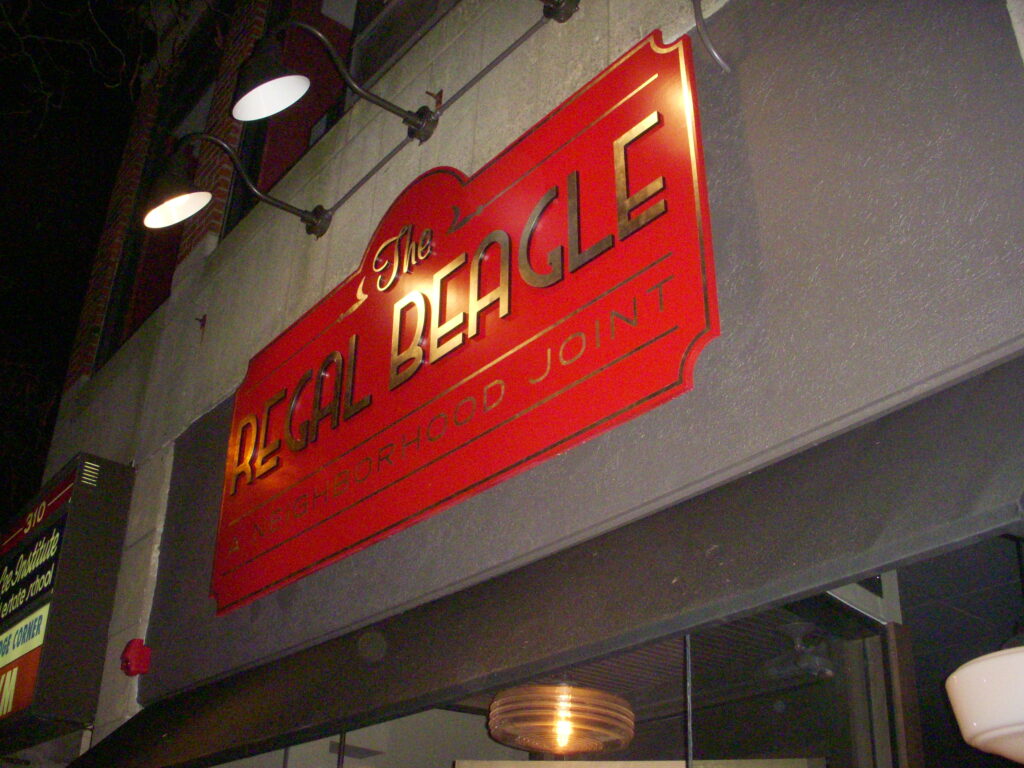 The Regal Beagle
308 Harvard St.
Brookline, MA 02446
Follow them on Twitter at @BeagleBrookline
Check out their full menu here.
[Sues]