Per the request of a handful of readers you're getting a little peek into my wardrobe and some style tips that I always find useful! Ooooo, ahhhhh. 😉
I'm not sure where exactly to start since technically I'm not even a fashion expert, but here are some of my personal tips on building a successful wardrobe and dressing yo'self:
Know who you are and be comfortable. I think when it comes to clothes, getting dressed, and coordinating outfits, you have to have fun and know what you're comfortable in. If any outfit requires a bunch of tugs and adjusting, it's probably not going to work out. You should never have to make an excuse to yourself for an outfit you want to purchase or wear… If it's not working, it's just not working, move on to the next thing. I'm 5'10" and I 100% understand that certain things just will not look right on me no matter how hard I try… I'm not about to squeeze myself into something just because it's "in style".
Layer, layer, layer. And layer again. And one more time. I've fallen in love with 100% cotton cardigans and vests because they go so well from season to season. Most of mine are from Madewell and they work wonderfully year round not to mention you get the biggest bang for your buck when you can wear something all year. In the Spring they can be worn without a jacket, in the Summer it can be your jacket, and in the winter, toss a shirt or two on underneath to create an entirely different look. I've lost count of all the different ways I've worn my gray vest and cardigans.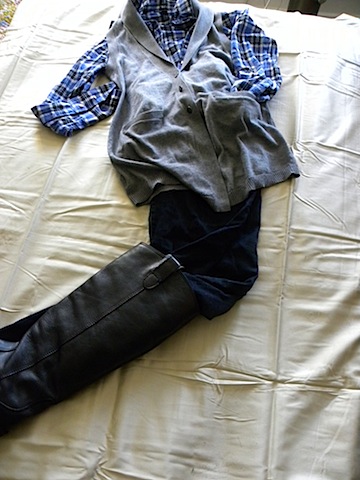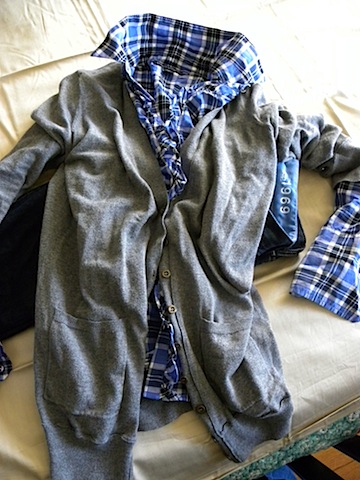 This top below is actually a summer racerback blouse that obviously wouldn't be suitable for Winter so I paired it with my gray cardigan. The navy blue cardigan below is paired with a short sleeved chambray shirt and shown with a couple of options for necklaces to add a little spice to it.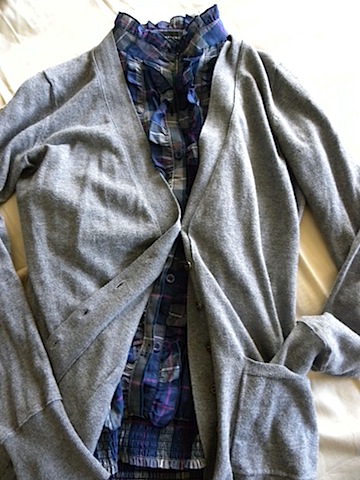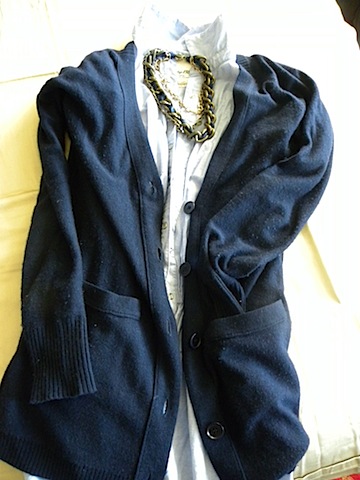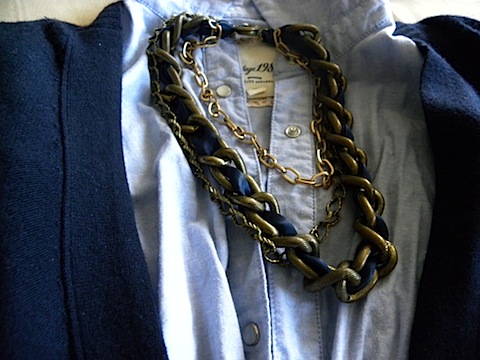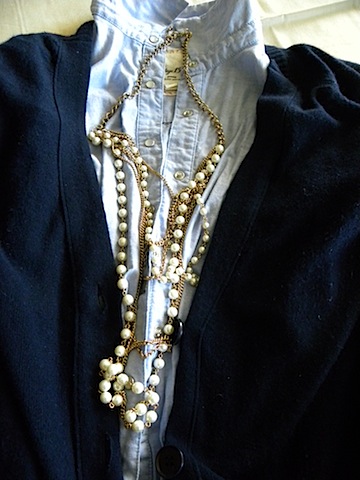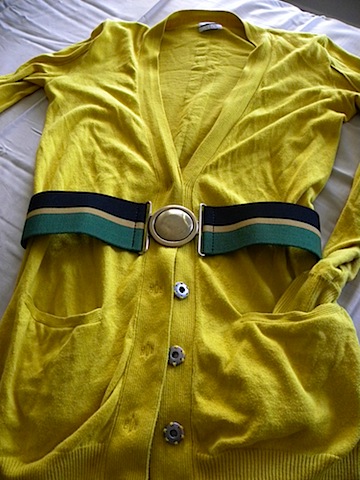 gray vest, Banana Republic
gray cardigan, Madewell
blue plaid ruffle shirt, Banana Republic
skinny jeans, Gap
black riding boots, Madewell
navy blue cardigan, Madewell
chambray shirt, Forever 21
blue and gold chain necklace, Banana Republic
gold and pearl multi-strand necklace, Forever 21
yellow cardigan and stretch belt, Madewell
Always be creative. This might be easier said than done for some people, but since I'm already in a creative field, I think it comes pretty naturally to me. Have fun with your clothes, mix and match. Notice relationships between colors, textures, and patterns. Look for uniqueness in clothes but find similarities between each piece in your closet to create new outfits. One of my other favorite "creative" things to do is take a cropped tweed pant and wear tights under them when it gets too chilly to wear them without tights.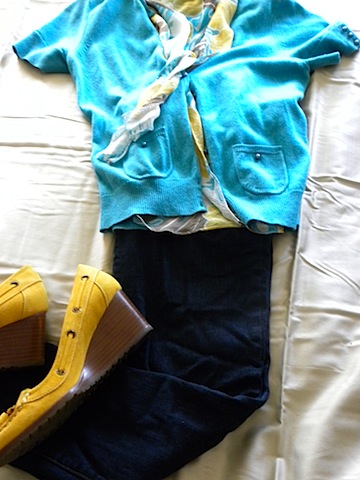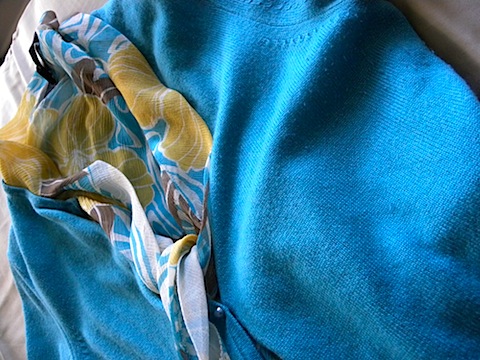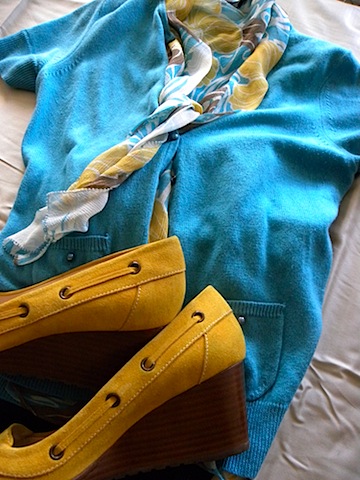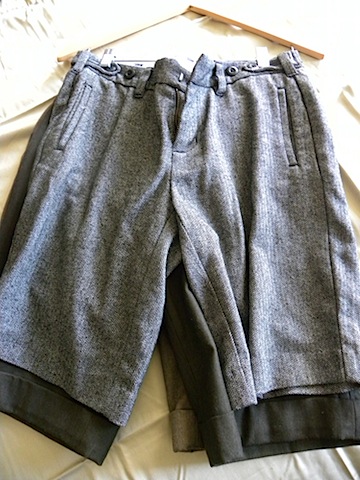 blue short sleeve cardigan, Express
blouse, Express
gold wedges, Cole Haan
cropped tweed pants, Gap outlet and Banana Republic
Don't be afraid of colors. Clearly I am not, I own a pair of yellow corduroys, yellow suede shoes, and… yeah… I just realized I own waaaay too much yellow. Bright colors pop on my skin, so find colors that compliment your skin-tone and make them work. So many people say "I just don't look good in colors"… clearly they've never looked at a Pantone book because there are more than the 6 colors of the rainbow that we learned about in kindergarden, folks. I took an entire course in college just about colors. You can find a color that works for you.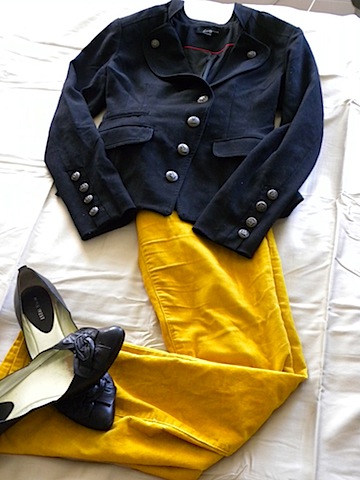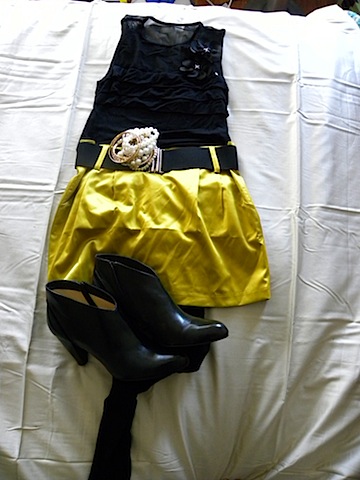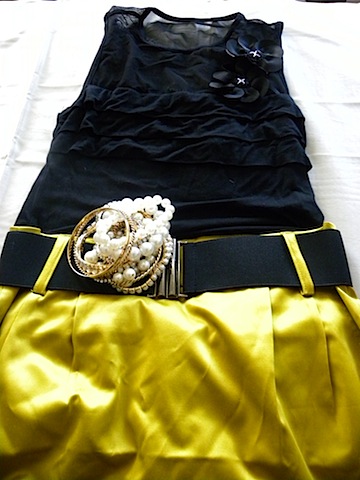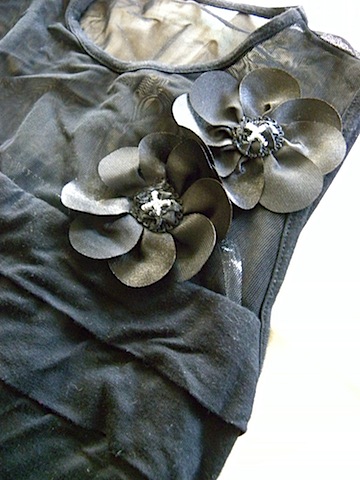 military jacket, Forever 21
gold corduroys, Gap 1969
ballet flats, Nine West
black flower tank, Forever 21
gold satin mini skirt, Forever 21
pearl and gold bangles, Forever 21
Your wardrobe must consist of classics. No matter how trendy you wish to be, I think it's important to always have some basics on hand. Solid, crisp, classic clothes that you can pull out of your closet for any occasion, especially the last minute ones. Growing up I was so horrible at this. I used to raid my sister's closet before we had any family function to attend because I never seemed to have "appropriate" clothes for the right events. As time went on, I really learned it's necessary. I mentioned finding similarities in each individual piece to create an outfit… notice below, the shiny black buttons go really well with the shine of the black patent pumps. Little things like this is what I really look for when I put outfits together. It makes outfits feel more cohesive.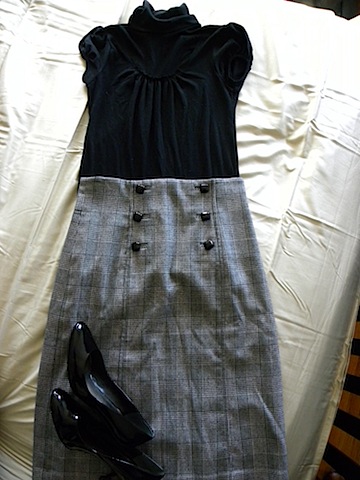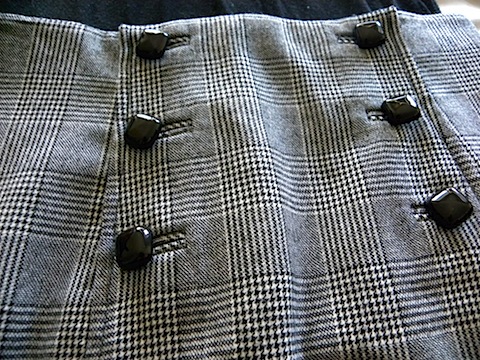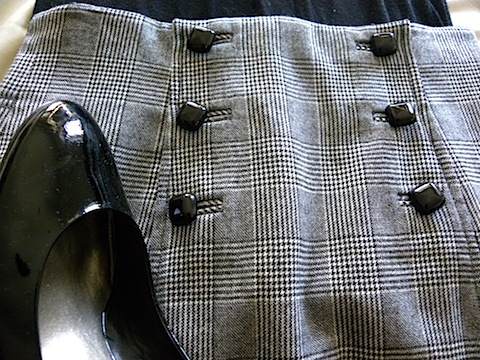 high waisted skirt, Banana Republic
black short sleeved turtleneck, Forever 21
black patent pumps, Nine West
Be bold. Okay, so this dress is bold to the max. If you're not comfortable wearing something that bold, break up the boldness by wearing a…you got it.. cardigan over it. This way the bright colors and pattern are just peeking out, instead of screaming out. I think a nice thin belt would look great over this too, just to cinch it at the waist so it hugs the figure a little more.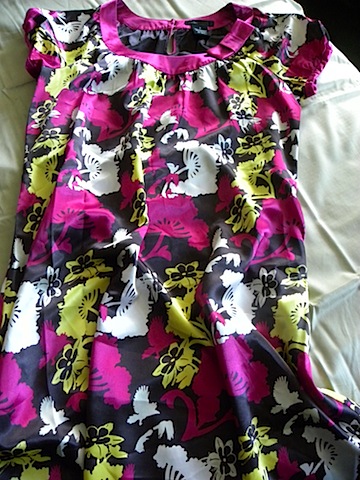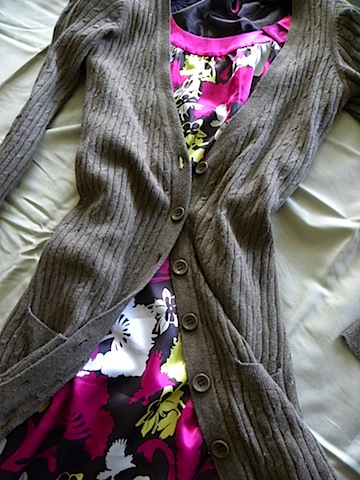 dress, BCBG
cardigan, Zara
Shoes. Ohhhh shoes. I actually thought I had a lot more Wintery type shoes, but as I photographed them I realized I wasn't as bad as I thought 😉 I bought my most favorite pair of brown riding boots a couple seasons ago and loved them so much I went back to get them in black. COMFY, versatile, and leather so smooth it feels like butter… the things I look for in a good boot 😉 (black and brown boots are from Madewell)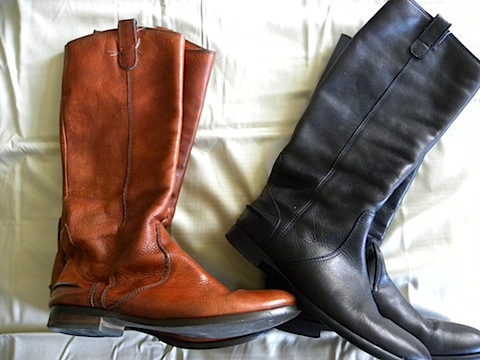 Two of my favorite pairs of sneakers. The only type of "athletic" sneaker I wear is to the gym. Any other sneaker I wear is fun and can actually be coordinated with an outfit other than sweats. I know Clinton Kelly would agree with me on that. (Coach and Converse)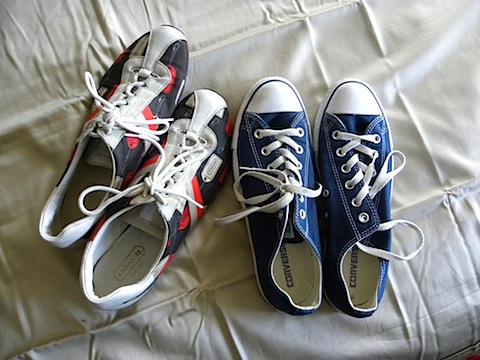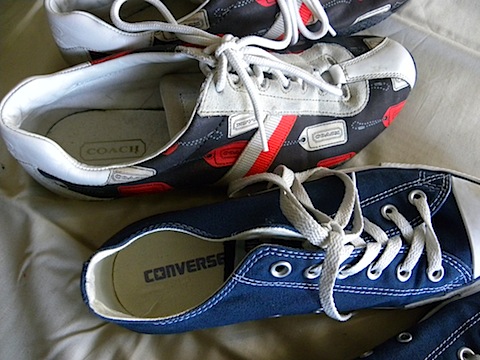 Dressy shoes. As I photographed this I realized I need a pair of brown pumps or something. (Nine West and Cole Haan)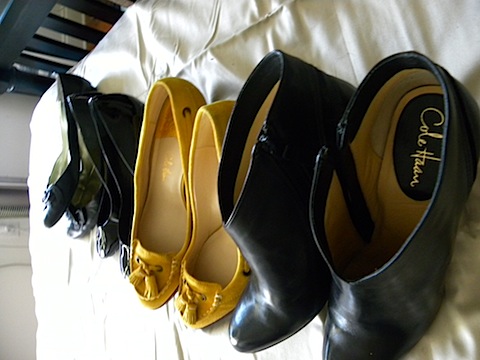 My Winter boots. I think I've warmed many a soul up to Sorel and "real" winter boots this season. A boot that is waterproof, has real traction, keeps your feet warm and actually looks cute. Lovely.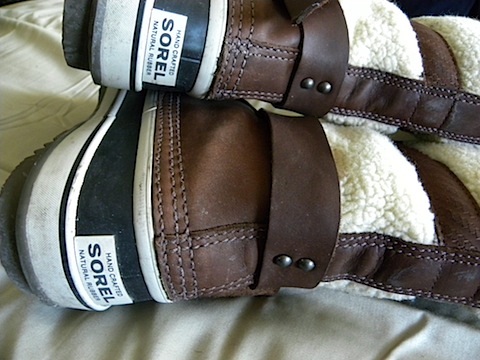 Accessorize like it's your job. No, really, pretend someone is paying you to accessorize because then you'll actually do it 😉 Cute hats, scarves, and jewelry are what will take an "ehhh" outfit to an "ooooooo la laaa!" outfit. Half the time I get compliments on my outfits, I swear it's just because of the way I accessorized. Take a basic pair of jeans, a fitted black tee shirt, and add a big chunky bright colored piece of statement jewelry or a unique scarf. I own a handful of really nice jewelry but, to be honest, most of it is from Forever 21 cause it's just so darn cute, fun, and inexpensive, and if it breaks I wouldn't cry cause it was probably only a few bucks. And for the record, none of my jewelry from there has ever broken and a lot of my nice expensive jewelry has had "issues".. go figure. Other places I find great jewelry are Banana Republic and J.Crew… wait for the sales though. As much as I love their jewelry I don't think it's worth the original price… but their sales are fantastic, so be patient.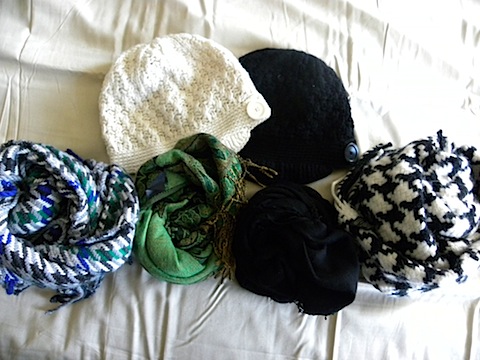 A sampling of my jewels 😉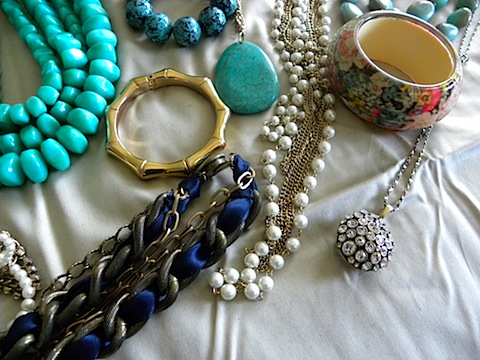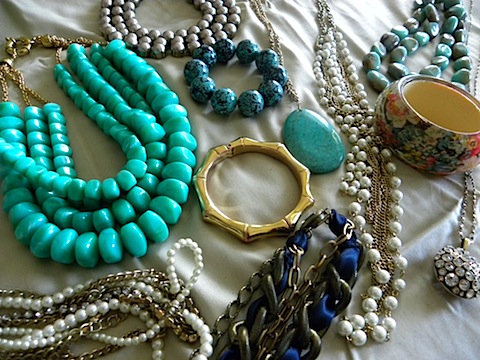 Be confident. This goes without saying. It's all about how you carry yourself and how you feel in your clothes… if you're not confident in what you're wearing, not only will you be uncomfortable, but it will show in your appearance. Strut your stuff and know that you look wonderful.
Other tips:
• I refuse to spend a ton of money on trendy clothes. This is why Forever 21 and sales at Macys were were invented. To me, spending upwards of $200 on a dress that is clearly just a trend of the current season, seems ridiculous to me. If you love something that much and don't have the money, wait for it to go on sale, because it will. Stalk it online, call the stores to see when the next markdown is, but do not purchase at full price if you know you won't get more than a handful of uses out of it.
• Things I will spend decent money on: STURDY boots, a wool winter coat, quality comfortable shoes, and a good everyday purse. Also jeans, to me, are worth the money since I wear them a lot and definitely get good use out of them. Although, now that the Gap has come out with their 1969 line of jeans I haven't purchased a pair of designer jeans since… love the new Gap jeans!
• Ask questions. And this is coming from someone who was borderline mute growing up…yes, I was shy. If you're shopping solo and try something on that you're unsure about, ask a sales associate or another customer in the dressing room for their honest opinion. People love giving their opinions, so take advantage of it. If you're out and about and see someone wearing a cute pair of shoes or coat, tell them you like it and ask them where they got it. People also love receiving compliments… and talking about themselves 😉 If you don't think you "look good in colors".. a) you're crazy and b) ask a sales associate in your favorite store to help you pick things out, or even go to a makeup counter and ask what colors compliment your skin-tone.
• Shop at the end of the season. I've found some of the best pieces at end of season sales. I recommend buying mostly classics at this time, just because you'll be more confident in knowing it will still be in style the following season. Winter coats, dresses, purses, shoes or boots are items to look out for since they'll usually run you the most money while they're in season.
• Take care of your clothes. Dry cleaning, stain sticking, air drying instead of putting clothes in the dryer, bringing shoes and boots to the cobbler at the end of the season to get cleaned and the heels replaced. These are a few things I do to ensure a quality life for my clothes. If you spend good money on a shoe, take the time to get them cared for, otherwise they're no good. Think of it as an investment. It's a given that your shoes are going to get banged up and scuffed so find a good cobbler who will repair them.
• Find a great tailor you trust… and make them your best friend. There have been a couple occasions where I've found a piece of clothing at a store that was dirt cheap on sale, but it was a size too big. I've just brought them to the tailor to be taken in. Simple as that. And if you're hardly spending money on the article of clothing then it's worth the extra money to get it fitted, especially if it's something you can't resist.
Where I mostly shop (all of these stores have great sales, which is why I keep going back):
Hope this is helpful, guys! If you have any questions or need my opinion on anything, definitely let me know. And if you live in Boston I'll gladly raid your closet. And if you live elsewhere (preferably a warm climate) and want to fly me out to your closet… I will do that, too 😉 Figured I'd just put it out there… 😉
[Chels]