In all honesty, the only thing I know about wine is that I love it. I really have no idea which wines are the best, why they are the best or what foods to eat with them. As a graphic designer I tend to judge wine bottles by the label (and yes, I often judge a book by its cover, a magazine by its layout, a company by their website…).
So when my sister told me to check out a friend of a friends website: 2 Guys Uncorked, I immediately went to the site and thought "This is a great idea… This is what I need". The site just launched this month and it is so easy to use and understand. On the homepage there is a drop down box that allows you to select the occasion for the wine you're searching for. They have categories such as weekend fun, a dinner party, a date, giving as a present, making an impression, etc. So you select the event and the geniuses behind this idea provide you with a
list of the most suitable wines. Not only that, but it notes the price and if it can be purchased at Trader Joes or Whole Foods, or both. The descriptions of the wines are short and sweet, easy to understand and very not confusing, which is perfect for people like myself who are just learning. Some of the descriptions even pair the wine with tasty foods. Both of the two guys review each bottle of wine whether they approve of it or not. Love the honesty. I could keep writing about this site but I really suggest you to play around on it yourself!
Oh, and these geniuses behind 2 Guys Uncorked are Jon Harriman and Ted Serbinski, who both happen to be Cornell grads…. which is where my little bro goes!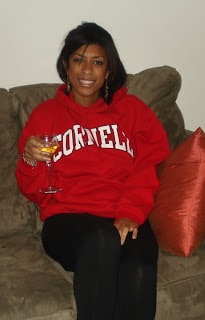 Hey, I'll drink to that! 🙂
[Chels]