Let's take a minute to be completely honest. There are occasions when you have guests, whether it be last minute or planned for weeks, and you just don't have the time to create an elaborate spread of homemade foods, decorate, and get the house in tip top shape for entertaining. There are times when you need to prioritize and figure out what the most important items are on your to-do list and cut some corners, so to speak. As much as I love hosting people at my apartment… it happens. Sometimes 24 hours in a day just isn't enough to get everything done. Such is life.
The other night two of my old coworkers, Tarryn and Melanie, came over to watch a movie and hang out. Although the date had been set for well over a week, I was also on a deadline for an invitation project, was still cleaning up and organizing from our Dove Party the past weekend, and was doing a lot of other running around. Once Wednesday afternoon rolled around I realized I just wasn't going to have the time to go all out. I think, over time, I've realized that people don't always need, or necessarily want, to have an actual "formal meal" when they come over. They like to pick and munch and sample all different kinds of foods, sip their drinks and just enjoy a nice relaxing evening.
So here are a few of my go-to tips for last minute casual entertaining:

• Make homemade pita chips and crostini. In a few simple steps and about 10 minutes you can create your own fresh crostini or pita chips. I absolutely love doing this. Preheat oven to 375. I normally take a loaf of bread, whether it be ciabatta, italian, or a french baguette, thinly slice it, brush olive oil on both sides, sprinkle with sea salt and freshly ground pepper. Arrange on baking sheet and bake until nice and brown, about 10-12 minutes, making sure to flip half way through. These act as a nice base and give you the opportunity to purchase or make different toppings or spreads.
• Serve fresh fruit and veggies. Grapes, apple slices, broccoli, carrots, red peppers… whatever you can think of. Completely satisfying, healthy, and crunchy. Can't go wrong.
• Find your favorite hummus. My favorite kind of hummus is Sabra. The Roasted Garlic and Caramelized Onion are out of this world. So creamy and smooth and dipping fresh veggies or a crunch pita chip into it is delightful.
• Have cheese. Lots of cheese. Everyone, or at least that's what I tell myself, loves cheese. There are so many different varieties of cheese so it's fun to buy a couple or few and do a little "tasting" platter. Two of my favorites are Tomato Basil by Cabot and any sort of goat cheese rolled in herbs. YUM.
• Have meat. Lots of meat. Thinly sliced prosciutto, salami, pepperoni. I like to go to the deli counter and order a variety of sliced, almost shaved, meats. Sliced thin, the meat is easier to manage if you're layering it on crostini with cheese or other toppings. Plus, you get more bang for your buck 😉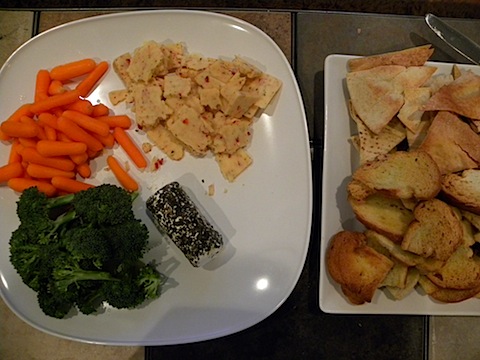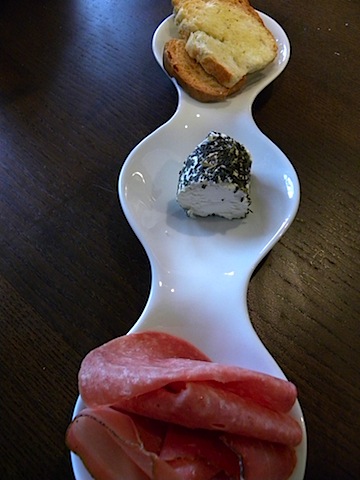 • Pizza! If you don't have the time to make a homemade pizza, one of my favorite things to do when entertaining last minute, is buying a good frozen pizza and cutting it in bite sizes, so it's more of an hors d'oeuvre. My go-to is American Flatbread. Their pizzas are all natural and absolutely delicious. The other night we had the Revolution, which is homemade tomato sauce, mushrooms, caramelized onions and cheeses. You would never guess this pizza was frozen… no wonder the New York Times said it's "by far the best frozen pizza money can buy".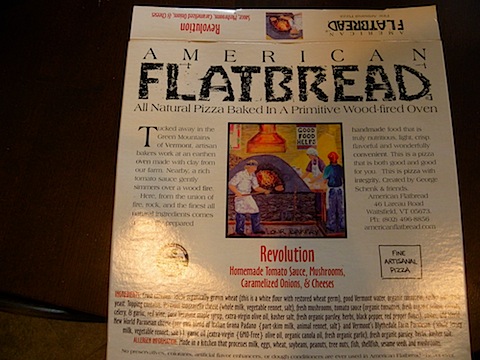 • Always have the basics on hand. Or at least have a go-to grocery store where you can buy necessities last minute. The first Christmas my parents moved into their new house, I made them a "Basket for Entertaining". It was filled with lots of goodies to have on hand in case someone "just stopped by".
Here are just some items to have stocked in the pantry, fridge, or freezer:
• salsas
• dips (Stonewall Kitchen makes aaaaamazing dips and spreads)
• beans (make a quick dip)
• olives
• capers
• crackers
• cheeses
• fruit and veggies
• tortilla chips (for salsa or homemade nachos)
• nuts
• popcorn (get creative… I've been adding cayenne pepper and sea salt to my popcorn lately!)
• wines and beers …
What are some of your go-to last minute tips and tricks for entertaining?
[Chels]