Happy Feta Friday! Yet another successful salad was created this evening for dinner which was inspired by Martha Stewart's Chickpea, Cherry Tomato, and Feta Salad. I had sort of strange cravings so I put my own spin on this salad.
Martha's recipe calls for: serves 1
1/4 cup canned chickpeas
1/2 cup quartered cherry tomatoes
1/4 cup crumbled feta
1 tablespoon fresh lemon juice
2 teaspoons olive oil
1 teaspoon dried oregano
1/8 teaspoon salt
Ground pepper
My salad contained: serves 1
• 1/4 cup canned toasted chickpeas seasoned with garlic salt, onion powder, and cayenne pepper. I just rolled the chickpeas in some olive oil in a sauce pan for a bit until they were nice and browned. It adds a nice little texture to the chickpeas and definitely a lot more flavor, but when I have more time I'm definitely going to roast them for even more crunch!
• a generous bed of mixed greens. I added the greens to make it a bit more substantial since it was my dinner.
• handful of quartered cherry tomatoes
• handful of Athenos lemon, garlic, and oregano feta cheese (I didn't have oregano on hand so this feta worked perfectly!)
• handful of diced cucumber
• couple squirts of fresh lemon juice, as a dressing
• pinch of salt, not much is needed at all
• ground pepper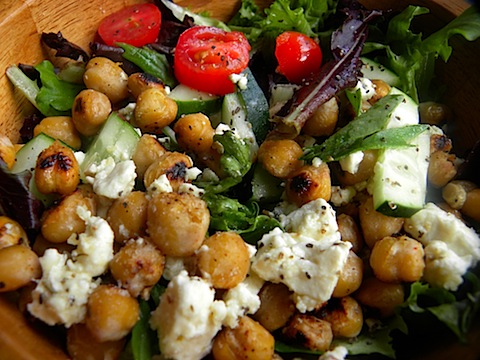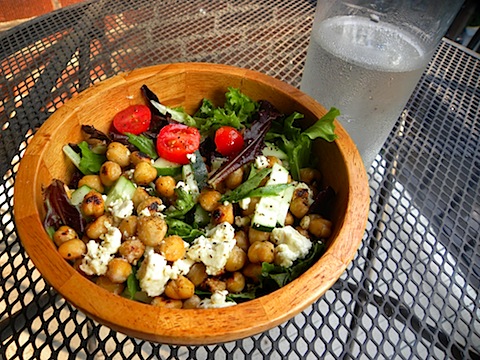 As you can see I mostly eyeballed my recipe while loosely following Martha's. And the lemon, garlic, and oregano feta paired perfectly with the nutty and buttery flavors of the chickpeas. A nice, refreshing salad to wind down a crazy (and HOT!) week!
FETA FRIDAY
Boston is gearing up for a heat wave this weekend! What about the rest of you in other cities? Leave a comment on this post by Monday, July 19th by 11:59PM EST telling us how you plan on keeping cool this weekend! Heading to the beach? Staying indoors? Drinking lots of lemonade? Making any cool and refreshing recipes?
We'll randomly select a winner who will receive the Athenos Feta Friday prize pack which includes lots of fun goodies: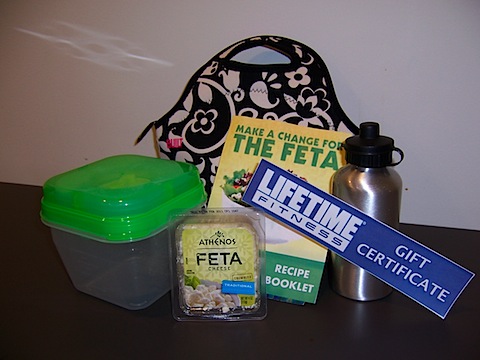 • Free Athenos Feta coupon
• 1-month gym membership to LifeTime Fitness
• Athenos water bottle
• Athenos Feta recipe booklet
• Salad shaker travel container (great for picnics or taking your lunch to work!)
• Reusable lunch bag
Happy Friday! Stay cool and drink lots of H20 😉
[Chels]