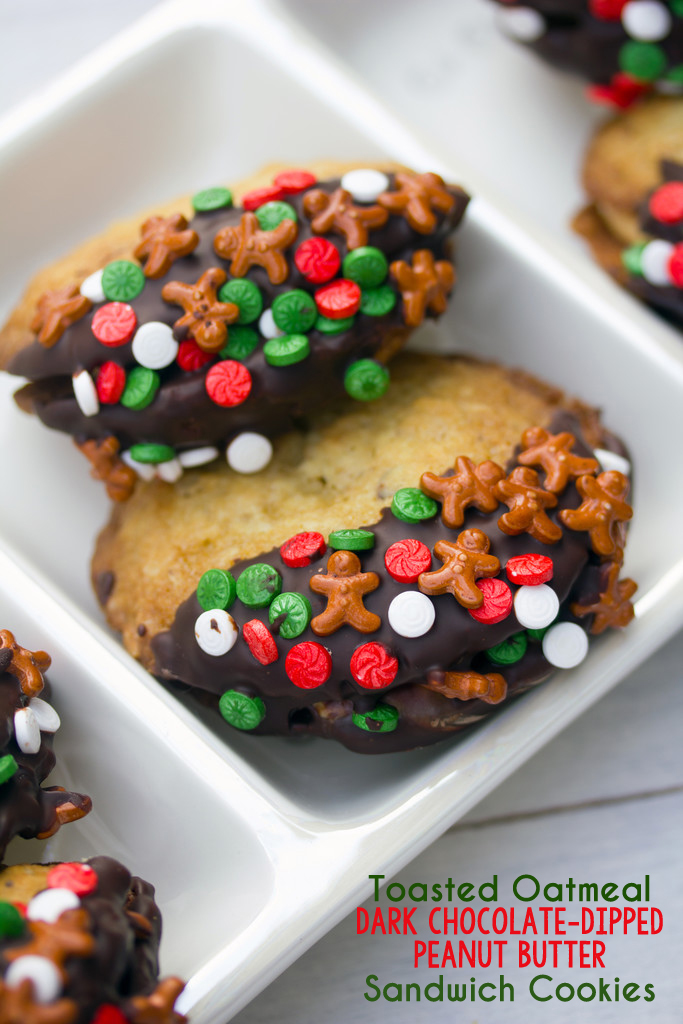 There are some holiday traditions I find completely ridiculous. The Yankee Swap, for instance. Once, I bought a gift for a work party Yankee Swap that I was certain everyone I worked with would love (sports-related stuff) and then… I somehow ended up with my own gift at the end of the evening. Which made me realize I had totally wasted $20. And I was stuck with some Patriots swag that I had zero use for. After that experience years ago, I now know to only buy gifts that I myself would want to go home with. Which means alcohol. I also consider the night a massive failure if I don't leave with alcohol or at least a gift card to a coffee place that I'd go to anyway. Yes, I am a Scrooge!
But not all holiday gifting games are evil. Secret Santa I can get behind a little bit more. It's more personalized. It's less competitive. And it's a better use of money. Cookie exchanges I am also obviously a fan of. So, when you combine the two, I'm pretty much in holiday party heaven. Wilton organized a little Secret Santa Cookie Exchange this holiday season and since I'm a part of the Sweet Team Team, I get to be involved!
A couple weeks ago, the team let me know that I'd be baking cookies for Nicole of the fabulous blog Baking Bites. If you don't know Baking Bites, you should definitely check it out for recipes for pretty much any cookie, cake, etc. you can imagine. Plus, there are tons of baking tips (in fact, you've probably been to the blog, even if you don't know it, just from Googling a baking problem you've encountered). I wanted to make a cookie that was very "Nicole," but since she covers legit everything baking, I decided a better technique would be look up some flavor combos on her blog to see if she was a fan.
Nicole blogs about peanut butter, oatmeal cookies, and dark chocolate a fair amount and so these cookies were born! I may or may not have made a second batch after making Nicole's… Because these cookies are totally up my alley, too. Yes, I'd bring them to a Yankee Swap and no, I wouldn't care if I was sent home with the same gift I brought. I'd secretly be pretty happy!
Toasted Oatmeal Dark Chocolate-Dipped Peanut Butter Sandwich Cookies (makes about 12 sandwiches):
Print this recipe!
1 C (2 sticks) unsalted butter, plus 6 T, room temperature
2 C rolled oats
1 ½ C all-purpose flour
1 ½ t baking soda
½ t salt
½ C granulated sugar
¾ C packed light brown sugar
2 large eggs
1 t vanilla extract
8 oz. Dark Chocolate
Peanut Butter Filling:
3 T butter, room temperature
1 C peanut butter
¼ C confectioners' sugar
Pinch salt
(pre-heat oven to 375 degrees)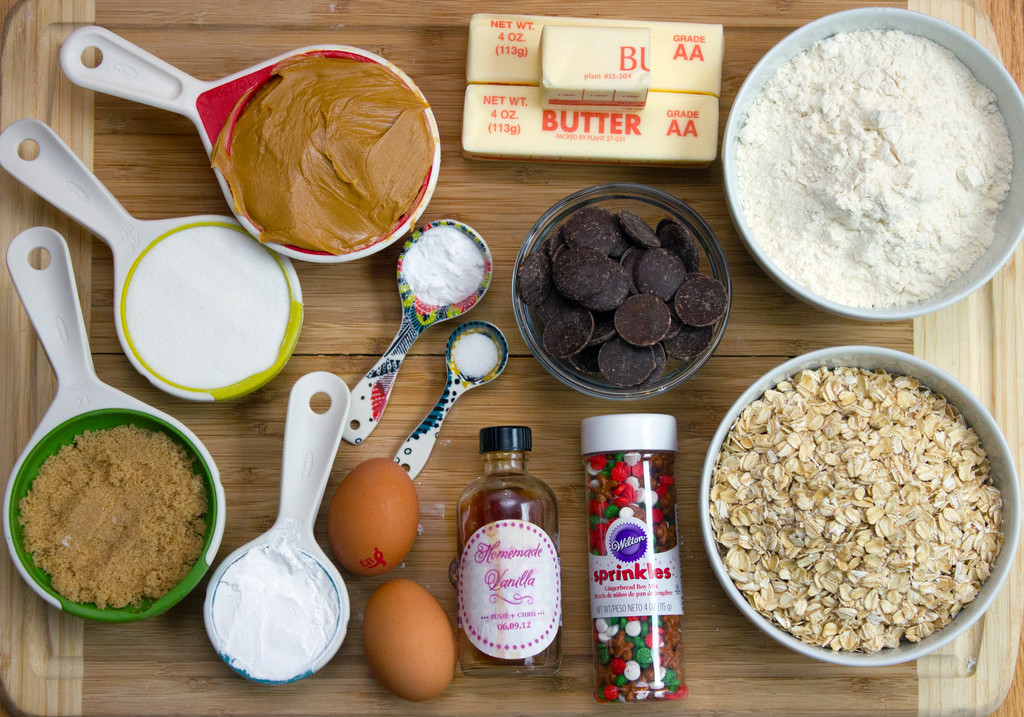 Because I wanted my cookies to have a holiday flair, I dipped them in Wilton's Gingerbread Boy Mix Sprinkles. These are ridiculously fun sprinkles.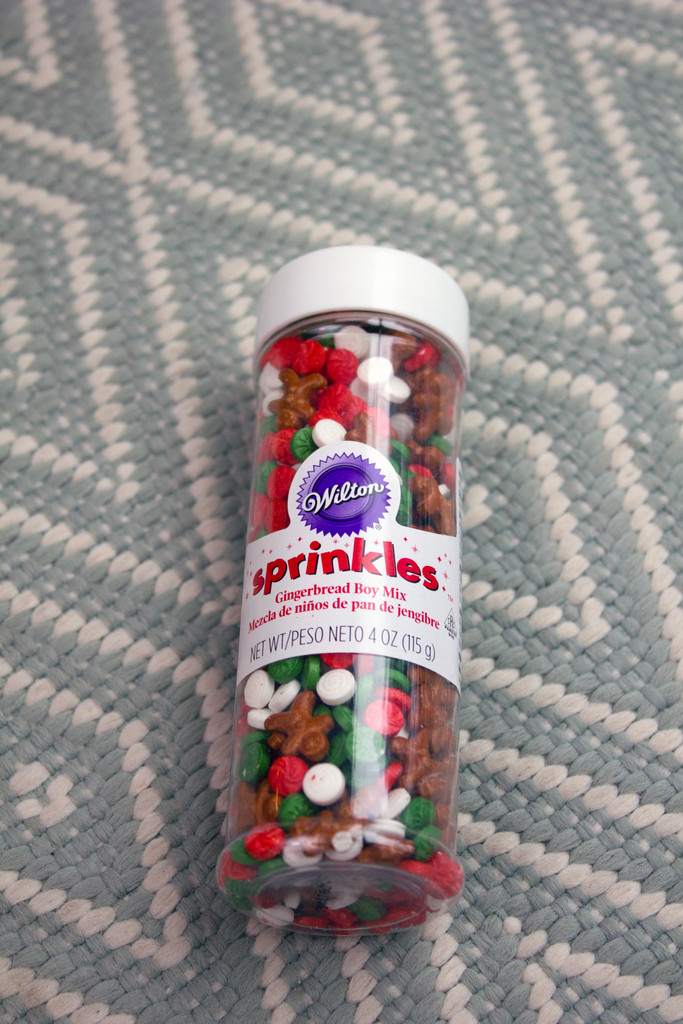 Time for the cookies!
I toasted my oats before adding them to the batter- toasting them adds more depth to their flavor and gives cookies a nice wintry cozy feel.
I started by melting 6 T of butter in a medium saucepan and then stirring my oats in. Continue to stir oats for about 5 minutes, until the oats are just starting to get browned and toasted.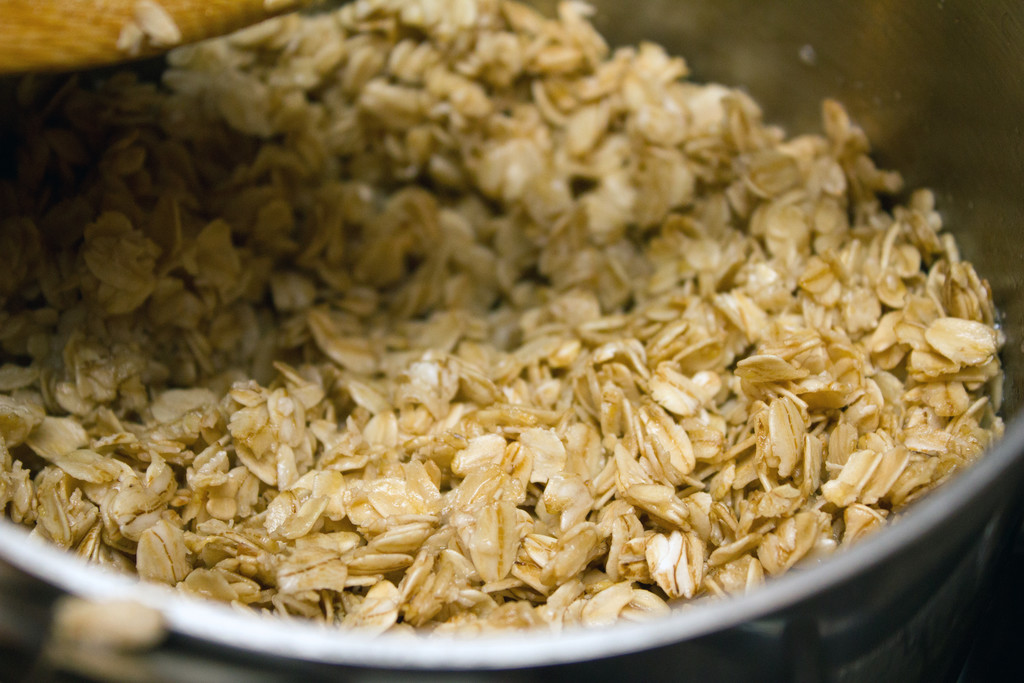 Then spread them onto a cookie sheet lined with parchment paper so they can dry a bit.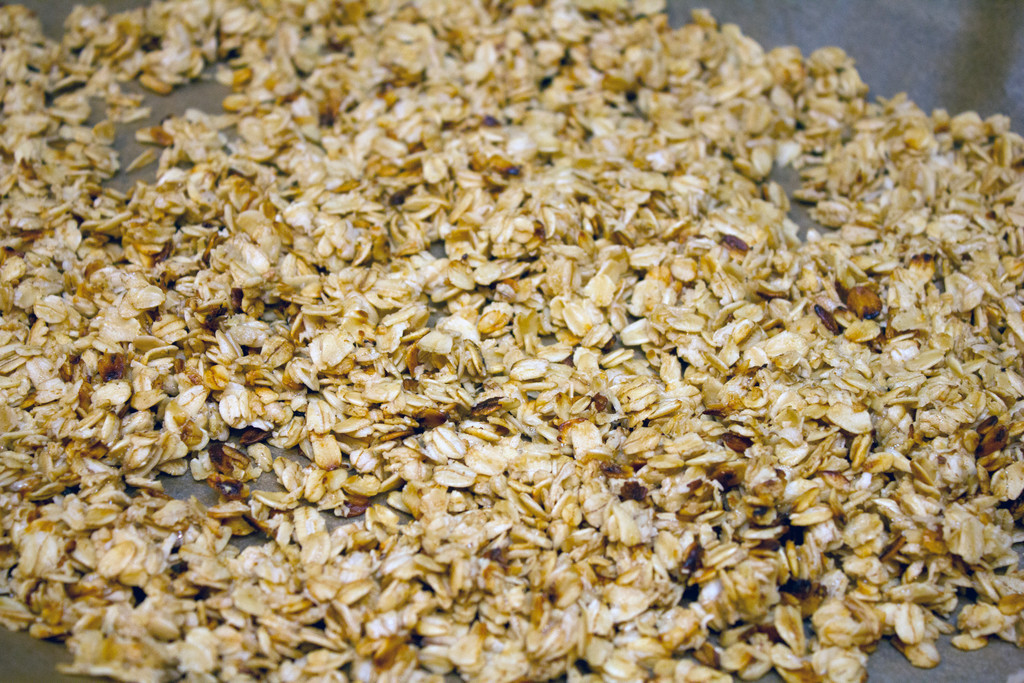 Now, in a medium bowl, whisk together flour, baking soda, and salt.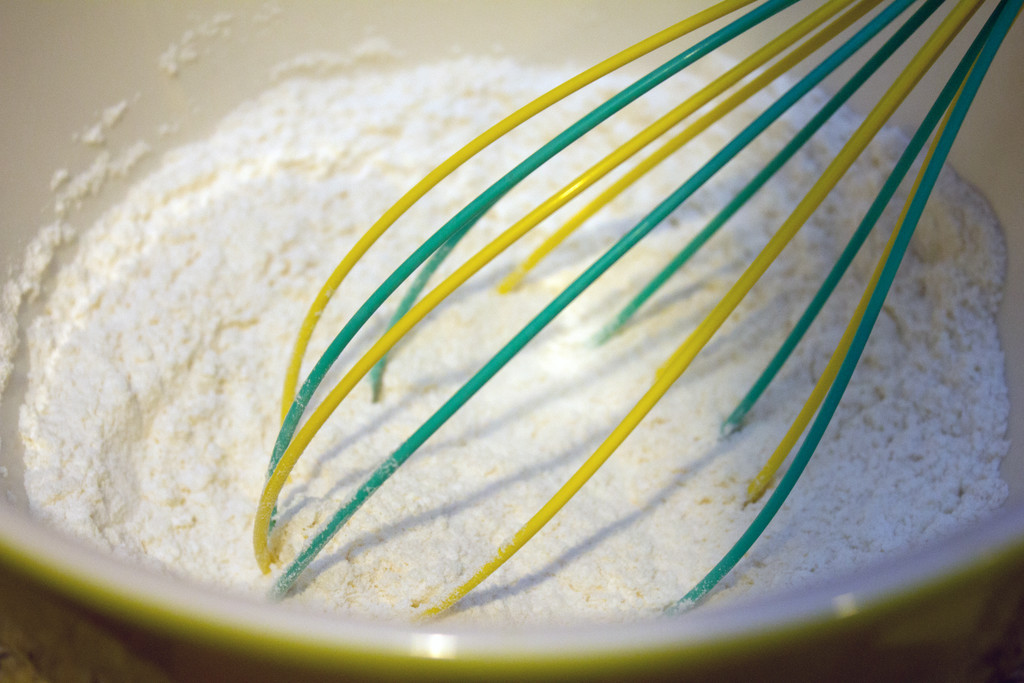 In the large bowl of a mixer, beat together 2 sticks of butter and granulated and brown sugars until light and fluffy.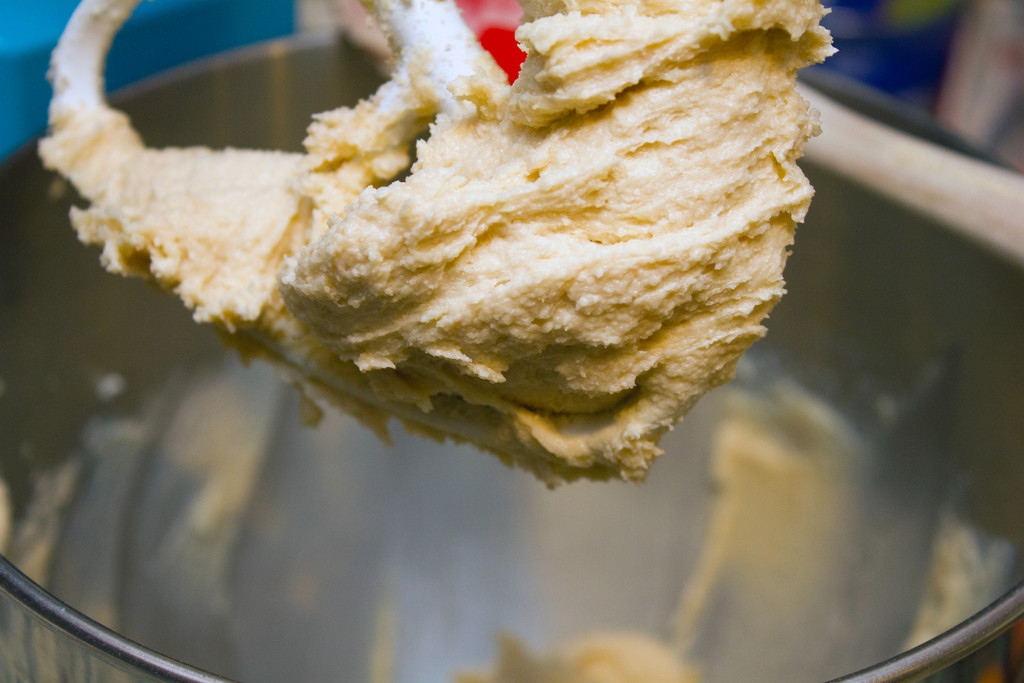 Then beat in eggs and vanilla extract.
Gently stir in the oats.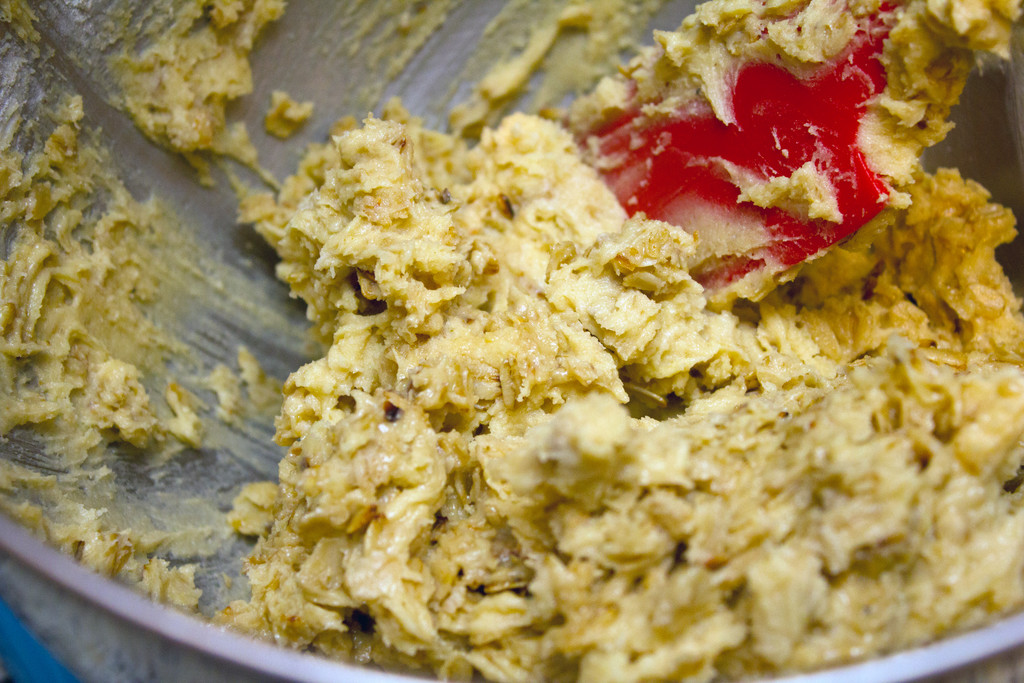 Place tablespoon size scoops about 1 ½ inches apart on an ungreased cookie sheet.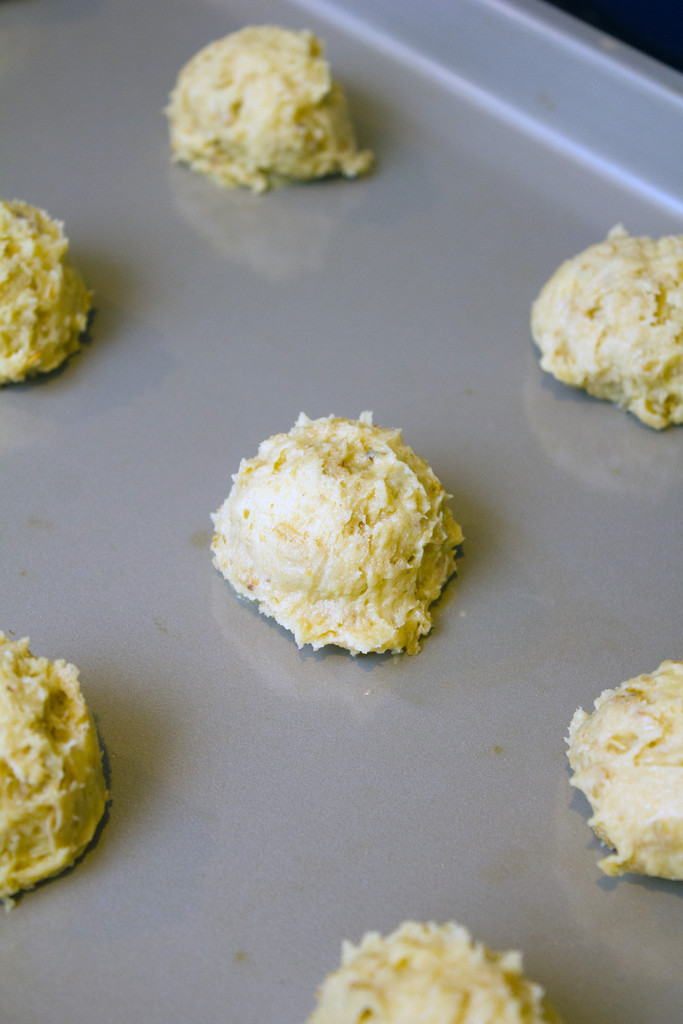 And bake at 375 degrees for about 8-10 minutes, until lightly golden around edges.
Let cool on pan for a few minutes before moving to a wire rack to cool completely.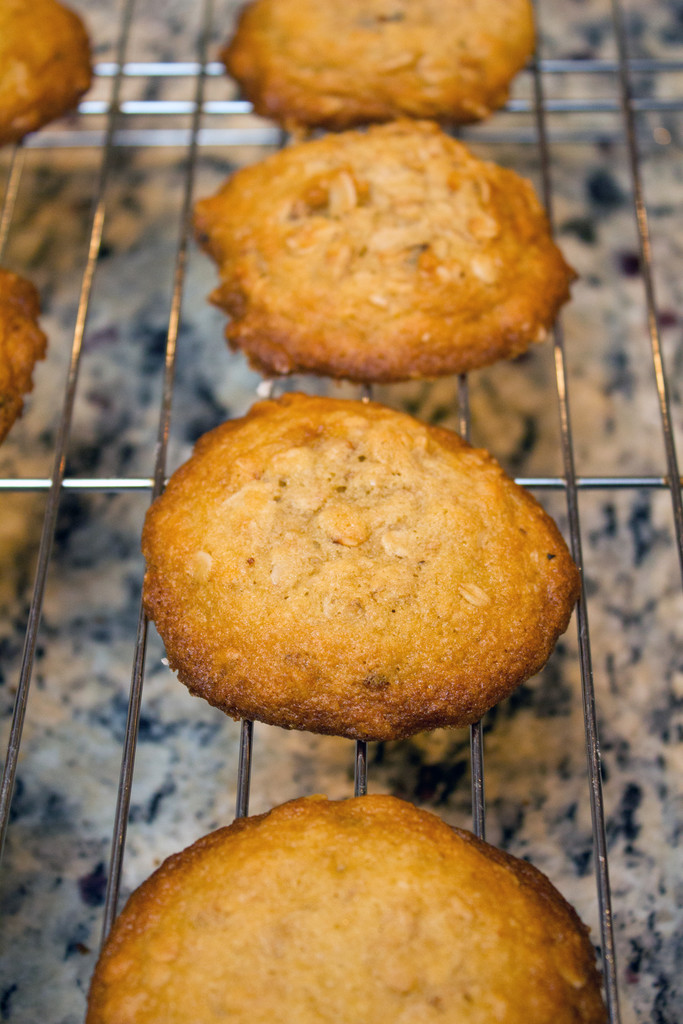 To make peanut butter filling, put 3 T butter, peanut butter, confectioner sugar, and salt into the bowl of a stand mixer and beat to combine.
Put the peanut butter filling into a pastry bag or a Ziplock bag with the corner cut off and pipe onto half of the cookies.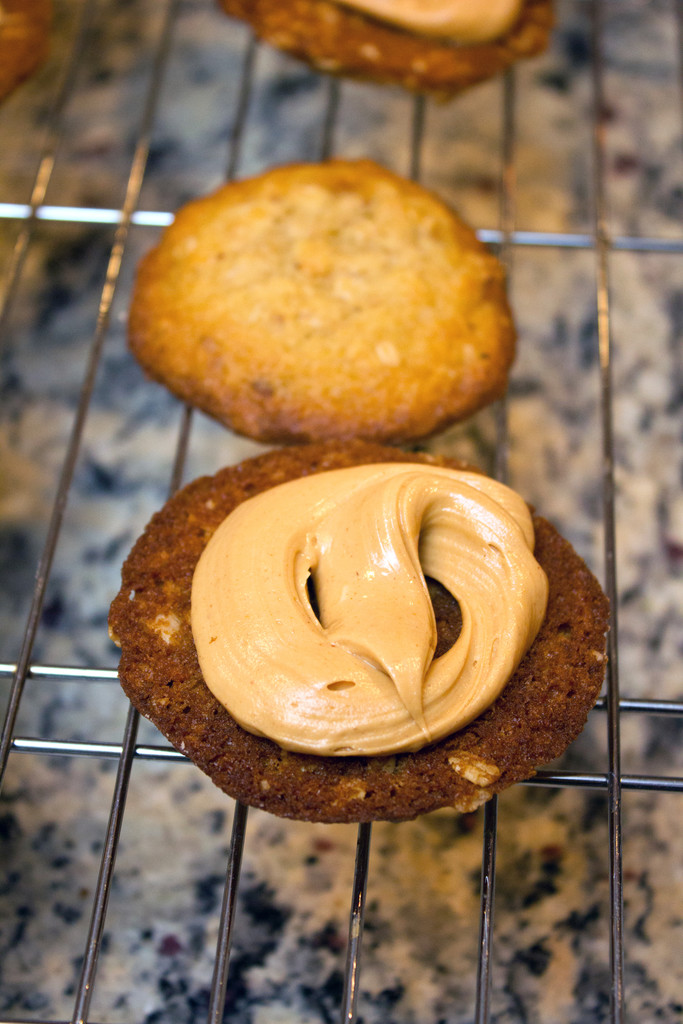 And then sandwich the peanut butter filled cookie with a plain one.
Melt your dark chocolate in a small bowl (I like to do mine in a double broiler, but the microwave will do, too) and dip each of the sandwich cookies into the chocolate. Sprinkle the sprinkles over the top.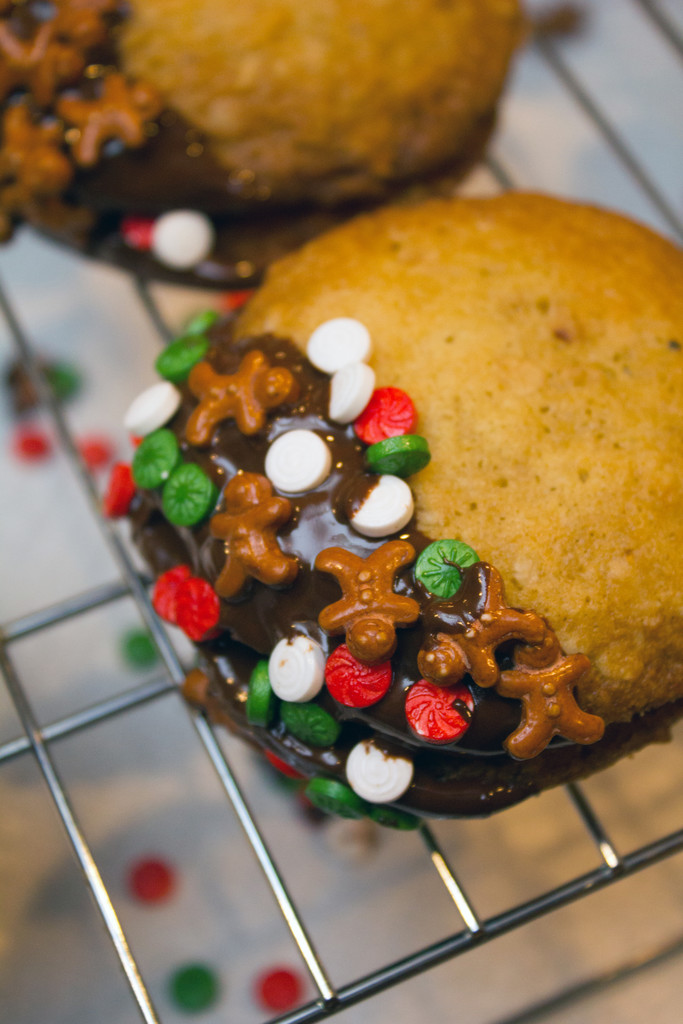 Let the cookies cool so the chocolate hardens before you dig in. It's tough, but so worth it.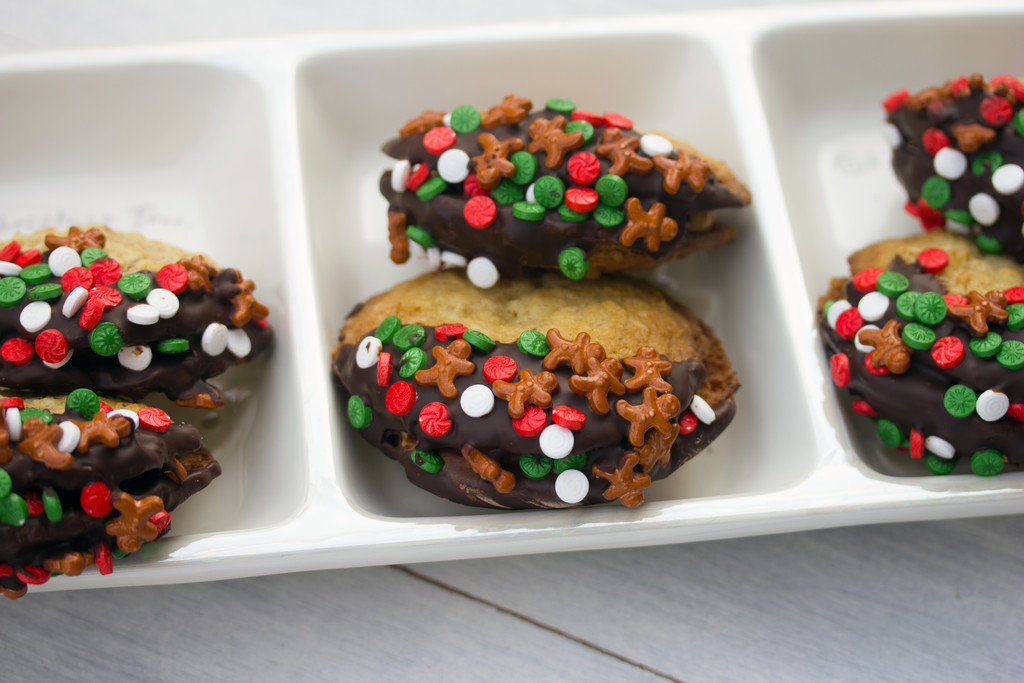 Yes, this cookie has a lot going on. I mean, even the name of it is ridiculously long. But I legit did not know which part I could leave out. I already left out the part about the awesome holiday sprinkles, so I really couldn't touch anything else.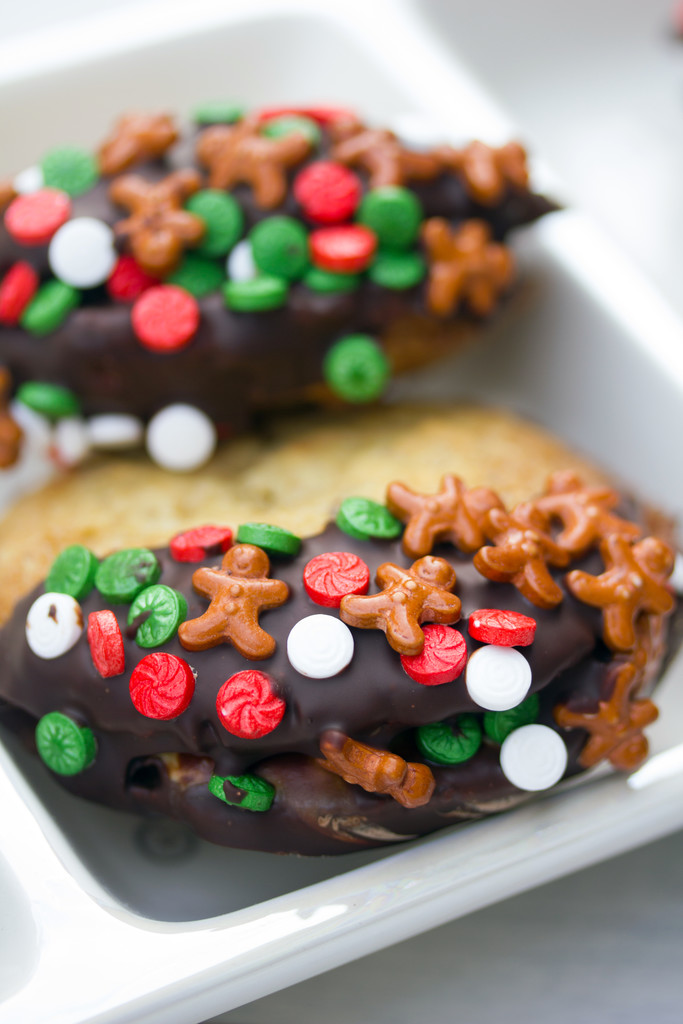 They're not just oatmeal cookies… they're TOASTED oatmeal cookies. A fact that I think is pretty darn important.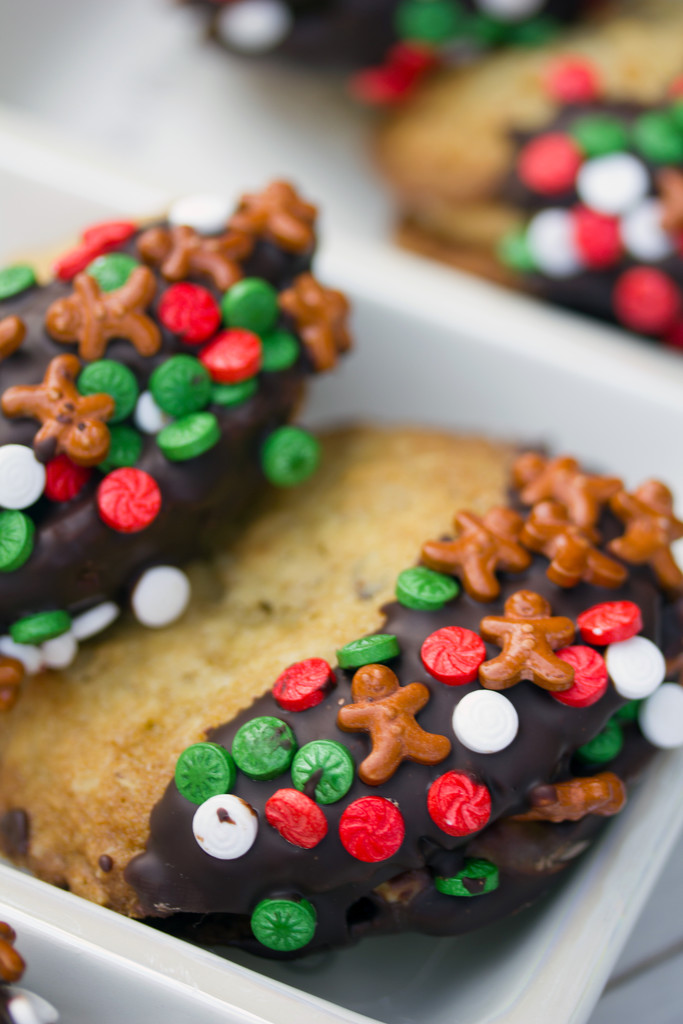 And that peanut butter filling?? I could eat it with a spoon. And next time I might actually just make a big bowl of it and dip the cookies in as I eat them. One dip into the peanut butter filling and one dip into the melted dark chocolate. All to myself.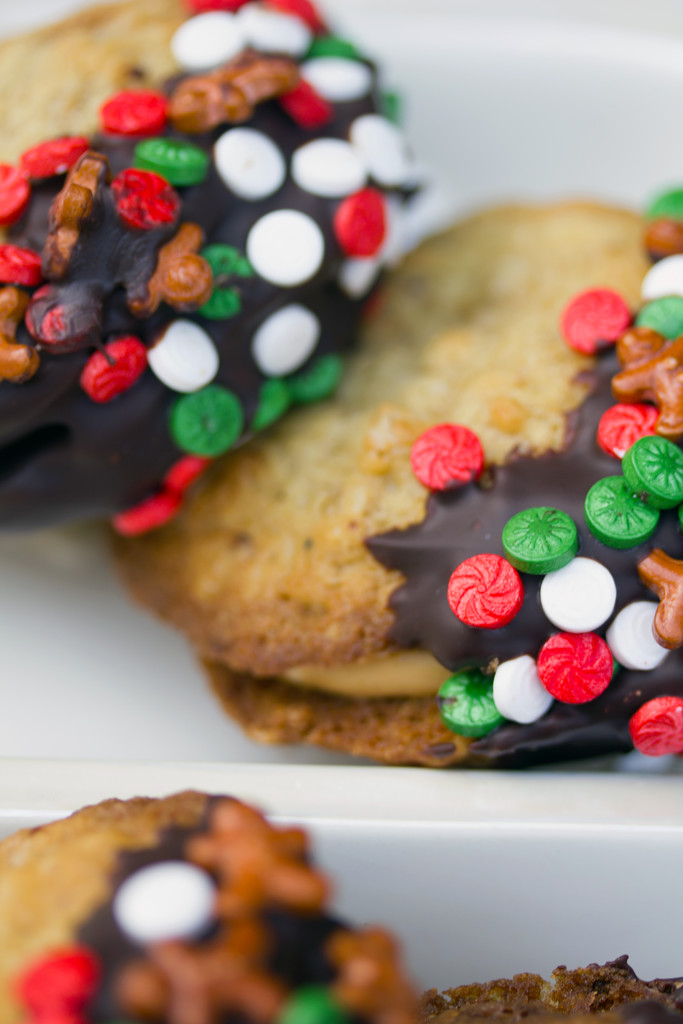 I almost left out the part about the dark chocolate… But then I realized these would just sound like boring old sandwich cookies. And that is not OK. So in the dark chocolate went into the recipe title!
But really, how cute are those little gingerbread men???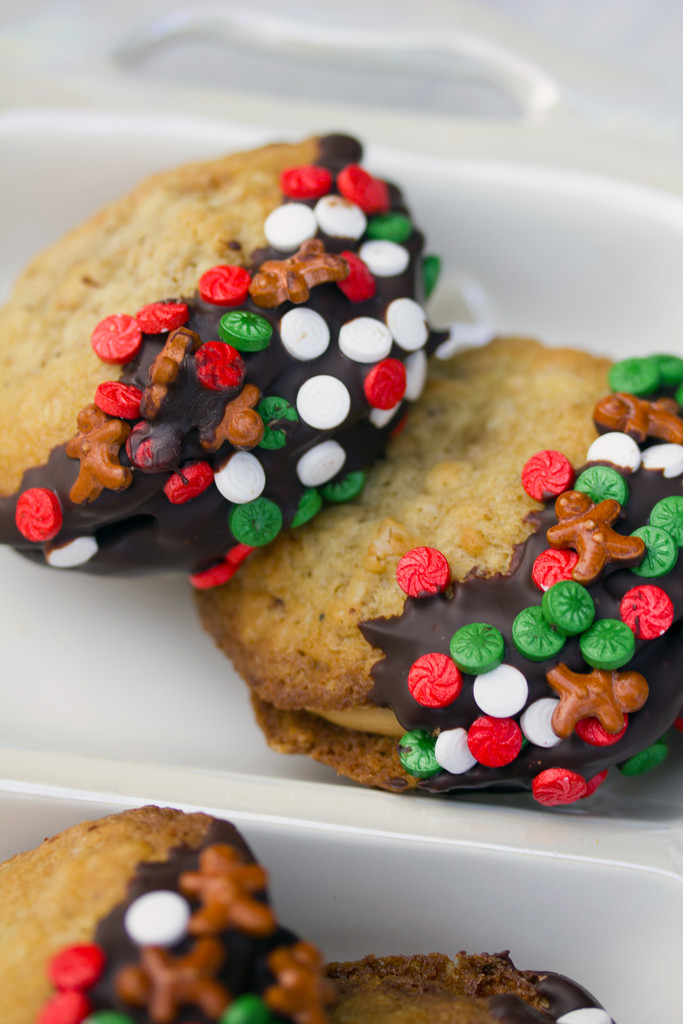 Not only do they have a long name, but these are a pretty substantial cookie. They're not like Oreo sandwich cookies where you could eat 8 in a row and still want more. They're large and satisfying. But you may still eat too many of them.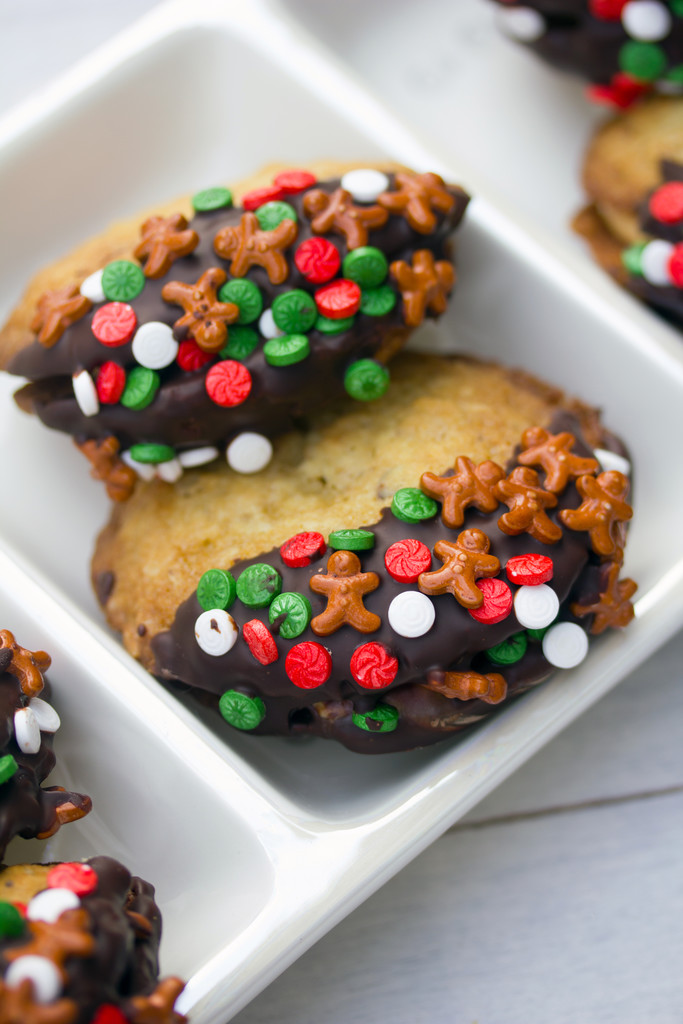 Wilton also sent me these adorable little cookie packing boxes. These are seriously perfect for gifting cookies!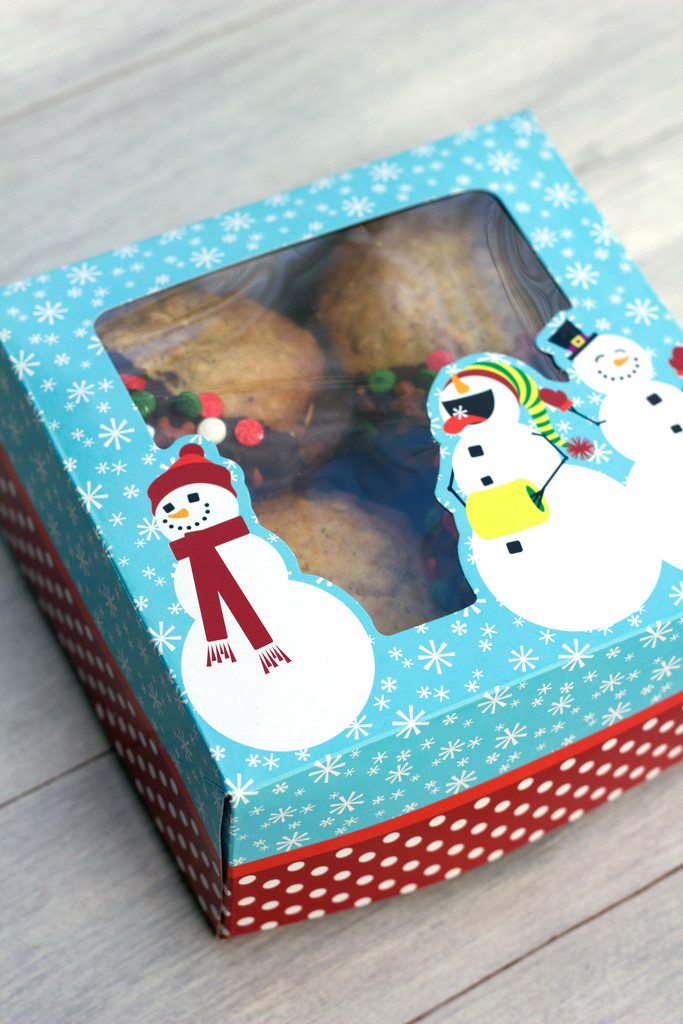 I packed them up and sent them off to Nicole on the West Coast! I hope she enjoys 🙂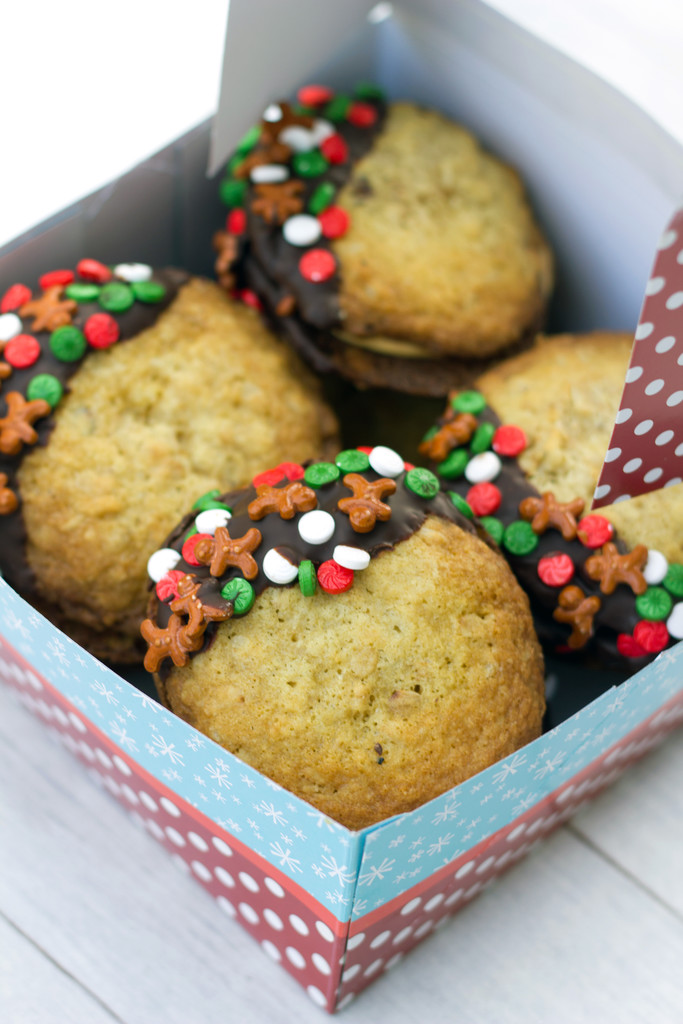 Can you believe we're 10 days to Christmas? I still have SO much holiday baking I want to get done... And so many posts I need to publish. As always, this holiday season just went by way too quickly.
Are you participating in any cookie exchanges this year? What did you make?
[Sues]
Full Disclosure: This post was written as part of my participating in Wilton's Sweet Treat Team program, but as always, ALL opinions are my own!