Another new cupcake place in the Boston-area? I'm obviously there! Treat Cupcake Bar is in Needham, so not right in the city, but close enough for a nice Saturday afternoon drive. Or a rainy Saturday afternoon drive. Whatever. This weekend, we considered the rain "nice" since it cooled things off in Boston just a bit. What a relief! And it definitely called for cupcakes.
I could tell I was going to be a fan of Treat right away. I love the logo!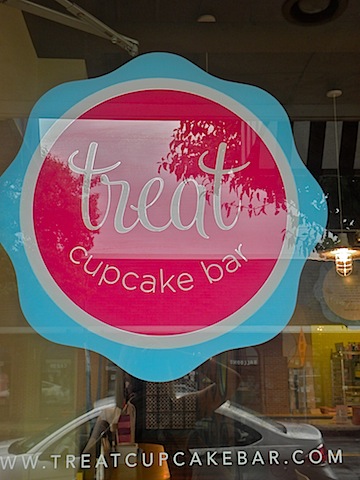 Treat Cupcake Bar isn't like other cupcake shops. Hence why it has the word "bar" in it. You actually build your own cupcakes.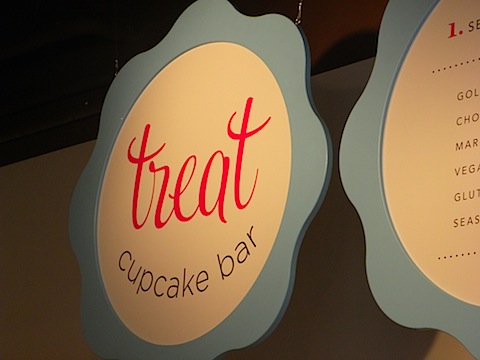 I totally love this concept! First you pick your cake: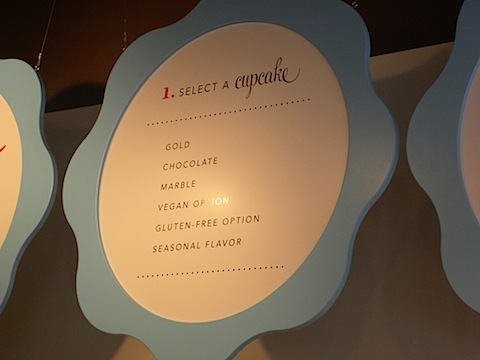 Then you pick your frosting: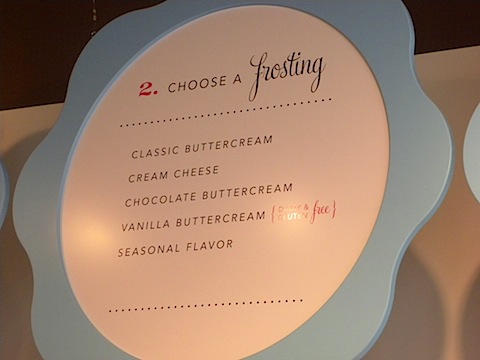 Then you pick 3 toppings/treats: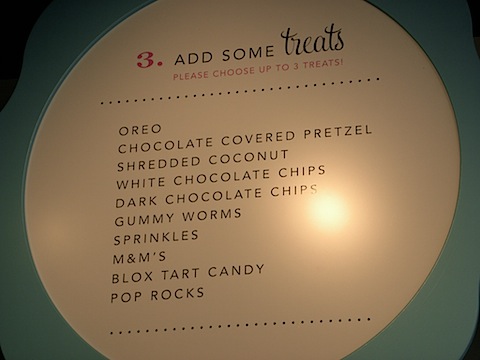 There are lots of them!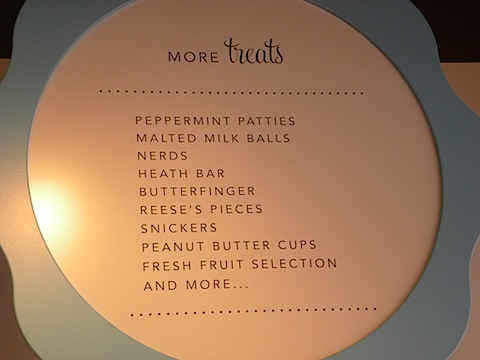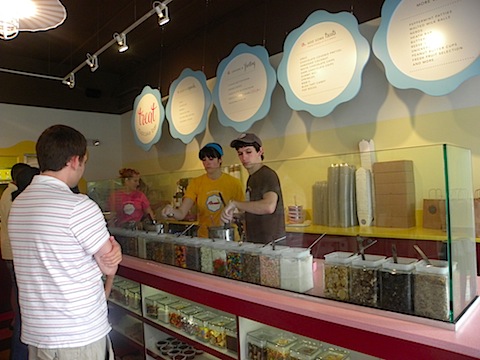 They take your frosting and treat selections and mix them all together... It really reminded me of Cold Stone Creamery.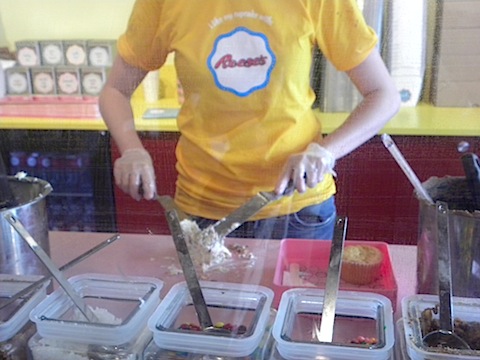 But I especially love how they serve your cupcake: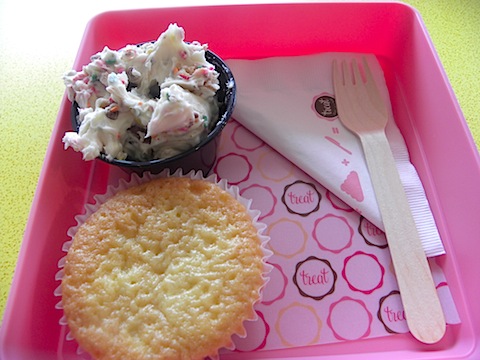 It felt like so much more fun than just being handed a cupcake. Kind of like being a kid again.
I chose the gold cupcake with buttercream frosting. My treats? I chose rainbow sprinkles, chocolate chips, and heath bar.
Heavenlyyyy. And so pretty too!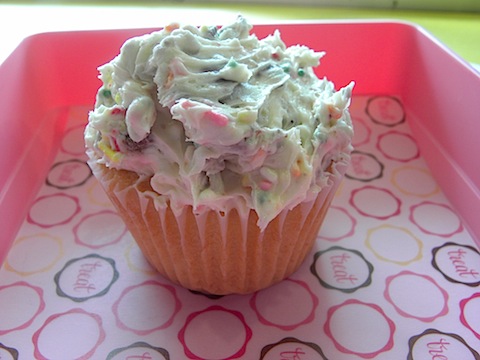 OMG yum! I absolutely love that Treat gives you way too much frosting (I had more left over that I couldn't even fit on the cupcake). The cupcake was delightful. I have to say the vanilla cake was a bit too corn bread tasting (I prefer a sweeter, more vanilla cupcake taste), but the super sweet buttercream frosting balanced it out well.
If you're not into the idea of designing your own cupcake, you can choose one of the premade ones as well. They add new flavors every day. I enjoyed that you could see right into Treat's kitchen and actually watch them baking the cupcakes.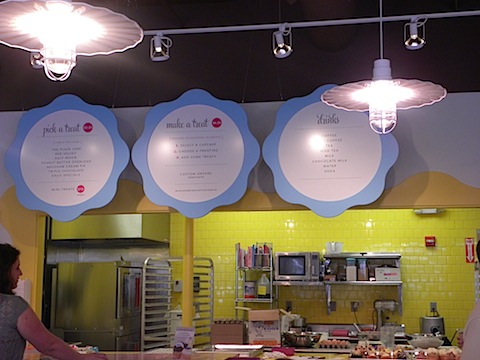 And the walls were so pretty and vibrantly painted.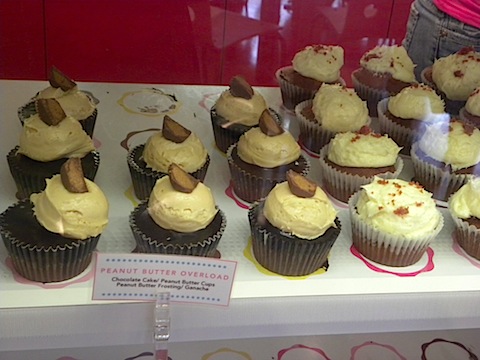 Of course, you know which one I chose to take home. Anything with the words Peanut Butter and Overload in it has my vote. It was phenomenal (Chris and I split it the next day... we were too stuffed after eating our huge "homemade" cupcake that day).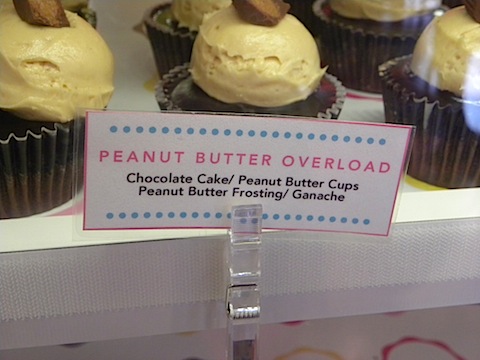 I'm also a fan of Treat's packaging, complete with napkin-wrapped fork.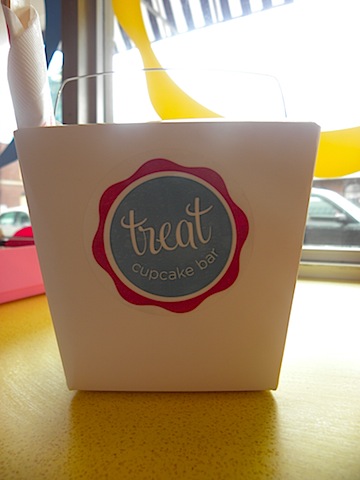 I really do love a cupcake shop that knows how to brand well and Treat totally has it covered. Everything from the napkins to the little papers in the cupcake trays.
And check out the adorable aprons!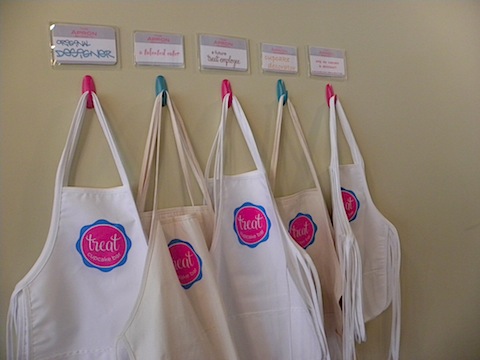 If I wasn't so in love with my WANM apron (and OK, my Butterball apron, too), I would totally get one.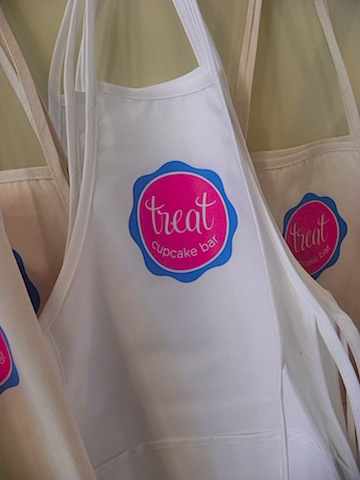 They also had t-shirts for sale.
My overall impression is that Treat is a cupcake shop that cannot be missed, if only for the super fun experience! It would be an amazingly fun place to have a birthday party (seriously, for all ages) or just pop in and make your own cupcake whenever you're in the mood.
This would be a dangerous, dangerous place for me if I lived nearby. Thank goodness, it's a drive away.
The prices weren't too bad either. A make-your-own cupcake was $4.25, but it was absolutely huge with tons of frosting. And the pre-made cupcakes were $3.25.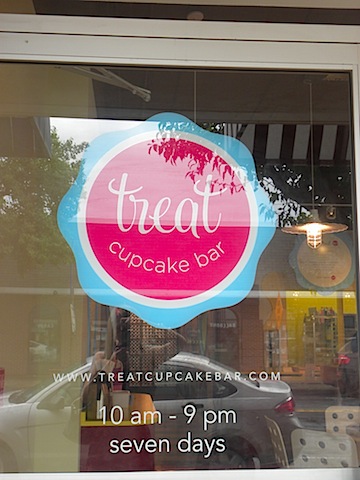 Treat's website is also beautiful. And I just got word from their Twitter account that they'll be closed on Mondays until they can find another baker for the shop. Are you a cupcake baker? Know anyone? Treat looks like it would be an awesome place to work.
I can't wait to treat myself to Treat again soon!
Treat Cupcake Bar
1450 Highland Avenue
Needham, MA 02494
781.444.4995
Twitter: @TreatCupcake
[Sues]