A couple weeks ago, Sara sent me a link to an Etsy store that carries what we immediately deemed the best t-shirts in the world. Including the most perfect tee ever. Why? Well, I think you already know how I feel about cupcakes. If you're reading this blog, chances are, you think fondly upon them yourselves. But unfortunately, eating all those cupcakes doesn't go unnoticed on my waistline. So, I tend to spend quite a bit of time at the gym running on the treadmill. Sara and I joke that the only reason we really work out is so we can eat cupcakes and other delicacies.
The t-shirt we fell in love with?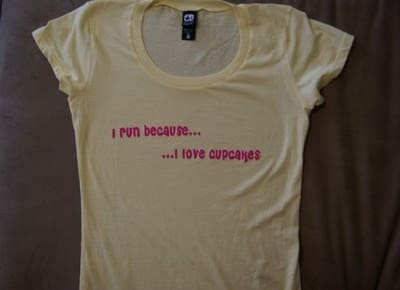 Could it get any more perfect than that?
Actually, Tres Ladies, a company run by three sisters in California, make several perfect t-shirts for girls who are into staying in shape, eating cupcakes, drinking wine…you know, the important things in life.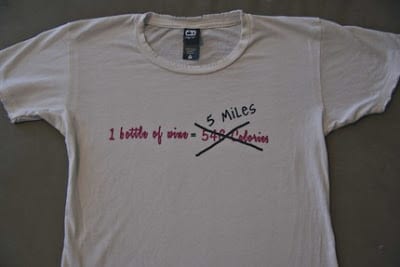 Tres Ladies have an Etsy shop, but they also have a website that includes more of their designs. And, as if the cute sayings aren't enough, the t-shirts are incredibly comfortable- Extremely soft and super long; just the way I like them.
I got the chance to ask the ladies a few questions about their business and well, um cupcakes too. They were happy to answer AND want to give one of We are not Martha's readers a t-shirt of your choice! All you have to do is visit the Tres Ladies website and leave us a comment telling us what shirt you would choose and why.
Q: What made you girls start Tres Ladies? Have you always wanted to start a company?
A: After 5 years of racing marathons, we grew tired of the "manly" running tees that races hand out. Ideas were brewing for a while but when the third sister finished college this year, our entrepreneurial spirit wishes became a priority. We're also very eco-minded and Tres Ladies is a way of combining our passion for fitness, health, and fashion. We knew we wanted to work together on something big!
Q: As sisters, is it ever hard working with each other?
A: As sisters, it's 100% easier working together. We're a very close family and often get help from mom, dad, boyfriends, husbands, and grandma. We are incredibly different and we know each other's strengths and weaknesses so it makes it easier to delegate accordingly and ask for help when things get overwhelming. Sometimes we have so much fun we forget that we're working, and in that sense it is a bit harder running this company as a family.
Q: Do you have more t-shirt designs in the works? Any you want to give us hints about?
A: We have several t-shirt designs in the works. Being runners from California, we wanted to focus more on what makes us unique in the business. We are dedicated to fashion, fitness, and fun and we're streamlining our product line to reflect the celebratory food groups (what motivates us to get out there on cold winter months). Hint hint: cupcakes, lattes, chocolate, and wine are what motivate us to run. After the fall marathon season comes to a close, we will be able to focus on offering our "nutrition" and eco-friendly designs.
Q: What is your favorite cupcake shop?
A: We have offices on both coasts, so our favorite cupcakes in the Bay Area come from Icing on the Cake in Los Gatos, and our favorite cupcake shop in Washington D.C. is Hello Cupcake (their Gluten-free pumpkin spice is to die for!).
**How you can win a Tres Ladies T-Shirt of your choice!
Go to the Tres Ladies website and take a look at their fabulous t-shirt designs

Leave a comment for us on this post letting us know what t-shirt is your favorite and why

Want an extra entry or two? We'll give you 2 extra entries if you write a blog post about this giveaway and 1 extra entry if you link to the giveaway in Twitter (Make sure you let us know if you do this and send us the link!)

Enter by Sunday, November 23 at 11:59 p.m.

We'll choose a winner using the Random.org generator and will notify you via e-mail.
Worried you might not win? Well don't worry because even if you don't, Tres Ladies are going to give all entrants a coupon code for their website, so really, everyone is a winner. With the holidays coming up, I'm sure you all know quite a few ladies who would love one of these tees! And I'm hoping that maybe, just maybe, the cupcake tee will motivate me to do a few more miles. How many miles equal a cupcake anyway?
[Sues]