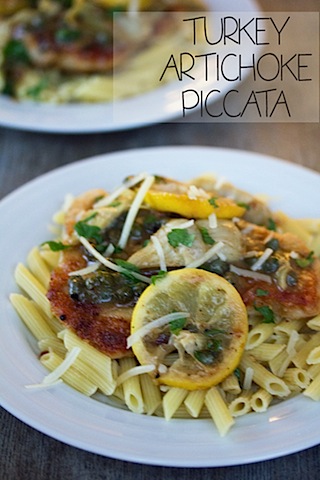 Sometimes I feel like all I do is complain. Wah wah, I'm busy and stressed. Wah wah, I don't have time to blog or read blogs. Wah wah, I need more coffee. But it's Thanksgiving week and I'd like to take a second to realize how lucky I am and how thankful I am for it. Sure, life is stressful and I'm tired non-stop and I never feel like I've gotten enough done at the end of the day. But aren't those the problems of lucky people? I'm stressed as in, I didn't finish all my work at my job and I have 18 meetings this afternoon and not enough time to see my friends and I burned a batch of cookies. Not, I can't find a job and I don't have any friends and I burned my house down. Yup, I have lucky people stress.
Thanksgiving is my favorite time in life because a) I am thankful for so, so much and b) I love food. Don't even get me started on turkey and all the sides. And gathering around the table with my fabulous family.Thanksgiving is the perfect time to just forget about those crazy stresses in your life. And to get in the kitchen and sooth your soul with some cooking.
I made a chicken piccata years ago, but wanted to try a new one… This time with the seasonally appropriate turkey. Butterball's Turkey Chops are for sale only in limited areas, but you could also most definitely use their turkey breast filets or tenderloins. Or maybe even your lucky turkey from whatever you're making for Thanksgiving. If you have leftovers of that. Which you very well may not.
Turkey Piccata (serves 4):
Print this recipe!
4 Butterball Turkey Chops (or breasts or tenderloins)
½ C flour
¼ C freshly grated parmesan cheese
1 T lemon zest
1 T red pepper flakes
Salt and freshly ground black pepper
2 T olive oil
¾ C white wine
⅓ C freshly squeezed lemon juice
¼ C capers
1 6.5 oz. jar artichoke hearts, drained and chopped
2 T butter,
1 small bunch parsley, chopped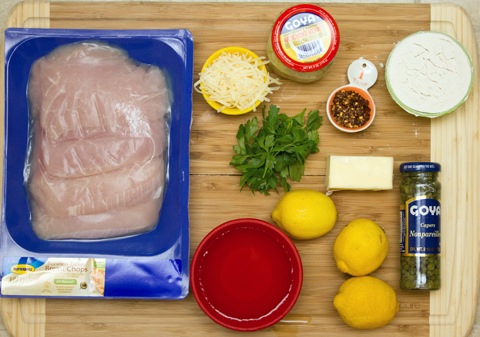 I wanted to flatten the turkey chops a bit, to they'd sauté up nicely. So, I started by placing them between two sheets of plastic wrap on a cutting board. Then, I whacked them with a meat tenderizer. You could use a rolling pin, too. You'll want the breasts to be about ¼" thick.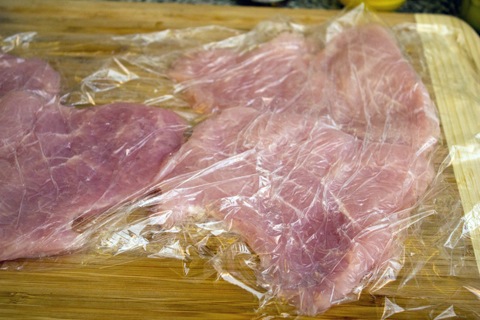 In a medium-size shallow bowl, combine flour, parmesan, lemon zest, red pepper flakes, salt, and pepper.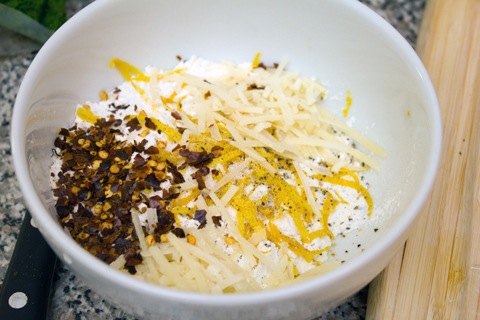 Mix well.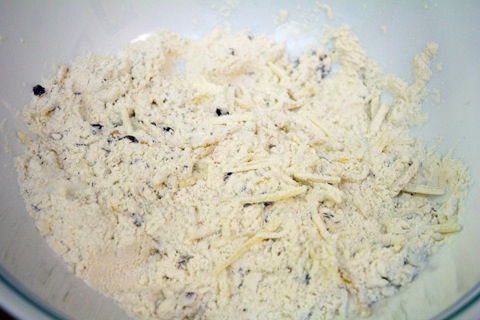 Dredge turkey beasts in flour mixture until well-coated. Shake off excess flour.
Place a large sauté pan over medium high heat and add olive oil and butter to the bottom. Place dredged turkey in the pan and cook about 3-4 minutes per side, until cooked through.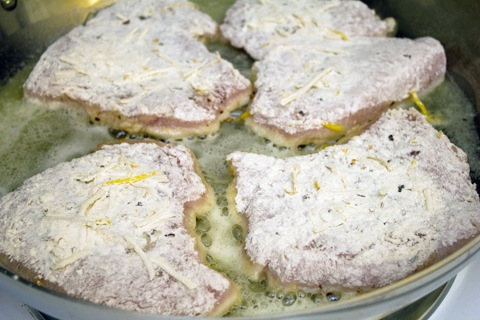 Place turkey on a separate plate and cover with foil to keep warm.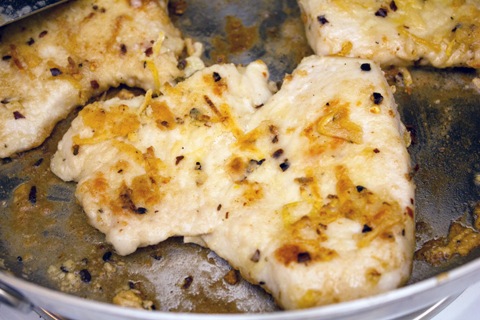 Turn heat under pan up to high and add white wine (alternately, you could use chicken broth here… But I mean, use wine please). Also add lemon juice (I mixed lemon slices in here, too), capers, and artichoke hearts. Let mixture come to a simmer while you use a wooden spoon to scrape up the brown bits. Cook for about 3 minutes until the sauce begins to reduce by about ½. Then mix in the 2 T butter.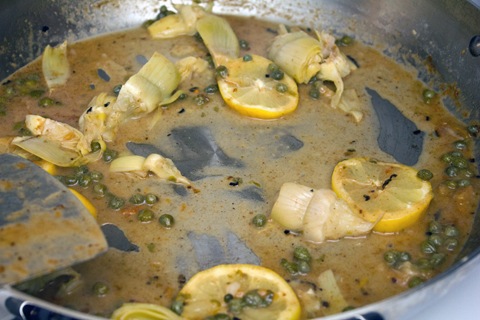 When you serve the turkey, be sure to pour the delicious sauce over the top. I served my turkey over a bed of pasta. Sprinkled with parsley, too.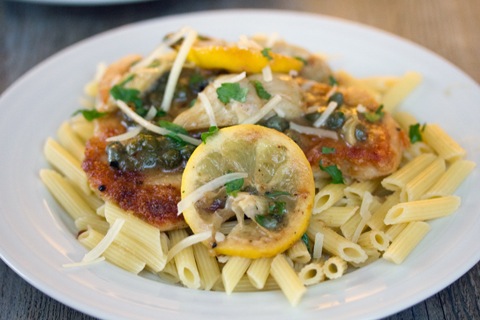 Piccata should be one of those recipes you always have in your back pocket. And can pull out any time you the the urge slash are too busy to think of anything unique. I mean, if you made this recipe for me, I would never guess at how easy it was to put together.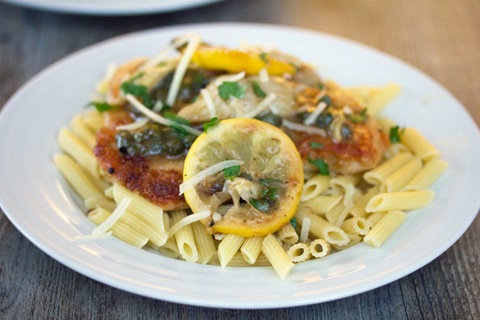 I was a big, big fan of this. The meat was truly tender and I have to admit I thought it was SO much better than chicken. Turkey is just plain juicier and packed with more flavor.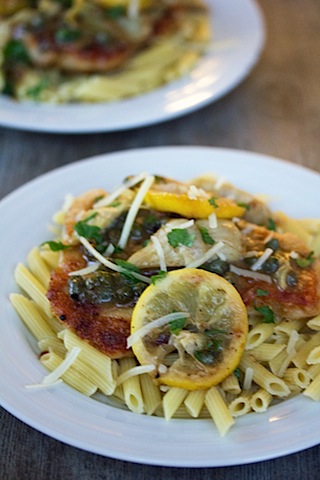 I also have a place in my heart for capers. I just think they're awesome little buggers and certainly don't have nearly enough opportunity to eat them.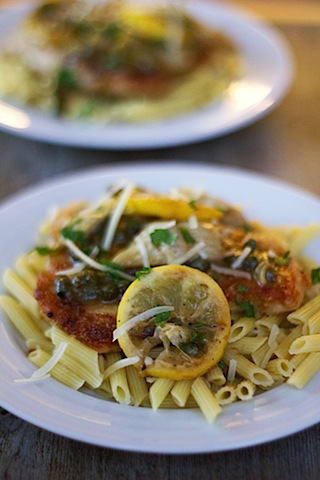 Nor do I eat artichokes nearly enough. I mean, yeah they're totally a project to prepare, but not when you buy them in a jar. Shortcuts during busy times for the win.
p.s. I just re-read this and noticed I wrote shortcuts for "busty" times for the "wine." Okayyy then.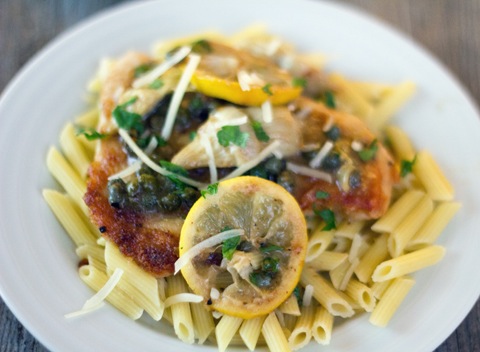 So, even though things are crazy busy and just plain crazy, I still get the opportunity to cook fabulous meals like this one on occasion. And that's how i know my kind of stress is really not so bad. Deep breath, deep breath, phew.
On that note, if I haven't answered an email from you, it's because of the above stress I listed. Yes, it's lucky stress, but it still doesn't make me feel better about ignoring y'all! I'm hoping that during my few days kind of sort of off, I will be able to catch up big time! In the meantime, I hope you'll stop by the Butterball website and see some of the posts we've written this year…. Oh, and also to check out the man who was named first male Talk-Line Expert. Hooray!.
The countdown is on!! T minus 1.5 days until Thanksgiving can be had! Are you crazy excited for it this year?
[Sues]
Disclaimer: Butterball sent me the Butterball Turkey Chops, but didn't require me to write this post. All opinions are very much my own!