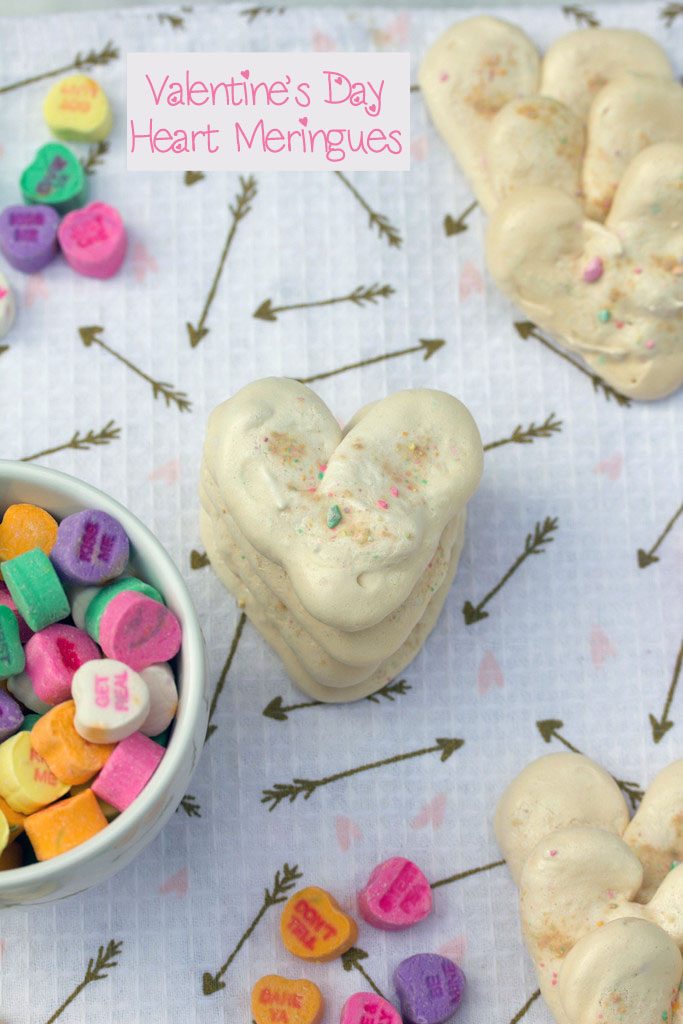 Is it just me or are conversation hearts getting even more illegible as the years go on? And how has nobody picked up on my 2013 idea for celebrity conversation hearts? I mean, come on, do I need to do everything myself around here? Not only could I not find any cool hipster hearts this year with mustaches and "pugs and kittens" sayings, but I could actually only find lame ones with "See Ya" and "Maybe" in barely legible font. Cool. If we're going to be all negative, then next year, I better see a complete remorse pack with "Same Old Love," "Sorry," and "Bad Blood" hearts. And feel free to send me a cut of the profits.
I buy conversation hearts year after year because they're pretty and festive and I like the fun colors. But if I'm going to indulge in Valentine's Day sugar, I'd much rather have it in the form of meringues. Let's be honest, I'd really much rather have meringues than anything else in the world. So, it's pretty convenient that they're so easy to make. Clearly, there is something very difficult about making a conversation heart.
I also learned that conversation hearts are quite difficult to grind up. I think I almost set my blender on fire. The food processor worked better, but still not perfectly. Don't even try with a meat tenderizer because you won't make a dent. Luckily, you don't need too much for this recipe.
All you really need to be able to do is whip egg whites and sugar into stiff peaks. This is actual therapy to me.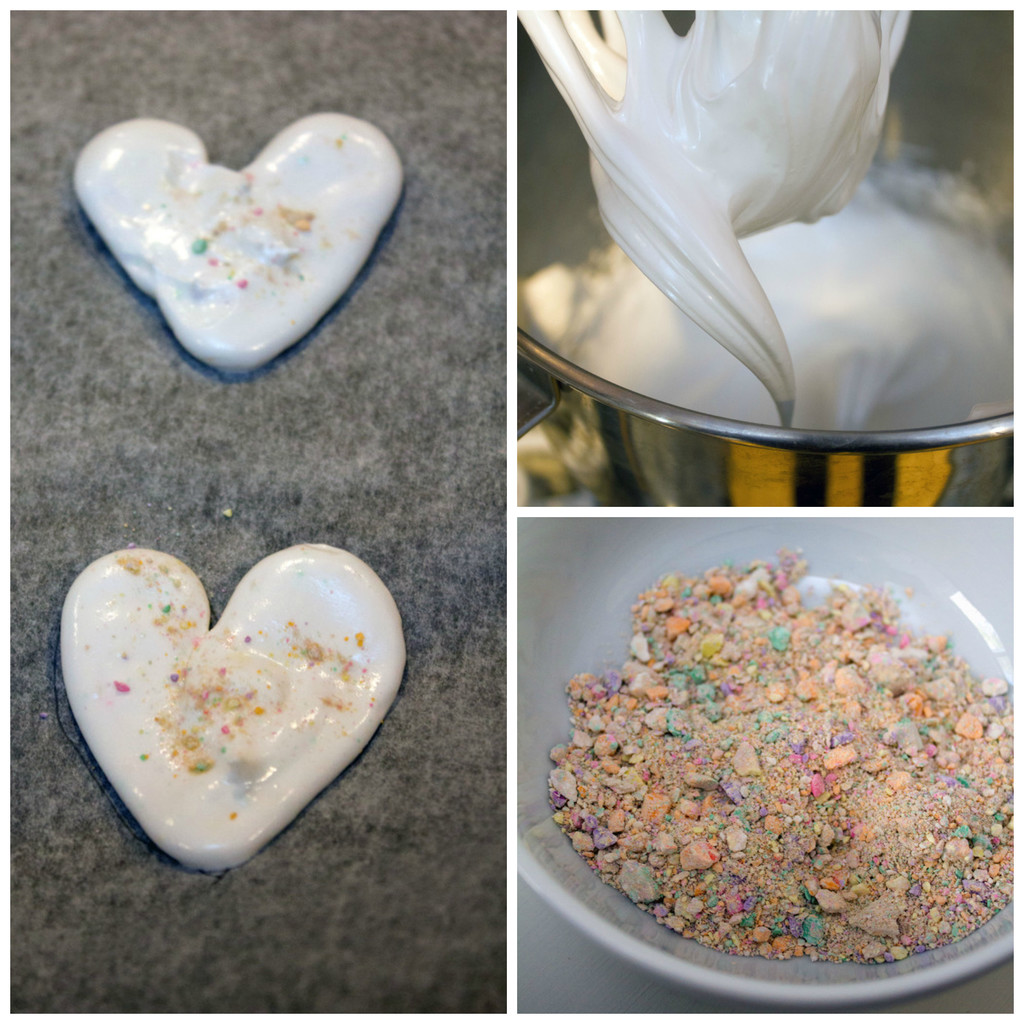 You can add any flavoring or extract you like. I used Wilton's Treatology Champagne flavor. Highly recommended!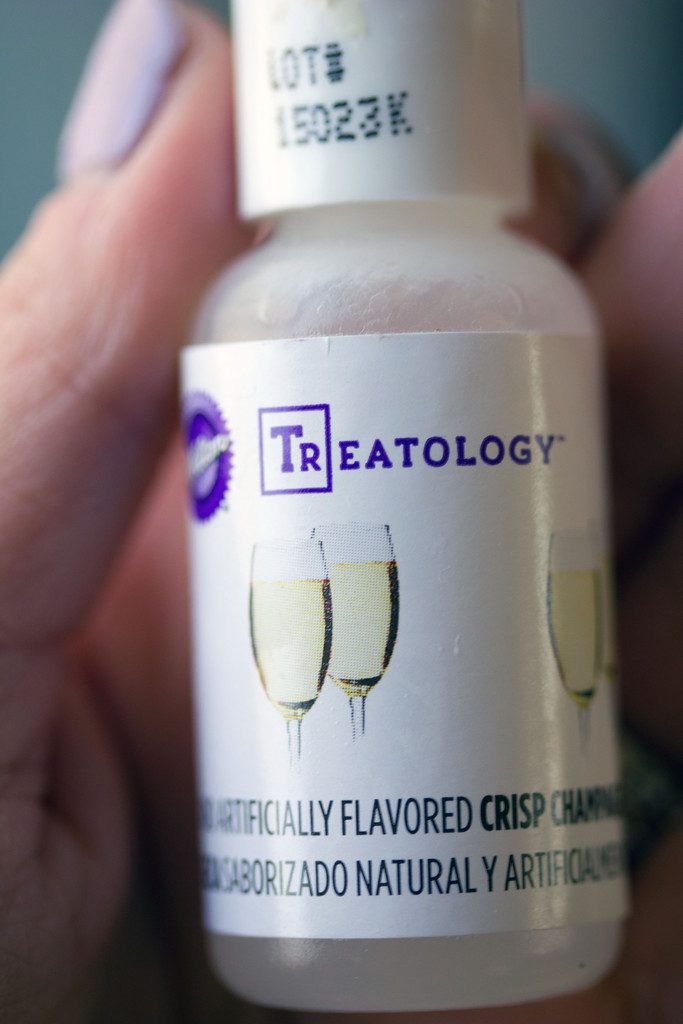 Piping the meringues into heart shapes wasn't so much therapy as something I had to try several times before I got it right. They still weren't all perfect, but I came a long way. I definitely recommend drawing hearts on your parchment paper and then flipping it over and tracing.
You bake meringues at a low temperature for a while... And then you let them sit in the oven turned off for even longer, so they can dry out. The waiting is agony.
But the payoff is worth it.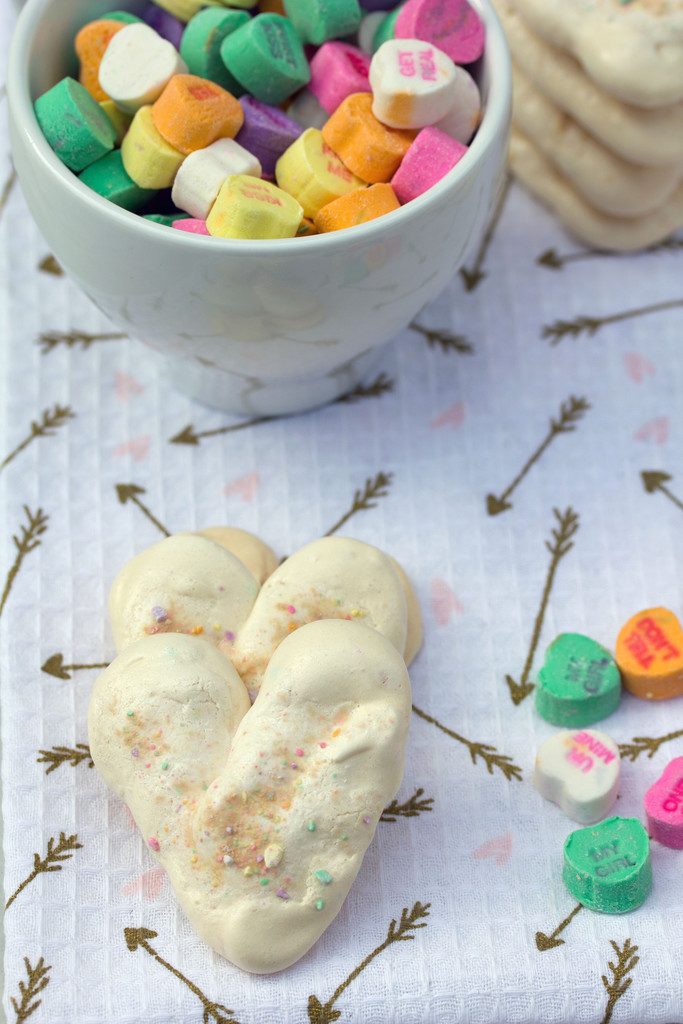 I still haven't figured out how egg whites and sugar can be so, so satisfying. The crunch of a meringue makes me happier than anything.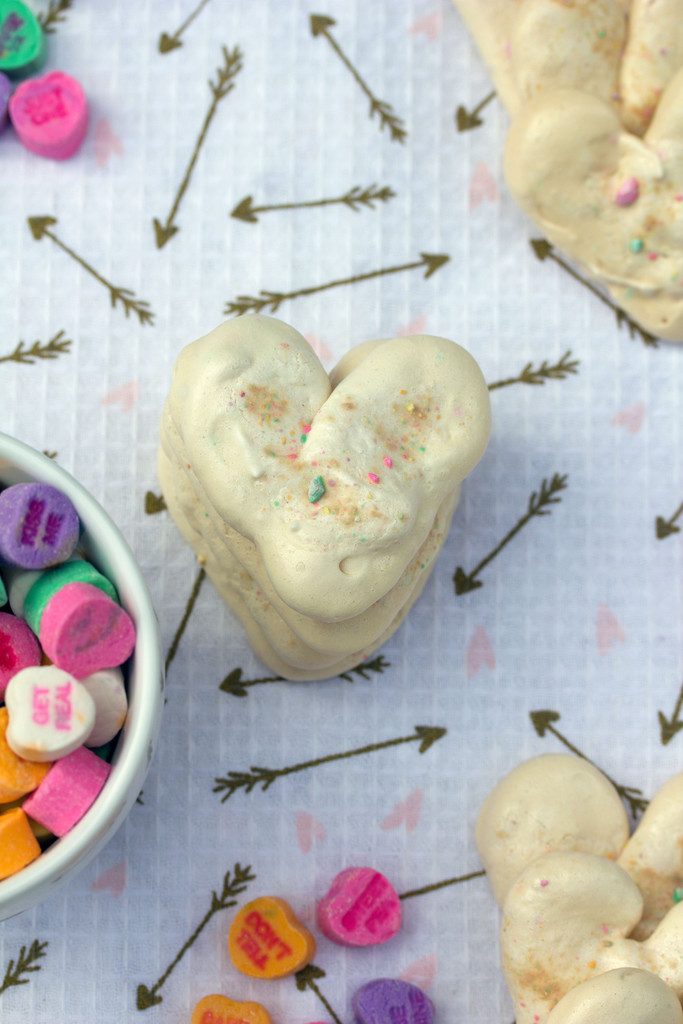 Of course, the champagne flavoring really did make a glorious impact. I might just carry that little bottle around in my purse and start putting it on everything. "Oh, don't mind me; I'm just adding a little champagne to my meal." Not weird at all, right?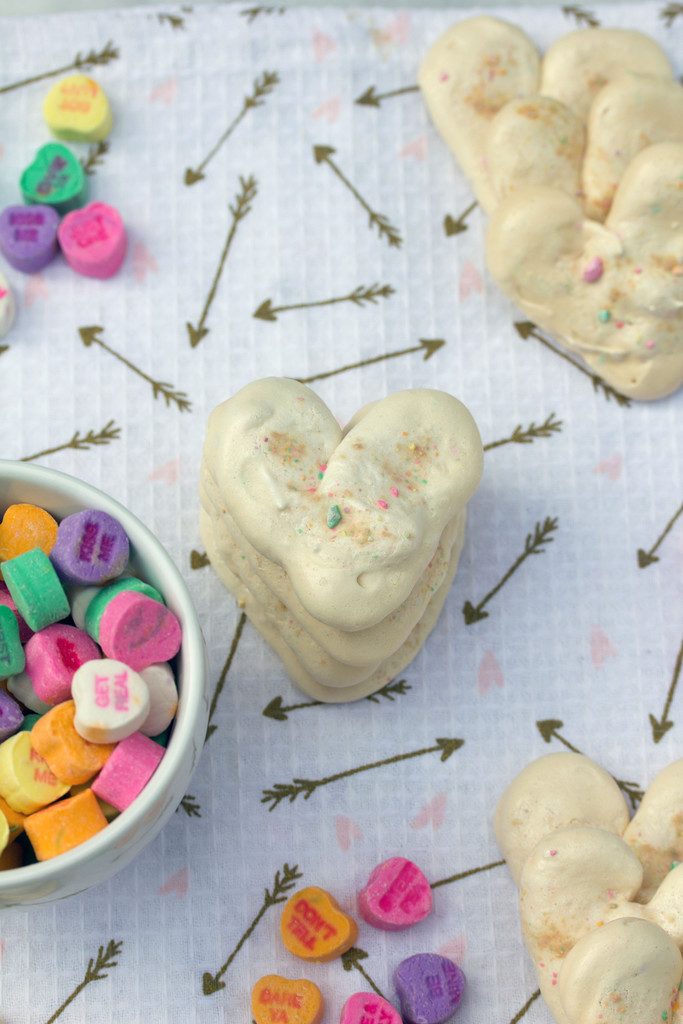 Like I mentioned, my hearts are most definitely not perfect, but I do believe the more you practice these, the better they get (trust me, I know). And I'm pretty sure the recipient of these meringues will feel all the love when you present them with these.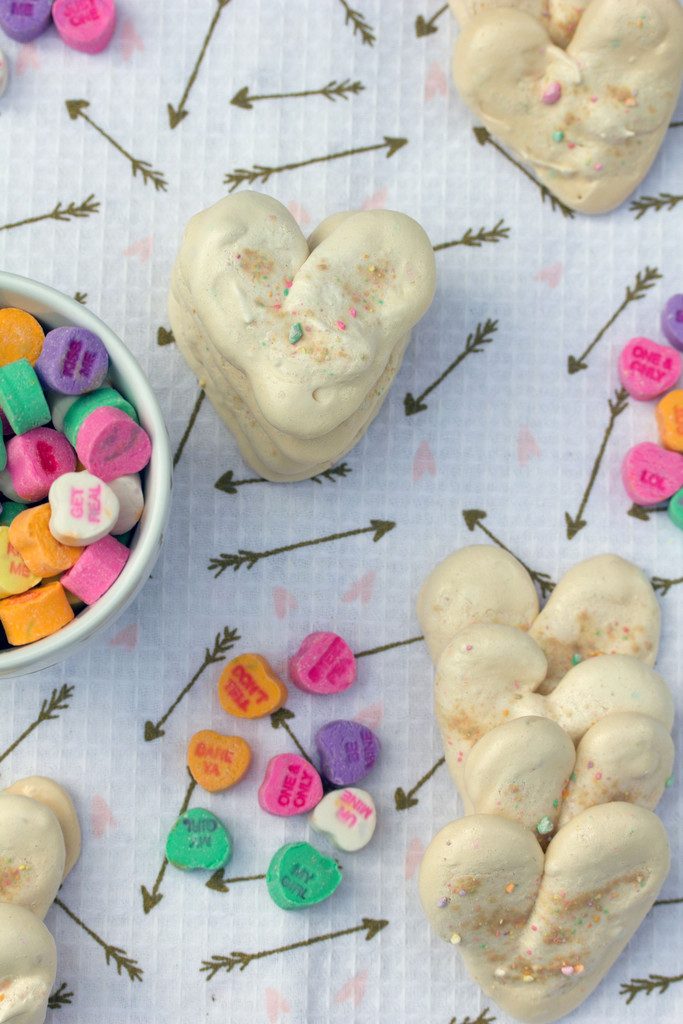 If you don't eat them all yourself. Actually, I'm pretty sure these meringues almost caused several fights between me and my husband because I didn't quite make enough and we were both in love with them. Oops. I guess that could make for a counterproductive Valentine's Day, so make sure you are completely willing to part with these before presenting them to a loved one.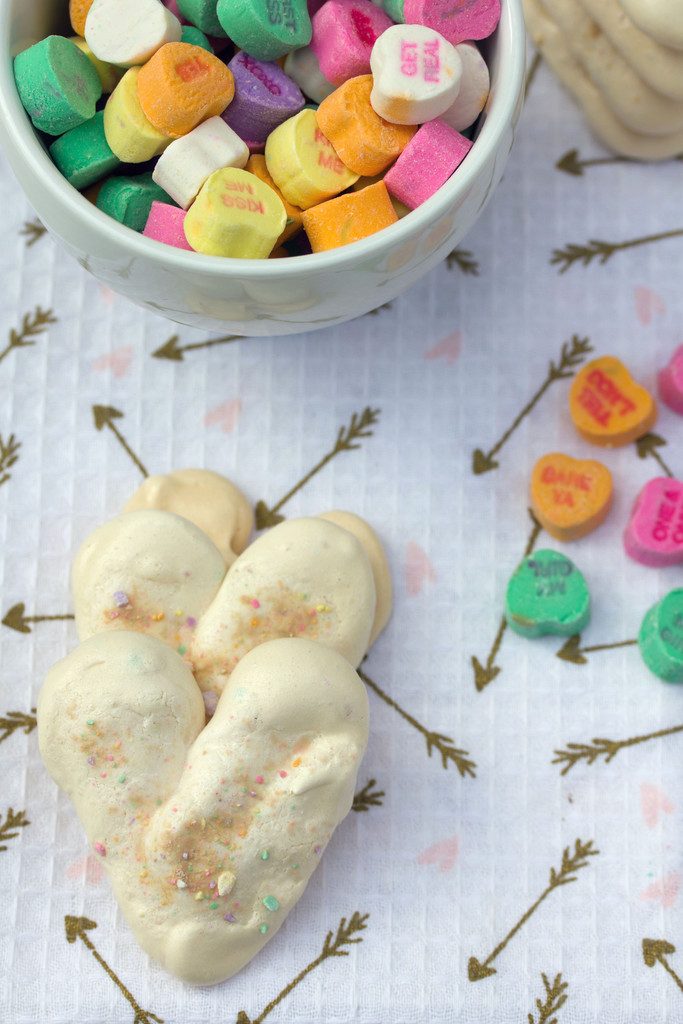 Your Valentine will much prefer receiving candy conversation hearts baked into meringues instead of on their own. Unless you hate your Valentine... And then by all means, give them the "Get Real" and "Don't Tell" hearts. Or better yet, the illegible ones.
How do you feel about Valentine's Day conversation hearts?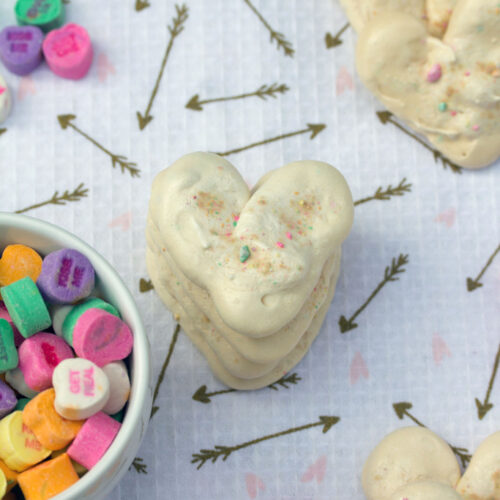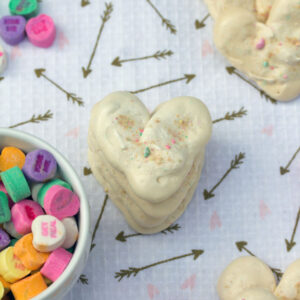 Valentine's Day Heart Meringues
Mix conversation hearts into meringue batter and pipe into hearts for a deliciously sugary Valentine's Day treat that will make anyone fall in love with you!
Print
Pin
Rate
Ingredients
3

large egg whites

room temperature

Pinch

of cream of tartar

½

cup

granulated sugar

¼

cup

crushed conversation hearts

put 2 ½ Tbsp in meringues

1

tsp

champagne extract

or pure vanilla extract
Instructions
Pre-heat oven to 215 degrees

In the bowl of a stand mixer using whisk attachment, beat egg whites on high speed until fluffy, about 2 minutes.

Add in cream of tartar and beat for about 1 more minute.

Add sugar and crushed conversation hearts a spoonful at a time and continue to beat until egg whites are glossy and stiff peaks are formed, about 3-5 more minutes.

Draw heart shapes on a sheet of parchment paper fitted to baking sheet. Turn parchment paper over on pan (so ink from drawings is facing downward).

Put meringue batter in a pastry bag with round tip. Pipe batter tracing heart shapes and completely filling in. Use a toothpick to clean up hearts and get rid of any lumps.

Sprinkle remaining crushed conversation hearts over the top of the hearts.

Bake at 215 degrees for about 40 minutes. Turn oven off and let meringues sit in oven for another hour to completely dry out.
Share a Photo of Your Finished Recipe!
Mention @wearenotmartha and share a photo if you've made the recipe!