Like I mentioned in my post the other day, Chris and I just spent a long weekend in Virginia. His family is from right outside Richmond, and since he stayed in Boston for Christmas (getting engaged to me!!), we took a trip for a belated celebration. I had only been to Virginia once before so I was excited to see some more of the sights, and his family and friends, of course!
Oh, and this little dog too. His name is Brutus. How appropriate, right?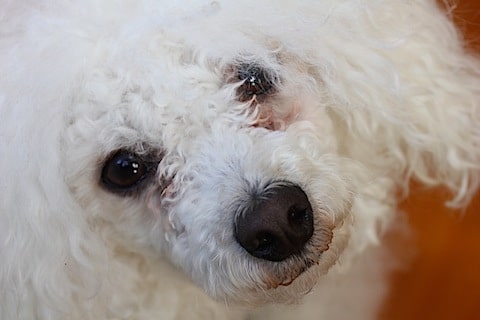 And here's Buzz, who also happens to be quite the cutie.
We took an early morning flight in on Thursday (after our Wednesday night flight was canceled due to a big snowstorm in Boston) and right when we arrived I had to spend some time getting work done. Ah, such is the freelance life!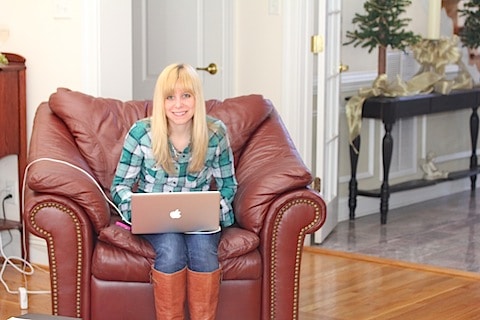 Luckily I had Brutus to help me.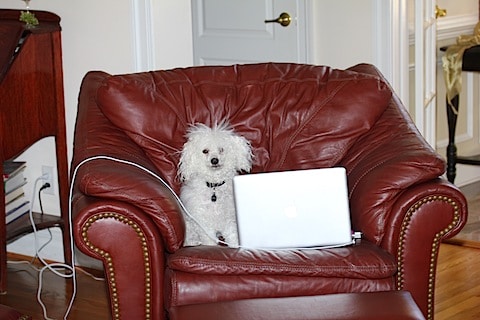 We got quite the surprise when we went to Chris's mom's house and found she had decorated especially for our visit!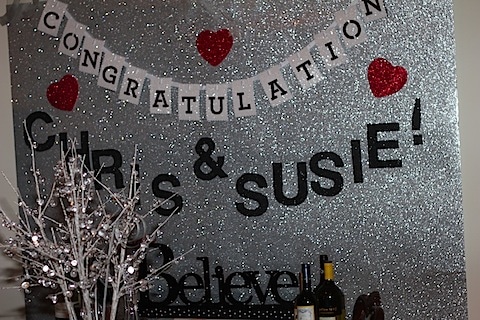 Isn't that the best? She also left up all her Christmas decorations so we could have a "real" celebration.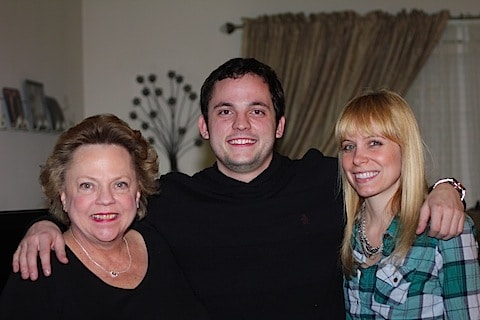 I even became part of the snowman family!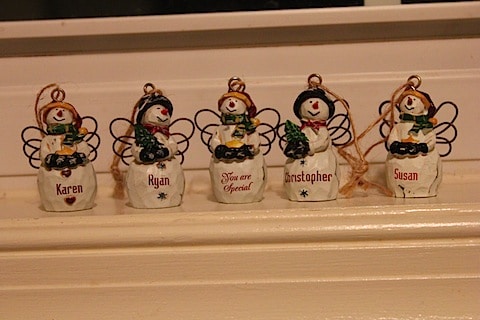 Everything looked fabulous. And I got some awesome gifts from my future mother-in-law, including lots of cupcake, wedding, and wine-related gifts. She knows me so well already!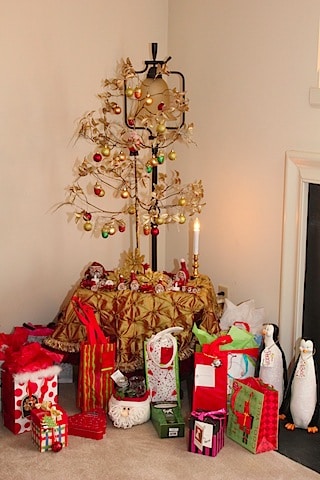 We hung out with Chris's brother, Ryan, and his best friend Ricky and girlfriend Shelley (who recently started her food blog!) and we posed for some pics with wine 🙂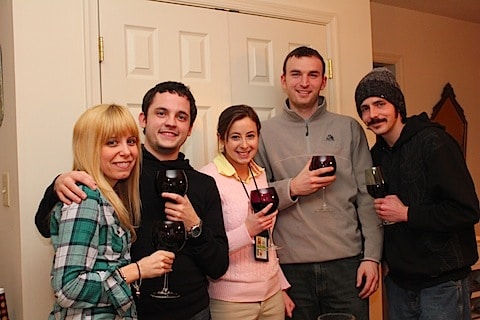 Chris and I had been up since 3:00 a.m. at this point, so if we look a little worse-for-wear that's why! I think we did pretty well and ended up staying up until 1 a.m. that evening!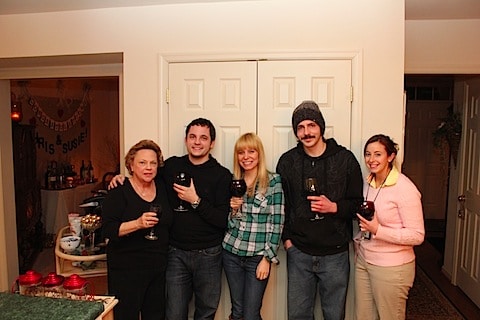 This is how the rest of the night was spent. You know, kind of like the typical night with my own parents and siblings! Wine, cheese, and good conversation 🙂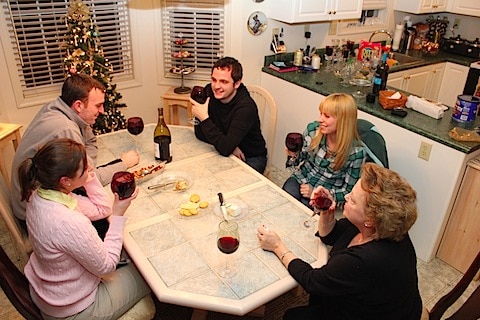 There were some heated debates… Well, mostly between Chris and his brother. And mostly between who the best basketball player of all time is and whether or not Macs or PCs are better computers.
Chris gets VERY heated when it comes to defending his dear Apple and Steve Jobs.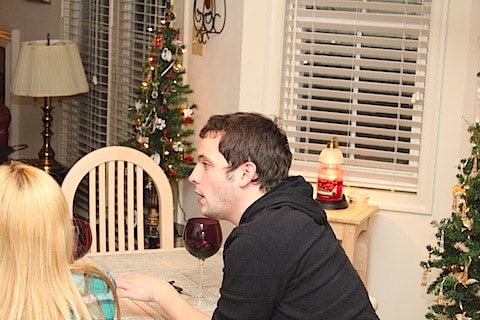 Shelley and I mostly sat in amusement.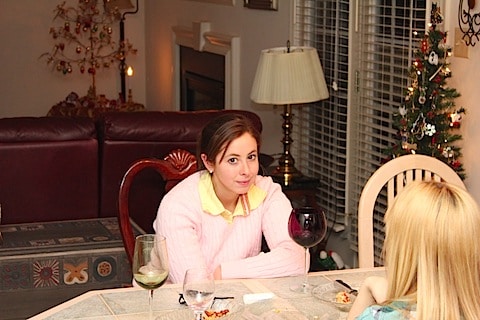 Back at Chris's dad's, I spent some quality time with my new best friend.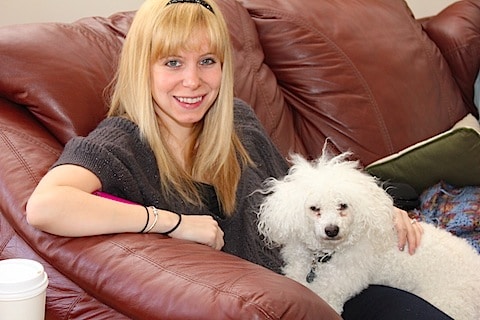 Chris and his dad also have the great Mac vs. PC debate quite a bit. Somehow, Chris has managed to convert my whole family to Mac users (since meeting him, I got a Mac and an iPad, my dad got a Mac and an iPhone, my mom got an iPad, and my sis and bro-in-law got a Mac and Apple TV. Sheesh!), but he's still working in his.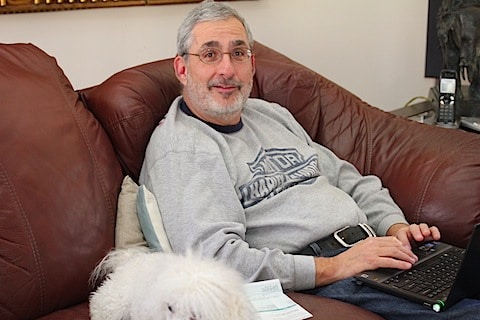 And then we played some disc golf. Have you ever played this? I'm not sure how big it is around the New England area (though I kind of remember people playing it in high school), but Chris's dad and brother are really into it. Chris and his bro got their dad this "goal" (is that what it's called?!) for Christmas and I kind of learned to play. Ryan is pretty much an all-star player, so I was learning from the best.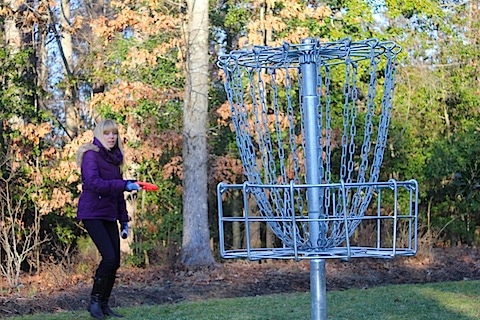 It was definitely chilly out, but nothing compared to Boston. And it was a nice break from having snow EVERYWHERE.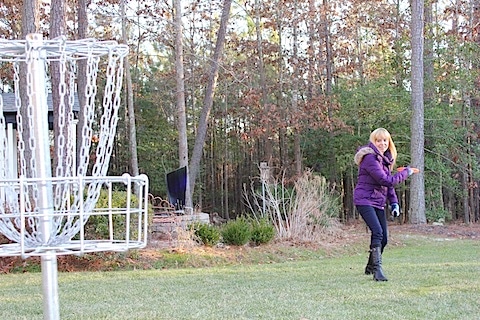 I might have even won a game. But I assure you it was due to sheer luck and had nothing to do with ability.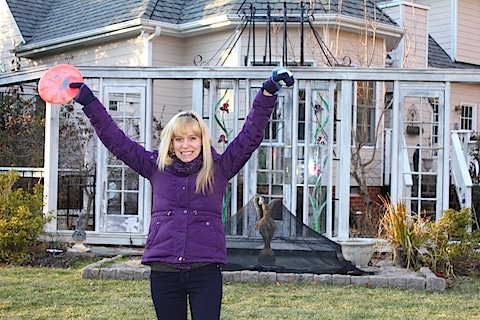 On Saturday morning, we took a trip to Williamsburg to meet up with some of Chris's friends from his previous job in Virginia Beach and to check out Williamsburg WInery, which just happens to be the largest winery in Virginia. In fact, they produce between 55,000 and 60,000 cases of wine a year.
We spent some time exploring the shop while we waited for our tour to begin.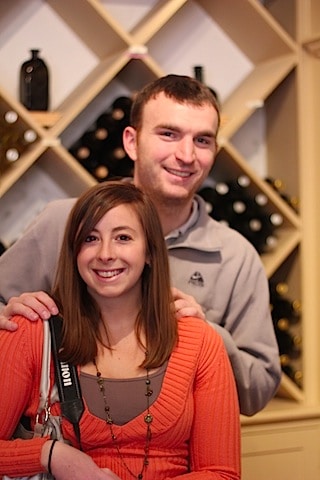 I'm pretty sure this photo needs to go in the Williamsburg Winery's marketing material.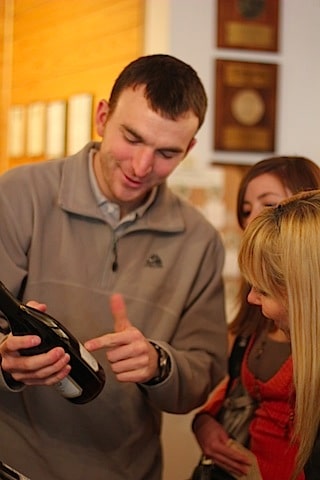 The tour of the winery was great, but they definitely need to update some of their material. At the start of the tour we had to watch a 15 minute video about the winery that looked like it was straight out of 1995. We definitely giggled through the whole thing.
But the wine cellar was absolutely beautiful and we learned tons, from the benefits of different barrels to the benefits of different corks.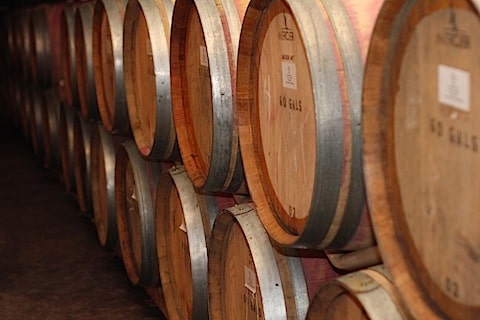 Our tour guy was well-versed on the history of the winery.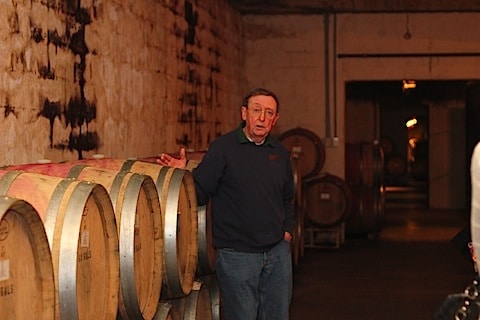 I totally could have moved into the awesome-looking wine cellar, except for the fact that it was absolutely freezing!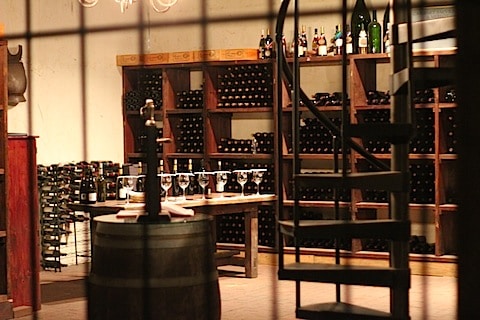 I do wish we had gotten the opportunity to explore the actual vineyard because it looked beautiful, but maybe there's not much to see at this time of year.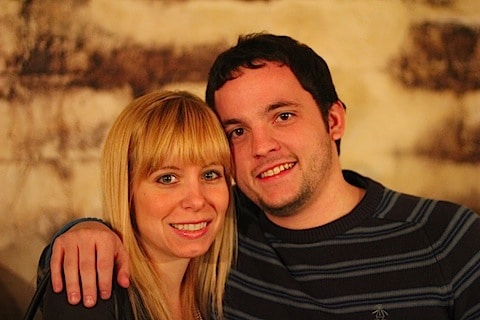 Then we got to participate in a wine tasting, where we tried 7 splashed of wine.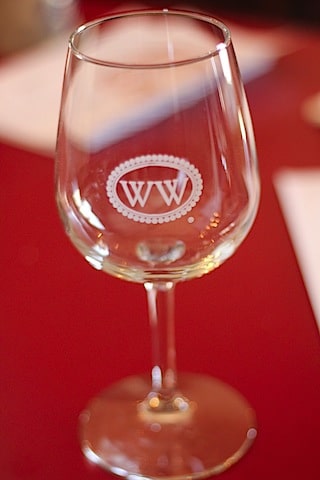 I don't generally like Rieslings, but the Samuel Argall Dry Riesling was delicious! Much more tart and less sweet than the Rieslings I'm used to. We obviously bought a bottle! We also bought a bottle of the Cabernet Franc, even though we didn't get to try it during the tasting. It's generally one of our favorite wines. It's not easy to travel by air with wine… But we made it work!
Of course, a group photo was snapped outside the winery: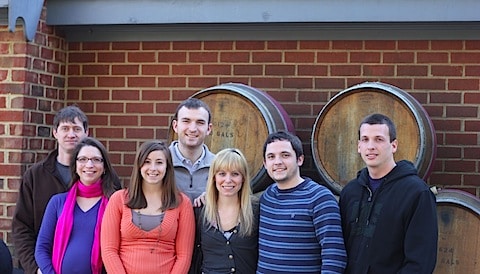 Oh, and a huge congrats to Windy who had her baby girl just a couple days after hanging out with us at the winery (and not participating in the tasting, of course!).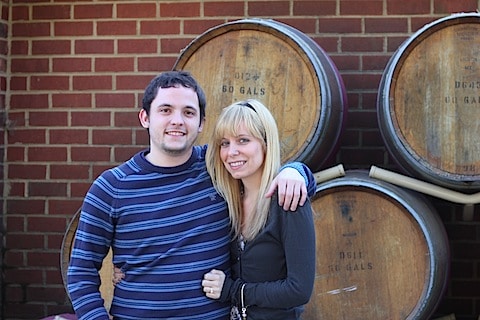 That evening, Chris's mom threw an engagement party for me and Chris. I got to meet even more of Chris's friends, including a few from college (Lindsay, below, is pregnant, too!) and high school.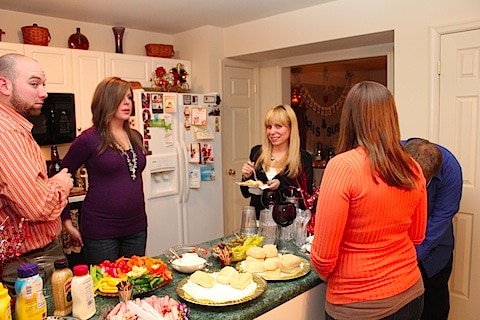 His mom made tons and tons of food and the evening was spent eating, drinking more wine, and chatting with everyone.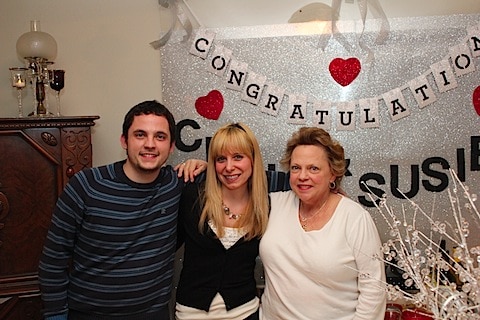 We had such a great time and I was so happy to meet so many of the people Chris is always talking about!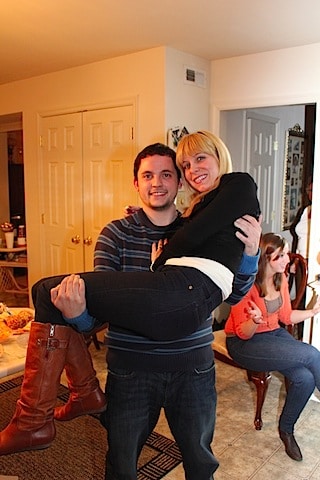 Sunday was spent celebrating Chris's mom's birthday and watching the Patriots game (boo for the loss!) with his dad. A nice relaxing way to end our trip.
We had a fabulous visit and I'm already excited to go back! Not only to see his family and friends again, but also to see more of Virginia. It seems like there's so much to do there that we'll eventually get around to. I mean, I haven't even had a cupcake in Virginia yet!
And now we can officially start wedding planning. We haven't made one single decision yet (including the *when* like everyone keeps asking!), but I think we're ready to jump in. I think it's always just hardest getting started. Once we figure out *where* our wedding will be (hopefully somewhere right in Boston), more decisions can be made 🙂 Yay!
Have you visited any wineries? Which was your favorite? I'd love to do a winery tour of the world!
[Sues]