Saaaad this is our last Athenos Feta post… I can't believe how quickly July flew by! Guess that's what happens when you consume so much feta 😉
I decided to save the best for last. One of my favorite food combinations is watermelon and feta cheese. Although it sounds strange, the sweet and salty pairing always wins. I'm looking at you, bacon and chocolate.
This dish is inspired by Vlora restaurant on Boylston Street in Boston. It was actually the first place I ever had watermelon and feta cheese together and where I fell in love with it. You can find the similar dish on Vlora's menu, it's an appetizer called the Watermelon and Feta Tidbit. It's one of their most popular menu items and if you have a pulse you will run there now and try it yourself 🙂
Here's what you need (for 3 cubes of watermelon):
• watermelon, cut into cubes
• drizzle of balsamic vinegar
• Athenos Feta Cheese, I used the mild "chunk"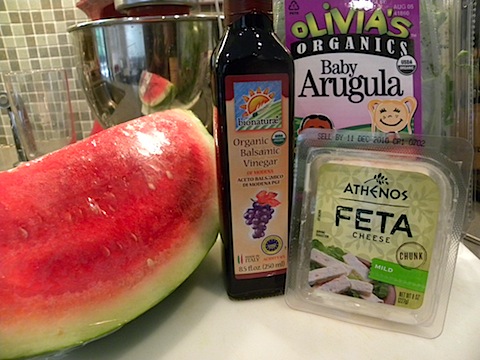 see… "chunk" 😉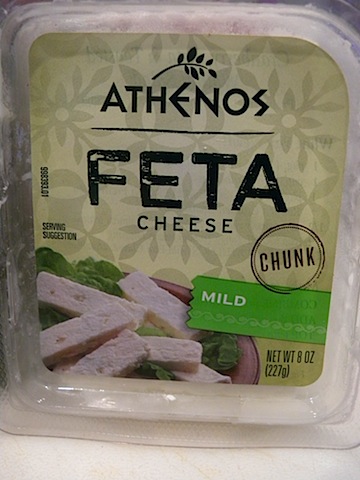 Here's what you do:
• After I cubed a few pieces of watermelon I cut slices of feta and drizzled them with the balsamic vinegar. I added a touch of sea salt and fresh black pepper on top. I rested all of the watermelon on small beds of peppery arugula! Yowza!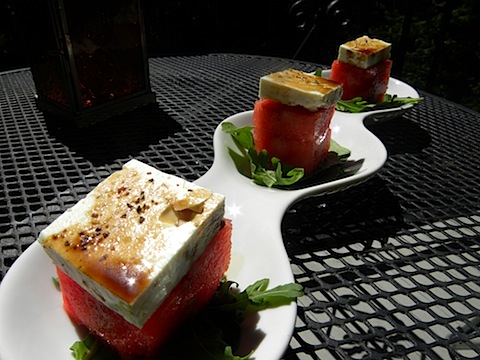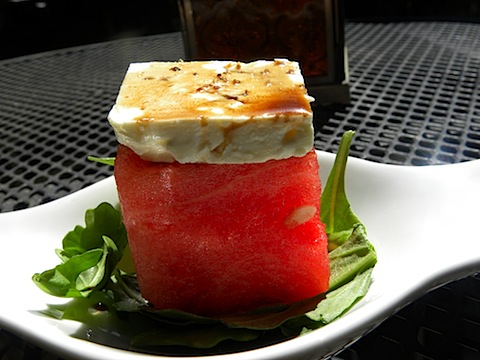 This is a quick and absolutely beautiful dish to create. I think the fun thing about it is if you're entertaining, people will be impressed by its uniqueness… it's a definite conversation starter 😉 In a few speedy minutes I had a refreshing mid-day snack that I enjoyed with my feet up outside on my deck taking in the final day of July. And what a beautiful one it is.
———-
Other Athenos Feta news:
The winner of our final Athenos Feta Friday Giveaway is: Meghan of Travel, Eat, Love! Who said: I hope the move went well! We always have our bed and bedding ready so that we can crash after moving everything. That and face wash, toothbrushes, contact solution, anything I need for bed time. Then go out to dinner 🙂 Congratulations, Meghan! We'll be in touch with you soon 🙂
This month, we 120% took the plunge and made a Change for the Feta by making it our goal to create some truly special and unique recipes. Take a look back at our Athenos Feta creations for the month of July:
Colorful Quinoa Salad
Grilled Chicken with Red Pepper Sauce and FetaMango and Feta Salad
Blueberry and Feta Salad
Roasted Beet Salad with Feta and Mint
Egg Salad with Spinach and a Feta Blend
Sweet Potato Fry Salad with Feta
Pasta with Green Vegetables, Herbs, and Feta
Couscous and Feta-Stuffed Peppers
Mediterranean Pasta with Chicken Sausage, Olives, Broccoli, and Feta
Toasted Chickpea, Tomato, and Feta Salad
Pan-Roasted Corn Salad with Tomatoes and Feta
Grilled Salmon, Roasted Red Pepper, Moroccan Spiced Chickpea and Feta Salad
Shrimp and Feta Orzo Salad
Spinach, Baked Zucchini Chips, and Feta Salad
Cucumber and Feta Salad
Grilled Avocado with Tomato and Corn Salsa and Feta
Tuna Salad with Feta
Roasted Carrot Salad with Feta and Parsley
This was such a fun opportunity and incorporating Athenos Feta cheese into our salads, almost daily, was far healthier than using other cheeses… so we could be sure to maintain our Summer figures 😉
To learn more about Athenos and for more feta inspired recipes, become an Athenos fan on Facebook.
Thank you to Athenos and thank you to our lovely readers for participating so much and offering all of your feta suggestions!
[Chels]