We are excited to announce that we are partnering with Ted and Jon, the founders of 2 Guys Uncorked. The guys will be offering their expert suggestions for wines that pair fabulously with each of our recipes. So, next time you make a recipe found on We are not Martha, you'll know exactly what kind of wine to drink with it (and bonus! All the wines they recommend can be found at Trader Joe's or Whole Foods).
Read on to learn more about Ted and Jon and 2 Guys Uncorked:
2 Guys Uncorked was created by Jon Harriman and Ted Serbinski, two Cornellians, who have tasted more than 3000 bottles from across the world. They wanted to create a place for people to learn about wine and discover some great wine deals.
2 Guys Uncorked is all about making wine fun and easy. They review wines from Whole Foods and Trader Joe's (but you can get these wines at any wine store usually) and post their reviews for easy browsing. Their wine reviews are quick, fun and easy to understand with no pretentious "wine-speak". When rating a bottle, they look at the price-tag and take cost into account. Their ratings, which are based on quality and value, range from "Best Buy" to "Well-priced" to "Don't Buy." They help you find great deals and avoid bad-tasting/overpriced wine. So, check out 2 Guys Uncorked before you head to buy wine and they'll help you pick a wine that actually tastes good.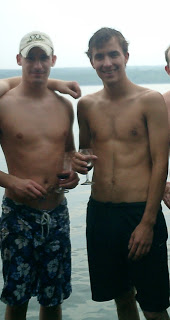 Unfortunately, they cannot be purchased at Trader Joe's or Whole Foods.
[Sues and Chels]