This weekend my fabulously awesome husband turned 30. And since you only turn 30 once (or so I'm told… I'm ready to attempt to refute that claim!), I wanted to do something extra fun with him and ultimately decided on a trip to Portland, Maine. He's been wanting to hit up Portland for just about as long as I've known him, in part because of the wonderful beer scene. I headed up to Portland for Katie's bachelorette party a couple months ago and absolutely loved it. We didn't go to any breweries that weekend (but DID go to the amazing Maine Mead Works), so I knew this trip would be a little different. Sadly, many of the Portland-area breweries only conduct tours during the week… which seems crazy to me, but I guess they're basically saying, "if you're a big enough fan of our beer to take time off from work, then we'll gladly show you around!" We're big fans of lots of breweries, but could only jet off to Maine from Friday to Saturday. But still, I think we were happy with all we got to see!
Our first stop of the trip was Allagash Brewery, the spot Chris was most excited to go to. I booked our tour a couple months ago and was super sad when I got an email last week telling me the brewery would be closed on Saturday due to electric work. When Jill told me we could come Friday or Monday, I sadly wrote back that we probably wouldn't be able to make it in time. And she generously offered to take us on our own private tour whenever we could get there because I told her it was Chris's birthday. How accommodating is that?? The last tour ended up being later in the day, though, so we made it.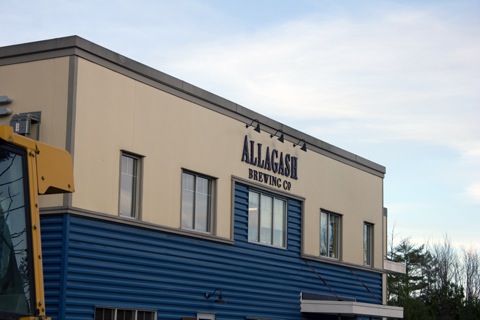 We got to partake in the best tasting, with half glassfuls of beer.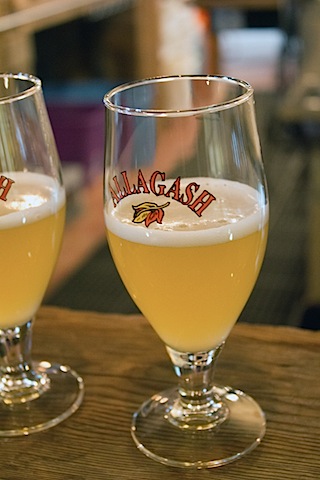 Did you know that Allagash White makes up for 75% of Allagash's sales? I thought this was crazy at first, but then I realized that I do see it everywhere. I like White, but preferred the Hugh Malone, which was nice and hoppy!
Not a bad way to start our weekend!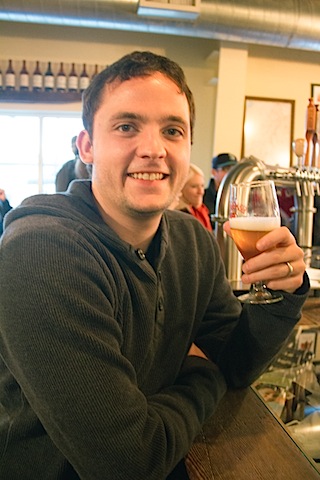 And then take a tour of the brewery while rocking these awesome safety glasses.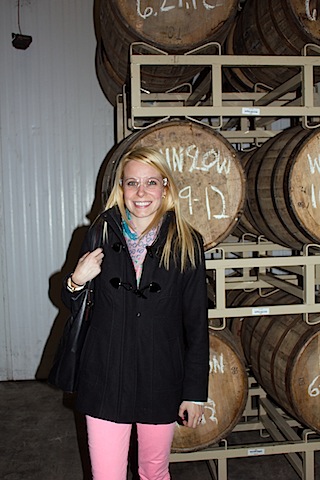 But seriously; this was definitely the insiders tour and we got to peek in practically every corner.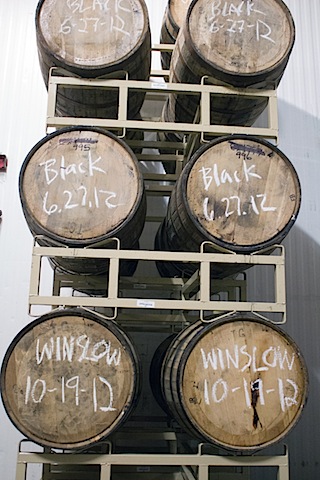 I loved the messages around the brewery, especially this one: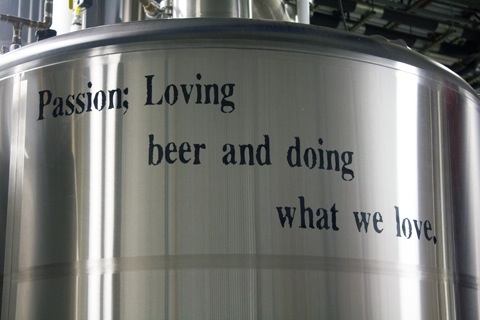 And this one.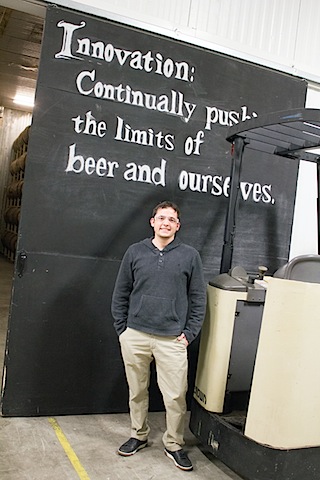 After learning about Allagash's limited edition Coolship series, I am absolutely dying to try some of those varieties. Give me a good gueuze and I am a happy girl!
Allagash is currently building a new brewhouse (which is why they were going to be closed on Saturday), so I guess we'll just have to go back and see it when it's complete!
We stopped at The Great Lost Bear on our way back from Allagash since I heard it was a most excellent beer bar. It was. The nachos were pretty fabulous, too!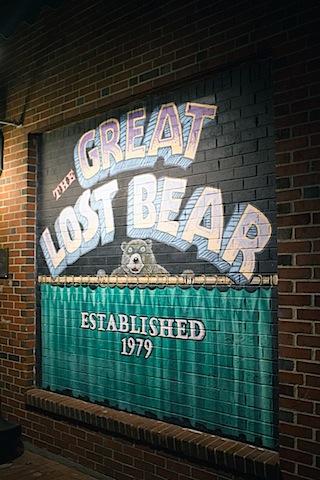 That night we hit up Street & Co., which I basically wanted to move into.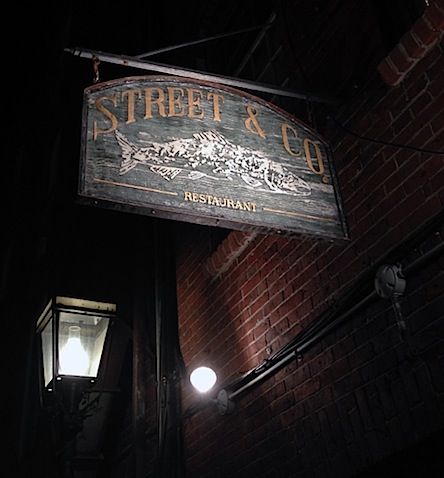 Adorable location, cozy inside, and the perfect balance of casual gourmet. I ordered the Tuna Bolognese for dinner since it was a special and I had never heard of such a thing. It was absolutely incredible and I'll never look at Bolognese the same way again.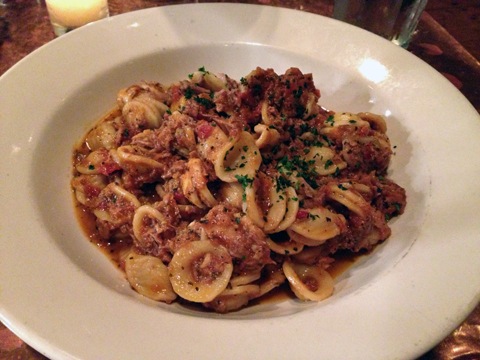 Chris got calamari in red sauce and loved that it was served in a little (well, actually kind of big) skillet. Guess I'll need to start serving meals in skillets at home in order to impress him!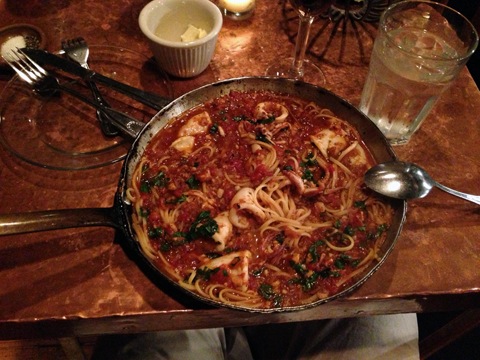 Gingerbread for dessert because it sounded heavily and looked even prettier. Thank goodness it's Thanksgiving this week because I am so in the holiday spirit!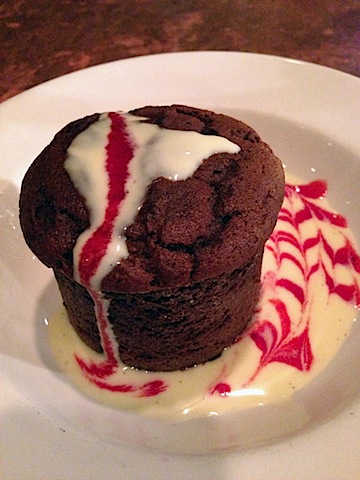 After dinner, we stopped by Gritty McDuff's, which in Portland is a brew pub and not an actual brewery. It was hopping inside (Portland has QUITE the nightlife!) and we just ordered one drink. I opted for their hard cider since I was a little beer-ed out at this point and it totally hit the spot.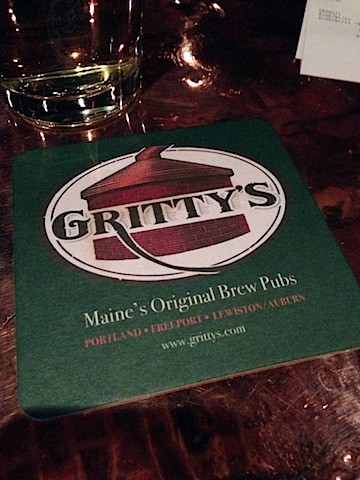 We started off the next day nice and early at another of Chris's favorite breweries. Shipyard!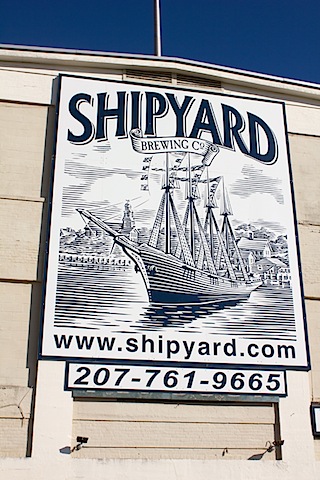 The tour was more like a movie and a peek at their bottling plant.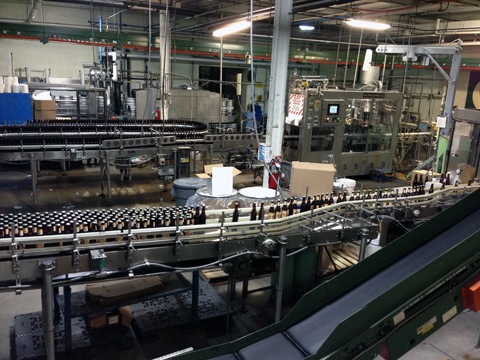 Which, don't get me wrong, was cool. But all was even better in the tasting room.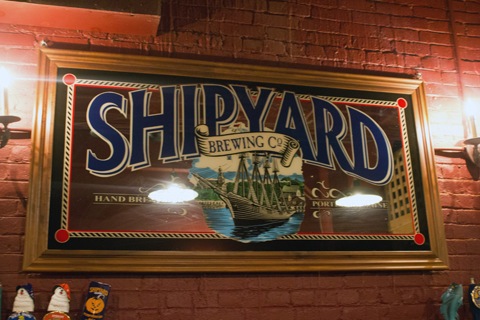 We got to try every single beer they had on tap.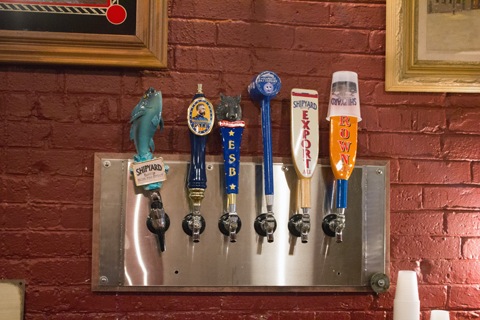 Including a couple of Sea Dogs. I especially loved the Blue Fin Stout, Prelude, and Old Thumper. And obviously Pumpkinhead! Did you know that Pumpkinhead is Shipyard's top seller? Kind of crazy when you consider the fact that it's a seasonal beer. But it really is that popular.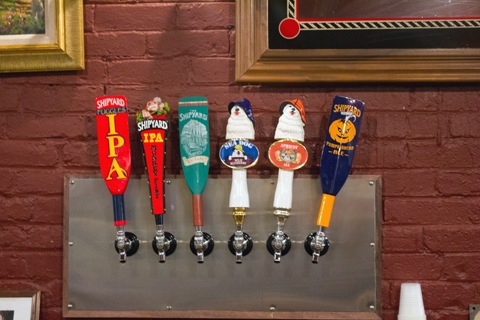 We spent some time wandering around Shhipyard's amazing retail shop, where we spotted Shipyard Pumpkinhead in a can! We've never seen this before and were pretty excited.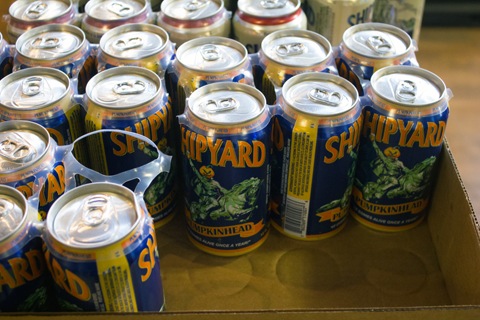 Not to mention, large bottles of Smashed Pumpkin aged in bourbon barrels. We definitely took a bit home with us from Shipyard!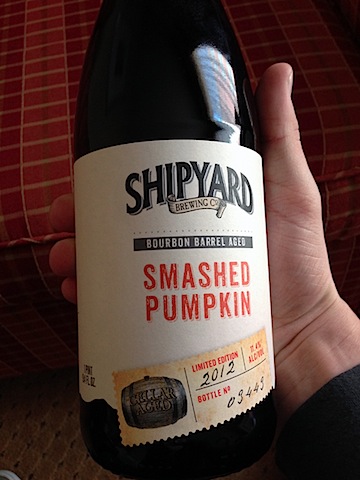 It was quite a bit of beer for 11 a.m. (my day drinking days are sadly long gone!)…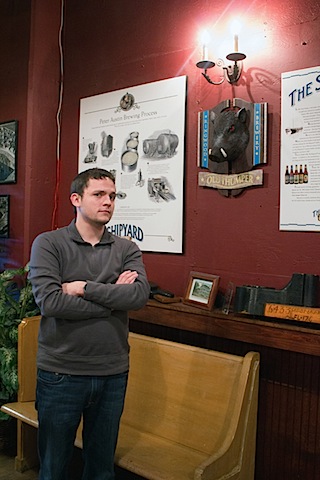 But that didn't stop us from hitting up Rising Tide Brewery a little while later.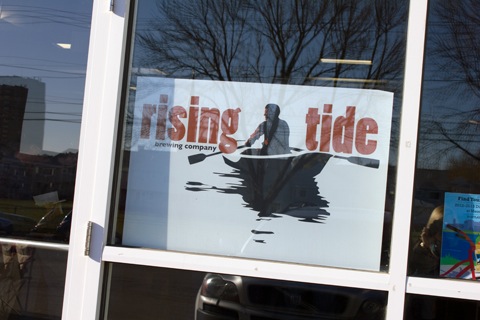 Rising Tide is a newer and smaller brewery with literally 3 people on staff.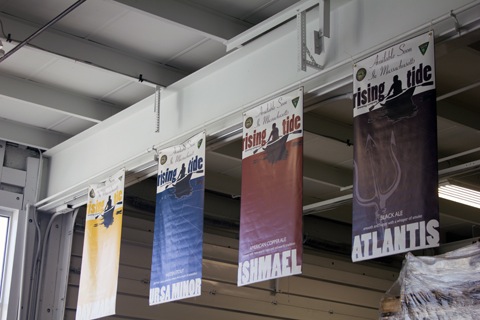 Our tour was led by the founder of the brewery. And when I say tour, I mean we stood in the room and looked at the brewing equipment.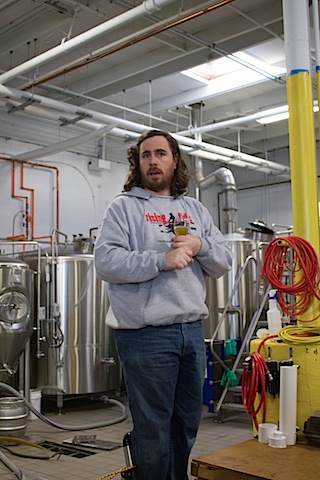 But Rising Tide was an awesome contrast to the two larger breweries we went to. And it was great to get a peek at a brewery that's still fairly small, but growing extremely quickly. They just started distributing to Massachusetts I think in August, so if you live in my home state, you should be seeing it around!
Among many others, they brew a delicious coffee porter called The Tempest.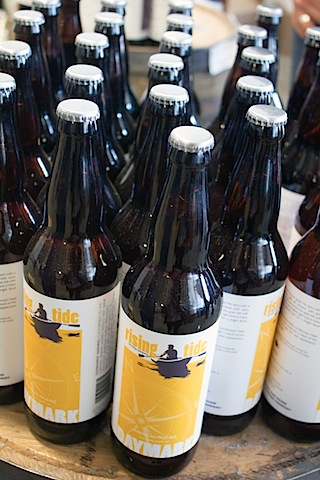 What would a trip to Portland be without a lunch at Duckfat? We loved our lunch when we went for Katie's bachelorette and I knew I had to go back with Chris.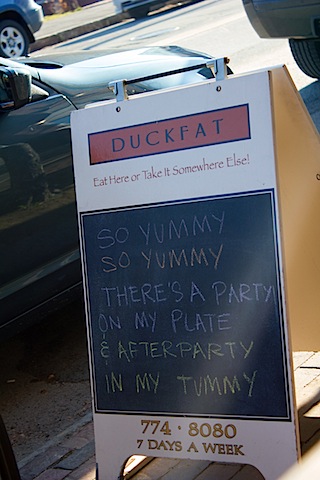 I regretted not having enough room to order a milkshake the last time I was there, so this time it was the first thing I ordered. I got the special-- Roasted Banana and Nutmeg. HEAVEN! And so perfect for a cool fall day. Chris got the Peanut Butter Banana, which was also quite delightful.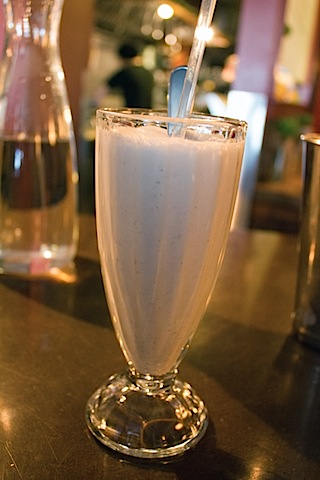 This time I ordered the tuna melt with olive tapenade, which was delicious. But I still think the meatloaf panini I had last time took the cake.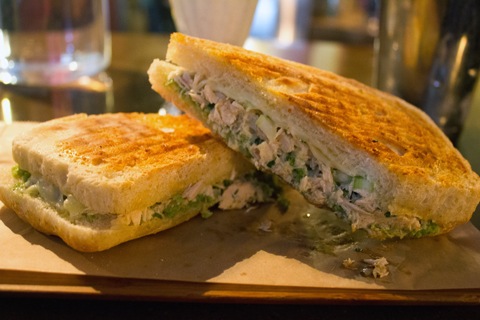 Chris got the corned beef rueben and was basically in heaven all through lunch.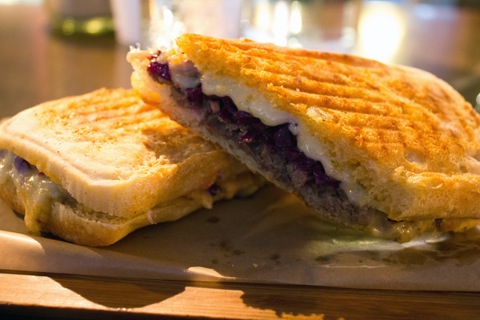 Fries are always a must at Duckfat! Although now my biggest regret is that I didn't have enough room for the poutine. I guess I'll have to go back a third time and make some serious decisions. Like, a milkshake, panini, AND poutine might just be a little too much if you're planning a dinner out that evening. But I believe it's a feat worth striving for.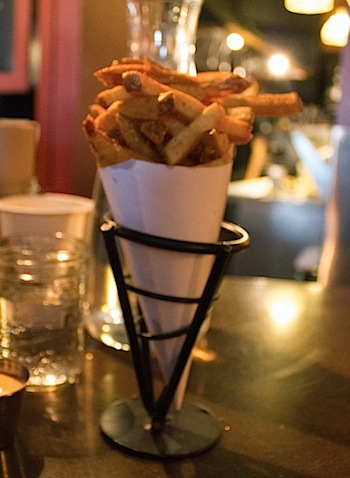 After lunch, we definitely needed to do some walking around (slash shopping!). We obviously had to pay Cabot a visit!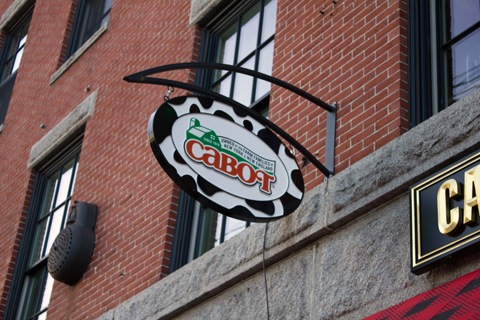 They recently opened a Farmers' Annex in Portland and it's an adorable little shop. Plenty of cheese samples, plus tons of gifty items and even beer and wine.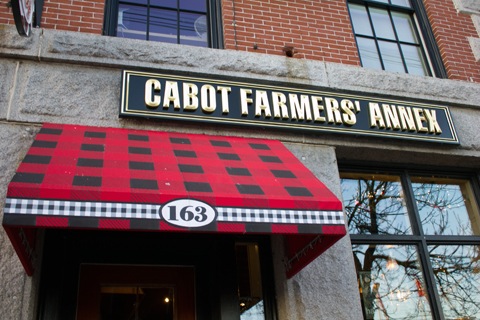 If ONLY I didn't have that milkshake, I may have been able to make room for some East End Cupcakes. I was obsessed with their sign.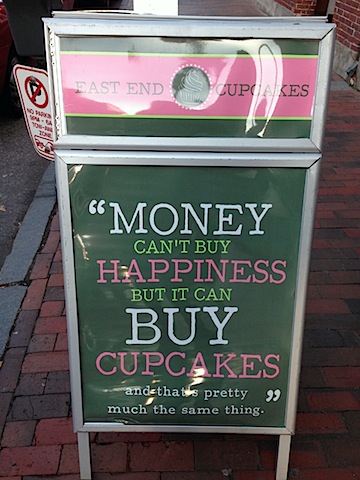 'Cuz it's true. (just kidding though about the milkshake; it was totally worth it!).
And our last dinner in Portland brought us to Zapoteca, a cute little upscale Mexican spot.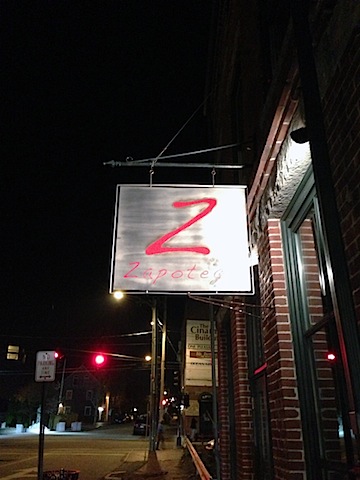 With some serious watermelon habanero margaritas (Chris's dream come true!).
And great pineapple margarita, too.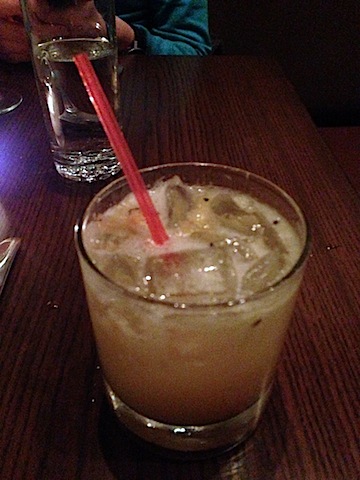 The rellenos de puerco totally hit the spot and left me with the perfect taste of Portland. Awww, so cheesy. But true!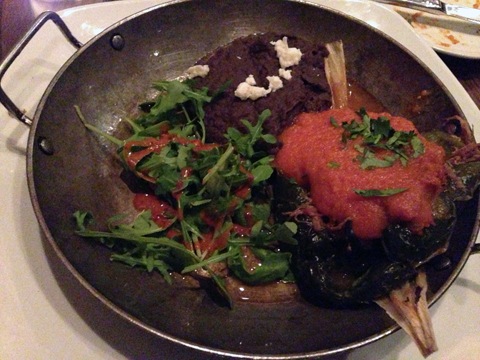 Portland is the kind of place I feel like I could go back to over and over again and never get tired of. The food scene is seriously spot on and as crazy as it sounds, I think the nightlife is even more happening than in Boston. Plus, it's less than two hours away from Boston, making it a quick and easy trip for when you want a getaway, but don't want to get too far away.
I admit, we tend to only travel where we can stay in Starwoods resorts (because we get points!), but seeing as there is only on Starwoods resort in the entire state of Maine, we sucked it up and stayed at the Hilton Garden Inn instead. It was in a very central location and we had a great experience staying at the Hilton.
We'll definitely be back to Portland, and hopefully soon… Maybe even on a weekday so we can check out more breweries! Happy birthday to Chris!
Have you spent time in Portland, Maine?
[Sues]