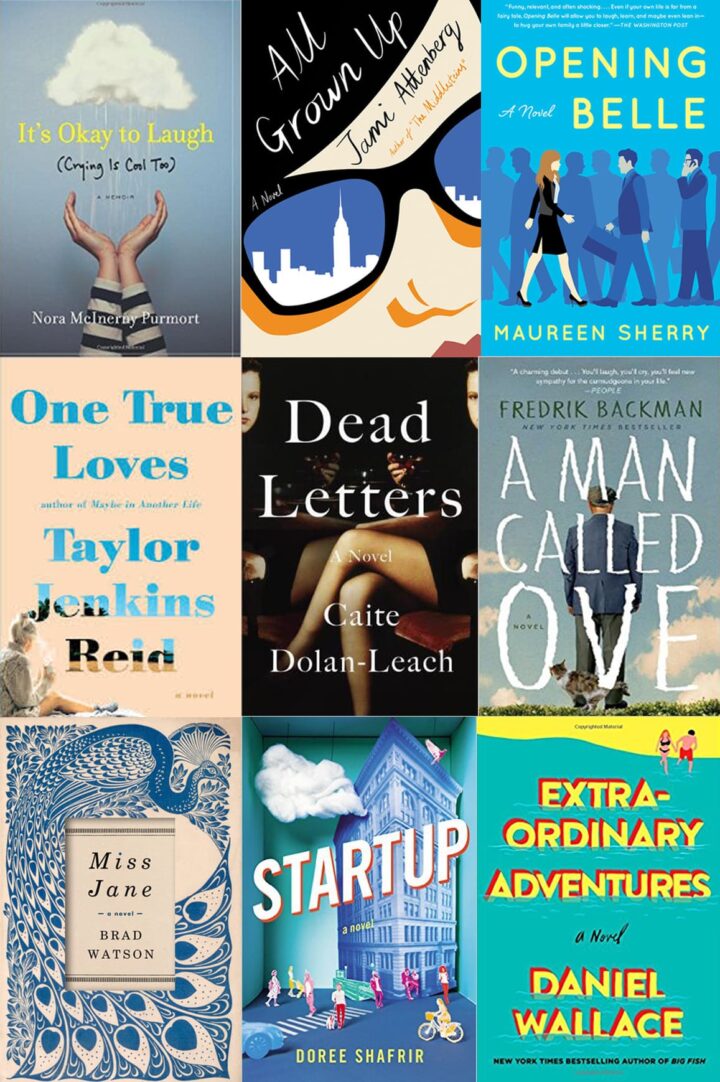 Hello and happy weekend! I'm so excited to share with you what I read in April and hopefully give you some ideas on books to read soon. But first, we need to discuss this Business Insider article "10 ways reading more makes you an excellent employee." While some of it is a little bit fluffy, it's also, I believe, 100% true. Though I'm obviously saying that as someone who reads a ton (and kind of thinks I'm a pretty fab employee hehe), so take that for what it's worth. I've always said that reading makes you more empathetic and helps your critical thinking skills, really in a way that watching most TV or movies can't do quite as much. But this article lists 10 ways that reading a lot pretty much just makes you better at life... Or at least at your job.
I never really considered the calming effect of reading, but it's so true for me! If I don't have to do more work when I get on the train at the end of the day, I immediately put my phone away and open up a book. No matter what craziness or stress happened during my day, I automatically feel calmer and happier. It works! And obviously reading helps my writing skills and makes me more creative, too. Do you think reading makes you better at your job?
(Just an FYI that the links to the books below are affiliate links ? Thank you for supporting WANM!).
Here's what I read in April... See the end of this post for links to other months in 2017, too, and get some ideas for even more books to read this year!
It's OK to Laugh (Crying is Cool Too) by Nora McInery Purmont: Good thing it's OK to laugh because I was literally sitting on the train laughing out loud reading this book, starting with chapter one where Nora tries to answer Mary Oliver's question, "Tell me, what is it you plan to do with your one wild and precious life?" Nora is awesome and hilarious and I want her to be my best friend. Her memoir isn't all funny as she's gone through some incredibly tough times, too, but she has such a positive outlook and just seems like a truly amazing person. This book comes highly recommended from me and I'm kind of excited that I just learned Nora has a podcast, too! But please, Nora, write another book.
All Grown Up by Jami Attenberg: This one wasn't my favorite, but I can't decide if I just didn't like it or if I had a totally different expectation on what it would be about based on the cover and description. The book felt kind of depressing to me and while it seemed like it was going to be all strong, independent woman-y, it's actually just sad and womp womp. I feel like I need to wait a couple years and read it again with a clear mind. Maybe?
Opening Belle by Maureen Sherry: This is a cute book. Not necessarily my favorite of all time (or even of the month), but I did think it was a light enjoyable read. It's about Belle, a 30-something woman who works in a male-dominated Wall Street office. She has to deal with exactly the kinds of things you'd imagine a woman in Wall Street has to deal with (and way more than I ever imagine). The only thing I really disliked about this book was Belle's husband and their relationship. He's beyond ridiculous and her tolerance of him felt pretty unrealistic to me.
One True Loves by Taylor Jenkins Reid: Totally one of those books that makes you think, "omg what would I do??" Emma's husband (and high school sweetheart) goes missing after their first year of marriage, presumed dead in a helicopter crash. Obviously devastating. After some serious mourning, she meets an old friend from her past and they end up falling in love. And then... yup, her husband is found alive (I promise I'm not giving anything away; this is all in the book's description). Emma has to make some seriously tough decisions and while heartbreaking in many ways, I thought this was a good read.
Dead Letters by Caite Dolan-Leach: I had mixed feelings on this one, as well. Awesome premise of a girl returning home to figure out what happened to her twin who just died in a barn fire. I can't say too much without giving details away, but Ava is led on a scavenger hunt of sorts by her twin Zelda and while I found it entertaining in many ways, there were way too many coincidences involved for me to buy it all.
A Man Called Ove by Fredrik Backman: Loved this one! I have to admit that it started off super slowly for me and it took me a little bit to get into it, but once I got to know Ove and his neighbors, I started to fall in love. Ove's wife has recently died and he's having a tough time. He's definitely a grumpy old man and at first you might hate him and his stringent habits and complaining. But I think you'll fall in love with him, too. I knew I really liked this book when Chris asked me what it was about and I spent 10 minutes straight describing it to him.
Miss Jane by Brad Watson: This is a sort of strange book and not at all what I expected, but it still sucked me in. Jane is born with a rare congenital birth defect (one that, in part, makes it impossible for her to control when she goes to the bathroom) and is forced to face many challenges in life, including those to do with love, friendship, family, and more. She's such a strong, likable little girl and you'll be amazed by her strength.
Startup by Doree Shafrir: Loved this book, but it also made me a little bit depressed. It's all about the young hip world of startups, with so many real life cliches included. One of the characters is my age and basically the oldest person at the company (sob). In some ways, this book is a kind of exaggerated look at the world of startups, but seriously, only a very little bit exaggerated. It will probably make you never want to work at a startup, unless you're totally into crazy hours, competition, and finding your best friends and love (or a fling) at the office. Also, if you're 22.
Extraordinary Adventures by Daniel Wilson: Another just OK one for me. It's well-written with some cute parts, but overall, I was just very confused by the main character. He's in his 30s and has never really dated anyone. Now that he's won an all-expenses paid vacation with the only stipulation being that he has to bring a significant other, he's on a quest. I couldn't actually connect with any of the characters and honestly felt like there was nothing extraordinary about this book in terms of its pace and topic.
Here's What I Read in January
Here's What I Read in February
Here's What I Read in March
Tell me what you're currently reading and if there was anything in this post you're adding to your "books to read" list! Also, do you think reading has helped you at all at your job?