If you're looking for a good book to read, you've come to the right place. This post is part of my monthly "What I Read" series, featuring the books I read the previous month with lots of recommendations for you! All of these book pair perfectly with donuts, cookies, pasta, or pizza… And always a glass of wine.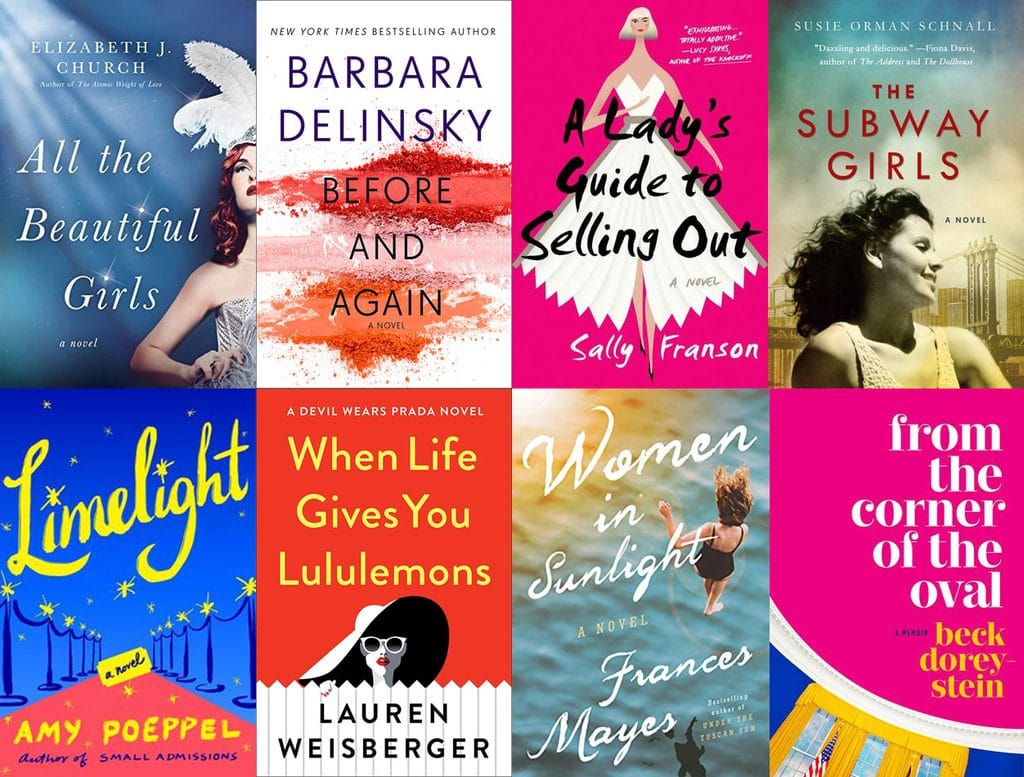 Hello! Before I jump into my fabulous April in books (seriously, I think this was one of my favorite months ever!), I want to talk about why I hate star ratings when it comes to book reviews. For whatever reason, this is something I've been thinking about a lot lately. It's probably because I write a lot of book reviews, whether it's on here, on Amazon, on Goodreads, or on NetGalley and everywhere (aside from here!), has a star rating system. And I totally get it. After all, people need a quick and easy way to see whether a book is worth spending time on or not. But I can't stand them and here's why:
How can I take an entire work that an author likely spent years on and degrade it to a simple star rating? That just feels so icky to me. It pains me to say, "your blood, sweat, and tears went into this book, but it's TWO stars."
A lot of times, I might not love a book, but I can still totally recognize why it's an awesome book. It's just not really my kind of book. So, in that case, what the heck star rating do I give it?? I mainly read books if not by established authors then from established publishers who don't often anything "bad" out on the market. That doesn't necessarily mean I'm going to love the book, but that doesn't mean it deserves a low rating. I always struggle with this.
Everyone's idea of a 5 star book is different. The other day on Goodreads, I left a 4 star rating on a book that I raved about and someone asked me, "so, why not 5 stars?" Good question. To me, 5 stars usually means "omg this book is AMAZING and my life is changed from reading it. I need to tell the world about it!" It's rare that I find a book like that. But often, people give 5 stars if they think a book is great, end of story. I think last year I gave 4 books 5 stars, but I loved so much of what I read!
And that's why I also love writing my book reviews here on this blog. I don't have to give star ratings and I can explain to you exactly what I love and don't love about a book, so you can decide for yourself if it's right for you. I'm sure part of my problem with star ratings is that I'm majorly indecisive and a huge over-thinker, but I hope I'm not alone in this!
Oh, one other thing I want to share with you is this thought-provoking article about why there are so many bestselling books with "girl" in the title. While it's actually very insightful, it originally caught my eye because my husband always jokes that every book I read has "the girl" in the title. And he's kind of right... Look at my titles for this month- We have two "girls," a "lady," and a "women." LOL!
OK, ready for my book recommendations from April? Like I said, it was an awesome month! Tons of stars all over the place hehe. Just an FYI that links to some of the books below are affiliate links (meaning that at no extra cost to you, I will earn a commission if you click through and make a purchase) and some were gifted to me by their publishers. Thank you so much for supporting WANM!
All the Beautiful Girls by Elizabeth J. Church: This is the kind of book that's totally up my alley (to be honest, books with "girls" in the title often are). We meet Lily as a child when her parents die and she's sent to live with her not-so-fabulous aunt and uncle. And we follow her as she moves to Vegas, becomes a dancer, and changes her name to "Ruby." Parts of the book are not so easy to read (her uncle is abusive) and though Lily doesn't always make the best choices, I found myself cheering for her throughout the book and not wanting it to end. I also love that the book gives us a look at Las Vegas in the 1960s; the good, the bad, and the ugly. (thanks to Amazon Vine for my copy of this book!)
Before and Again by Barbara Delinsky: Here's a book that wasn't a favorite for me, but considering I've felt this way about every Delinsky book I've read, I should probably just know by now that she's not necessarily for me. But people absolutely LOVE her and this book is getting fabulous reviews, so definitely decide for yourself. I do like the concept of this novel- a woman in her late 30s living in Vermont, hiding from her "previous" life. We learn early on that her daughter has died in a car accident (that she allegedly caused), her husband leaves her, her parents stop talking to her, and she's placed on probation. Her new life is going well (barely anyone knows about her past) until her ex-husband shows back up and her friend's son gets in trouble with the law. It's definitely chick lit, which I normally love, but it's just not the "kind" of chick lit I love. I think it was just too serious for me... If I'm reading chick lit, I want a lot of personality, at least a little humor, and something I can totally get sucked into. Before and Again's official pub date is June 26, but you can pre-order it now. (thanks to NetGalley for my advance copy of this book!)
A Lady's Guide to Selling Out by Sally Franson: I love reading other people's "bad" reviews to see why they dislike books that I enjoy and most people on Goodreads who didn't like this one said it's because they hated the main character, Casey. And I'm not really sure what it says about me, but I didn't hate her at all. Sure, she was a little shallow and didn't make the best decisions, but I felt like she was a pretty typical girl in her 20s, especially in the marketing world. Basically, her boss at her marketing agency starts a new venture that pairs with writers with brands to act as influencers/brands spokespeople (something most serious writers would likely hate). She puts Casey in charge of the writers and Casey finds herself questioning the morality behind pushing writers into this corporate marketing initiative. She ends up getting tangled in a bit of a mess, including some pretty ugly stuff that will bring to mind the #MeToo movement, social media shaming, and more. In any event, if you've ever had a job that you felt didn't totally reflect your values, I think you'll get sucked into this one. (thanks to Amazon Vine for my copy of this book!)
The Subway Girls by Susie Orman Schnall: Another "girls" book that's up my alley! This one is historical fiction based on the Miss Subway Contest that the MTA ran in New York City from 1941-1976. It bounces between 1940s NYC with Charlotte trying to launch her career in marketing while entering to be a Subway Girl and current day NYC with Olivia trying to hold her own at a male-dominated marketing agency and pitching the MTA's business. Both Charlotte and Olivia are incredibly likable characters and I absolutely love the way the book ties the two time periods together (albeit some things were a little too conveniently coincidental). In general, I love books that take place at marketing agencies (and give realistic looks at them) likely in part because I worked at one for so long. The Subway Girls official pub date is July 10, but you can pre-order it now (thanks to NetGalley for my advance copy of this book!)
Limelight by Amy Poeppel: You may know Amy Poeppel from her hit Small Admissions from a few years back. Her new novel is seriously fun and the kind of book that you just don't want to end. Allison and her family move from Dallas to NYC for her husband's job and while she's super excited at first, she quickly starts to hate living in the city. While trying to figure out what to do with her time after her teaching job falls through, she accidentally starts helping a young pop star who is a little out of control (he'll totally remind you of Justin Bieber). He's set to perform in a Broadway production called Limelight, but he needs a major attitude adjustment before he's even close to ready for opening night. Allison becomes his personal assistant and starts devoting a ton of time to helping him get on track and in the meantime, falls back in love with NYC. This is the kind of chick lit, I love. It's light and entertaining, but filled with personality and intelligence. I read most of it on a recent flight to AZ; it was the perfect book for traveling and definitely one to add to your summer reading list! (thanks to Kathleen Carter Communications for my advance copy of this book!)
When Life Gives You Lululemons by Lauren Weisberger: Here's another fun one for summer! First of all, can you even with that title? I knew I had to read this book when I saw the title. Then I learned that it was another book about the characters from The Devil Wears Prada. I have to admit I didn't love the last one I read, Revenge Wears Prada. But I did love the last Weisberger book I read, The Singles Game, so I figured I'd give it a try. Luckily, this one was a hit for me. It follows Emily Charlton's career after leaving Runway magazine, while also diving into the lives of a couple of her friends (if you're super forgetful like me, don't worry, all you really have to remember about The Devil Wears Prada is that Emily was Miranda's driven and edgy assistant). Emily now runs her own business as an image consultant for celebs and is married and living in LA. While visiting her friend Miriam in the CT suburbs, she meets Karolina Hartwell, former model turned wife to a prominent senator who is badly in need of an image makeover due to some shady business her sketchy husband has gotten her involved in. The book is actually about all three women, covering their stories pretty equally. While it probably won't absolutely blow you away, the book will likely entertain you and you'll probably become a bit invested in the lives of the three main characters. Miranda does a few appearances and plays a small role in the book, but I thought it was the perfect amount and am glad Weisberger didn't try to force her in more. When Life Gives You Lululemons' official pub date is June 5, but you can pre-order it now. (thanks to NetGalley for my advance copy of this book!)
Women in Sunlight by Frances Mayes: The best way for me to describe this book is "gorgeously indulgent." You know Frances Mayes from her blockbuster hit Under the Tuscan Sun. She's back with another book taking place in Tuscany, this time following a young American named Kit who has lived in Italy for years, as well as three retired women who rent the villa next door. The three women who are now without husbands meet while touring a retirement community in the U.S. and decide on a whim to go to Italy instead. The book is indulgent in its descriptions of the landscape, food, wine, etc. and you definitely want to make sure you're in the right mindset to get into it. You really need to let yourself sink into it, take it all in and not rush through it. Maybe read it with a plate of pasta and a glass of wine! Parts of it were a little too wordy and at time confusing (the way the story is told with Kit narrating part of it and the other part being told in third-person) and at times maybe too indulgent/privileged (must be nice to just move to Italy, decorate a home, buys fancy food and wine, and not worry about money one bit), but sometimes you need a book that just lets you indulge, right? (thanks to Amazon Vine for my copy of this book!)
From the Corner of the Oval by Beck Dorey Stein: Oh my gosh, this book totally sucked me in. It's Beck Dorey Stein's memoir from her time working as a stenographer for the Obama administration. She basically got the job by total accident (it was on Craigslist with no indication it was for the White House and she ditched the initial interview!) and tells her story from being the newbie traveling around the world with the President and staff to making incredibly close friends and having interactions with senior staff members (including the President himself). Since this book is her memoir, it also dives into her relationships, including her sort of scandalous relationship with another staffer. These details might drive you a little crazy (you'll probably want to shake her!), but considering she's in her 20s during the time period and living this crazy life, you can't totally blame her. Anyway, if you have any interest in the world of politics at all, you'll likely enjoy getting this inside scoop at what it's like to be part of the team closest to the president (stenographers record and transcribe all of their speeches, so basically have to be everywhere the president is). I only wish she stayed on as stenographer for the current administration because I'd be very interested in hearing those stories. From the Corner of the Oval's official pub date is July 10, but you can pre-order it now. (thanks to NetGalley for my advance copy of this book!).
And that was my fabulous April in books! I know a bunch of the books I read aren't out just yet, but hopefully these reviews will help you build your summer reading list. I have a huge stack of books to dive into for May, many of which will be released by the time I review them in June. Happy reading!!
Feel free to also take a look at my other book review posts from so far in 2018:
What I Read in January
What I Read in February
What I Read in March