If you're looking for a good book to read, you've come to the right place. This post is part of my monthly "What I Read" series, featuring the books I read the previous month with lots of recommendations for you! All of these book pair perfectly with donuts, cookies, pasta, or pizza… And always a glass of wine.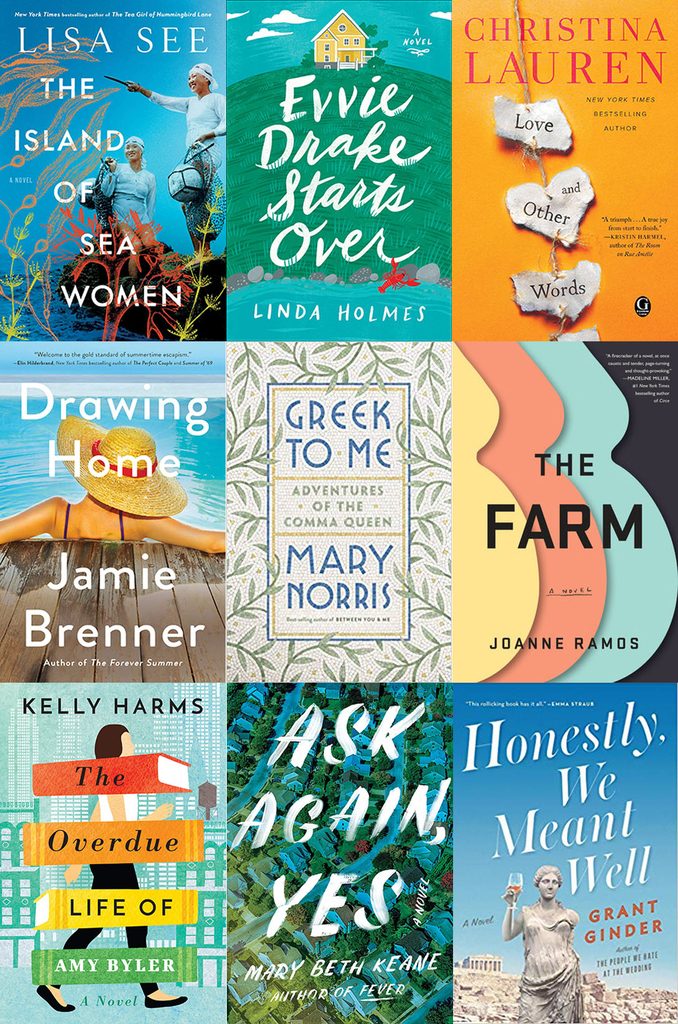 Get your summer reading lists ready!! There's really not much that makes me happier than putting together a good summer reading stack. A few of the books I read in April are the most PERFECT summer reads, so I hope you'll consider adding a few of them to your TBR (to be read) stack. Book Riot also published this fabulous list of "50 of the Best Books to Read This Summer" and I'm close to making the decision to read all of them. I'm already crazy excited for Elizabeth Gilbert's City of Girls and Jennifer Weiner's Mrs. Everything (I have it waiting for me on my bookshelf!), but there are so many on this list I'm excited for. I wish I could just take a week off from life to sit on my deck and read book after book on this list. Sigh.
If you're looking for some good summer reads, in addition to checking out that list, be sure to take a look at some of my previous book reviews, as well as this one! There are two 5 star reads on this list, another one that's amazingly funny and awesome, and quite a few other good ones. Happy summer reading y'all!!
Just an FYI that links to some of the books below are affiliate links (meaning that at no extra cost to you, I will earn a commission if you click through and make a purchase) and some were gifted to me by their publishers. Thank you for supporting WANM!
The Island of Sea Women by Lisa See: If you've been following along with my book reviews for some time, you'll know I'm a HUGE Lisa See fan. She doesn't release new books very often, but that's likely because her novels involve a ton of research and take a very long time to write. I love her novels because she drops me into a world I don't know a lot about and teaches me so much about other cultures and history while also telling incredibly engaging stories. She does this once again with The Island of Sea Women. In this novel, we learn about the Korean island of Jeju in the 1930s and 40s and the Haenyeo, female divers who harvest the ocean, holding their breath in order to dive 65 feet to the ocean floor (they use no oxygen tanks or special equipment). I loved learning about Young-sook and her friend Mi-ja's stories; all about their friendship and life on the island, as well as the role of women on the island and how they were basically the heads of household in every way. I did prefer the first half of the book to the second and missed reading about the Haenyeo as the book went on; though it was obviously understandable based on what was happening on the island. I also really appreciated that while the book has flash-forwards to the current time, See doesn't spend a lot of time in the current day and the flash forwards really contribute to the overall story. While this isn't my most favorite Lisa See book ever (she has TOO many good ones!), it still gets 5 stars from me and I'm so thankful that I now know about the Haenyeo, whom I may have gone my whole life knowing nothing about if not for See.
Evvie Drake Starts Over by Linda Holmes: This was such a cute read! It's one of those books with incredibly likable characters who you'll be cheering for throughout the novel. Honestly, my only issue with this book is that it was SO ridiculously hyped up for me that I feel like I went into it with crazy high expectations. Ultimately, it ended up being a really good book; just not mind blowing in the way I thought it might be. The book starts with Evvie getting ready to leave her husband when she suddenly gets the news that her husband has died. Flash forward a couple years and Evvie is still consumed with grief mostly fueled by guilt. When her best friend, Andy, asks if his friend Dean can move into the separate apartment in her house, she agrees. Dean is an incredibly successful MLB player who has suddenly stopped being able to pitch. He leaves NYC and heads to the middle of Maine to get away from the press and angry fans. He and Evvie become friends and agree not to discuss their issues (her husband and his pitching). The book is incredibly charming, sweet, and romantic, but without being cheesy or overdone and has been getting tons of accolades and praise... for good reason! (thanks to the publisher and NetGalley for my copy of this book!)
Love and Other Words by Christina Lauren: I should start this review by saying that I've been discovering over the years that I'm just not a huge romance fan. I always get excited about them and want to read them, but every time, I am never as blown away as so many people seem to be. I love reading Christina Lauren, but their (yes, Christina Lauren is two authors writing together!) novels are generally more "escape" reads for me and aren't the kind of books I rave about or find myself wanting to read again and again. All that said, Love and Other Words is really good! The book begins after Macy's mom has passed away and she and her dad get a vacation house not far from where Elliot lives. Macy and Elliot become fast friends as they share their love for reading and spend countless hours together, growing closer and closer over the years. The book bounces between their childhood and Macy's life as an adult where we now know she and Elliot are no longer friends... We just don't know why. I often don't find romances featuring young people to be very believable, but the love story between Macy and Elliot felt real and so sweet. I obviously also really enjoyed the way books and a love for reading play a major theme in the story. Overall, this is a sweet romance that will likely have you turning the pages quickly.
Drawing Home by Jamie Brenner: This book is a sweet summer read that's a little deeper than the typical beach read. It's the kind of book that I don't think will be super memorable to me, but is a nice departure from heavier books, while still being less fluffy than lots of chick lit/beach reads. The book takes place in Sag Harbor in The Hamptons, a luxurious vacation spot for the wealthy. But it's also home to many residents who have lived there their entire lives and who certainly aren't considered wealthy. Emma Mapson was born and raised in Sag Harbor and is now a single mom raising her teenage daughter and working at the same hotel her father once worked at. When one of the hotel's older patrons, an artist named Henry Wyatt, passes away, he leaves his large estate, a beautiful home, to Emma's daughter, Penny. The only problem? Henry's oldest friend and business partner, Bea, is not happy and refuses to let the estate go to a 14-year-old girl. In some ways, this is the typical story of the affluent versus the impoverished. But the story is told in a unique enough way to hold your attention and make you actually care about the characters and their outcomes. I was left guessing until the end why Henry would leave his home to Penny and though some may say the ending was too neatly tied together, I loved it. Again, I may not remember all the details of this book 6 months from now, but I enjoyed reading it! (thanks to the publisher for my copy of this book!)
Greek to Me by Mary Norris: I love Mary Norris and her obsession with the English language and grammar, so I was excited to get my hands on her newest book, Greek to Me. This book is part memoir, part travel journal, part history book, part etymology lesson, and part mythology lesson. Basically, there's a lot going on... But it's definitely not the book for everyone. I think the book is best suited for anyone who already has an initial interest in the Greek language, anyone with a serious love for language in general, and anyone who loves Greece or travel writing. It's not so much a "grammar nerd" book as I went in originally expecting. For me, this book was a lot of information that wasn't all necessarily memorable (for instance, with all the etymology talk, I can't really tell you too much I learned) and details that I basically glossed over (some parts would have been a lot more enjoyable if I had more of a background in mythology). When Norris started talking about her personal life, I wanted more of that! However, I know that's not what the book was really supposed to be about. BUT Greek to Me did do a couple big things for me... It has me seriously wanting to take a trip to Greece. It has me heading to my basement to search for my Edith Hamilton book on Mythology. And it has me desiring to learn Greek more as I know how much it will help me better understand the English language. And it's going on a shelf of books that I know I'll read again some day when I'm able to gain a deeper appreciation for it. (thanks to the publisher for my copy of this book!)
The Farm by Joanne Ramos: I knew a little bit about this book before I jumped into it and though I really enjoyed it, it was quite a bit different than I was expecting! I thought it was going to be more of a dystopian novel and imagined something like an alternative take on The Handmaid's Tale. But really, while the book has a creepy feel to it, at its heart, it's really about class and privilege and the struggles of immigrants. It's not really dystopian; it's realistic. And while I find that to be a good thing, I can see how people may have gone into the book with a different idea. The Farm is a luxurious retreat where women go to act as surrogates for extremely wealthy women who either can't or don't want to carry a baby on their own. On the surface, it's a wonderful idea. Acting as a surrogate brings with it lots of financial rewards, not to mention a luxury home for 9 months with everything you could need. Lots of the surrogates are immigrants in need of money or women who want to help other women struggling to carry a baby. The problem is... Once you are a surrogate ("host"), the Farm basically owns you and your body. The "client" dictates your every move while you're carrying their baby and employees at the Farm are only too happy to lie to you and manipulate you until you give birth to a healthy baby. The book follows a few different people, including Jane, an immigrant and new surrogate at the Farm; her cousin Ant who is staying home to take care of Jane's actual baby (yes, she leaves her baby to have somebody else's baby); and Mae, the woman in charge of the Farm's operations. In some ways, I thought this book would be creepier, but then I realized that if you don't think this book is "creepy," you're definitely not thinking about how realistic it actually is. (thanks to the publisher for my copy of this book!)
The Overdue Life of Amy Byler by Kelly Harms: This is such a cute, fun, and FUNNY book that I can't recommend enough. Amy Byler is tired. She's been a single mom since her husband abandoned the family a few years before, so she's been handling it all. Now that he has returned and wants to spend time with the kids, she decides to take the opportunity to go to NYC to attend a librarian conference and spend some time with an old friend (her old friend is single and childless and working a high-powered job and loving life). While there, she has the opportunity to go on #momspringa, basically a mom version of the Amish tradition of rumspringa. Oh, and she meets a pretty cool guy, too. If you like smart and funny writing that will keep you engaged and laughing, I highly recommend this book. I should note that I'm not a parent, but still totally got on board with the idea of a #momspringa and absolutely loved reading about Amy's adventures. There were some laugh out loud moments and the book was just the escape I needed as it wasn't too serious, but is also smarter than the typical "chick lit" and obviously I love the role books play in the story! (thanks to the publisher for my copy of this book!)
Ask Again, Yes: One of my favorite books of the year! When I first started reading Ask Again, Yes, I wasn't so sure I was going to like it. It starts with two New York police officers, Francis and Brian, who are just getting their start in their career. But the book quickly jumps into the family lives of Francis and Brian, introducing us to their wives and eventual children. It didn't take long for me to get hooked. I honestly don't want to give away too much of the plot because I feel like this is the kind of book that is best if you go in blindly. It's not even so much the plot that's important anyway (though it is good); it's the characters and the way you'll watch them change and grow throughout the novel. It's an emotional journey and one that I feel like anyone can relate to, even if you've never actually been in any of the specific situations in the book. It's the kind of book that I know I will read again some day (which is pretty rare for me) and in the meantime, I'll be thinking about the characters and looking forward to meeting them again. Definitely a 5 star book! (thanks to the publisher for my copy of this book!)
Honestly, We Meant Well by by Grant Ginder: This book made me want to hop on a plane and go to Greece immediately (oddly enough, I was reading the Mary Norris book at the same time as this, compounding my desire to visit Greece!). For me, it was an enjoyable read, but it's the kind of book that probably won't be super memorable for me. It centers on an American family with all kinds of issues. The mother, Sue Ellen, is a Classics professor who has been asked to go to Greece for a month in the summer. Her husband, Dean, a semi well-known author, wants to go with her as he's been cheating on her and wants to make it up to her. Their son, Will, has just graduated from college, in part, by cheating on his thesis, and decides to join them on the trip, as well. As you can see, they're a bit dysfunctional! The family stay on the island of Aegina, in a hotel owned by the daughter of a man Sue Ellen once dates. The daughter Eleni is getting ready to sell the hotel so she can go back to living her 20-something life in Athens. If you enjoy books about family dysfunction that take place in beautiful locations, chances are, you'll enjoy this book! Like I said, I did enjoy it, but it isn't a book that's really going to stick with me for too long. That's OK, I don't think every book has to, but it's worth pointing out. Oh, and I can definitely see this being turned into a very entertaining and beautiful movie! (thanks to the publisher and NetGalley for my copy of this book!)
It was a wonderful April and now I'm excited to move on to some fabulous summer reads!
What book are you most looking forward to this summer?
If you're looking for more book recommendations, feel free to take a look at my other book review posts from so far in 2019:
What I Read in January 2019
What I Read in February
What I Read in March