Looking for a good book to read? This post is part of my monthly "What I Read" series and features the books I read in April 2020 with lots of recommendations for you! All of these books pair perfectly with donuts, cookies, pasta, or pizza… And always a glass of wine.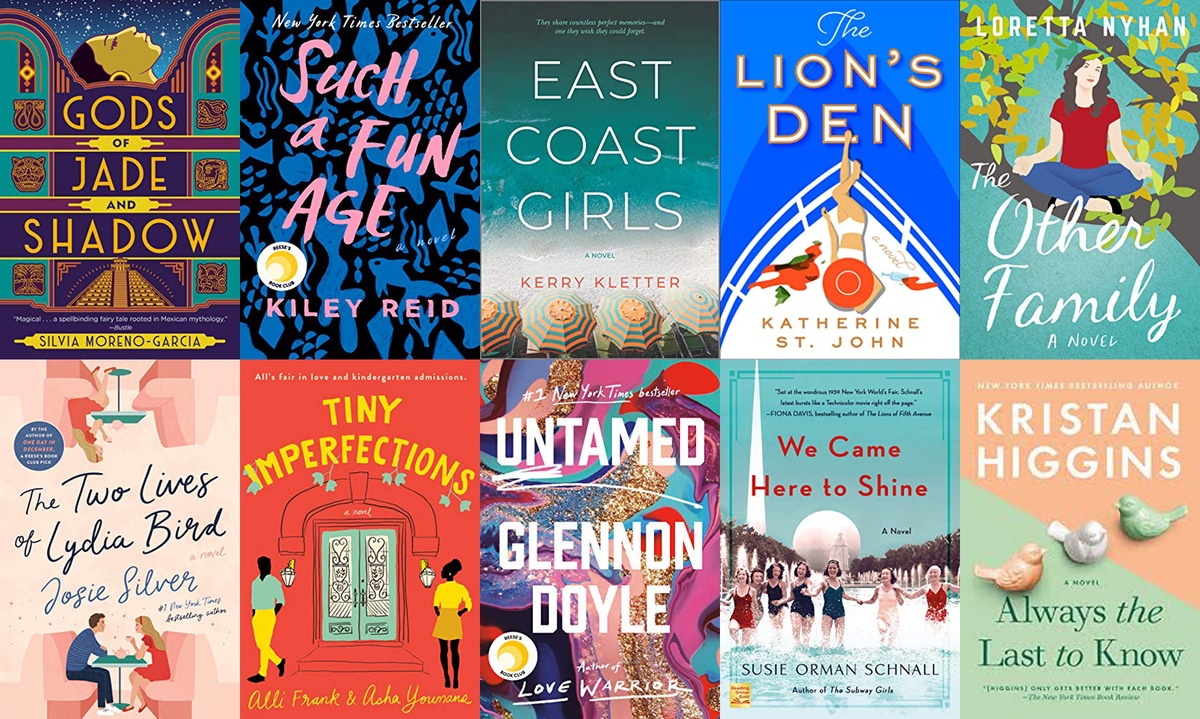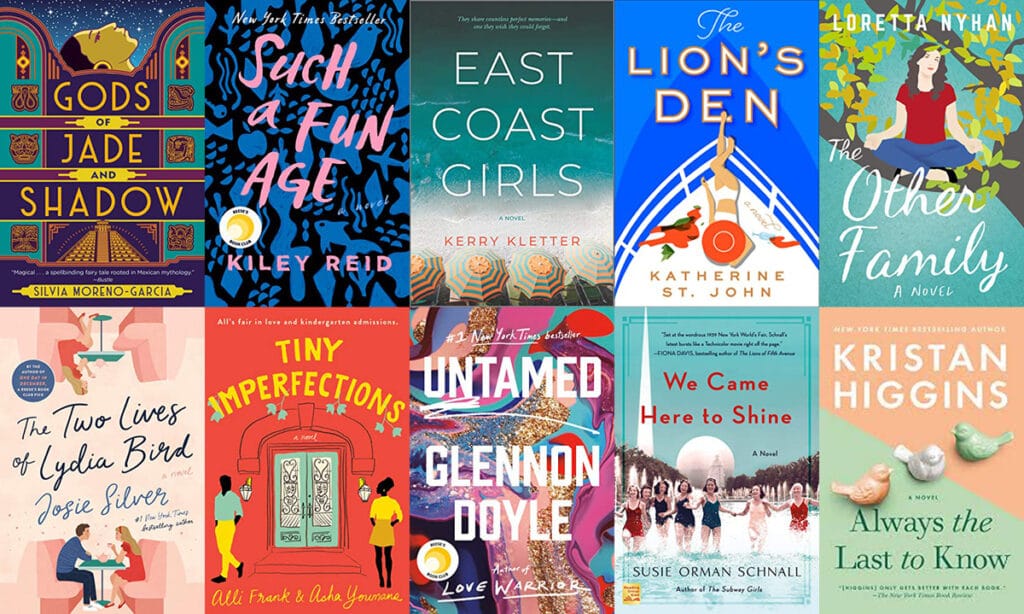 I feel like the start to my 2020 was pretty slow when it came to reading. Being in a pandemic has caused my reading activity to be pretty strange with periods of barely reading at all to periods of reading a ton.
Luckily, we were more on the "reading a ton" side in April. Not only did I get a lot of reading done, but I read some REALLY good books! I'm excited to share these reviews with you because I truly enjoyed a lot of these and I think you will, too.
Just an FYI that links to some of the books below are affiliate links (meaning that at no extra cost to you, I will earn a commission if you click through and make a purchase) and some were gifted to me by their publishers. Thank you so much for supporting WANM!
Gods of Jade and Shadow by Silvia Moreno-Garcia: I admit that I chose this book solely based on its cover. I'm not a huge fantasy reader, but after having this sit on my shelf for a year, I decided to pick it up. Wow! I'm so glad I did! Casiopea Tun is living at her grandfather's house in 1920s Mexico basically acting as a housekeeper and taking orders from her grandfather and abusive cousin. When she opens a mysterious box in her grandfather's bedroom and releases the spirit of a Mayan god, the God of Death, she is told she must help him get the throne back from his brother or risk death. The pair takes off on an adventure during which they meet other gods and mythological creatures and go straight into the underworld. Think this sounds kinda weird? Just trust me that it's a gorgeous story, with an incredibly strong and relatable protagonist, that seems to transcend time. I wish there would be a sequel (the author has already said there won't be), but I'm super excited Moreno-Gracia's new book, Mexican Gothic, is out at the end of June!
Such a Fun Age by Kiley Reid: This book quickly landed at the top of my favorites list for 2020 and is one that I find myself thinking about all the time. Honestly, it's tough to write about it briefly because there's so much going on in it and it's so deserving of a deeper conversation... But here are the basics. Emira is a 25-year-old recent college graduate trying to decide what she wants to do with her life and in the meantime, is babysitting for an affluent white family. When the mother, Alix Chamberlain, asks Emira to come get Briar one evening due to a family emergency, Emira ends up taking to the neighborhood grocery store to wander around. A store clerk sees them and because Emira is Black and Briar is white, immediately assumes Emira has kidnapped Briar. The police are called and a bystander films the incident. Alix is terribly upset about the incident and basically makes Emira her pet project as she works to prove she's not racist and is so woke. Emira also starts dating Kelley, the white guy who filmed the incident. In the meantime, Emira continues to hang out with her friends and stress daily about her future. I think many readers will recognize a lot of people like Alix and Kelley in our lives and this book will help us examine why this supposed "wokeness" is so problematic. Don't just do a surface level reading of this book; look for the subtleties and then talk about it with friends, read reviews, and join online discussions. There's so much to unpack.
East Coast Girls by Kerry Kletter: I was super excited for this book, but ultimately didn't love it as much as I'd hoped to. That said, it has a lot of wonderful reviews and may be a great book for you. The story centers on four high school friends who are now 30 and have mostly lost touch with each other. We know something major happened on the last night they were close friends; something that left Hannah's boyfriend seemingly paralyzed with a traumatic brain injury and something that caused Blue and Renee to completely end their close friendship. Now that they're 30, the foursome are reuniting on Montauk, the spot where they vacationed annually together as kids. As the story goes on, we learn more about what happened on that fateful night and how the girls' pasts have effected their current lives and relationships. Don't get me wrong; this is a beautifully written book with a great premise and puts a somewhat realistic focus on friendship, growing up, and love. I just felt like I couldn't totally connect with any of the characters and I didn't feel "sucked in" to the story at any point. I didn't dislike the book, I just didn't love it. However, if you enjoy beautifully written books about friendship, tragedy, and growth, you may enjoy it! (thanks to the publisher for my copy of this book!)
The Lion's Den by Katherine St. John: This book left me with some crazy mixed feelings! It's quite the page turner, but it's also pretty ridiculous in many ways, even bordering on "trashy" at times (not that there's anything wrong with that!). The story is told from the point of view of Belle. She's about to set off on a luxury yacht vacation courtesy of her childhood friend, Summer, and Summer's much older, very wealthy boyfriend, John, and some of Summer's other friends. Weird things start happening on the trip, displaying how controlling Summer and John are (assigned seating on the private plane, forcing everyone to hand over their passports, locking the doors to their rooms on the yacht, giving no access to personal wifi, etc.) and we're left wondering what the heck is going on. I definitely gave some eye rolls during parts of the book and especially to Belle's reactions to many of the things happening on the trip. However, I appreciated the ending of the story and ultimately feel this is a light and fun beach read, especially if you need a break from heavier books! (thanks to the publisher for my copy of this book!)
The Other Family by Loretta Nyhan: I really appreciated this light and cute read that also felt "smart." Ally Anderson is going through a rough time- here marriage is ending and her young daughter is constantly sick. But when a doctor suggests Ally's daughter has a DNA test to determine what's causing her illness, a whole new world is opened to Ally. She was adopted at a young age and knows nothing about her biological family... But now the DNA test has introduced Ally to an aunt who lives nearby. The book has a fun cast of characters and is easy to relate to in many ways (even for someone like me who is childless and knows all of my biological family). There are a few parts I felt were a bit bogged down (some of the doctor's appointments), but overall, it's a quick read that will leave you feeling refreshed! (thanks to the publisher for my copy of this book!)
The Two Lives of Lydia Bird by Josie Silver: I loved this one!! It's the perfect combination of light and serious that I love. Somehow Josie Silver took a really sad topic and managed to make me feel so happy (how does she do that??). Lydia Bird's fiancé has just passed away. She's very much in the middle of the grief process and is mainly just working to get through each day with the help of her mom, sister, and fiancés best friend, Jonah. But then she discovers that one of her sleeping medicines gives her the most realistic dreams and whenever she takes one, she's able to enter this alternate life in which her fiancé is still alive. I'm generally not a fan of books with this sort of "magic" in them. But there's something about what Lydia is experiencing that seems almost realistic and that I could actually get behind. There's so much "realness" to this book and despite the bit of magic, I feel like Silver did such a good job at showing a realistic look at grief. There's a lot of sadness in the book, but Lydia Bird is such a relatable character and I found myself really cheering for her throughout the book. I highly recommend this one!
Tiny Imperfections by Alli Frank and Asha Youmans: Another lighter read that's still "smart" and is right up my alley (maybe that's the theme of the month??). Josie Bordelon is a Black almost-40 single mom working in admissions at an exclusive private school in San Francisco. In addition to dealing with all the crazy wealthy parents desperately trying to get their kindergartners into the school, she's also helping guide her own 17-year-old daughter as she applies to college. Though I'm not a parent and sometimes shy away from books that focus on things like school admissions and/or are too "mom-focused," I ended up really enjoying this book. The anecdotes from the kindergarteners' parents are pretty hilarious and I loved seeing peeks of Josie's relationship with her best friend and her aunt. And since Josie is single, there's also lots of talk about love and relationships and though maybe a tiny bit predictable, I really loved where the book went! (thanks to the publisher for my copy of this book!)
Untamed by Glennon Doyle: I'm really happy I read this one, though I appreciate that it's definitely not for everyone (the reviews are truly polarizing). While in some ways, I found it a bit too "touchy feely" and believe much of it should be taken with a grain of salt, I also think it offers many powerful lessons and I admit there are several tidbits from it that have stuck with me since I read the book. Untamed is Glennon Doyle's first book since her divorce from her husband and marriage to soccer star Abby Wombach. It's written in a series of short vignettes, often personal anecdotes that carry important lessons. Some of the chapters I found to be a bit too flowery with little meaning, but others I found carried significant weight and will continue to have great impact on my life. The book coves everything from confidence to femininity and masculinity to religion to racism to raising strong happy children. I especially appreciate her thoughts on racism (though obviously written from the perspective of a privileged white woman) and on bravery. I don't disagree with the many critics who say Glennon Doyle is entitled, self-righteous, and smug (and also that she could display more empathy in places), but I also won't dismiss her because I do believe her message can resonate and help many. Read at your own risk and take her words with a grain of salt, but hopefully you'll come away from this book with an important change of perspective in an area or two of your life. (thanks to the publisher for my copy of this book!)
We Came Here to Shine by Susie Orman Schnall: I loved Susie's last book The Subway Girls, so was eagerly anticipating her newest one. Similarly to The Subway Girls, We Came Here to Shine is historical fiction in which Orman Schnall takes a real-life event and writes a beautiful story around it. This one focuses on the stories of two girls begrudgingly working at the New York World's Fair in 1939. Vivi is a Hollywood actress sent to the fair by her agent to star as the lead swimmer in the Aquacade and Max is assigned to the fair's press office as her college internship, despite the fact she was really hoping to work for the New York Times. The two stories are told separately and then eventually become intertwined. This book might not absolutely blow your mind, but I think you'll likely find it a very enjoyable read filled with strong women trying to make their way in 1930s New York. It's hard not to fall in love with both Vivi and Max, especially as you learn how dynamic their stories actually are. I also feel like I got an insider's peek at the actual stories from the New York World's Fair, rather than just seeing pictures and learning about the history of the fair. (thanks to the publisher and NetGalley for my copy of this book!)
Always the Last to Know by Kristan Higgins: Ending on a somewhat down note, but this final book was just not the book for me. I probably should have stopped reading it (it felt so long!), but once I'm committed, I have a really hard time putting a book down and kept thinking it might get better. The book starts with a terrible accident in which John suffers a massive stroke. While at the hospital with him, his wife Barbara discovers he's been having an affair (after seeing text messages on her phone), but unfortunately, can't even start to resolve things with him or even truly get angry and instead must take care of him as he slowly recovers. The book is told from alternating points of view between Barb and her two daughters, Sadie and Juliet. It's hard for me to totally put my finger on why I didn't really enjoy it, but I think it's because I was just bored most of the time. There's nothing really special about any of the characters, it was hard to really like them (though I definitely don't feel like likable characters are necessary for my enjoyment of a novel) or connect with them. It's the kind of book that I'll completely forget about in a few months. I often enjoy lighter books like this between heavier reads, but this one just didn't hold my attention. (thanks to the publisher and NetGalley for my copy of this book!)
Overall, I read some seriously awesome books in April and a few of them are definitely close to the top of my favorites list for the year. I'm hoping things continue on this trend as the months go on!
What's the best book you've read recently?
To see what else I've read in 2020, check out other posts for the year:
What I Read in January 2020
What I Read in February 2020
What I Read in March 2020