If you're looking for a good book to read, you've come to the right place. This post is part of my monthly "What I Read" series, featuring the books I read the previous month with lots of recommendations for you! All of these book pair perfectly with donuts, cookies, pasta, or pizza… And always a glass of wine.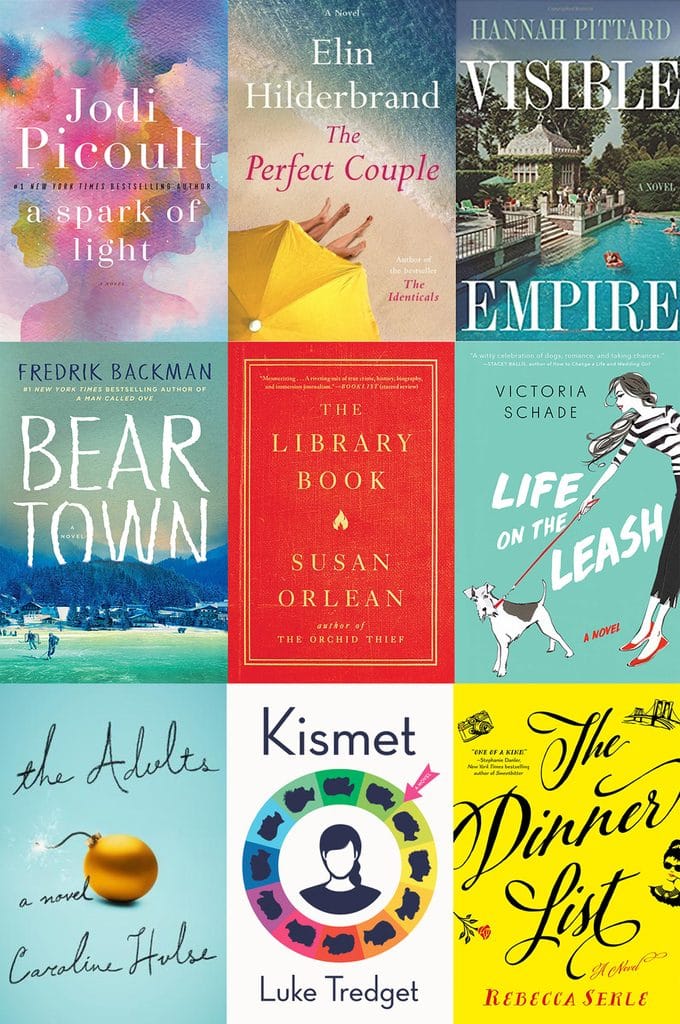 Did you know that reading can make you live longer?? Really! Well, at least that's what some studies show. According to a Yale study of more than 3,600 people, those who read for at least 3 ½ hours per week had a 20% lower risk of dying over the next 12 years than non book readers. Welp, guess I'm going to live forever (LOL). The study also says that "lifelong readers, too, may develop better critical thinking skills, vocabulary and empathy that can improve quality of life." I 100% agree with that. It sounds so cheesy, but especially in the crazy times we're living in, I think it's so important to put yourself in other people's shoes and try to understand what others are going through. Through reading, I've been able to enter into so many worlds that I wouldn't otherwise have access to and "meet" so many people I'd never come across in "real" life (and not just "meet" them, but get deep into their inner thoughts and ways of living). To me, that is invaluable.
There's also something to be said for the fact that when you're reading, you're stuck just listening and can't argue or try to convince people you're right. You can disagree with the author or narrator, but as long as you're reading, you're listening. In a world where we're constantly arguing with each other and barely even listening because we're so worried about coming up with our next "comeback," I think this is pretty amazing.
Luckily, not only might reading make you live longer and help you become a better person, but it's also a fabulous form of entertainment. I had an awesome month of reading in August and though I wasn't obsessed with every single book I read, I absolutely LOVED quite a few of them. To the point where I rated three of them FIVE stars. You know I hate star reviews and also that I'm super stingy with my five star reviews, so the fact that I gave three books five stars in one month is pretty amazing. I've never read so many five star books in one month and who knows if I ever will again.
Just an FYI that links to some of the books below and my Book of the Month link are affiliate links (meaning that at no extra cost to you, I will earn a commission if you click through and make a purchase) and some were gifted to me by their publishers. Thank you so much for supporting WANM! And don't forget to follow my book Instagram account (bookstagram!) at @booksontheside!
A Spark of Light by Jodi Picoult: Kicking things off with one of my five star books for the month! I'm sure many of you have preconceived notions about Jodi Picoult, but no matter how you feel about her, I urge you to read this book! It's one that plays right into my above points of using reading to understand different viewpoints. The story takes place during a hostage situation at an abortion clinic. Through the book (which is told in reverse chronological order; a technique I didn't love at first, but came around to), we get to know everyone at the clinic from the patients (some there for abortions and some there for other reasons), the doctor and nurses, the protestors, and the man holding everyone hostage. We learn why they're there and what may have happened in their pasts that led them to have the beliefs that they do today. No matter where you stand on the pro-choice/pro-life issue, I think it's always difficult to understand why people on the other side believe what they do, but I think it's important to try because that's the only way we can come together. And while I won't lie and say this book is totally unbiased, it does a good job of showing different viewpoints. And in the process, it told a story that sucked me right in and made me want to keep turning the pages. A Spark of Light's official pub date is October 2, but you can pre-order it now. (thanks to the publisher for my copy of this book!)
The Perfect Couple by Elin Hilderbrand: It wouldn't be summer if I didn't read an Elin Hilderbrand book! I picked this book up back in June, but waited until my August vacation to read it because I just love reading Hilderbrand's books on vacation. It's a little different from her typical books in that it's more of a mystery. But don't worry, it still takes place on Nantucket and is told in true Hilderband fashion. In the book, we learn very early on that during Celeste and Benji's wedding weekend, the maid-of-honor is found dead. The wedding is canceled and police start their investigation with a series of interviews with wedding guests. As their investigation is going on, we learn much of the back story of Celeste and Benji's relationship and how she's always been a bit insecure in that her modest upbringing is so different than his lavish one. We also learn a lot about the relationship between Celeste and her maid-of-honor Merritt and their friendship. I really enjoyed this book (and read it super quickly!), though I didn't totally love the ending. Some people base all of a book's merits on the ending, but I base most of mine on how much I enjoy actually reading the book, so this one still counts as a great book for me.
Visible Empire by Hannah Pittard: I had definite mixed feelings about this book and to be honest, am still kind of struggling to figure out how to feel about it. I absolutely loved the synopsis- the book is a fictional account of Air France Flight 007, the plane that crashed in the 1960s while carrying more than 100 of Atlanta's wealthiest residents on their way home from an art tour in Europe. I had never heard of Flight 007 before, but what an interesting event to base a story on. From the start, the book is very emotionally driven; some people lost nearly all of their friends, their families, etc. But then the emotional aspect got a bit lost as we dove into a couple different characters' stories. I almost forgot about the plane crash several times throughout the book as it wasn't a central part of the story. Yes, many characters' actions were influenced by the crash, but there was also so much drama that didn't really feel tied to the crash (read: a young girl who lies about her parents' being in the crash and being taken in by an older lesbian woman, a young black man who leaves home after not getting into an integrated high school who gets caught up in the lives of other's affected by the crash, a shooting, etc.). I still enjoyed each of their stories; they just weren't exactly what i was expecting with this book. (thanks to the publisher for my copy of this book!)
Beartown by Fredrik Backman: Another five star book! This book is SO good and I honestly can't say enough wonderful things about it. If I had only read the synopsis, I probably wouldn't have picked it up as on the surface, it's a book about residents in a hockey town. But I heard so many positive things about it that I decided to read it... Even then I had a bit of trepidation because I feared it had been hyped up too much. Well, I'm happy to say that Beartown lives up to all the hype. Yes, the book takes place in a hockey town, but you don't have to be a sports fan to enjoy it. It's really about people; all kinds of people of all different ages and incomes. It's about friendships and life in a small town and growing up and parenting. And so much more. It also brings up many current day issues without being "in your face" about them (in my opinion) from gender inequality to economic status, and more. I honestly don't want to share too much about the plot because the unfolding of it is part of the beauty of the book and you need to discover it for yourself. I have heard some complaints that there are too many characters or the book takes too long to get going, but I disagree and feel that the book is best enjoyed if you just let yourself sink into it and realize that the characters are the book and the story starts on page one. Oh, I should mention that you may know the author from his other books like A Man Called Ove. He actually writes in Swedish and the books are translated, so it's even more mind blowing to me how beautiful the writing is. There's a sequel to Beartown (Us Against You), but I'm holding off on reading it just yet because I'm still luxuriating in Beartown and don't want the story to end.
The Library Book by Susan Orlean: My third five star book for the month! I first fell in love with Susan Orlean when I was taking a journalism class as a junior in high school and read her The Orchid Thief (you may also know the movie based on it, Adaptation), which had just come out. Orlean has a way of taking what may seem like a relatively small topic, conducting a ridiculous amount of research, and creating a story you will get totally sucked into. As a child, I was obsessed with my local library and so many of my early memories are connected to it (learning to sign my name solely for the library card privilege, finally graduating to the "I Can Read" section, learning my library had a 20 book takeout limit, summer reading programs I took way too seriously, etc.). But as an adult, I've abandoned libraries, instead choosing to buy books, read ARCs, and download digital versions. I often still think about how cool it is you can go to the library and get books for free (!!), but I forgot (and in some ways, had no idea) about just how much the library offers. At first look, Susan Orlean's book is centered on the 1986 fire at the Los Angeles Public Library. But this is just a very small part of a larger book that celebrates the history of libraries, all they have to offer, and the people who make it all happen. Orlean did a crazy amount of research for this book and uncovered so much great information for us. And I'm so excited that she wrote this book at this time when (in my opinion), books are more important than ever. It really opened my eyes to how lucky we are to have this amazing service in our lives, as well as how many issues libraries face and have faced throughout history. I honestly could talk about this book for hours and admit it made me slightly sad I didn't go to school for library science. I can't recommend this book enough to anyone who loves reading. The Library Book's official pub date is October 16, but you can pre-order it now. (thanks to NetGalley for my copy of this book!)
Life on the Leash by Victoria Schade: This is another book that made my reading month so fabulous. It's definitely lighthearted and chick lit-ish, but in my opinion, way better than the average chick lit. Sometimes when I'm reading books classified as chick lit, I get bored and find myself rolling my eyes constantly. It's rarely deep and often feels unrealistic. But I got sucked right into Life on the Leash and felt thoroughly entertained throughout the entire book. I think that's partly because there are multiple storylines going on and partly because it's about a dog trainer and written by an actual dog trainer, so it felt a lot more like "real life." The book is about Cora, a dog trainer extraordinaire with her own successful dog training business and lots of clients with all different types of personalities. When she finds herself crushing on one of her clients, she knows she needs to resist, considering a) he's a client and b) he's living with his girlfriend. In the meantime, she's applied to be on a dog training reality show, has met another guy who has a crush on her, is living 20-something life with her roommate, dog, and friends, and heading off to see multiple clients a day. She's a super likable character and I honestly wish she was a real person because I desperately want her to come help me train my pup (clearly, the author is a fabulous trainer!). Anyway, if you're looking for a lighthearted fun book and you love dogs, this is a great read. Life on the Leash's official pub date is September 18, but you can pre-order it now. (thanks to the publisher for my copy of this book!)
The Adults by Caroline Hulse: I hadn't heard of this book or the author when I picked it up, but it ended up being a quirky fun book with an intriguing concept. A formerly married couple decides to go on vacation together for Christmas, along with their daughter and each of their new significant others. What could possibly go wrong?? As it turns out, quite a bit. Including one person being shot with an arrow and a seriously grumpy imaginary rabbit. I love that the couples in this book were trying so hard to be so modern and cool and well, "adult." But let's face it... It's rarely a good idea for exes to vacation together; especially when new boyfriends and girlfriends are involved! I did enjoy this book (the daughter's imaginary rabbit is seriously a riot), but I didn't feel totally connected to any of the characters (they all drove me a little crazy... But I also feel like that was kind of the point). In any event, it's a pretty quick and definitely entertaining read! The Adults' official pub date is November 27, but you can pre-order it now (thanks to the publisher for my copy of this book!)
Kismet by Luke Tredget: This is book I picked up with no prior knowledge about its concept (since I read a lot of much-talked-about, popular fiction, sometimes I love picking up books I know absolutely nothing about). I definitely had some mixed feelings about it and don't think everyone would love it, but I enjoyed the concept of the book and overall arc of the story. Anna is certainly not the most likable main character, but this didn't really bother me because I think she is also a very realistic character. Despite the fact that Anna is in a longterm relationship and living with Pete, she joins the newest dating app, Kismet. Basically, Kismet gives you and your potential matches a number that rates how good of a match you are. Anna and Pete are a 70 (which isn't bad at all!), but Anna can't help but wonder if there's someone out there she's more compatible with. So, she joins Kismet and, f course, she meets an 81. Anna is definitely a struggling millennial and will frustrate you in many ways, but that didn't take away from my enjoyment of the book. I think something that might hurt this book is that it's being promoted as a cross between Black Mirror and Bridget Jones. I didn't get any Bridget Jones at all (aside from the fact that Anna is a bit confused and seeking her "best life"), and the kinda creepy technology is reminiscent of Black Mirror, but I feel like true Black Mirror fans would be expecting something a whole lot darker and creepier. Go into it with the right expectations, and it's an enjoyable book that will likely make you think a lot about relationships and modern technology. (thanks to NetGalley for my copy of this book!)
The Dinner List by Rebecca Serle: This one is getting lots of buzz in Bookstagram land (it was also a Book of the Month pick!) and for good reason. The book has a truly cute concept. Have you ever thought about which five people (dead or alive) you would want to have dinner with? That's exactly what Sabrina and her friend Jessica do in college. And on her 30th birthday, Sabrina sits down to have dinner with her chosen crew, including Jessica, her dad, an old professor, ex-boyfriend Tobias, and Audrey Hepburn (because why the heck not?). The book bounces back and forth from the dinner to the story of the relationship between Sabrina and her ex. It's a fun book in many ways, but also much heavier than I thought it would be. Sabrina and Tobias's relationship is an emotional one and her current relationship with Jessica is a bit sad. She's also being reunited with her dad after he left her and her mother when she was young. There's also a twist that I definitely didn't see coming! Audrey brings a bit of lightheartedness to the dinner (she's a serious delight) and the story made me seriously think about who would be on my dinner list (you can see who made the cut in my Instagram post!). (thanks to the publisher for my copy of this book!)
What an awesome month! Maybe even my favorite month of reading ever?? And now September has a whole lot to live up to. I can't believe there are only four months left in this year... And still so much more I want to read!
What have you been reading lately?
If you're looking for more book recommendations, feel free to take a look at my other book review posts from so far in 2018:
What I Read in January
What I Read in February
What I Read in March
What I Read in April
What I Read in May
What I Read in June
What I Read in July