Looking for a good book to read? This post is part of my monthly "What I Read" series and features the books I read in August 2019 with lots of recommendations for you! All of these book pair perfectly with donuts, cookies, pasta, or pizza… And always a glass of wine.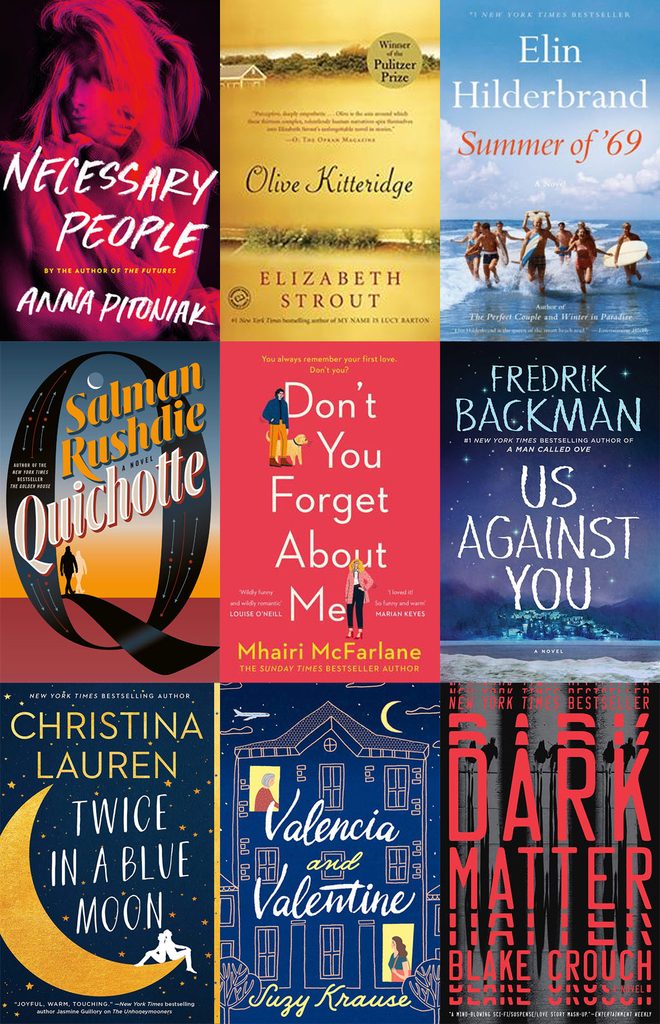 Do you need a good excuse to get to bed a little earlier tonight and to pick up a book instead of scrolling through Instagram or Facebook? How about this... According to a new survey, people who read a little bit before bed are more relaxed, happier, and healthier. They also tend to sleep better and make more money. Hello!
Obviously, these results aren't 100% perfect (I took a lot of logic classes in college, so I understand all the fallacies), but from my own personal experience, I have to agree. I'm terrible at going to sleep early (I'm a major night owl), but no matter how late I end up getting into bed, I have to pick up a book for at least a few minutes. The best nights are the ones where I get into bed early-ish and decide not to look at my computer or phone and just read for an hour. I swear I sleep better! Do you ever read before bed?? I recommend trying it, even if it's just for 10 minutes.
And if you need some recommendations for what books to pick up once you slip under the covers, I've totally got you covered! In this post, I'm reiewing all the books I read in August. I'm pretty sure this is my most fabulous reading year ever as I had a few more five star reads his month and enjoyed pretty much everything I picked up!
Just an FYI that links to some of the books below are affiliate links (meaning that at no extra cost to you, I will earn a commission if you click through and make a purchase) and some were gifted to me by their publishers. One was from the Book of the Month Club, which I highly recommend if you'd like the chance to pick a new book every month; it makes a great gift, too (you can sign up with my affiliate link here). Thank you so much for supporting WANM!
Necessary People by Anna Pitoniak: I went into this book really not knowing what to expect and it surprised me in the best possible way. Don't you love when that happens? I think part of the reason I was so pleasantly surprised is because I didn't realize lots of people called this a thriller when I first picked it up. Whatever you do, don't go into it thinking it's going to be a thriller like Ruth Ware or Gillian Flynn write. It's not. Violet and Stella are best friends from college. After they graduate, they move into Stella's apartment in NYC (gifted to her by her wealthy parents). From the start, we see how manipulative their friendship is. Violet comes from nothing and doesn't even talk to her parents anymore and Stella is rich and spoiled and used to getting everything she wants. When she finally returns to NYC, the two are forced to navigate their friendship as now young adults... And it's not easy. I don't want to spoil anything, but just know that I read this book super fast and definitely didn't see some things coming. Definitely a hit for me! (thanks to the publisher for my copy of this book!)
Olive Kitteridge by Elizabeth Stout: omg I could tall about this book forever. And pretty much have over on Instagram. I first read it about four years ago, but barely remembered what it was about. When I was gifted the sequel (out October 15!), I decided to go back and read this again and I'm SO happy I did. For whatever reason, it didn't mean anything to me four years ago, but now it hit me in a completely different and very personal way. I love when that happens. In some ways the book feels like a series of short stories, but all stories feature retired schoolteacher Olive Kitteridge in some way and every few stories, we learn more and more about Olive and her husband Henry and their marriage and life together. If you look at the book on its surface, it feels quite depressing (and that's the main criticism from people who don't love the book). Olive and her husband Henry live in Crosby, Maine, and have what looks to be a pretty average life. As they age, they grow apart in many ways, have a somewhat troubling relationship with their grown son, along with many other troubles in life.At its surface, the book focuses on the bad. It's enough to make you think "gah what's the point of it all?" at some moments. But keep reading and you'll see that it's actually a beautiful, honest, and hopeful book. One that will make you feel not so alone and one that will teach you to look at and appreciate the beauty in life. It's one of my favorite books OF ALL TIME. And that's saying a lot. But I honestly think I could read it 10 more times and feel just as emotional every time.
Summer of '69 by Elin Hilderbrand: In case you're new here, you should know that I read every single book Elin Hilderbrand releases (generally two a year) and look forward to her new releases every summer. And I'm very happy to say this is my new favorite! I just feel like Summer of '69 is a bit deeper of a book than she typically writes and has characters I was more connected to than usual. The story follows the siblings of the Levin family as they embark on the summer of '69. Blair is pregnant in Boston and dealing with some issues in her marriage. Civil rights activist Kirby is experiencing freedom from her family and living on Martha's Vineyard for the summer. 13-year-old Jessie is staying with her parents in their Nantucket home and missing her siblings and friends. And Tiger is off fighting in Vietnam, causing his mother lots of worry. The siblings are all having very different summers, but each one seems to embody 1969 so well and everything feels very true to the times. Though Hilderbrand was born in 1969 (definitely read the book's afterward!) so didn't experience in the way these characters did, she clearly did a ton of research to bring the year to life for her readers. I was invested in each of the characters' stories and loved that there's just a little bit of mystery weaved in, too. I can't wait to see what Hilderbrand comes out with next!
Quichotte by Salman Rushdie: This was my first Salman Rushdie book and now I'm really excited to read more from him. But let me get one thing clear first... his writing is definitely kind of weird and not for everyone. When I first started reading Quichotte, I was a little bit confused and wasn't quite sure I wanted to keep reading. But I did and I ended up absolutely loving it. Describing the plot of this novel is difficult, though it is a sort of re-telling of Cervantes' Don Quixote. An author, Sam DuChamp, is writing about his made-up character Quichotte who is on a quest to be with the "love of his life," a well-known television star. In addition to following Quichotte on his quest (along with the son, Sancho, whom he dreamt up), we learn a lot about DuChamp's life... And eventually the stories start bleeding together. At times, I felt like I needed a chart to refer to so I could remember whose relatives were whose and what story belonged to what person... But in the end, I realized it didn't fully matter. After all, in today's society, the line between fact and fiction is so thin that it's basically nonexistent in some instances. Quichotte hits upon pretty much everything our modern society is dealing with, from racism to addiction to mental healthy to mass shootings to celebrity obsession to TV culture to cyber hacking and SO MUCH MORE. It also dives deep into the personal issues everyone deals with, including love and family. Of course, it covers everything in an exaggerated satirical way, but one that will also likely make you say, "man, we are pretty messed up." Much of it felt eye-opening to me, though I'm not sure what effect it will have on people who really do need their eyes opened. This book is definitely weird, but I'm glad I stuck with it because I really enjoyed it. It's also been shortlisted for the 2019 Booker Prize! (thanks to the publisher for my copy of this book!)
Don't You Forget About Me by Mhairi McFarlane: I'm a big fan of Mhairi McFarlane and her sweet and charming characters and read everything she comes out with. I got exactly what I was expecting and hoping for with Don't You Forget About Me's main character, Georgina. She's down-to-Earth while still being a little bit quirky and just the kind of girl you'd want to be friends with. Georgina is currently going through a bit of a tough time, struggling with what she wants to do in life and dealing with an obnoxious but semi-famous boyfriend. Then she gets a job at a new pub and realizes one of her bosses is her short-lived high school boyfriend (we know something big and not great happened to cause their breakup, but we don't know quite what). I wouldn't say this book is mind-blowing or that it's going to change your life or stick with you forever. But if you like McFarlane, you will definitely enjoy this one. You'll also enjoy it if you're looking for a book that's a little bit lighter, but not overly predictable and much deeper than the typical romance (I don't even think this book should be classified as romance, but it definitely has a lot in it). It has the perfect amount of quirky humor, lots of not-too-cheesy romance, and a storyline that will make you want to keep reading. (thanks to the publisher and NetGalley for my copy of this book!)
Us Against You by Fredrik Backman: I've been eagerly anticipating starting this book for a LONG time. I was (and still am) absolutely obsessed with Beartown and knew I was going to love the sequel, too. Thankfully, it's another five star book for me! However, I still think Beartown is my absolute favorite... Nothing can compare! I was so happy to have the Beartown crew in my life again, especially Benji, Ramona, and Maya. This book is the perfect continuation of the first one (I definitely recommend reading Beartown first if you haven't already) with the town still reeling from the aftermath of sexual assault. With a fractured hockey organization and townspeople all taking sides, Us Against You once again dives into what sports mean to small towns, how money and politics can contribute, and what happens when people feel like their values are threatened. If you read Beartown and wanted more Benji, the sequel gives us a lot more Benji. In addition to continuing the stories of most of the other characters, we're introduced to a couple new ones. It's hard to say a lot without giving too much away, but just know that Us Against You is a very worthy sequel, with parts of it being uplifting and parts being heartbreaking. Rumor has it there will be a Beartown #3 and I can't wait to to jump back into the lives of these characters again.
Twice in a Blue Moon by Christina Lauren: Christina Lauren is one of those authors (I should say ARE TWO of those authors since it's really the pen name of two authors who write together) whose books I'll always read, but am not usually blown away by. I had such high hopes for this one, but in the end, it didn't totally deliver for me. That said, I'm still glad I read it; it just wasn't my fave Christina Lauren book despite the fact it got off to a strong start! While traveling to London with her grandmother, Tate meets Sam who is on vacation with his grandfather. The two hit if off and spend much of the two weeks together, quickly falling in love. But he suddenly breaks her heart and betrays her trust, leaving her totally confused. While the "love" didn't feel totally believable to me, I did think the feelings seemed real. And when Sam leaves, I was just as confused as Tate... How the heck could he do that? Flash forward 14 years and Tate is now a well-known actress. She's still single and it seems she hasn't even been in love since Sam. But he's suddenly back in her life and she has to deal with all kinds of unexplored feelings. I don't want to give away too much and honestly, I feel like the synopsis of this book basically tells you the whole story (I luckily didn't see it before reading the book)... It just didn't feel like that much else happened. The second part of the book felt pretty slow and I couldn't fully understand why Tate couldn't let go of this 10 day "relationship" she had at age 18 or why these two still had such a strong pull to each other. One of the reasons I generally really like Christina Lauren books is because the characters are so strong and their relationships are so personable and believable. They also know when to add humor in. This book was just a little bit empty in terms of those strong bonds and humor. I'll still read everything the authors come out with, but this one won't go down as one of my favorites! (thanks to the publisher and NetGalley for my copy of this book!)
Valencia and Valentine by Suzy Krause: This book has very mixed reviews and in many ways, I can see why. It's definitely quirky and different, but ultimately, I thought the message was really important and strong and allowed myself to get sucked into the story. The story follows 35-year-old Valencia who has OCD... She's single and stuck in a dead end debt collector job, but lives with a crippling fear that prevents her from changing anything in her life. Things seem to take a little bit of a turn for the better when she "meets" a man who she's collecting debt from and they begin talking on the phone every day. Mrs Valentine is an 87-year-old widow, living alone and reminiscing on her past, especially her marriage, and longing for companionship so much that she sometimes imagines it. The book started off a little slowly for me, but before long, I was fully immersed to the point where I was desperately trying to figure out what was going on and what kinds of secrets the book was holding. I definitely don't want to spoil anything, but will say that the story is very cleverly told and that I found the ending to be incredibly satisfying (and feel that it holds valuable lessons). Go into this book not expecting everything to be straightforward and "normal," and just let yourself get taken in. (thanks to the publisher for my copy of this book!)
Dark Matter by Blake Crouch: omg this is a good one. I'm not a big science fiction reader, though I do tend to enjoy it for the most part when I pick something up. This book has convinced me I definitely need to pick it up more (of course, I'll be picking up Crouch's Recursion first!). Dark Matter is the kind of book that blows your mind so much that you can't stop thinking about it. Even months later. Jason is a professor who is happily married with a son. But he's suddenly kidnapped and wakes up to a life that's nothing like the one he had.. some of the people and places are the same and everyone seems to know him, but know nothing about the life he came from. What the heck is going on?? I don't want to give away too much of this book by summarizing it further, but I can almost guarantee you won't be able to put it down (and that it will hurt your brain a little). Just read it! I heard a long time ago that Dark was supposed to become a movie and I seriously hope that's still going to happen!
I can't believe there's so few months left in the year, but I'm thrilled I've read so many good ones so far in 2019. I can't wait to see what the rest of the year brings as we move into cozy reading season.
What fall book are you most looking forward to?
To see my other reviews so far in 2019, check out my other posts:
What I Read in January 2019
What I Read in February
What I Read in March
What I Read in April
What I Read in May
What I Read in June
What I Read in July