If you're looking for a good book to read, you've come to the right place. This post is part of my monthly "What I Read" series, featuring the books I read the previous month with lots of recommendations for you! All of these book pair perfectly with donuts, cookies, pasta, or pizza… And always a glass of wine.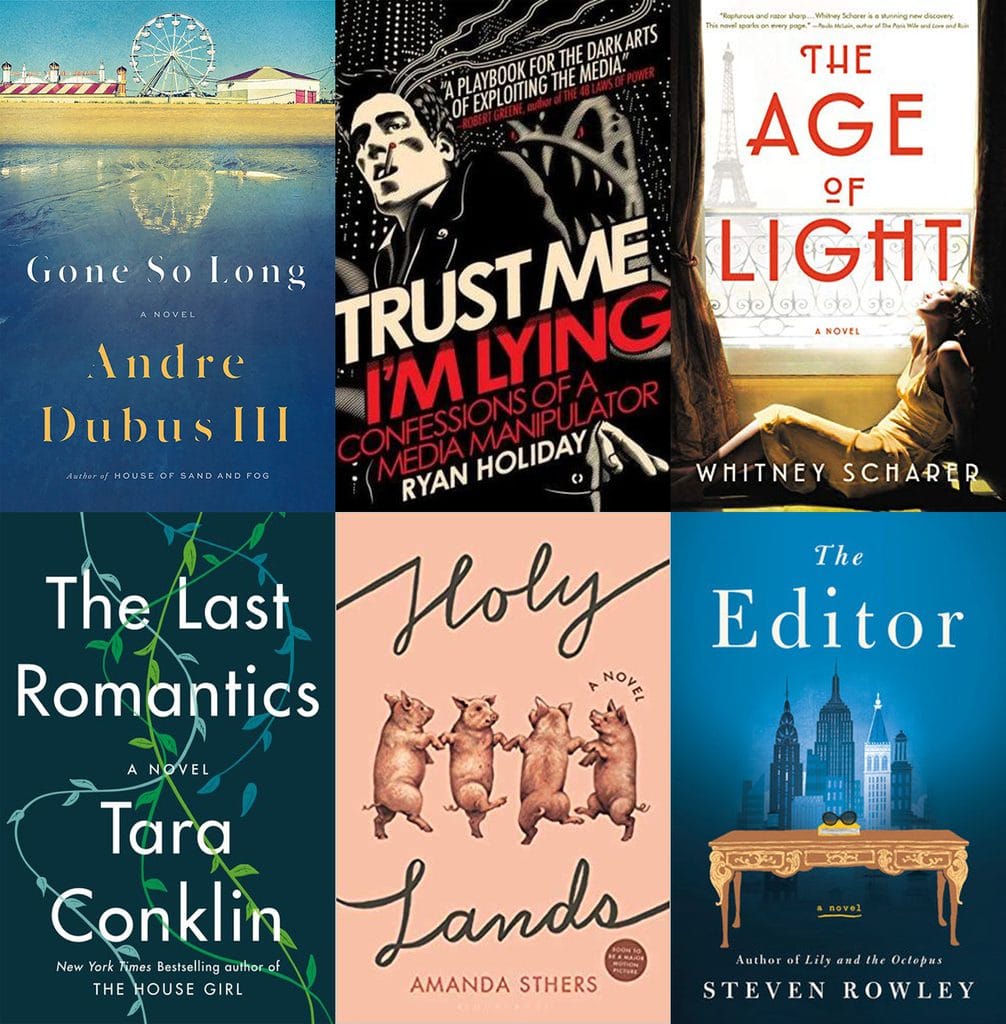 Can we talk about Marie Kondo for a minute? Her book, The Life-Changing Magic of Tidying Up, was all the rage a couple years ago and now her Netflix special, Tidying Up with Marie Kondo, has people clearing out their clutter like crazy. I'll be honest, I haven't read or watched Marie because I feel like I know I don't need someone to tell me to clean up my clutter... Also, I like my "stuff" and I know that probably says something horrible about me, but as long as it's bringing me joy, I really don't care. Of course, one thing that caught my attention is her recommendation that you have no more than 30 books in your house. Ha! Marie would have a conniption if she walked into my house and saw how many books I own. And I will never ever have just 30 books in my house because they spark SO much joy for me. But. I also kind of get what she's saying. In addition to all my favorite books, books that I'm still waiting to read, books that have covers that make me happy, and cookbooks that I reference all the time, I also have a lot of books on my shelves that I didn't even like that much. Books that were OK, but that I'll never pick up again or books that I literally didn't even finish because I didn't enjoy them. Why am I letting these sit here and collect dust? Especially considering I can donate them to someone who they may actually spark joy for. I guess it's time to clean out my bookshelf!
I can only imagine how many more books I'd have if it weren't for my Kindle. Let's not talk about it. Let's talk about what I read in December instead. It was a slower month due to all the holiday craziness, but I read a few great ones. Books that I want to stay on my shelf forever. Actually, four out of the six books I read were on my Kindle, dust-free!
Just an FYI that links to some of the books below are affiliate links (meaning that at no extra cost to you, I will earn a commission if you click through and make a purchase) and some were gifted to me by their publishers. Thank you for supporting WANM!. And don't forget to follow my book Instagram account at @booksontheside!
Gone So Long by Andre Dubus III: You may know Andre Dubus III from his 1999 book House of Sand and Fog. I honestly don't even really remember too much about the book, but he's a Massachusetts writer and the book got A LOT of attention when I was in high school. I knew his new one took place in New England, too, and though I heard it was a bit heavy, I decided to pick it up. It ended up being different from the books I usually love, but really, really good. Really the kind of book that effects you and makes you struggle with your beliefs and right from wrong and forgiveness and so much more. As a super quick summary, the book is told from three points of view: 1) a man who killed his wife in a jealous rage when he was in his 20s who has been out of jail for many years when he learns he's dying and decides to find his daughter, 2) the daughter who is now in her early 40s and writing about her childhood (she was 3 when her mother was killed and went to live with her grandmother), and 3) the grandmother (and mother of the woman who was killed) who still harbors a lot of anger (understandably) about her daughter's death. Forgiveness is such a difficult and complicated concept and this book really brings up a lot of questions. I was also reading it at the same time that I listened to the Dirty John podcast, which compounded upon this concept. This isn't really an easy read, but it's the kind of book that will stick with you.
Trust Me I'm Lying by Ryan Holiday: I needed a good audio book for all of the time I was spending in the kitchen doing holiday baking and cooking and my husband recommended this one to me. And oh man, I had really mixed feelings about it. On the one hand, I think it's a really important book to read, even more so than when it was first published in 2012. I mean, we're fully in the age of #FakeNews right now, but do most people actually know what that means? I don't think so. This book will help you understand how to read an online article in a smart way by thinking critically and not jumping to conclusions. You'll really start to understand why so much misinformation is out there and why so many people believe things that just aren't true. A someone who's worked in marketing for a long time, I knew a lot of this information already, but Holiday presents it in a easy-to-understand way that really highlights its seriousness. But also, the book seriously depressed me. Because I don't see a way to fix this problem and the author definitely doesn't offer one. More than that, the author was a major part of the problem as a former marketer who prided himself on basically tricking people through his marketing campaigns. This kind of annoyed me as I feel like he capitalized on this scumminess for so long and now that he's rich is willing to reveal it to the world.
The Age of Light by Whitney Scharer: In case you haven't noticed, I love historical fiction and this book hit a sweet spot for me. I had never heard of Lee Miller or Many Ray before picking it up, but I was so quickly sucked into their lives. Lee Miller was a young model in the 1920s when she decides to move to Paris and learn photography because, as she says, "I'd rather take a picture than be one." She begins to learn under known photographer Man Ray and quickly finds herself falling in love with him. The story is told later in Lee's life, when she's working as a gourmet cook and food writer. It flashes between her life in Paris in the 30s and her years in Germany as a war correspondent. Lee is such an incredibly strong force of a woman and someone hard not to admire. Despite her flaws, I found myself constantly rooting for her and wanting the best. Her relationship with Man was very complicated; beautiful in many ways, but also filled with jealousy and strong personalities and lots of toxicity. But so, so interesting to read about. The Age of Light's official pub date is February 5, but you can pre-order it now. (thanks to NetGalley for my copy of this book!)
The Last Romantics by Tara Conklin: This was another really great read for me in December. As you probably know by now, I'm generally a fan of books that explore family dynamics, especially if we can follow the characters from childhood through adulthood, and that's exactly what we do in this novel. The book's main character, Fiona Skinner, is 102 years old in 2079 and a renowned poet giving a talk on her work and inspiration for it. From there, we jump back and forth in time to learn of Fiona's childhood with her three siblings and single mother. Each sibling is so different and it was really interesting to understand how circumstances from their childhood affected each of them in such different ways all the way to adulthood. Likely because she is the narrator (and probably because I'm a youngest child, too), I felt a special connection to Fiona. She's an open and trustworthy narrator and so very insightful about her family and relationships. The Last Romantics' official pub date is February 2, 2019, but you can pre-order it now. (thanks to the publisher for my copy of this book!)
Holy Lands by Amanda Sthers: The concept of the book is a really good one- it's a family drama with divorced parents and two young adult children who are both trying to live their own lives and figure out new relationships with their parents and each other. The father moves to Israel to become a pig farmer (pretty ironic and, in the book, humorous, for a devout Jewish man) and befriends a rabbi whom he corresponds with regularly. I love epistolary novels and this is one, told completely through letters and emails. It's also a super quick read and if you have a couple hours, you could probably finish it in one sitting. I did find myself wanting a bit more from it; mostly wanting to know the characters more, which felt a little tough to do through simply the letters and emails in the book (I had to keep looking to see who the letters/emails were from since I couldn't immediately tell). But it intrigued me enough to really want to see how this plays out on the big screen- it was just released as a movie in France (with Jonathan Rhys Meyers, among other stars). Holy Lands' official pub date is January 22, so just a couple days away! (thanks to the publisher for my copy of this book!)
The Editor by Steven Rowley: I really enjoyed Rowley's first book, Lily and the Octopus, though it was an emotional rollercoaster for me (it isn't easy for me to handle books about dogs... Especially dying dogs). Luckily, Rowley's new one retains his distinct voice, while being a lot easier for me to consume. It's about writer James Smale and his experience getting his first book published with his editor who just happens to be Jackie O. OK, first of all, I'm ashamed to admit that I never knew Jackie O. worked in publishing in her later years (I actually have my Master's Degree in publishing and never knew this!). BUT I'm so glad this book brought it to my attention and gave me the chance to dive deep into her career, even if it is a fictional account. Much of the book focuses on the editing process of James's novel, which is a pretty autobiographical telling of his childhood and relationship with his mother, and how his mother reacts to the writing of it. If you've ever written or tried writing a book, you can probably relate on some level with dealing with how your loved ones react to it. It's not the most action-packed book, but it moves along nicely and is the kind of novel you'll want to keep reading. I've never had a particular interest in Jackie O. but after reading The Editor, I have a great appreciation for her (completely aside from the fact she was married to JFK). But mostly.... I really want to read James Smale's book now! The Editor's official pub date is April 2, but you can pre-order it now. (thanks to NetGalley for my copy of this book!)
And with that, my 2018 in books is officially over! I'm already off to a great start with 2019 and can't wait to share with you what I've been reading.
Do you have a lot of books in your home or do you try to only keep your favorites?
If you want to see my full 2018 in books, check out all of my posts from the year:
What I Read in January
What I Read in February
What I Read in March
What I Read in April
What I Read in May
What I Read in June
What I Read in July
What I Read in August
What I Read in September
What I Read in October
What I Read in November