Looking for a good book to read? This post is part of my monthly "What I Read" series and features the books I read in December 2019 with lots of recommendations for you! All of these book pair perfectly with donuts, cookies, pasta, or pizza… And always a glass of wine.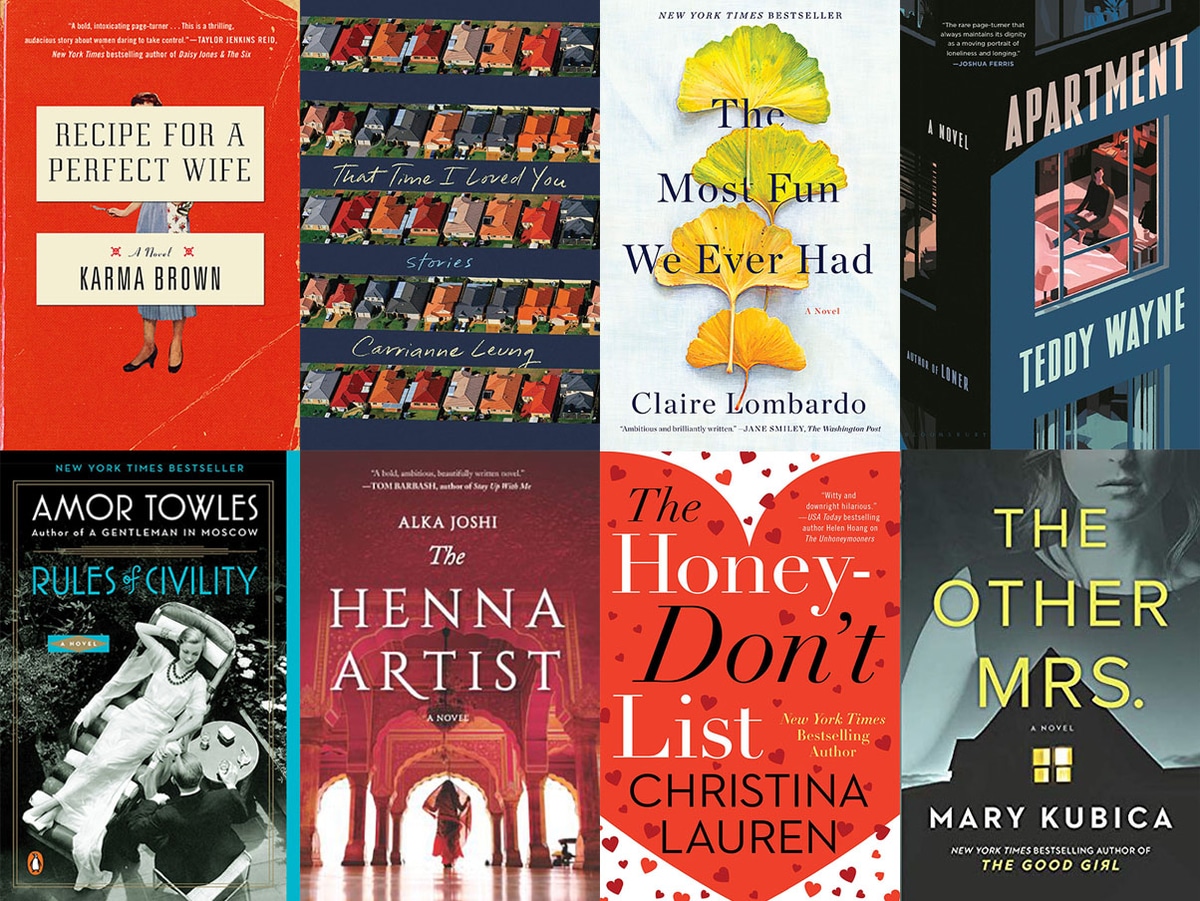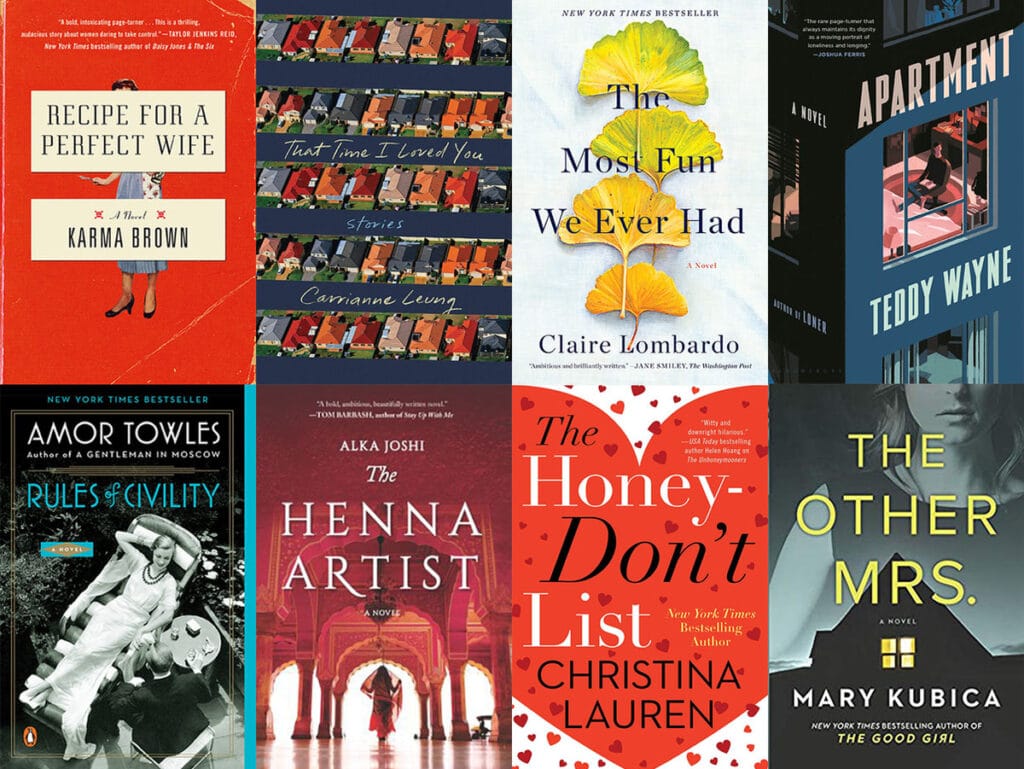 Happy 2020! I had a fabulous year of reading in 2019 and obviously can't let the 2020 reading year begin without sharing with you my final reads of the year. I ended up reading 102 books in 2019. I generally have a goal of 100, but also don't like to put too much pressure on myself since I know life can get busy and I also like to read longer books at time.
All this to say, I'm pretty thrilled with finishing with 102. I know I probably say this every year, but 2019 was my most favorite year of reading ever! I was introduced to so many new authors, read lots of new releases, caught up on books that have long been on my TBR, and immersed myself more in the bookstagram community. I can't wait to see what 2020 brings!
Oh wait, before we get started, I want to share my top 5 books of 2019! If you're looking for some quick recommendations to quick off 2020, I highly recommend these 5.
#1: A Little Life by Hanya Yanagihara (long and VERY heavy, but so, so worth it)
#2: Olive, Again by Elizabeth Strout (I recommend reading Olive Kitteridge first. These books really touch my soul)
#3: A Ladder to the Sky by John Boyne (this man can tell a story and I can't wait to read more from him)
#4: Ask Again, Yes by Mary Beth Keane (slow beautiful burn about family and forgiveness)
#5 This Tender Land by William Kent Krueger (I didn't think I'd like it based on the description, but it ended up being a beautiful journey).
And with that, here are the final 8 books I read in December 2019. Just an FYI that links to some of the books below are affiliate links (meaning that at no extra cost to you, I will earn a commission if you click through and make a purchase) and some were gifted to me by their publishers. Thank you so much for supporting WANM!
Recipe for a Perfect Wife by Karma Brown: OK I have no idea where I've been and why I never heard of Karma Brown before. But now that I read Recipe for a Perfect Wife, I want to read everything from her (apparently she has quite a few great books). It's almost hard to give an accurate summary of this novel because I feel like the "what this book is about" won't fully do it justice. Alice and her new husband have purchased a house in the suburbs of NYC. It's a difficult time for Alice as she has recently left her high-powered job and is in the beginning stages of thinking about starting a family. She feels a bit lost in the suburbs and ends up finding a book of recipes and letters left by the house's previous owner, Nellie, and immersing herself in it. The book bounces back and forth from Alice's current life to Nellie's life in the 1950s with her new (and pretty demanding) husband. Nellie is in a similar place in life as a newlywed who's thinking about starting a family. I enjoyed comparing Alice and Nellie's stories and found myself enjoying both equally. There's a surprising dark side to the book (no spoilers!) and it's a more dynamic novel than I expected. Also, the book made me think about what it means to be a woman and wife in the 2020s and how that's changed and remained the same from the 1950s. In so many ways, we're in a much better place than women in the 50s, but progress is also so slow, especially when it comes to people's ways of thinking. (thanks to the publisher for my copy of this book!)
That Time I Loved You by Carrianne Leung: I still say short stories aren't my favorite, but when a book is told in short connected vignettes, I've been finding myself falling in love lately. And I loved this book. A young girl June is the "main" character here and though she's not in every story (though I'm pretty sure at least a mention of her is), every few stories she comes back. All of the stories take place in a diverse suburban neighborhood in Toronto in the 1970s. It's the kind of neighborhood where most people know each other and the kids all play in the street together after school. There's been a strange wave of parents committing suicide, which is obviously very unsettling and confusing for the kids who have never had to question the wisdom and security of their parents before. In each story, we get to know someone else in the neighborhood, learning their stories, their secrets, and their struggles. The book touches on racism, depression, young love, and so much more. This is a quick read and a worthwhile one. That Time I Loved You's official pub date is February 26, but you can pre-order it now (thanks to the publisher for my copy of this book!).
The Most Fun We Ever Had by Claire Lombardo: This was the last book I read in 2019 and ended up being one of my very favorites. It is SO my kind of book. Some of my favorite kinds of books are books where we're just inserted into someone's daily life; I love character-driven stories and especially when they're long multigenerational family stories. This book has definite Parenthood vibes in that it's about a close-knit family who all love each other, but also have many issues with each other, like any family does. We get to know each member of the Sorenson family so well (mother, father, and four daughters), along with a few other characters to the point where, despite the book being over 500 pages, I didn't want to say goodbye to everyone. There were a few things I didn't love about the book, but overall, I found it realistic and very relatable and is the kind of book I wish never had to end.
Apartment by Teddy Wayne: This is pretty different than the type of book I usually like. But I'm glad I stepped out of my regular reading zone because I ended up really enjoying this one and it was a quick read. The book's narrator, is from a wealthy family and has had a life of relative ease when it comes to money and advantages. His dad is paying for his MFA program at Columbia and gives him an allowance for expenses. He's living in his great aunt's rent subsidized apartment in NYC and is afforded the opportunity to focus solely on his studies. He befriends another student in the program, Billy, who comes from a modest upbringing in the Midwest, is working to pay his way through the program, and is living in the backroom of a shop in order to save money. When the narrator invites Billy to live with him free of charge, the power balance is immediately off. And the interactions between the two friends are almost cringe-worthy at times. I'm sure most of us know what it's like to be friends with someone who has a lot more or a lot less money than we do (do you offer to pay for things?? Do you accept when someone else offers?? Do you not suggest pricey outings even if you're willing to pay??) and it's not always easy. Toss in some social awkwardness, mild sexual vibes, surprising political differences, and career competitiveness, and it's a recipe for disaster. For me, Apartment is a commentary on class, money, and upbringing and how these things can effect relationships. Ultimately, it's a reminder that there's not necessarily a right or wrong way of being and it made me think about what we're born into and how that effects everything we do. Oh, and bonus points for all the fun 90s references in the book. Apartment's official pub date is February 25, but you can pre-order it now (thanks to the publisher for my copy of this book!).
Rules of Civility by Amor Towles: This is the kind of book that when I finished, I immediately wanted to start it again. Katey Content is in her 20s and living in New York City in the 1930s. In between her work as a legal secretary, she spends a lot of time with her best friend Eve, going out on the town, drinking martinis, and meeting new friends. When Katey and Eve meet the wealthy and handsome Tinker, they're intrigued by him. But Katey will soon learn there's more than meets the eye… to pretty much everyone and everything in her life. Not that I can totally compare my life in my 20s to Katey's, but I felt like I could relate to her so much on the idea of living in the "big city," working, going out with friends, and trying to discover who you are and what the world is about. I loved following Katey's journey of growth and felt like this book was satisfying in so many ways. But like I said, it's the kind of book I want to read again as I feel like there's so much I missed. It's also the kind of book that deserves a slow focused read as the writing is so beautiful. I will definitely be reading again at some point!
The Henna Artist by Alka Joshi: I honestly didn't know what to expect going into this book as this is Joshi's debut novel. I ended up reading it in two days. Lakshmi Shastri is so much more than just a henna artist (wait until you see!) and she's a super strong female character who's ambitious almost to a fault. The book begins with Lakshmi's younger sister looking for her. Lakshmi left her rural Indian village at age 15 before she even knew her mother was pregnant with a sister. She left an abusive husband (she was forced to get married at a young age) and eventually found her way to the city of Jaipur. When we meet her, she's acting as a henna artist for the wealthy, but is known for her way with herbs, especially those that can heal women in various ways. She's an independent woman earning her own money and building her own home. When her 13-year-old sister Radha finds her, she brings some of Lakshmi's past with her and challenges Lakshmi in ways she definitely isn't prepared for. Lakshmi is the kind of female character I love. Her young assistant, Malik, is such a sweet addition to the book and I loved every time he popped up. I also enjoyed the descriptions of 1950s India and felt like I was setting out on an adventure every morning when Lakshmi left her home for the day. There were a couple things I didn't find totally believable in terms of people's behaviors, but it wasn't enough to take away from my enjoyment of the novel. The Henna Artist's official pub date is March 3, but you can pre-order it now (thanks to the publisher for my copy of this book!).
The Honey-Don't List by Christina Lauren: I will always read every Christina Lauren book that comes out, but I have to say they don't usually blow me away. They're more light, easy breezy books perfect for the beach or for a break after a heavy read. I loved the premise behind The Honey-Don't List, but just didn't feel a connection to the characters as much as I wanted to. Melissa and Rusty Tripp have a home renovation empire with everything from makeover shows to books to product lines. Without a doubt, you'll be reminded of Joanna and Chip Gaines (I absolutely could not get their images out of my head when I was reading this!). Carey has been Melissa's assistant for 10 years and is at the point of burnout. Melissa is demanding and not very nice and we learn that Carey actually does a lot of the work that Melissa gets credit for. James is, for all intents and purposes, Rusty's assistant, despite the fact that he was hired to be an engineer and has an MIT education. It turns out that Melissa and Rusty's relationship is falling apart and they're in danger of losing everything if they don't get it together… Carey and James's mission is to help them do this. I had a hard time feeling deeply invested in the characters and the story felt a little surface level to me. Some of the relationships in the book also didn't feel super believable and it almost felt like something was missing. I did read the book pretty quickly and mostly enjoyed it, but I ended it feeling like I wanted so much more. But to be honest, I often feel that way with Christina Lauren books. I don't think they're meant to blow my mind with character depth and insight and are just meant to be light stories that entertain. And really, there's nothing at all wrong with that. The Honey Don't List's official pub date is March 24, but you can pre-order it now (thanks to the publisher for my copy of this book!).
The Other Mrs. by Mary Kubica: This is a book of twists and turns! Ultimately, I really enjoyed it, but did have some mixed feelings due to some things that didn't feel totally believable (I definitely don't want to spoil anything though!). However, I am able to put some of the believability aside for the entertainment of the story. There's a lot going on in The Other Mrs. First we get Sadie, her husband Will, and their two sons moving to a remote island in Maine. Will's sister has committed suicide and Sadie and Will move into her house with her seemingly troubled teenage daughter. But there's another reason they moved, too... We just don't really know what it is. We know that Sadie got in some sort of trouble at work (she's a doctor) and their son, Otto, had some sort of issues at school. Now, in their new neighborhood in Maine, the woman next door is murdered and nobody knows who could have done it. In between scenes from Sadie's new life, we get flashbacks from Camille, Sadie's friend who is obsessed with Will, and Mouse, a child who is seriously abused by her father's new wife. It's almost like there was so much going on in the book that I didn't even bother trying to figure out what was actually happening. I had a few quick guesses, but ended up being pretty surprised by the ending. At first I was totally annoyed by it, but with some more twists thrown in, I felt OK with it. Again, I didn't feel like everything was totally realistic, but that's OK. I did enjoy reading the book and feel like it will be another hit for Mary Kubica! The Other Mrs.' official pub date is February 18, but you can pre-order it now (thanks to the publisher for my copy of this book!).
What's the best book you read this year?
And that wraps up my 2019 of books! I'll see you in 2020! To see all of the books I read this year, check out all of my reviews by month:
What I Read in January 2019
What I Read in February
What I Read in March
What I Read in April
What I Read in May
What I Read in June
What I Read in July
What I Read in August
What I Read in September
What I Read in October
What I Read in November