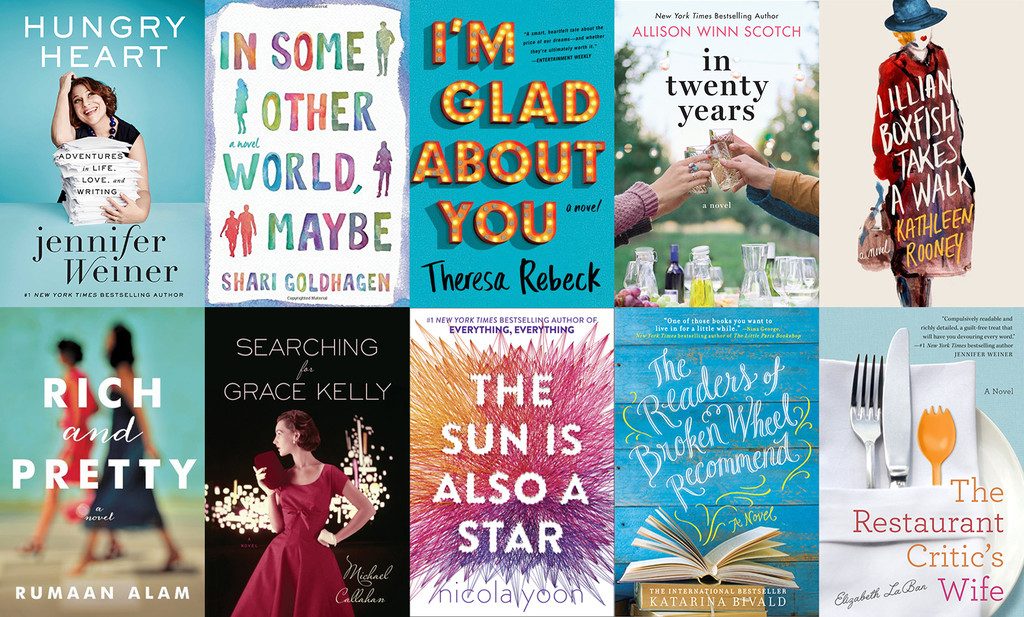 I had another successful month of reading over here! For a short month, I was actually surprised by how many books I read. Some of this is due to the fact that a lot of them were shorter, lighter reads... Looking back over my list, there was nothing too heavy or intense. Last month, a few people asked me how I manage to read so much and I've been thinking about that a bit.
I think one of the biggest things for me is that reading just really relaxes me and makes me happy. If it's draining for you or feels like work, not only will you likely not be able to read much, but you shouldn't force yourself! For me, after a long day at work or lots of social activity, settling in with a good book is exactly what I want to do and often what I need to do in order to recharge myself. I'm also a super fast reader and have an hour+ commute each day where I can just tune out the world and read.
This LifeHacker article, "How I Tricked Myself Into Reading More Books," has some really good ideas for anyone who wants to read more. The tips that have worked the best for me, include reading three books at once. I know this sounds crazy, but like the article's author, I can't read just one book at a time. I generally have a book on my kindle, a book on my iPad, and a hardcover book going all at once. While I know it's still the same amount of reading, it seems easier to get through more books this way... And I never get bored!
The tip (originally from Stephen King) to carry books with you wherever you go is also super helpful. I always have my kindle on me, so if I'm stuck on the train, waiting in a line, or want to enjoy a leisurely solo lunch break, I can sneak a little reading in. Also, if you have a long driving or walking commute or lots of time where you're mentally free, but not physically, definitely consider audio books, too. Chris "reads" A TON, but almost solely through audio books (he's a big fan of Audible and most libraries rent out audio books, too).
Just an FYI that links to some of the books below and my Book of the Month link are affiliate links (meaning that at no extra cost to you, I will earn a commission if you click through and make a purchase) and some were gifted to me by their publishers. Thank you so much for supporting WANM!
So, here's what I read in February! If you missed my January post, you can check that list out here.
Hungry Heart by Jennifer Weiner: You may know Jennifer Weiner as the chick lit writer of books like Good in Bed and In Her Shoes. I've loved her for a long time and was excited to read Hungry Heart, her memoir. I thought this book was the perfect combo of hilarious and emotional, while all being totally relatable. Some of it dragged on a bit, but overall, it only made me love her more.
In Some Other World, Maybe by Shari Goldhagen: I can't remember where I heard about this book or why I decided to read it, but it was right up my alley. It starts with four teenagers who see the same movie and then follows their lives as they intertwine throughout the years with the movie relating to many of their interactions. I thought that both the plot and the characters were very cleverly written.
I'm Glad About You by Theresa Rebeck: This book didn't get very good reviews, but I actually really enjoyed it. It was a bit similar to the book above, about young characters who grow and change, but still hold on to their past. The characters weren't super likable and I get why people didn't like this book, but I thought it was light and entertaining and a little soap opera-y.
In Twenty Years by Allison Winn Scotch: OK, I think my books had a bit of a theme this month because this is also about a group of people re-visiting their past. This time, it's a group of college friends who lost touch and are brought back together by one of their group who passed away. Though most of them haven't stayed in touch over the years, their reunion brings a lot of things to light about all of their pasts and current lives. This definitely wasn't my favorite book of the month, but the Kindle version is currently free if you have Kindle Unlimited (and only $4.99 otherwise).
Lillian Boxfish Takes a Walk by Kathleen Rooney: What a sweet book! Yes, this is literally about an 85-year-old woman who takes a walk around New York City on New Year's Eve... But, of course, it's about so much more than that. Through Lillian's walk, we learn about her past career in advertising, her family, and her current feelings on growing older. She's a total independent woman and you can't help but love her. The character of Lillian is actually based of Margaret Fishback, a poet and Macy's advertising copywriter- like Margaret, in the book, Lillian was the highest-paid female advertising copywriter in the world in the 1930s.
Rich and Pretty by Rumaan Alam: Another book that doesn't have fantastic reviews on Amazon, but that I really enjoyed. Lots of the criticism said there wasn't enough conflict in the book... But one thing I've discovered about myself is that I love books that don't have a lot of major conflict because that's more real life to me. This book is about two childhood friends who find themselves growing apart as they enter their 30s, but still fighting to still fighting to keep their friendship alive. I didn't realize until after I read it that this book about two strong female characters was written by a man, but I think he did an awesome job at portraying real life.
Searching for Grace Kelly by Michael Callahan: Another book about strong female characters written by a male! This one is about three ladies living at New York City's Barbizon Hotel for Women in the 50s. I've read other books about the Barbizon and love learning about what big city life was like for women then. This novel centered on Laura, who comes to NYC to intern at Mademoiselle, along with the girls she meets at the hotel. It's a nice light read with some heavier issues threaded in.
The Sun is Also a Star by Nicola Yoon: This book has amazing ratings, so I feel a little bad that I didn't love it. It's a young adult novel and is a super fast and easy read. I loved some of the issues the book dealt with (one of the characters is about to be deported and is fighting for her family to be able to stay), but the love story was just a little too much for me. It was just too fast (the book all takes place in one day) and too deep and I couldn't fully believe it. Maybe I'm a cynic who doesn't believe in love at first sight, but I found myself rolling my eyes at the love story between the characters. However, it is a well-written book and the characters are very likable and in some ways, relatable. (I got this one from the Book of the Month Club, which is an awesome way to discover new reads!)
The Readers of Broken Wheel Recommend by Katarina Bivald: This is another that was just OK to me. The premise is cute: a girl from Sweden travels to a super small town in the U.S. to meet her reading penpal and ends up staying and opening up a little bookshop. It sounds like something I'd be totally into, but it felt a little too hokey for me and most of it wasn't very believable.
The Restaurant Critic's Wife by Elizabeth LaBan: This book is right up my alley, centers on the wife of a restaurant critic (duh) and the experiences they have at restaurants all around Philly. However, I absolutely hated the restaurant critic husband and while I understand why he's such so serious about his job and how many challenges it brings, I could not get over how much of a jerk he is to his wife.
And that's a wrap! We're almost all the way through March at this point (I'm going to try to get these posts up earlier in the future!) and I've read a ton this month, too. We'll see how I do as the months get warmer... It can really go either way. Sometimes I read less since there's so much going on and sometimes I read more since there's nothing better than relaxing outside in the nice weather with a good book and a cocktail! I also have a couple longer books I want to dive into at some point... Including, the copy of Hamilton I have sitting on my nightstand. But seriously, that could take me the rest of the year to finish!
Have you read anything good lately?