If you're looking for a good book to read, you've come to the right place. This post is part of my monthly "What I Read" series, featuring the books I read the previous month with lots of recommendations for you! All of these book pair perfectly with donuts, cookies, pasta, or pizza… And always a glass of wine.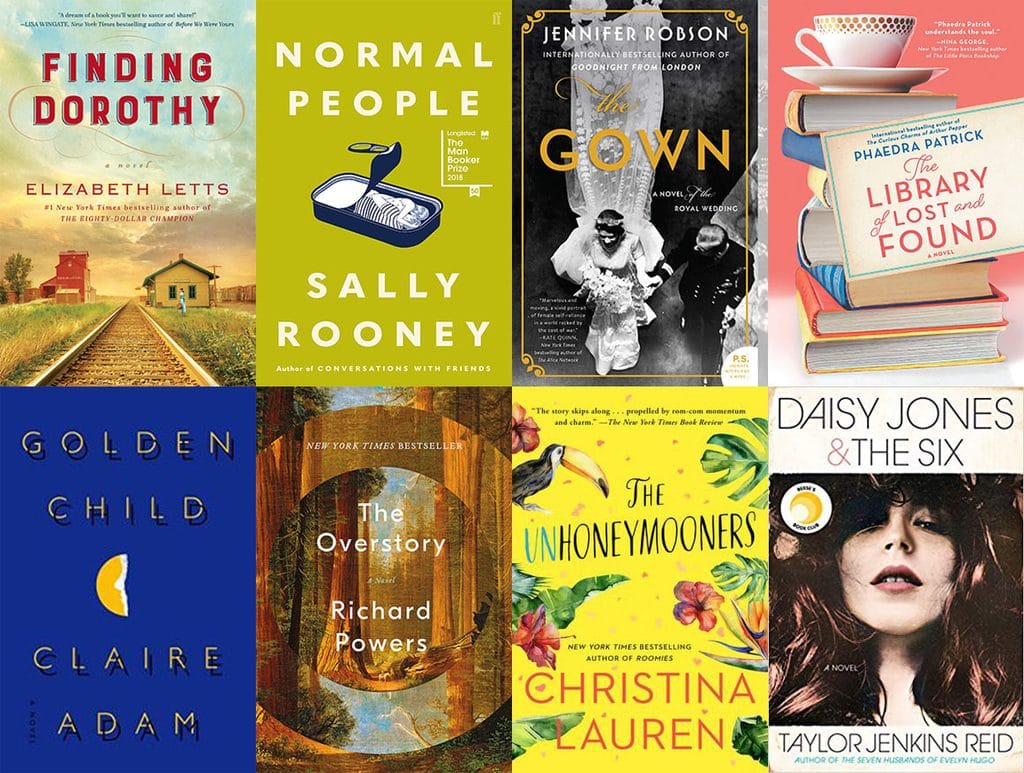 Sometimes I feel this weird shame when I tell people how much I read. People are often shocked and say things like, "how do you have the time??" or "I wish I had time to read at all!" I feel like, gee, I must not have enough going on in my life and I must not be as busy as I often think I am. But you know something funny? It doesn't seem like anyone feels any shame when they brag about how they binged the latest Netflix series in one weekend or watched every episode of every season of Games of Thrones in a single month. If you have time to do that, you definitely have time to read; it's just a choice you're making. And there's absolutely nothing wrong with that choice! In the little free time we get these days, we should be doing what makes us happiest. For me, that's reading.
And don't get me wrong; I definitely watch TV; I just usually watch it while I'm doing something else like getting after hours work done, editing photos, or eating. My husband hates that I don't like binge watching TV and after an episode or two, I have to do something else. I think one of the reasons I love reading so much is because when I have a book in my hand, I'm forced to focus on it. I can't be working, I can't be planning, and I can't be stressing about a million little things. I think for some people, TV gives them that perfect zone out time, but I need a book to fully get in the zone. So, I'm trying to feel less shame about reading and instead feeling content with how I choose to spend my free time. And now... onto the books I read last month!
Just an FYI that links to some of the books below are affiliate links (meaning that at no extra cost to you, I will earn a commission if you click through and make a purchase) and some were gifted to me by their publishers. Thank you for supporting WANM!
Finding Dorothy by Elizabeth Letts: I have to admit that I wasn't super excited to start this book. But guess what? I LOVED it!! And that's coming from someone who isn't a particularly big Wizard of Oz fan (the flying monkeys used to scare me sooo much!). But now I want to go back and watch the movie and more importantly, read the book it was based on. Finding Dorothy is the story of Maud Baum, wife of L. Frank Baum, the author of The Wonderful Wizard of Oz. The book starts with Maud visiting the set where they are filming The Wizard of Oz. She wants to talk with the directors to make sure they're staying true to the book that her husband wrote and she especially wants to make sure the character of Dorothy is being represented accurately. From there, the book bounces back and forth between Maud visiting the movie set and Maud as a child growing up, meeting Frank, etc. I honestly never knew I was so interested in The Wizard of Oz, but I am now and this book has certainly changed the movie for me forever (in a wonderful way). It's historical fiction at its finest. You don't have to be a fan of The Wizard of Oz to enjoy this book, though if you are a fan, you're going to love it even more! (thanks to the publisher for my copy of this book!)
Normal People by Sally Rooney: I simultaneously really enjoyed this book and was totally frustrated by it. OK, it's more that I was frustrated by the two main characters in the book: Connell and Marianne. But I think that's the point. Normal People is pretty much a huge warning to passive people... Do NOT be passive in your relationships or you will never get what you want! The book started out a little roughly for me. Basically, Connell wants to date Marianne, but will only do so in secret since she's pretty much the outcast in their high school. It's cringe-worthy how he treats her, but it's also cringe-worthy how she allows him to treat her. But I guess that's high school, right? We also keep getting glimmers of the fact that Connell is actually a good guy, which makes it even more upsetting that he's treating Marianne this way. I started to get more into the novel as Connell and Marianne graduate from high school and enter college. They float in and out of each other's lives, sometimes as friends and sometimes as more... But their passive personalities make it tough for a real serious relationship to form. I don't want to spoil anything, so I'll just say that it's an emotional novel that's strangely relatable even if you can't necessarily relate to the main characters. Normal People's official pub date is April 16, but you can pre-order it now. (thanks to NetGalley for my copy of this book!)
The Gown by Jennifer Robson: I loved this book and am seriously sad now that the main characters are no longer in my life! This is a novel with such strong and amazing female characters and that just makes me so happy. It's also a story about a royal wedding we tend not to think about much anymore... No not Harry and Meghan and not William and Kate... Queen Elizabeth and Philip! But even better than that, it's not really about the royal wedding; it's about some of the people behind the wedding. The embroiderers who worked on Elizabeth's wedding gown. Who would have thought I'd want to read a whole book about the women who embroidered a wedding gown?? I know!! When Miriam moves to London in the late 1940s after experiencing trauma during WWII in France, Ann becomes her friend and invites her to live with her in her now empty home since most of her loved ones are also gone. The pair works together at Norman Hartnell's fashion house and their latest project is to make the Princess Elizabeth's wedding gown, which consists of a lot of intricate embroidery. The book bounces back and forth between Ann and Miriam's perspectives, as well as to the current day perspective of Ann's granddaughter Heather. I loved reading about life in 1940s London from dealing with post-war rations, to women in the workforce, women dating, strong women friendships, etc. Both Ann and Miriam are such strong independent women, which is something I feel like we rarely see in books of this nature. Like I always say, another sign of really good historical fiction is when it makes me start to do research on my own and now I'm finding myself looking up photos of the royal wedding and Elizabeth's dress. So yes, The Gown is a winner of a book! (thanks to the publisher for my copy of this book!)
The Library of Lost and Found by Phaedra Patrick: The Library of Lost and Found was so much cuter than I was expecting. This was my first book from Phaedra Patrick and her writing reminded me a lot of Elizabeth Berg in her newer books (the Arthur Truluv books). The protagonist in The Library of Lost and Found, Martha, felt like a combination of Arthur Truluv, Britt-Marie (from Frederik Backman), and Eleanor Oliphant. Totally sweet and endearing with several quirks. To be honest, when I read the description, I felt like I wasn't going to really enjoy this book. It didn't sound overly exciting to me, but I figured I'd give it a try anyway. In many ways, I feel like the plot has been done before (obviously with variation), but it's the characters in this book and the fun little details and quirks that gave it a lot of life for me. Martha volunteers at the local library where her boss walks all over her. In fact, pretty much everyone in Martha's life walks all over her. She's single and in her 40s and people automatically assume that means she should be able to jump in and offer help wherever it's needed. When Martha is given a book dedicated to her from her grandmother who passed away when she was a child, she's intrigued. In part because the dedication was made after her grandmother's death and in part because the book is filled with stories she made up when she was a child. She sets out to discover where the book came from and what happened to her grandmother and along the way, we're given lots of details about Martha's childhood and her somewhat dysfunctional family. I loved seeing Martha's transformation throughout the novel. The book certainly isn't life-changing, but I did find it sweet and enjoyable. The Library of Lost and Found's official pub date is March 26, but you can pre-order it now. (thanks to the publisher for my copy of this book!)
Golden Child by Claire Adam: Sarah Jessica Parker is killing it with her new Hogarth imprint. This is the second book she's published and another huge winner for me. I absolutely love that the books in her imprint are truly meaningful and impactful books and not at all light and fluffy in any way. Golden Child is a fairly quick read, but it's the kind of book that you want to take your tie with; really focus on every beautifully descriptive word. It's about a family living in Trinidad, a mom (Joy) and dad (Clyde) and their twin sons... And a whole host of relatives. I really loved the way the story was told. It starts with Paul, one of the 13-year-old twins, gone missing. From there, we jump back and forth through time to learn about the twins childhoods in which it's discovered that Peter is extremely gifted and Paul is a bit slower. We get to know many of Clyde and Joy's relatives and the ways in which their family interacts with one another. I can't share too much without giving important details away, but all I can really say is that this book was heartbreaking for me. From the way Paul's family talks to him and treats him to the way the book ultimately concludes, emotions were running high for me. Part of it could be because I have young twin nephews and completely understand how the differences in the ways you treat each of them can be so impactful. But it also made me feel so lucky to live where I do and to not have to worry about so many of the things the Deyalsinghs have to consider every single day. (thanks to the publisher for my copy of this book!)
The Overstory by Richard Powers: The Overstory is a really powerful book. Completely different from the books I'm generally attracted to and I'll admit, I almost put it down after the first 50 pages. But I hate not finishing books and since it had such good reviews, I decided to keep trudging forward and I'm glad I did. The book is slow-going with lots of details and a unique structure and a bit of a confusing start. The first part of the book feels like a series of short stories as we learn about nine seemingly unconnected characters with incredibly different stories. But in the second half of the book, the characters come together in various ways and I loved having these connections revealed to me. But really, the book is about the trees and nature. Powers presents trees as intelligent organisms and I feel like I learned so much about the natural world from this novel. There really hasn't been a more important time for this book... There's even discussion about whether or not we should be "cleaning" up our forests and what the value is in a fallen tree (ahem). Honestly, The Overstory is the kind of book I want to re-read immediately because I feel like there's so much I missed the first time and so much more I want to delve into. I wish I had been reading a paper copy instead of electronic because it would have been easier to flip back and forth (I couldn't fully remember some of the characters' stories when I came across them in the book again). It would also be a great book to read for a book club or buddy read; I have lots of questions and it would have been nice to talk them through with someone.
The Unhoneymooners by Christina Lauren: This book was the perfect little chick lit escape. When almost everyone at Ami's wedding gets food poisoning, she insists her twin sister Olive takes advantage of her honeymoon vacation. Unfortunately, the only other person who isn't sick is Ami's new brother-in-law who Olive just happens to hate. But it's a free trip to Maui so who can complain? Oh by the way, they also have to pretend they're married while on the trip. So, the pair heads off on their vacation dreading having to actually spend time together until things slowly start to change... This is the kind of book that's just fun to read and had me wanting to turn the pages to find out what would happen next. And the love story? While not totally realistic (in my mind), it's highly entertaining and hard not to get sucked into.I wouldn't say this is necessarily the smartest of all chick lit. Some of it felt a little bit too predictable and bland (as someone who loves Maui, I wanted so many more details about where they went on the island, what they did, etc. instead of just generic details). At some points (like when Olive lies to her future boss about being married), I found myself cringing and wanting to yell out "nooo." But because the book is so fun (and funny), I tried not to let that stuff bother me too much. The Unhoneymooner's official pub date is May 14, but you can pre-order it now. (thanks to NetGalley for my copy of this book!)
Daisy Jones and the Six by Taylor Jenkins Reid: I'm a big, big Taylor Jenkins Reid fan and especially loved her The Seven Husbands of Evelyn Hugo. I did enjoy her new one, but not nearly as much as Seven Husbands. But I also admit I'm probably one of the few people who isn't obsessed with the movie Almost Famous and am not super interested in 70s music culture. That said, Daisy Jones, Billy, Graham, Karen, etc. all sucked me in and made me want to keep reading. The book is written in a really interesting format; interview style. The "interviewer" compiled all of the interviews with Daisy Jones, members of The Six, and people close to them and wove them together into a coherent story, so we're hearing multiple points of view all at the same time. I loved reading about the band's rise to fame and how Daisy Jones got involved. I enjoyed the interview format, but in some ways it also left me wanting a bit more. Now that I'm done reading, I'm still thinking about the characters and wanting more details on them. The thing I love best about Taylor Jenkins Reid is that you never know what you're gonna get from her. She's so versatile in her writing and I feel like if I didn't know, I would think One True Loves, The Seven Lives of Evelyn Hugo, and Daisy Jones & The Six were all written by completely different authors. I consider this a great thing, though I'm sure some are disappointed when they fall in love with ones of her books, but get something completely different for the next. But the thing is, despite how different they are, they're all awesome books! (thanks to the publisher for my copy of this book!)
I have SO many books on my current TBR list and not enough time to read them all! If you want to follow along with what I'm currently reading, be sure to follow my book-focused Instagram account at @BooksontheSide!
If you're looking for more book recommendations, feel free to take a look at my other book review posts from so far in 2019: