Looking for a good book to read? This post is part of my monthly "What I Read" series and features the books I read in February 2020 with lots of recommendations for you! All of these books pair perfectly with donuts, cookies, pasta, or pizza… And always a glass of wine.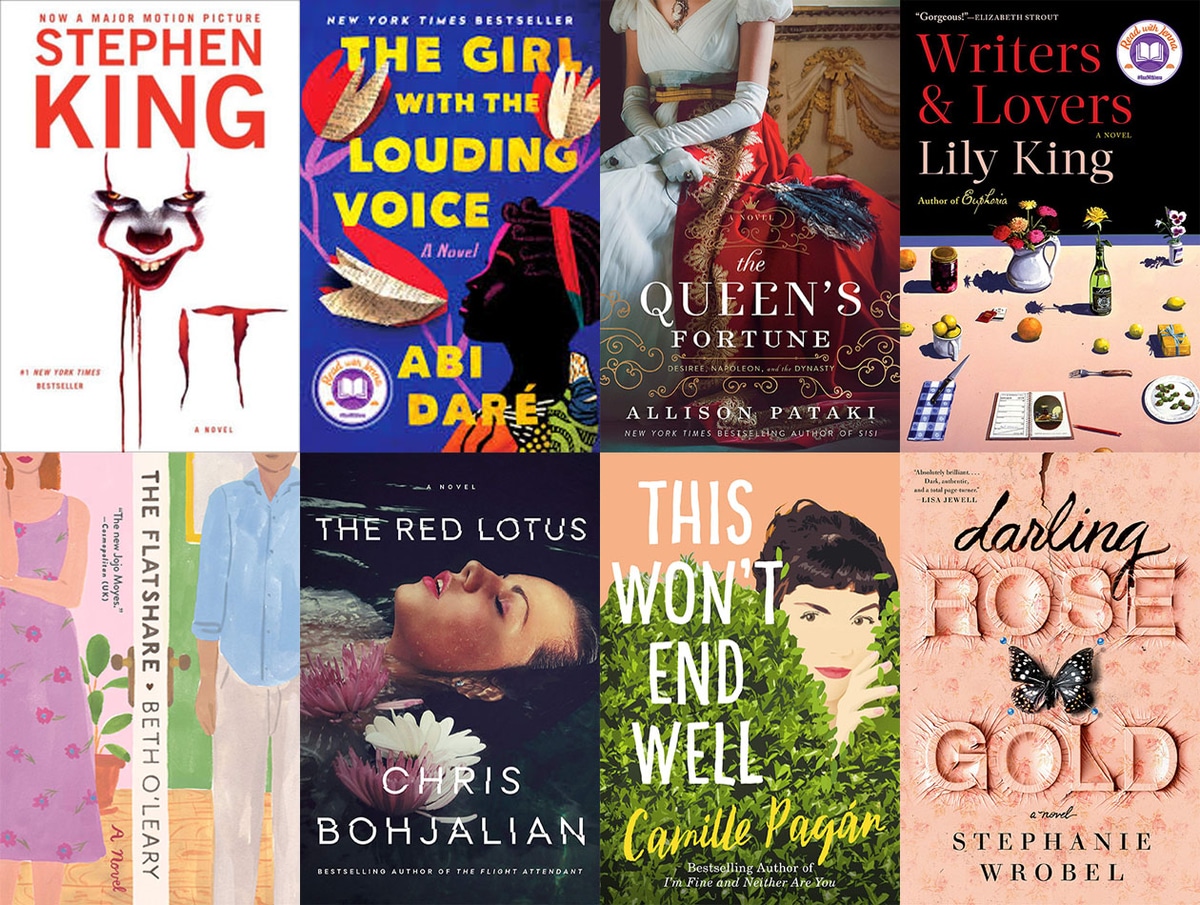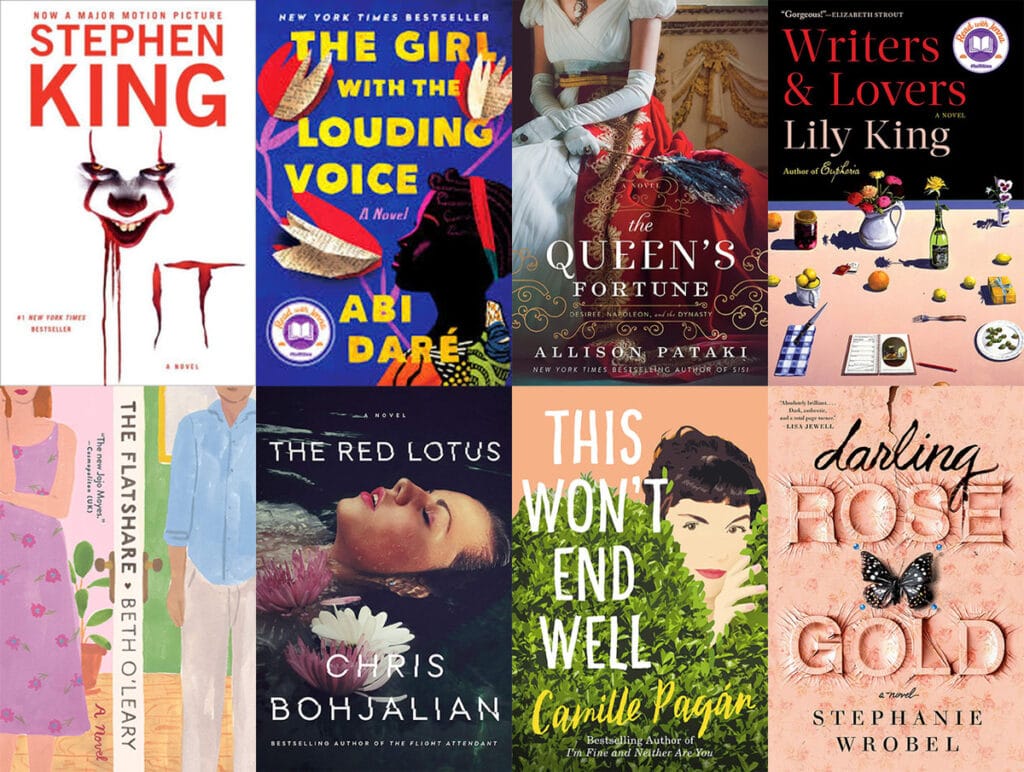 Hi friends! How are you all doing? I know we're in a weird time right now and everyone is trying to find their "new normal." Whether that means you suddenly have a lot of time stuck at home or you're out working your butt off (and being a hero!), everyone is dealing with things in a different way.
For me, books have been a great escape and comfort from the endless worry and media overload. Obviously, I've always been a big reader, but right now, books mean so much more to me and I'm so grateful to them. I hope if you're stuck at home, you're able to have some downtime for reading (though I know lots of you are also dealing with having kids and/or significant others at home full-time and home schooling) and I hope I can offer you some recommendations to bring comfort.
This roundup features the books I read in February before we really knew what was coming our way. If you want to use books as a way to escape during this time period, I'd probably steer you away from some of the options on this list, notably IT, The Red Lotus (which is actually about a virus yikes!), and Darling Rose Gold. But there are others that I absolutely recommend for uplifting, lightening the mood, and just all around being wonderful.
Just an FYI that links to some of the books below are affiliate links (meaning that at no extra cost to you, I will earn a commission if you click through and make a purchase) and some were gifted to me by their publishers. Thank you so much for supporting WANM!
IT by Stephen King: If you haven't heard of this book or watched any of the movies, you've definitely at least heard of it. And seen that creepy clown with the red balloon! After reading my first King book a few months ago, I decided I was ready for another and since my husband was listening to IT on audio, I decided to pick it up. It's a HUGE book and a definite time commitment, but also really good. In case you don't have any background, I'll tell you it's about a small town in Maine where children are frequently brutally murdered. Seven children work together one summer to get rid of "IT," but make a vow to come back together if IT ever returns. 28 years later and they've spread out across the country when they all get the call to return. Honestly, the book wasn't as terrifying as I thought it would be. It's scary and creepy for sure, but not in a way that translated to my own life (like omg is IT in my house?!). Of course, it might be too much for you to read at this current moment in time (my husband and I have been holding off on the movie versions), but I definitely recommend you read it at some point!
The Girl with the Louding Voice by Abi Daré: I can't say enough wonderful things about this book! It's sad and difficult to read in some ways, but also incredibly powerful and uplifting and I do recommend it as a book you could read during these tough times. Adunni is a 14-year-old girl living in a small Nigerian village. Despite her mother's dying wishes, her father decides to sell her to a wealthier man in town so she can become his third wife. Adunni has big dreams (she wants to be a teacher) and her mother has always encouraged her to strive for her dreams and to exercise her voice. Now she is stuck living as a third wife in a pretty terrible situation. I don't want to spoil what happens next, but trust me when I say you'll want to follow Adunni through her ups and downs. The Girl with the Louding Voice is the kind of book that will stay with me for a long time. It opened my eyes to a lot of things, especially in terms of the extreme amount of privilege so many of us have. I urge everyone to read this and hope that Abi Daré receives all the awards for it!
The Queen's Fortune by Allison Pataki: It's no secret that I love historical fiction. And I judge historical fiction based on how much it makes me want to start diving into the real history it's based on and learn more. By that measure, The Queen's Fortune is an incredible book. Immediately after finishing it, I started Googling so I could get more information about Napoleon, his wife, and Desiree. As someone who admittedly doesn't know a ton about Napoleon's rule and downfall, this book gave me a great basis for education while also entertaining me. The novel tells the story of Desiree, the wealthy French girl engaged to be married to Napolean at age 16. Though the marriage doesn't end up happening, for better or worse, Desiree is firmly locked into Napoleon's orbit for various reasons (her sister is married to his brother, her eventual husband is in his army, she is an attendant to his wife, etc.). It's hard to imagine being in Desiree's shoes, but The Queen's Fortune does an excellent job at dropping you into her world and giving you a taste of her life. For me, this book was a page turner and I couldn't wait to see all of the twists and turns that would lead Desiree to eventually becoming Queen of Sweden. Also, I found it very interesting how many parallels could be drawn from Napoleon's rule to our own current times. While there's a lot of doom, gloom, and war in the book, I feel like it's a good distraction if that's what you're looking for right now. (thanks to the publisher for my copy of this book!)
Writers & Lovers by Lily King: This book was much anticipated and has definitely been getting some mixed reviews. I think that's in part due to the fact that many people are comparing it to Lily King's last book, Euphoria. I didn't have a basis for comparison and can happily say I really enjoyed Writers & Lovers. Casey is 31, in a massive amount of debt, working as a waitress while writing her novel, struggling in her dating life, and dealing with the emotions that come with the sudden death of her mother. I can totally understand how she may be a frustrating character for some people to read. She's not unlikable, but also not super likable and I can see why some people may have a difficult time connecting with her. I, however, found myself completely immersed in her life and intrigued by her story. Her experience as a waitress at a fancy Harvard Square restaurant felt too real, as did the struggle she felt making a decision while dating two completely different men. But mostly, her emotions over her mother's death are what hit me the hardest. This book isn't the most uplifting, but I still consider it a good escape. (thanks to the publisher for my copy of this book!)
The Flatshare by Beth O'Leary: In my opinion, this is the most perfect book to read during these current difficult times. It's light and fun, but much deeper than the typical "romance." You truly get to know the characters and honestly, it's hard not to fall in love with them. Admittedly, when I first started reading, the premise didn't seem realistic to me. Who would agree to share a bed with a stranger? But the more I read on, the more I understood how this is such a perfect solution to really maximize living space and budget. Tiffy moves into Leon's apartment, but is only permitted to be there in the evenings until she goes to work in the morning and on weekends. Leon works nights and is usually at his girlfriend's or traveling on weekends, so he is only at the apartment during the day. He and Tiffy haven't actually met; they're just sharing a bed. They communicate mostly in notes to each other and through those notes we get to know their fabulous personalities so much. Even if you think you're not a big romance reader, I definitely encourage you to check out The Flatshare!
The Red Lotus by Chris Bohjalian: Do not read this book right now if you don't want to read about a deadly virus that has the potential to take over the entire world. I read it when buzz was just starting around here about the virus, so it made the book a bit more intriguing to me, but if you're prone to anxiety and want to read to escape, perhaps you should wait on this one. But still, this thriller kept me turning the pages and was an enjoyable read. It starts with Alex on a bike trip vacation with her boyfriend Austin in Vietnam. He suddenly goes missing and Alex has no idea what happened. In the meantime, we see what Austin is going through when he goes missing, but we don't know exactly what is happening. When Alex starts learning about lies he's told her, she returns to the U.S. determined to figure out what happened. In the meantime, we learn a lot about rats carrying viruses and what this can mean for society. And yes, it's terrifying. (thanks to the publisher and NetGalley for my copy of this book!)

This Won't End Well by Camille Pagán: I eagerly await the release of Camille Pagán's new book each year. I absolutely always enjoy them and find her writing to be light, but smart; my ideal kind of books! Her newest one is no different. Annie Mercer is going through a lot in life at the moment. She was let go from the job she loved (for a not OK reason!), has been forced to move in with her aging mother, and she suddenly finds out her fiancé has decided to jet off to Paris without telling her. She decides she needs a break and doesn't want anything to do with anyone outside of her necessary contacts. But then a new mysterious neighbor moves in and Annie discovers a private investigator is trailing her. This was a super fast read for me and, in my opinion, is a really great escape read! (thanks to the publisher for my copy of this book!)
Darling Rose Gold by Stephanie Wrobel: Did you watch The Act on Hulu? It's about Munchausen by proxy syndrome (a mental health disorder in which a caregiver makes up or causes an illness or injury in a person under his or her care) and features Gypsy Rose Blanchard and her mother Dee Dee. It's a crazy story and worth a watch. Darling Rose Gold is clearly based on that story, which make for a very intriguing book. However, since I watched the show and knew lots of details, I had trouble getting totally sucked into the book. That said, there are some differences between the two stories... For one thing, Darling Rose Gold starts off with Rose Gold's mother being released from prison, where she's been for the last 5 years. Rose Gold is picking her up and is allowing her to live with her. Immediately you wonder why Rose Gold would do such a thing… Especially considering she has a newborn baby. This definitely felt odd to me until I learned a lot more. We get lots of flashes back in time to when Rose Gold first started living on her own (she was 18 when her mom finally went to jail) and then to the current day with Rose and her mom living together. We also get lots from her mother's point of view and we see that her mom still doesn't think she did anything wrong with her daughter. There are some exciting twists and turns. If you haven't watched The Act, I recommend reading this book first and watching it later. I should also note it's not the most uplifting story if that's what you're looking for at this time. (thanks to the publisher and NetGalley for my copy of this book!)
I will continue to share my book recommendations with you as we go through these uncertain times. Also, be sure to follow my book account on Instagram at @booksontheside to get even more bookish content. Best wishes and lots of love to everyone!
Have you read anything that's brought you comfort lately?
To see what else I've read in 2020, check out my first post of the year: