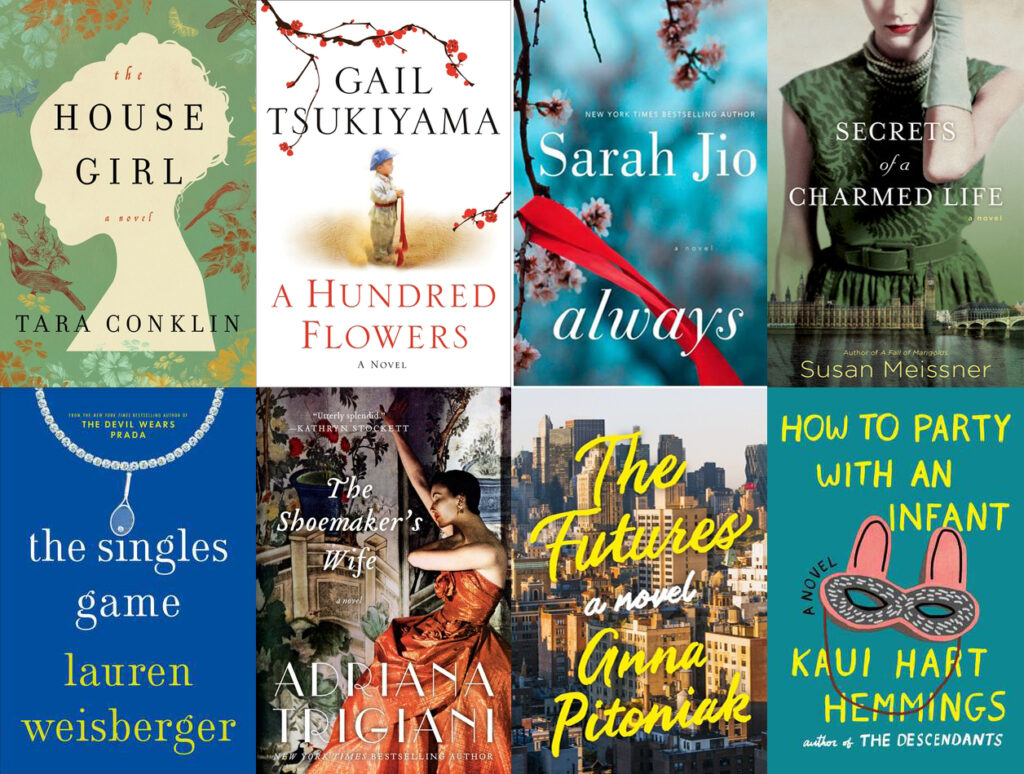 Hiiii! And happy Friday! And welcome to my new blog series. Remember when I did two (count them... TWO!) "What I've Been Reading" book recommendations blog posts back in 2013? Yeah, I barely do either. But I decided it's time to bring a version of that back, in the form of one post a month featuring what I read the previous month. See, aside from cooking, baking, writing, eating, Bachelorette watching, and my dog, reading is one of my true passions in life. I could tell you about a billion childhood anecdotes to show you what a huge book nerd I have always been, but I'll save you stories of my late night flashlight reading under the covers and huge library book hauls and instead just show you some of the books on my radar.
I actually went to graduate school for publishing/editing, but was told so many times that if I became an editor, I'd likely never want to read or write for fun again. Which sounded absolutely terrible. Also, being in Boston, chances were high I'd be in textbook publishing. Which, I know beggars can't be choosers right out of school and all that, but text books just didn't excite me. So, here I am still writing and reading for fun, thank goodness. I read A LOT and have to say I'm actually thankful for my train commute to and from the city every day because it gives me an hour plus of book time. I'm also so grateful to be a part of the Amazon Vine program (Amazon's invite-only reviewer program) as it allows me frequent access to early releases of books. I'm also a member of the Book of the Month Club, which sends me one brand new book a month for the membership fee. I love seeing what books are chosen each month and it's super exciting to get a little package in the mail, especially since otherwise, I read a majority of my books on Kindle or iPad.
Just an FYI that links to some of the books below and my Book of the Month link are affiliate links (meaning that at no extra cost to you, I will earn a commission if you click through and make a purchase) and some were gifted to me by their publishers. Thank you so much for supporting WANM!
Now, onto what I read in January and my book recommendations for you:
The House Girl by Tara Conklin: I liked the concept of this book, but I really didn't love the execution. The chapters alternate between two stories taking place during different time periods: one in which a modern day young lawyer is working on seeking reparations for the descendants of American slaves and one during the 1850s about a young house girl (slave). Overall, I felt like everything was too contrived and there were too many very unrealistic coincidences, which made it tough for me buy into the book. But if you can get past that, it's still an enjoyable read.
A Hundred Flowers by Gail Tsukiyama: Ever since I discovered Lisa See years ago, I've been a fan of historical fiction that takes place in China. While I wasn't as obsessed with this book as I am with Lisa See's (seriously, read everything she writes!), I really enjoyed this take on 1950s China during Mao Zedong's "Hundred Flowers" campaign and the complex way it affected one family.
Always by Sarah Jio: Another book I was pretty lukewarm on (man, I'm pickier than I thought!), though I'm generally a big fan of Sarah Jio. I felt like this one was a little too contrived and predictable, while also leaving some pretty big unanswered questions. I think my brain gets too obsessed with unanswered questions that I can't fully enjoy a book that leaves what I feel are important details out. However, I did think this was a nice love story that will really make you think about what you would do if you were in the main character's situation.
Secrets of a Charmed Life by Susan Meissner: I really liked this story that took place in WW II England. I feel like I've read a ton of WWII books, but this one was about the evacuation of children that took place in London, which I knew nothing about. I don't want to give too much away, but I definitely fell in love with young Emmy Downtree and her little sister and their unique experience during the war.
The Singles Game by Lauren Weisenberger: Chick lit is my ultimate guilty pleasure and I love me some Lauren Weisenberger (she wrote The Devil Wears Prada if you didn't know). I was pulled into Charlie Silver's world of pro tennis, a sport about which I know next to nothing. The book is slightly predictable and nothing revolutionary, but it was a fun quick read that made for a nice lighthearted read in the midst of some heavier books.
The Shoemaker's Wife by Adriana Trigiani: Another book that takes place during wartime... What is with me this month? But this book also goes on my "you should read it" list! I LOVED main character, Enza, a super strong and independent young Italian girl who comes to America with her father. Enza's story is tied in very nicely with Ciro's own tale of coming to America from Italy. While some might say the book had too many perfectly planned coincidences, I thought they were sweet and fairly believable and made this a very enjoyable read.
The Futures by Anna Pitoniak: Awesome novel from a first-time author! The Futures takes place in New York City during the economic crash of 2008 and tells the story of a couple, newly graduated from college and just starting out in the working world. Evan works in a crazy finance job and his girlfriend, Julia, is struggling to figure out where she fits in. Pitoniak writes in a way that is totally relatable; even if you can't relate to the situations, you'll likely be able to relate to the feeling of being in your early 20s trying to figure out the "real world."
How to Party with an Infant by Kaui Hart Hemmings: Coming from someone sans children, I was obsessed with this book and am surprised it didn't get better ratings. Sure, it was a little ridiculous, but in a way that actually made me laugh out loud on the train. The book is mainly about Mele, a single mom in San Francisco, but is also kind of a compilation of stories about all of her friends with everything nicely tied together with recipes and food. I didn't realize that Hemmings also wrote The Descendants, which I definitely want to go back and read now.
And that was my January in books! In another book news, is anyone else super excited for Sunday night's premiere of Big Little Lies on HBO?? Big Little Lies is a book written by my favorite, Liane Moriarty, which is about to be a series starring Reese Witherspoon and Nicole Kidman. I rarely get excited for TV shows, but I can't wait for this. Are you tuning in??
I'm just starting to get really into Goodreads, so feel free to follow me on there, too 🙂 I hope that you found this post enjoyable and a nice little break from nonstop food... And that you also got some fun book recommendations for what you want to read next! I hope you all have very happy weekends!
Have you read anything good lately? Do you have any book recommendations for me?