Looking for a good book to read? This post is part of my monthly "What I Read" series and features the books I read in January 2020 with lots of recommendations for you! All of these book pair perfectly with donuts, cookies, pasta, or pizza… And always a glass of wine.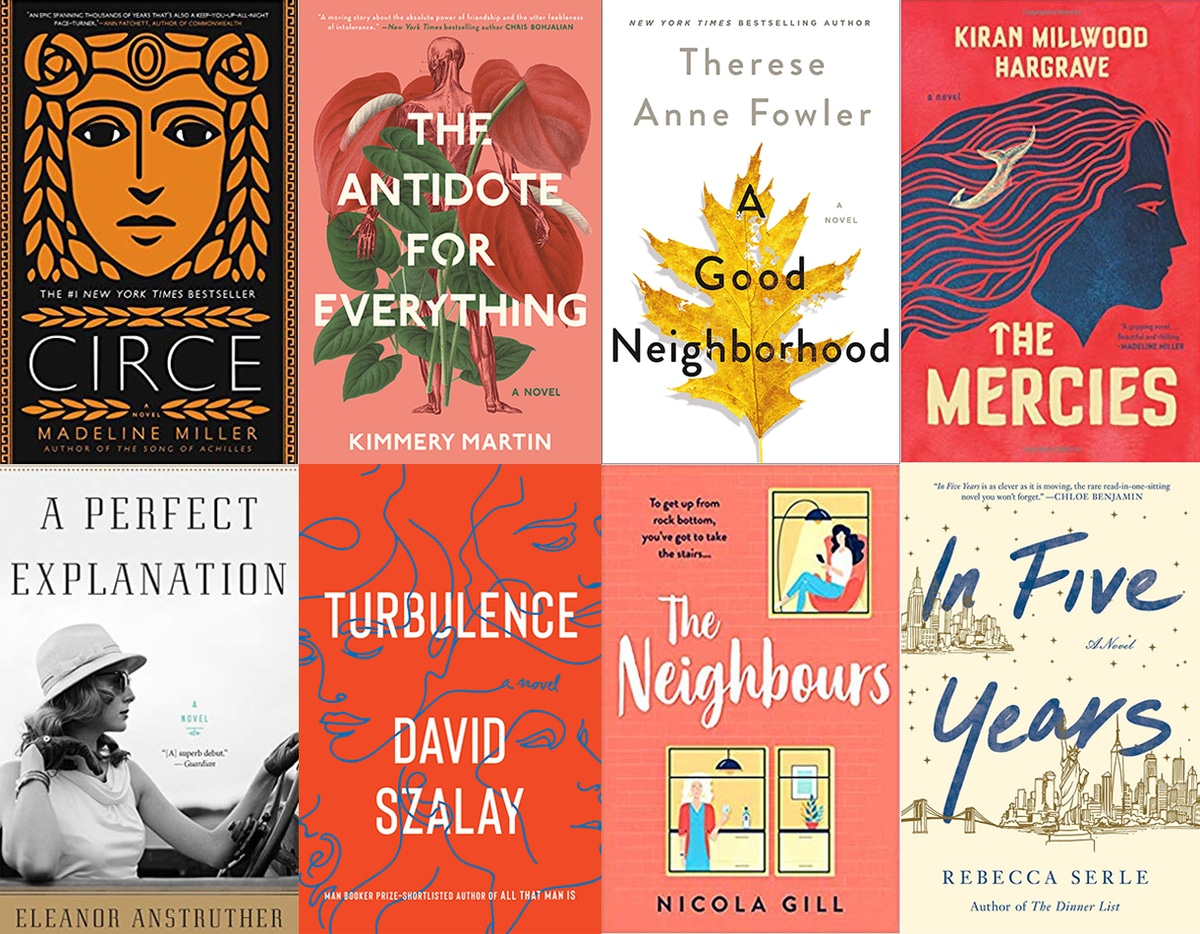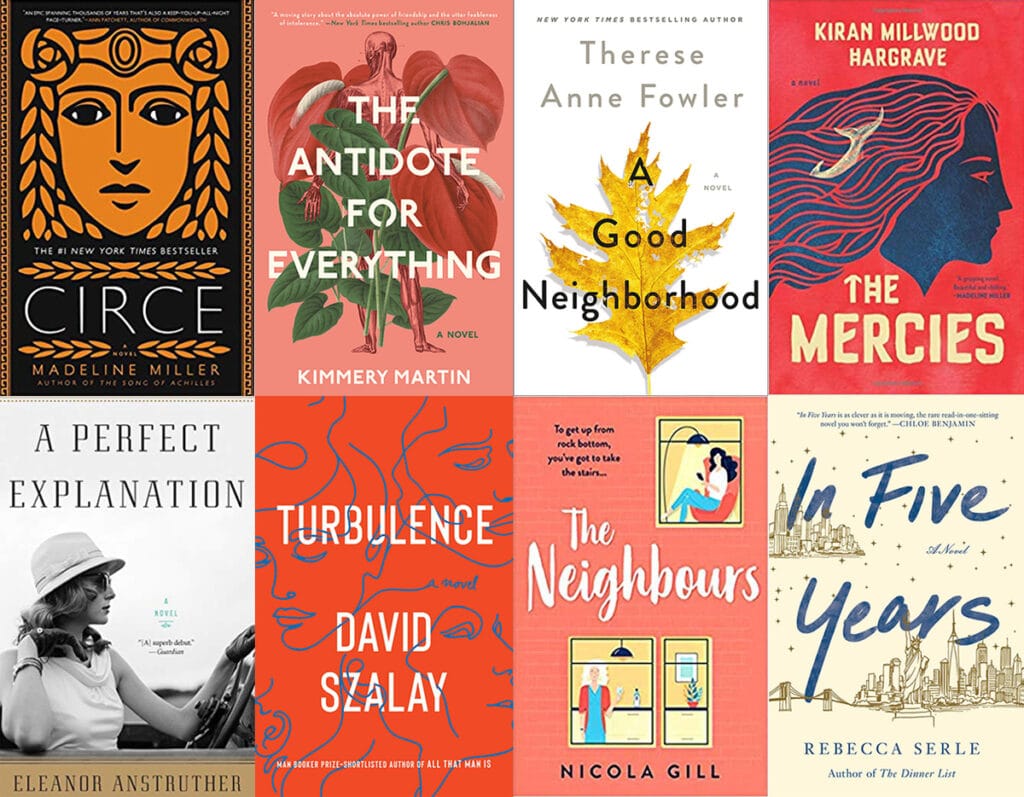 Happy new year of reading! I have to start by asking if you have any 2020 reading goals. I pretty much always make it my goal to read 100 books, but I also allow myself flexibility with that goal as I read because I love books and I never want it to be a chore.
Also, I just started reading IT and it's over 1,100 pages (so basically at least 3 of my regular-sized books). I never want to turn down a long book out of fear of not reaching my reading goal, but the 100 books goal just keeps me somewhat on track.
I have a few other reading goals I'll be talking about over the next couple months. One of my big goals is to read more diverse books (though I admittedly didn't do an awesome job of that in January) and to continue my theme of reading majority female authors (in 2019, 83 out of the 102 books I read were written by women). I'm also trying to read a lot of what I already own. You can see my "before" TBR shelf on Instagram and I'll be updating how many I've read from it throughout the year.
Clearly I'm excited about my 2020 in reading! Despite feeling like it was the longest month EVER, I only read 8 books in January. That's mainly because I had a super busy work month and traveled to visit my sister and her family for a week. But that's OK because we've still got 11 months to go!
Just an FYI that links to some of the books below are affiliate links (meaning that at no extra cost to you, I will earn a commission if you click through and make a purchase) and some were gifted to me by their publishers. Thank you so much for supporting WANM!
Circe by Madeline Miller: Circe has been on my TBR for approximately 39405 years. Everyone has been raving about it, so I decided it was finally time for me to pick it up. I'm very happy to report that it lived up to my expectations and is a fabulous book! It's been years since I've studied Greek mythology, but I always loved it and this made me jump back in. However, you don't need to be a Greek mythology fan to appreciate this novel. While I knew of many of the Gods and Goddesses featured in the book, I had almost no memory of exactly who they are or what they did and it wasn't necessary for the enjoyment of the book (there's also a handy glossary of everyone in the back of the book). The story focuses on Greek Goddess Circe (daughter of Helios, God of the Sun), from the time she's a baby to when she's banished from her family and sent to live on an island by herself. Circe is one Goddess I had never heard of before and quickly fell in love with. She's such a strong woman who has overcome so many wrongs done to her. Miller does such a wonderful job of building a character who on the surface is not very likable, but who you can't help but have an enormous amount of sympathy and love for. I've read and enjoyed her other novel The Song of Achilles, but I loved Circe even more and can't wait to see what she comes out with next!
The Antidote for Everything by Kimmery Martin: I fell in love with Kimmery Martin after reading her first book Queen of Hearts so I have been anticipating this one for a long time. I definitely didn't love it as much as her first, but it's still a good book and I'm happy I read it! Georgia Brown is a single 30-something urologist working in a hospital in Charleston, South Carolina. Her best friend, Jonah, works at the same hospital with her as a family medicine doctor. Before long, we learn that Jonah is in some sort of trouble at work and he's beginning to lose all of his long-term patients. What happened? Well, you'll learn little by little as the story goes on, but it has to do with, in part, the hospital deciding it doesn't want to treat LGBTQ patients anymore. You'll also learn why Georgia may be in trouble, too. In addition to this drama, Georgia meets a man while traveling to a conference in Amsterdam and begins falling for him. This book opened my eyes to a lot of injustices that I naively didn't realize were still happening (I clearly live a bit sheltered here in Boston), but there are parts of the novel that felt strange and kind of "off" to me. Overall, I definitely do recommend this book, but for me, it didn't live up to The Queen of Hearts! (thanks to the publisher and Goodreads for my copy of this book!)
A Good Neighborhood by Therese Anne Fowler: This was the first book I read of the year and SO SO good. It's the perfect mixture of entertaining and absolutely heartbreaking. The wealthy Whitman family have just built a huge house in an established tight-knit neighborhood. Valerie Alston-Holt is a single black mother who lives with her biracial teenager son, Xavier, next door. They're happy to welcome the Whitmans to the neighborhood, though Valerie is pretty upset that while building their house, the Whitmans have done serious damage to an oak tree in her yard. At the same time she decides to take legal action, Xavier starts falling for the Whitmans' teenage daughter, Juniper. As you can imagine, things get complicated… But I don't think you can even imagine just how complicated they get. The narration in this book is wonderful and the story is a slow build (lots of the big action takes place in the last pages). For some, the uncomfortable moments in this book may be too much. But for me, a book that makes me uncomfortable, but still has me wanting to keep reading is the best kind of book. A Good Neighborhood's official pub date is March 10, but you can pre-order it now (thanks to the publisher and Goodreads for my copy of this book!).

The Mercies by Kiran Millwood Hargrave: I chose this book on a whim because the plot sounded interesting. It wasn't anything like what I was expecting, but it ended up being an incredible novel. The book begins with a storm that kills 40 fishermen from the tiny village of Vardo, Norway, leaving their wives, sisters, and daughters all alone to carry on. Maren's father, brother, and fiancé are all killed. The women begin to learn how to live on their own, but soon commissioner Absalom Cornet is sent from Scotland to oversee the village. And in his eyes, his job is to bring religious piety to the women and rid the village of all evil. He brings with him his new wife Ursa, a young woman from a once well-to-do Norwegian family who has no idea what life will be like in a small fishing village with a stern husband she can't seem to connect with.When some of the women in the village are accused of being witches, we see who decides to defy the commissioner and stand by them and who turns their backs on the women. In many ways, this story is really nothing new, but thanks to the setting and circumstances of the women, it feels unique. The book is slow at times and took me a little while to get into, but it's the kind of book that, while quiet, will leave you with a lot to think about. I kept imagining myself living in Vardo and dealing with the circumstances these women were forced to deal with. For me, The Mercies was a powerful book. (thanks to the publisher and NetGalley for my copy of this book!)
A Perfect Explanation by Eleanor Anstruther: If you need your novels to have likable characters, warning, you will not like this book. But since likability isn't a requirement for me, I really enjoyed this book. A Perfect Explanation goes back and forth between two time periods, the 1960s when Enid is in a nursing home and the 1920s when Enid is a young wife and mother. After Enid's brother dies and it's determined her sister will not marry and have children, the pressure is put on Enid to produce the male heir to the family's fortune. She has a son, but he suffers an accident and unfortunately, doesn't full recover. Enid has two more children, but it's clear she's not emotionally prepared to be a mother. Flash forward to the 1960s and Enid's daughter often comes to visit her in the nursing home, but she hasn't seen her youngest son Ian since she sold him to her sister when he was a child (yes, she really sold him!). This book is actually based on the author's family story (with her grandmother being Enid) and I feel like this level of realness adds a lot to the story. It's a story about greed and selfishness and will remind you that having money does not equal a happy life. You probably won't like the characters, but you may be able to muster of some sympathy for some of them. (thanks to the publisher for my copy of this book!)
Turbulence by David Szaylay: This book is a shorty and I read it (and loved it!) in just a couple hours. It's a series of short stories, but they're all interconnected in what I think is a really smart way (I always say I don't like short stories, but books like this one change my mind!). In Turbulence, we meet a character in one chapter and then travel with them to the next chapter. Each of the characters is impacted by the previous character even if it's only in subtle ways. In the final chapter, the book comes full circle and this gives the reader a very satisfied feeling. While "turbulence" refers to a bumpy plane ride at the beginning of the book, it more broadly applies to the conflict and unrest in each of the character's lives. I also think it relates to that feeling when you meet someone interesting on a plane, get just some tidbits from their life, and then never see them again; a very bittersweet feeling. This is my first time hearing of David Szalay, but I'm definitely planning to check out more from him! (thanks to the publisher for my copy of this book!)
The Neighbours by Nicola Gill: I have a special place in my heart for British chick lit. The main characters are generally quirky and smart and highly likable. If you've read and enjoyed Mhairi McFarlane before, I think you'll like Nicola Gill's debut novel, too! Ginny is a 34-year-old Londoner who has just ended a serious relationship in a terrible way. Not only that, but she's lost her job due to it and is constantly being reminded of how successful all of her peers are in terms of their careers, love lives, and families. Really, it's a tale as old as time, but Ginny is such a likable character that her story feels unique and fun. Throughout the book, Ginny befriends her washed up celebrity neighbor, hunts for a new job, and ventures into the dating world. The Neighbours isn't the kind of book that's going to change your life, but it's a nice escape read that almost made me feel like I was spending time with a friend. (thanks to the publisher and NetGalley for my copy of this book!)
In Five Years by Rebecca Serle: I liked Rebecca Serle's The Dinner Party, so I've been eagerly anticipating her new one. To be honest, the summary made me feel like I wasn't going to love it; it felt like too much magical realism for me. But it ended up being really good! Dannie is a serious planner and go-getter; everything in her life runs like a well-oiled machine. So, she's thrilled when her boyfriend proposes right on schedule and feels like everything in her life is fitting into place. But then she suddenly wakes up in another apartment engaged to another man. She realizes it's 5 years in the future and realizes she and her new "fiance" have quite the spark. I was almost lost here with the magical realism... but then she wakes up again back in her "regular" life and determines it was a dream… But a very vivid dream that may have been something more. Then after a few years, she ends up meeting the man from her dream. Uh oh. I definitely don't want to share too much or spoil anything, but after a few chapters, it's likely that this book will hook you in and have you wanting to keep reading. It will have you analyzing the power of dreams and wondering just how much the subconscious knows. I also have to warn you that the book gets heavy in places and it's a lot more emotional than I thought it would be. Overall, I definitely recommend In Five Years for anyone who enjoys writers like Taylor Jenkins Reid and Colleen Hoover. It's a definite page-turner! In Five Years' official pub date is March 10, but you can pre-order it now (thanks to the publisher for my copy of this book!)
I'm thrilled that I started my year off in such a fabulous way and feel like it means only good things are coming reading-wise in 2020! I hope you had a wonderful January and will check out some of the books on my list so far.
What do you recommend I read in 2020??
Check out my December 2019 reviews to see my top 5 books in 2019!