If you're looking for a good book to read, you've come to the right place. This post is part of my monthly "What I Read" series, featuring the books I read the previous month with lots of recommendations for you! All of these book pair perfectly with donuts, cookies, pasta, or pizza… And always a glass of wine.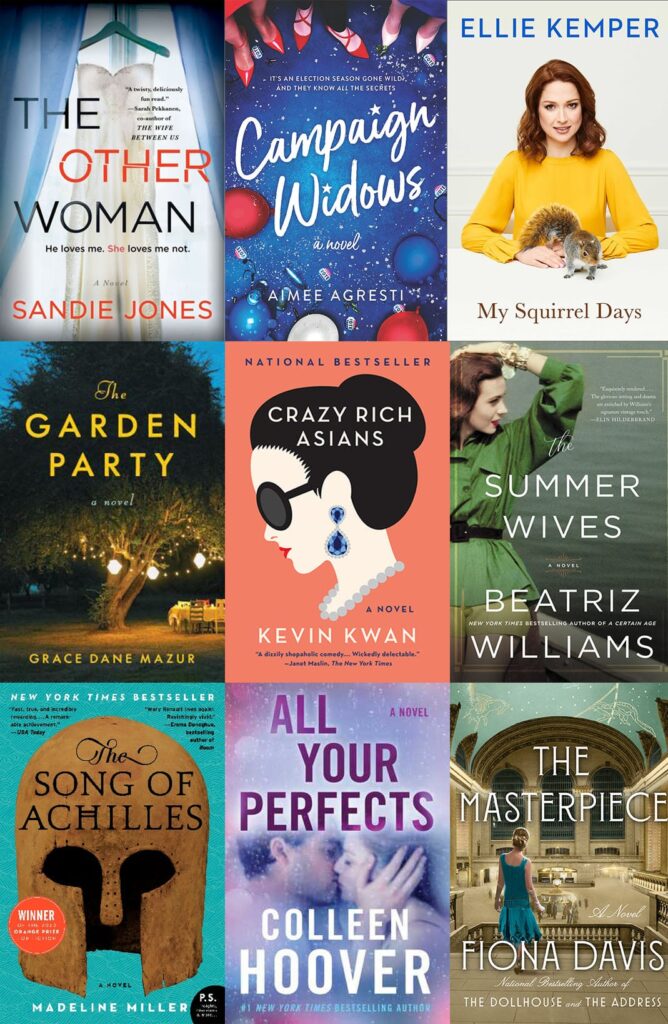 Have you heard of Tsundoku? It's a Japanese term used to describe the art of buying books and then not reading them. If you saw the piles of books in my house, you would totally know that I practice tsundoku in a major way. So much so that my husband sent me this article and was like "um hello, this is you." But it's not like I'm over here just collecting books. I promise! I only buy books I truly want to read and I have every intention of reading every book that's currently on my bookshelf or sitting in a pile around my house... At some point. The problem is, the piles keep growing and my reading time is not expanding.
Nine books in a month sounds like a huge amount to some people, but at this rate, I'll never get through all of the books I want to read. I also get a lot of books sent to me and absolutely love reading new releases, so sometimes I have to remind myself to go back and grab something from one of my piles. Oh, and let's not even talk about my "virtual piles" of electronic books. You can't see them, so as far as you're concerned, they don't exist, OK?
Anyway, in this month of reading, most of my books are "newbies," but I did grab two older books, one that I actually re-read (Crazy Rich Asians) and one that has been on my to read list for a long time (The Song of Achilles). I'm going to start making even more effort to read some of the "older" books I've been collecting, instead of simply grabbing the new shiny things!
Do you have an insane amount of books at your house or apartment, too? Or do you have more self-restraint than I do?
In any event, I'm excited to share my July month of reading with you! (Just an FYI that links to some of the books below are affiliate links, meaning that at no extra cost to you, I will earn a commission if you click through and make a purchase. Thank you for supporting WANM!). And don't forget to follow my book Instagram account (bookstagram!) at @booksontheside!
The Other Woman by Sandie Jones: If you think you have an evil mother-in-law, you need to meet Pammie. Yikes! When Emily meets Adam, she quickly falls in love with him... But then she meets his mom. Pammie is that kind of evil that is veiled behind sweetness, so not everyone sees it. She's absolutely horrible to Emily, but in ways that make Emily question whether she's paranoid or being overly petty. This was a page turner for me because Pammie's behavior is so ridiculous and I couldn't wait to see what she'd do next. But honestly, I had a hard time justifying why Emily put up with so much! Her love for Adam wasn't totally believable to me, at least not to the point where she'd put up with Pammie's antics. I wanted to jump into the book and shake her. I also didn't love the ending and felt like it was a little rushed... But overall, this is a fun not-too-scary, but still suspenseful thriller perfect for a light read. Also, if you have issues with your mother-in-law, this book may end up making you thankful for her! The Other Woman's official pub date is August 21, but you can pre-order it now. (thanks to the publisher for my copy of this book!)
Campaign Widows by Aimee Agresti: OK, I have some mixed feelings about this one. I enjoyed it because it's a fun (very fictional) look inside a presidential campaign, showcasing what the presidential campaigns experience is like for spouses of candidates, staff members, journalists, etc. It follows five self-proclaimed "campaign widows" during a presidential election season. The main widow is Cady, who has picked up her whole life to move to DC to be with her boyfriend (turned fiancé) who is working for a presidential hopeful. As a producer on a news program, Cady covers much of the election and is also thankfully thrown into a group of other campaign widows who can commiserate with one another. My main issue with the book is that there are so many characters, it was a bit hard for me to keep them all straight and get fully sucked into the story. But I still enjoyed the story and feel like this is another one of those light fun summer books that's perfect to read on vacation. (thanks to the publisher for my copy of this book!)
My Squirrel Days by Ellie Kemper: It's hard not to love Ellie Kemper (in case you're like "huh? who?? You probably know her as either a) Erin on The Office, b) Kimmy Schmidt, or c) Becca in Bridemaids). I've been a fan of Ellie for a long time, but was slightly worried about this book because I feel like she's so typecast and has such a voice that, while endearing, can also be a tad bit annoying. Her memoir ended up showing me that she basically has all the good parts of her characters in her real personality (sweet, kind, quirky), but is also so much more (smart, down-to-Earth). Her "Kimmy Schmidt voice" (how I refer to it!) definitely comes out at times, but not to the point of ridiculousness. I loved this book because I learned so much about Ellie that I had no idea about, including the fact that she had such a seemingly normal childhood and one that I could relate to in many ways. She always loved performing, but wasn't a child actor and didn't even really get into acting until doing improv in college (after quitting the field hockey team). She's just so normal, likable, a humble. I didn't love every single essay in the book and have definitely laughed more reading other memoirs, but still really enjoyed the book... And now want Ellie Kemper to be my bff. My Squirrel Days' official pub date is October 9, but you can pre-order it now (thanks to NetGalley for my copy of this book!)
The Garden Party by Grace Dane Mazur: This definitely wasn't my favorite book of the month, but I do think it's beautifully written and I loved the concept of it from the moment I read the description- two families come together for the wedding rehearsal dinner of their children. The families are quite different (though seem much more alike than they think!) and both have worries and apprehensions about the dinner. I think many people can relate to this as there are always some nerves involved when bringing together the families of significant others. I love that this novel takes place all in one evening and that we get peeks into each unique character's lives. But this is another book with a ton of characters that are tough to keep straight and some I thought could have been cut all together. However, I have to mention again that the prose is beautiful (though in some spots a little too flowery) and I think this is the kind of book I'd enjoy much more were I to read it a second time and really let myself sink into every sentence, reflecting on its full meaning. If you have time to sink into this book, do so, but just know that it may leave you wanting more. (thanks to the publisher for my copy of this book!)
Crazy Rich Asians by Kevin Kwan: OK, this was actually my second time reading this book, but with the movie coming out this month, I had to read it again! Also, I let over a year go by between reading the first and second books of the series and realized that I had forgotten way too much needed to brush up. It actually kind of felt like I was reading it for the first time... So, I guess that's one of the benefits of my normal book amnesia (LOL). I also read this along with a reading group I'm in on Instagram and that made it even more enjoyable as we got to discuss it as we read. The story follows multiple characters of a (very!) wealthy Asian family, but really centers on Nick and Rachel. After college, Nick left his family in Singapore and moved to New York City, where he meets Rachel, an American Chinese girl from a "normal" family. She has absolutely no idea of his extreme wealth (and crazy family) until he takes her to visit his family where everyone is ridiculously rich and obsessed with money and status. Sure, the book is a little bit outrageous at times and incredibly un-relatable, but that's also what makes it fun. Now I'm even more excited for the movie and two followup books!
The Summer Wives by Beatriz Williams: I pretty much always enjoy novels from Beatriz Williams and will likely forever read her new releases, though my biggest criticism about them is that they aren't always super memorable to me. But they are enjoyable and in many cases, that's exactly what I want when I'm reading (as I've mentioned before, I'm not great at retaining lots of info about all the books I read anyway). This book jumps between a few time periods. One in the early 1950s when 18-year-old Miranda Schuyler arrives on Winthrop Island with her mother who is set to marry the wealthy Hugh Fisher. Miranda gets to know the island with her new step-sister Isobel and lobsterman Joseph Vargas. We also jump to the late 1960s when Miranda is returning to the island after some sort of accident and a long time away from the island. In between these scenes, we go back to the 1930s and learn some of the happenings and relationships on the island during those times. The Summer Wives is the kind of book that had me quickly turning the pages wanting to know how everything would tie together and what exactly happened in the various phases of Miranda's life. Even though I haven't been thinking about it a ton since I finished it, I still thoroughly enjoyed reading it! (thanks to the publisher for my copy of this book!)
The Song of Achilles by Madeline Miller: This one has been on my must-read list for forever since I've heard so much good stuff about it. I'm happy to say that it didn't disappoint, though it's definitely a bit different than my normal book loves and may not be for everyone! I admit, it isn't really the type of book I'd usually pick up; war stories with lots of battle scenes aren't quite my thing. But The Song of Achilles is about so much more than battle scenes and has such a focus on relationships and emotions that I couldn't help but get sucked in. The book left me feeling all kinds of things and wanting to take a seriously deep dive into Greek mythology... So, I'm calling it a definite win. The story revolves around Patroclus, his childhood, and how he first comes to meet Achilles. I love how the book is set up and I feel like all the details Miller includes are so intentional and essential to the story and our emotions. As his relationship with Achilles grows, the feelings between them feel so believable and real. The decisions they make are often heart-wrenching and they deal with situations I can't imagine myself in. Yes, there are plenty of battle scenes (how the heck did this war last for so long?!), but they're also quite intentional and everything always goes back to the relationships. This is one that I definitely want to re-read at some point and I think I'll gain something new from it every time I do! And now I'm extra excited to read Miller's next book Circe (which is sitting on my shelf waiting for me!).
All Your Perfects by Colleen Hoover: I know so many people who are obsessed with Colleen Hoover books; I'm pretty sure she has some of the biggest super fans around. I definitely wouldn't say I'm obsessed with her, but I do really enjoy her books and am happy to grab her new releases as soon as I can. Sometimes her books just feel way too dramatic to me... But I'm happy to say All Your Perfects is my favorite from her thus far. In true Hoover fashion, it's a very dramatic book... But in ways that feel really realistic and right. The book bounces back and forth from the past (about 7 years ago) to the present. It starts with Quinn heading to her fiancé, Ethan's apartment, only to run into a random guys sitting in front of Ethan's apartment door. Why was he there? Well, because his girlfriend was inside Ethan's apartment in bed with him (I promise I'm not spoiling anything). Flash forward more than seven years and we learn that Quinn and this mystery man Graham are now married (so cute!), but seem to be on the brink of divorce in large part due to trouble with infertility. The book feels so powerful because in the sections that take place in the past, we can easily see how crazy deep in love Quinn and Graham are... In some ways, you think "how could a couple like this ever want to leave each other?" But then in the sections that take place in the present, we gain a very clear understanding of why their marriage is struggling so much. This is definitely an emotional book and one that may be difficult for some people to read if only because it's so real and spot-on. Hoover does an excellent job dealing with a very tough subject matter that's relevant to so many people. And even if it's not relevant to you, you'll still be able to feel for this couple and get completely immersed in their story. If you haven't read any Hoover yet, make this your first one. (thanks to NetGalley and the publisher for my copy of this book!)
The Masterpiece by Fiona Davis: You know this book is going to be up my alley because it's historical fiction that takes place in NYC. For some reason, this is the first book from Fiona Davis I've read, but now I definitely want to check out her other releases. This story bounces back and forth between two time periods- the 1920s and 1970s- and focuses on the art school that once lived within Grand Central Terminal. In the 1920s, it's a popular and respected place to take art classes. In the 1970s, it's completely abandoned and not many people even know it was ever there. The school really did exist, though the story Fiona Davis tells in The Masterpiece is fictional. We follow Clara Darden, a teacher at the school in the 1920s and and blossoming illustrator striving to get her fashion-focused illustrations published in Vogue and the like. We also follow Virginia Clay, a recently divorced mother, struggling to make ends meet in the 1970s, with a new job at the Grand Central Station information booth who discovers the abandoned art school. The women are incredibly different, but both ambitious and determined and I felt immediate connections with both of them. I love how Davis intertwined the two time periods and how she managed to bring everything together at the end (with a bit of a twist I definitely wasn't expecting!). It's the kind of book that has you missing the characters once you're done reading it. It also has me wanting to take a trip to NYC to wander around Grand Central Station and learn more about its history. (thanks to the publisher for my copy of this book!)
And that was my July in books! Spoiler alert... I know we're not even two weeks in, but I think August is going to be my favorite reading month of 2018 so far! I'm also off on vacation later this week and am hoping to get some seriously good reading time in.
Tell me what you've been reading lately!
If you're looking for more book recommendations, feel free to take a look at my other book review posts from so far in 2018:
What I Read in January
What I Read in February
What I Read in March
What I Read in April
What I Read in May
What I Read in June