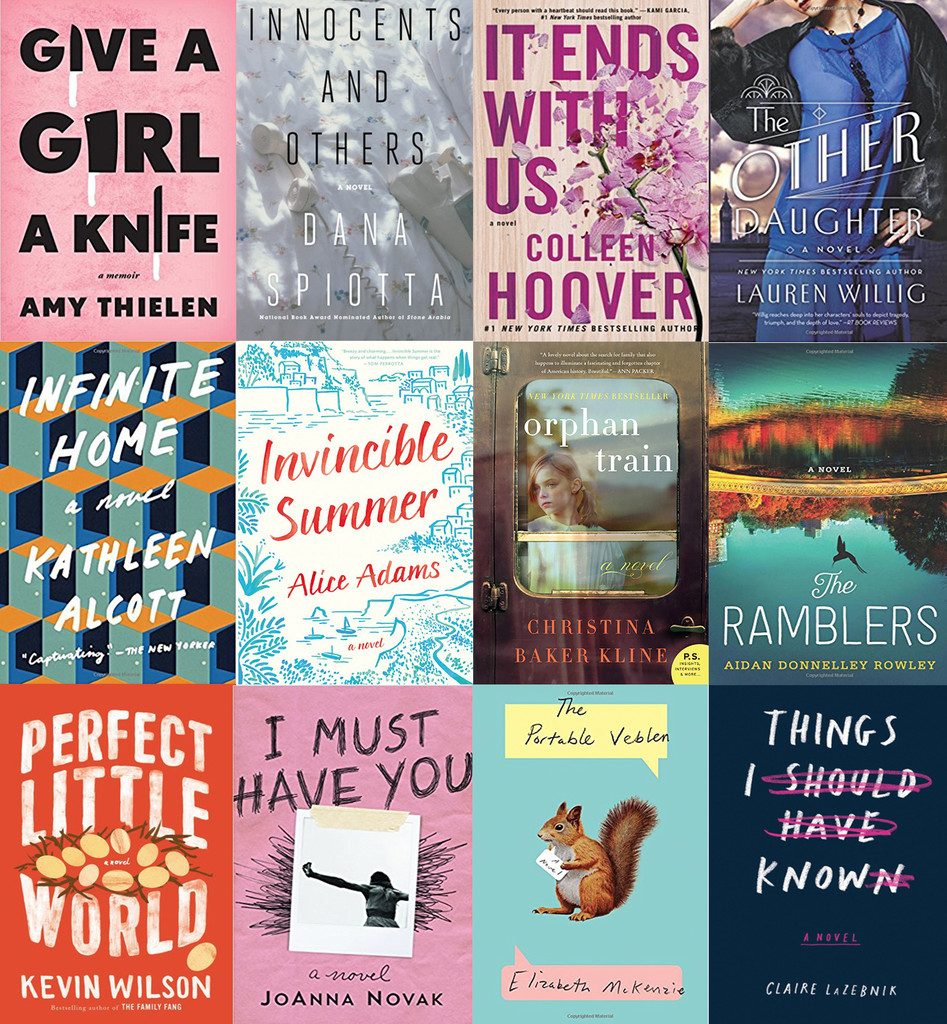 Are you someone who hates book spoilers or are you OK with them? I'd say I'm somewhere in between... I prefer to be surprised, but if I know what a book is about or read a book after watching the movie version, I'm OK with it. Chris will literally not listen to me talk about a book if it's one he's planning to read, too... Even if I just want to comment on something that it says on the back of the book, he will shush me. He has a serious fear of spoilers!
I just saw an article about this "reading strategy" (ha! Who knew that was a thing?) that says after reading half of a book, you should skip to the end to determine if you want to keep reading it or not. Whaaat! I would never do that. If I've already read half a book, I'm pretty committed to it and am not about drop it because I "don't think the ending works." Plus, how can you be sure the ending "doesn't work" if you've skipped a huge portion in which major things can happen? Also, if it's a book like Gone Girl, I want that build up and suspense until the end. I do understand the writer's point that once you know the ending, you're able to enjoy the details and notice things you may not notice without knowledge of the book's conclusion. And I do find myself rushing through books sometimes just because I want to know how they'll end. But...no. This just seems ridiculous to me. Would you do it?
Anyway, I had a super successful March in books (reading books from start to finish ha!) and have some great recommendations for you! Please let me know if you're enjoying these posts. They're obviously only once a month, but it feels like more (partly because the months go by so quickly and partly because I've been a little busy lately and have been slacking with getting out the amount of recipe posts I'd like to). And if you're not loving them I'll think or something else to do with them or nix them all together 🙂
Just an FYI that links to some of the books below are affiliate links (meaning that at no extra cost to you, I will earn a commission if you click through and make a purchase) and some were gifted to me by their publishers. Thank you so much for supporting WANM!
Here's what I read in March! See the end of this post for links to January and February, too.
Give a Girl a Knife by Amy Thielen: I was pretty excited to see this pop up in my Amazon Vine queue in advance of its official May 16 release date. I had sort of mixed feelings about it to start, but then I simply realized it just isn't't a typical chef novel. Amy has worked in some super renowned NYC restaurants and is now a home cook (and writer) in the woods of Minnesota. She has a unique perspective and a beautiful way of storytelling and while the book is a bit slow-moving at times, if you're passionate about food and cooking, you'll likely enjoy it.
Innocents and Others by Dana Spiotta: OK, clearly this was not my favorite book of the month seeing as I had to look it up to remember what it was even about. And even now that I recall, I'm having trouble figuring out how to describe it to you. Maybe I'm just not cool/smart enough for a book like this, but I felt like it's disjointed, strange, and just not my cup of tea. There were moments when I felt like "ooh this is good!" and then a couple pages later, I felt like falling asleep. There are lots of mixed reviews on this book and some people think it "transcends literature," so maybe if experimental fiction is more your thing, you'll enjoy it.
It Ends with Us by Colleen Hoover: I had never heard of Colleen Hoover before, but somehow this ended up on my to-read list and I'm glad I did. You should know that 89% of its 3,500 reviews on Amazon are 5 stars, which is crazy high! I didn't think it was the best book in the world and there are a few things that I felt were totally unrealistic and/or inconsistent. But it's definitely entertaining while touching on some very serious subject matters. At first you'll think it's total chick lit (and/or romance; there are some steamy scenes), but story covers domestic abuse in a way that will seriously have you wondering, "what would I do?"
The Other Daughter by Lauren Willig: This was kind of a take it or leave it for me. I enjoyed the story of a British girl whose mother dies and suddenly discovers the truth about who her father is. But I found it to be slightly boring and a little bit predictable. If you're looking for something light that isn't chick lit, I'd say give this a go, but it definitely wasn't my favorite book.
Infinite Home by Kathleen Alcott: I feel like I'm being a bit of a downer this month (or just have ridiculous expectations), but this was another just OK book for me. It has potential, about a group of people who are all about to be evicted from their Brooklyn apartment building by their landlord's son. The tenants band together, develop different kinds of relationships, etc. I was just a little bored and had some trouble distinguishing all of the characters from each other.
Invincible Summer by Alice Adams: I'm learning that I'm a big fan of coming of age type stories that start off with people in their 20s and follow them as they age. Also books that are just super true to life... There may not be any major plot twists or crazy drama, but everything is just kind of real life. That's exactly what this book is. It follows a group of kids graduating from college as their lives turn out to be not quite what they expected.
Orphan Train by Christina Baker Kline: I've been hearing a lot about this book for a long time, so I was excited to finally get my hands on it. This book jumps back and forth between two time periods, one current day and one in 1929, when young orphans were taken on trains from New York City to the Midwest to adoptive families. In some ways, it's your typical "young person learns from older person and vice versa" story, but it's also a really powerful book that I didn't want to put down.
The Ramblers by Adian Donnelley Rowley: In some ways, this book follows the same "coming of age" story that I mentioned above. But this definitely wasn't as enjoyable as Invincible Summer or some of the books I read last month. It follows two friends who met in college as they fall in love and begin dealing with some issues from their past. I wasn't overly impressed, but felt like it was an enjoyable read.
Perfect Little World by Kevin Wilson: This book came from my Book of the Month Club and I thought it was a nice entertaining read. It's a sort of dystopian novel, but one that felt way more real than others. A doctor creates his own little community called "The Infinite Family Project" in which he brings ten children and their parents to live together in a "perfect little world." The concept is that everyone will help raise the children collectively to the extent that the children won't even know who their biological parents are. Obviously problems arise. I really enjoyed the book, but my only issue is that I wish they pushed the concept even more than they did and made it a little more outrageous.
I Must Have You by Joanna Novak: Sad to say this was my least favorite book of the month (and that I've read in a long time). If you were in middle school in the 90s (hi!), you will totally get so many of the pops culture references in the book, which is sort of fun. But there are sooooo many of them, it's actually kind of ridiculous. Also, the book is incredibly rambling, like it's on drugs. And the characters are a mess. The middle schoolers have anorexia, the mom is having an affair with a college kid (who also happens to be dating one of the middle schoolers). The only thing I got out of this book was a thankful feeling that as tough as middle school might have been, it was not like it was portrayed in this book.
The Portable Veblen: This book was SO weird. But I loved it! I'll definitely caveat this with... if you don't like slightly weird and totally quirky people and/or writing styles, this might not be for you. But I thought it was a delight. Veblen is a super quirky lady with a crazy mother (seriously, her mother was so annoying, but in a totally believable way) who also happens to talk to squirrels (I told you this was weird). She's engaged to be married to a neurologist who has some family issues of his own. Also, a squirrel may or may not come in between their relationship. I'll let you read it yourself... But don't say I didn't warn you. One reviewer on Amazon simply said, "weirdest book I have ever read."
Things I Should Have Known by Claire Lazebnik: This young adult novel is an incredibly entertaining but powerful read. It's about a popular high school girl, Chloe, whose older sister is autistic. She wants to help her sister meet a guy, so they start hanging around a boy with autism and his brother. A brother who Chloe knows from school and doesn't like. While the book was written for a younger audience and is light-hearted and predictable in some ways, it's also an incredibly powerful reminder about the bonds between siblings.
Here's What I Read in January
Here's what I Read in February
Tell me what you're currently reading! And also if you'd ever stop a book halfway through to read the ending and decide if you want to finish or not!