If you're looking for a good book to read, you've come to the right place. This post is part of my monthly "What I Read" series, featuring the books I read the previous month with lots of recommendations for you! All of these book pair perfectly with donuts, cookies, pasta, or pizza… And always a glass of wine.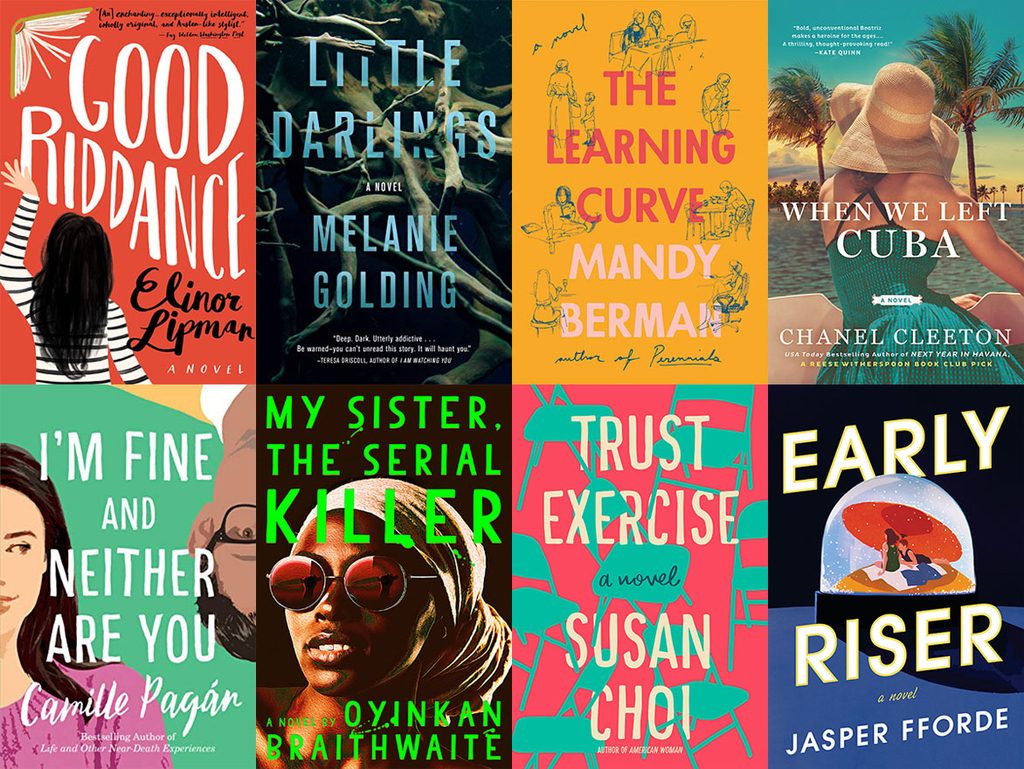 Hello, hello! I'm going to jump right into my reviews today since I'm a little bit behind on publishing them. Luckily, I'm only slightly behind on my reading goals for 2019... For some reason, I've just been a bit slow on actually reviewing them. However, I have read some good ones lately, so be sure to check out my reviews for what I read in March below!
Just an FYI that links to some of the books below are affiliate links (meaning that at no extra cost to you, I will earn a commission if you click through and make a purchase) and some were gifted to me by their publishers. Thank you for supporting WANM!
Good Riddance by Elinor Lipman: I'm a big Elinor Lipman fan and was excited for her new book, so was a bit disappointed to see it wasn't getting the best reviews. But I read it and actually really enjoyed it! Good Riddance isn't my absolute favorite Lipman book, but it's still a delight. Daphne's mom leaves her a yearbook filled with notations. When Daphne gets rid of it (clearly not the sentimental type), it's found by a filmmaker who wants to make a movie out of it. I'll admit that storyline didn't excite me much, but I just loved the characters and Lipman's writing style so much that I fell in love with the book. I think it really says something about a book when a plot sounds super basic, but the book ends up being super engrossing and delightful. I'll admit that pretty much all of the characters in the book are slightly annoying in their own ways, but they are (mostly) endearing, too. And really, isn't that like most people in life?? If you're a Lipman fan, I definitely recommend this one! If you haven't read anything by her yet, start with On Turpentine Lane. (thanks to the publisher for my copy of this book!)
Little Darlings by Melanie Golding: What a creepy book!! Seriously. I've had a tough time getting into thrillers lately, but this one definitely gave me the heebie jeebies... Which I'm pretty sure was its intention. Honestly, I feel like I need to put a trigger warning on this book for anyone who is currently pregnant, especially if you're expecting twins! Just trust me. The book starts in the hospital where Lauren has just had twin boys in what was a very difficult/traumatizing birth. During her overnight in the hospital, a woman comes into her room and tries to take her babies and swap them with her own twins who are majorly creepy beings. Of course, nobody else sees the woman and it's chalked up to Lauren being exhausted. But obviously Lauren is incredibly scared after this experience and refuses to leave her babies for even a moment. Until she accidentally falls asleep at the park and her babies are swapped. At least she thinks they are... Or is Lauren just going crazy? As with so many of the thrillers I've been reading lately, I didn't love the ending of this book, but I also didn't hate it. I don't want to give away too much, so I'll just say that it's the kind of ending you'll probably want to discuss with someone ASAP. Overall, this is a great book and for me, a nice change from the typical thrillers I've been reading lately. (thanks to the publisher for my copy of this book!)
The Learning Curve by Mandy Berman: This is the kind of book I really enjoy, though I know it's not the kind everyone loves. I think if you're a fan of Meg Wolitzer, and especially her book The Female Persuasion, you'll really like this one, too. They are super similar! In fact, one of the biggest criticisms of that book is that the characters are all so privileged and immersed in second wave feminism. And while yes, that is true here as well, I also don't see why this is necessarily a bad thing. The book is told from the point of view of three characters, but the main focus is the character of Fiona. She's in her senior year of college and living with three girlfriends. A couple years earlier, Fiona's younger sister died and Fiona is still struggling with how to move forward. She has difficulties with school and friends and finds herself sleeping with guys she doesn't necessarily even want to sleep with. We also see a lot of her friend, Liv, a wealthy college student dating a frat boy and dealing with a somewhat tumultuous family life. Both girls develop crushes on a visiting professor, Oliver, who has a scandalous past (it's rumored he slept with a student at a previous teaching job). We also get the perspective of Oliver's wife, Simone, who is left alone in Berlin with their 1-year-old child while Oliver is teaching in the U.S. I can see why people might roll their eyes at these girls problems. They're certainly "white privilege" problems, but guess what? That doesn't mean they're not an accurate reflection of society and the "problems" so many college girls have. Another issue people may have with the book is that none of the characters are particularly likable. I don't feel a need to actually like the characters I'm reading about, so long as I am invested enough in them to find out what will happen to them. And I did care here. Overall, I enjoyed this book! The Learning Curve's official pub date is May 28, but you can pre-order it no (thanks to the publisher and NetGalley for my copy of this book!)
When We Left Cuba by Chanel Cleeton: Did you read and love Next Year in Havana? If so, you'll definitely want to read the followup, When We Left Cuba. But it's not truly a sequel, so you can certainly read it without having read the first book (though it was nice to have the background on the Perez family and their history before jumping into this one). When We Left Cuba is focused on Beatriz Perez who (if you read the first book) you'll remember as the sister of Elisa and twin of Alejandro who died at the hands of Fidel Castro. While the rest of the Perez family works to integrate themselves into Miami life, Beatriz misses Cuba with a passion and wants nothing more than to avenge her brother's death. She becomes involved with the CIA and their plot to overthrow Castro. But in the meantime, she also falls in love with a prominent with a prominent politician who's close to new president John F. Kennedy. She risks a lot by involving herself with both, including her relationship with her family and even her life. Beatriz is an incredibly strong woman and this book is most definitely empowering! The story held my attention and had me totally intrigued that the CIA actually did things like they do in the book (and had me wondering what they're still doing!). I wouldn't say it was a major "page turner" for me and I wasn't absolutely dying to pick it up at the end of the day. But I did really enjoy it and think it's so unique from any other book I've read. I have a feeling a third book featuring the third sister, Maria, will be coming soon! (thanks to the publisher and NetGalley for my copy of this book!)
I'm Fine and Neither Are You by Camille Pagan: Camille Pagan is another author I'm a big fan of, so I was excited for her new release. It did not disappoint! This book is just real. Penelope is a busy wife and mother whose best friend, a popular lifestyle blogger who's life seems charmed, suddenly passes away. Now, in addition to dealing with her stressful job, her marriage that feels less than ideal lately, and her kids' busy schedules, Penelope has to come to terms with the details surrounding her friend's death. Despite the fact that I'm not a mother and my marriage and life is pretty different than Penelope's, I'm Fine and Neither Are You just felt so relatable. This probably isn't the kind of book that's going to blow your mind or go down as the best book ever, but it's the kind of book that feels really good while reading it and sometimes that's totally necessary. Plus, I can't get enough of the gorgeous cover! (thanks to the publisher for my copy of this book!)
My Sister, the Serial Killer by Oyinkan Braithwaite: I had been hearing so much about this book that I finally decided to pick it up. I didn't realize it was so short (just 226 pages) and it was actually a lot different from what I expected, though not in a bad way. It was darker in some ways, but mainly because it was so matter of fact. But it's also super smart and even funny. The story is told from big sister Korede's point of view and takes place in Nigeria. Korede is a nurse and definitely the responsible sister. Little sister Ayoola is definitely more flighty, but also the "pretty" sister, which means all sorts of concessions are made to her. She calls Korede every time she needs help disposing of a boyfriend she just killed (don't worry, she always has a good reason for killing!). The sister dynamics are very interesting and I actually think a lot of women with sisters will be able to relate to this story on some level (note that I say "some level;" this book is obviously taking things to an extreme). My only problem with the book is that it's so short and I feel like the concept is so interesting that it could have been developed so much more.
Trust Exercise by Susan Choi: This is one of those books that I know I was supposed to love... But, while I can truly appreciate it, it's a book that just isn't for me. But I need to be clear that it's beautifully and artfully written and Susan Choi is a true talent. This is why I hate star ratings... What's good for me won't necessarily be good for you and vice versa. I think that is very clear if you read through other reviews of this book. The title of Trust Exercise is absolutely perfect. Not only does part of the book take place at a high school for the arts in which students take classes in trust exercises, but as readers, we're forced to continually wonder who to trust as we're reading. Choi turns the book on its head several times. The book should be read slowly and carefully and if you don't have a lot of patience, you may find this book difficult. There aren't any chapters and there are barely paragraphs; just large chunks of text. Wordy text. In a world filled with light and fluffy novels that can be read while you're on a the treadmill or taking a 5 minute break, this will be a tough book for some. It's a true literary novel. I think if i had been more invested in the book and the characters from the start, I would have been able to read on in a deeper way. But because I wasn't sucked in and didn't care for any of the characters (to be clear, I don't need to "like" characters to enjoy a book; I just need to care what happens to them in some way), I found myself skimming some parts, which left me very confused. And the more this happened, the less I cared and the more I realized this book just isn't for me at this time in my life. Perhaps I will try again some day!
Early Riser by Jasper Fforde: Another book that wasn't really for me. But SO many people loved this book that I urge you to read through other reviews as this was clearly just a taste thing for me. I love the concept of Early Riser; it takes place in a world where winters are so brutal, most people hibernate, aside from anyone who works with the Winter Consul and some villains. This is Charlie Worthing's first winter in the Consul and he/she (we never really learn Charlie's gender since pronouns aren't used) and let's just say it's been a little bit tough for them. I enjoyed the way the story is told- it almost feels like a puzzle where Jasper Fforde is giving us the details exactly where he wants to and it's our job to put everything together. At some points, the story doesn't make a lot of sense, but the more you read, the more you can start putting the pieces of the puzzle together and the more you understand. So, what didn't I like about it? I just never felt connected to Charlie and their plight. There are also a lot of characters in the book who I confused with each other. I thought the whole viral dream thing was really strange and confusing. And I just found myself not really caring what happened. Like Trust Exercise, I do think if I took the time to read it again, I may enjoy it more but for the most part, it's just not the book for me.
And that's my March in books! I will be getting April's post out soon so stayed tune! There are so fabulous ones in there 🙂
If you're looking for more book recommendations, feel free to take a look at my other book review posts from so far in 2019:
What I Read in January 2019
What I Read in February