Looking for a good book to read? This post is part of my monthly "What I Read" series and features the books I read in March 2020 with lots of recommendations for you! All of these books pair perfectly with donuts, cookies, pasta, or pizza… And always a glass of wine.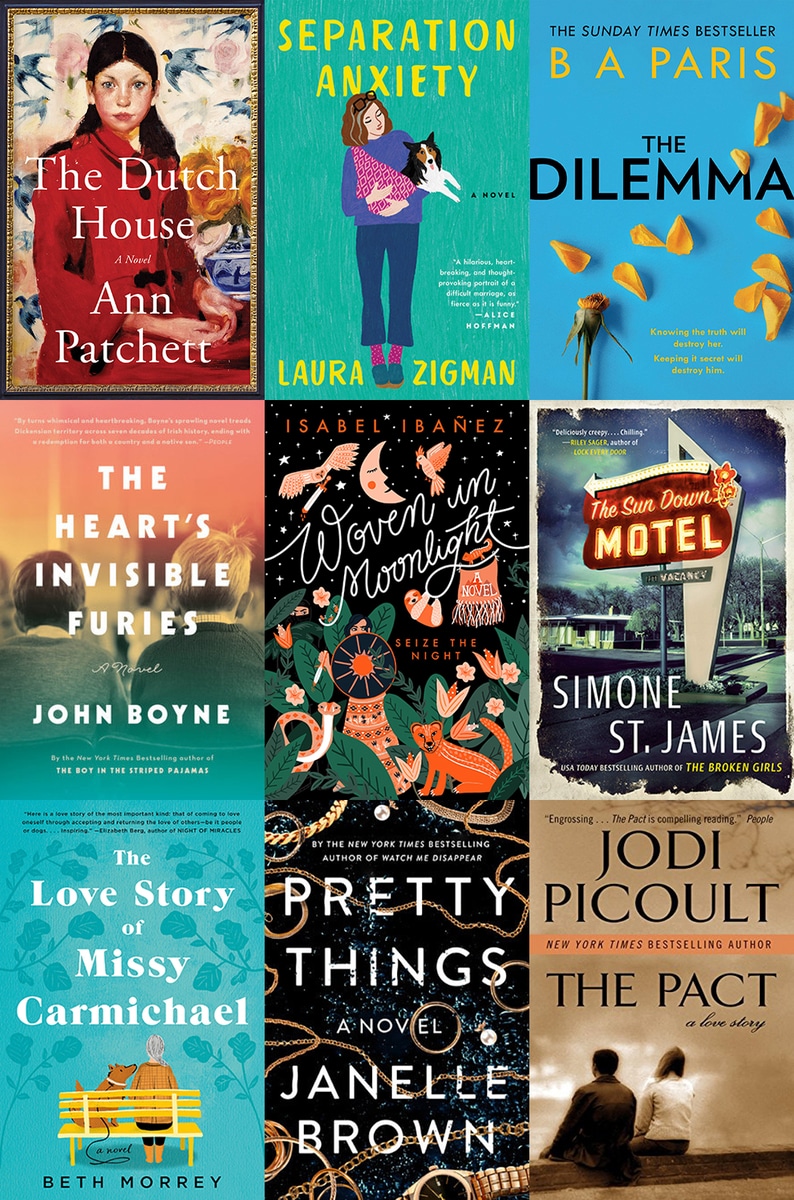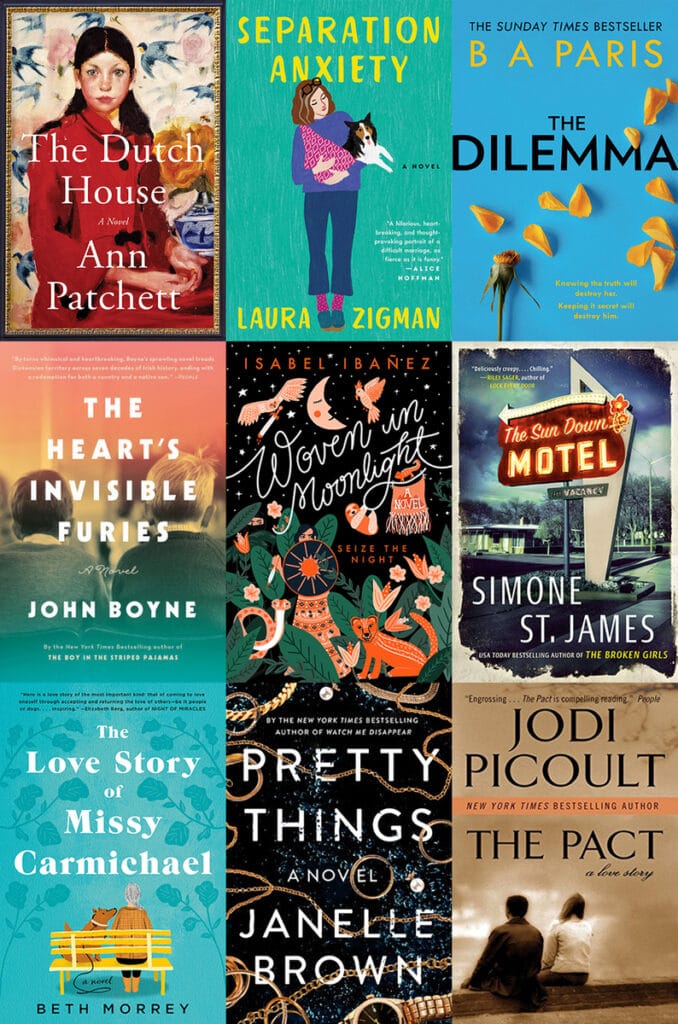 Hello, friends! I apologize for my massive delay in sharing my March reads with you! During this current time, I truly believe we need books more than ever and I'm really happy to share some good ones with you here.
If you're anything like me, your reading habits have been very strange while in quarantine. One moment it seems like I'm reading a TON and then another I'm going a day or two without picking up a book at all. My attention span is all over the place and I'm just trying to give myself some grace and not put too much pressure on myself. Hence why this post is coming out long after March has ended.
March was a kind of mixed bag of reading for me. I read a few books I didn't love, but I also read a couple that are very high up on my list of favorite books of the year. If you need a bit of a distraction from current events, I hope you'll pick one of these up!
Just an FYI that links to some of the books below are affiliate links (meaning that at no extra cost to you, I will earn a commission if you click through and make a purchase) and some were gifted to me by their publishers. Thank you so much for supporting WANM!
The Dutch House by Ann Patchett: I'm a huge Patchett fan and will read everything she writes always. I heard pretty mixed reviews on her newest one, but I ended up loving it and am calling it one of my fave books of the year so far!. It's definitely more of a book for people who enjoy character-driven novels as it's a little bit on the slow side, but has incredibly dynamic and engrossing characters. Danny and Maeve have a special connection to their family's "Dutch House" in the Philadelphia suburbs. A unique and ostentatious house, they spend much of their early lives here. But when Maeve leaves for college and their father remarries, his new wife essentially kicks young Danny out of the house. Throughout the turmoil, Maeve and Danny remain close and even as they get older, they often return to the Dutch House, simply to sit outside it and reminisce on their previous lives. We get to watch Danny and Maeve grow, see their relationships grow with others and transform with each other and get an understanding of how our childhoods can effect us far into the future. A beautifully written, engrossing book that I'll definitely return to at some point!
Separation Anxiety by Laura Zigman: A book about a woman who carries her dog around in a baby sling? Count me in! Yes, I'm a crazy dog lady and can totally see myself doing this. Separation Anxiety is the perfect combination of escapism and seriousness. Judy is going through a bit of a middle-age crisis. Her teen son doesn't seem to need her any more, her marriage is falling apart, her writing career at a standstill, and her finances not where she wants them. Though I can't totally relate to Judy on all counts, I can totally understand her feelings and actually think it makes sense that she turns to her dog for comfort. Yes, she starts wearing her dog around in a sling. Even out in public! This book is sweet and funny and deals with some serious issues with a quirky spin on them. The only thing I didn't love is that the dog felt like more of an accessory and there was no actual connection between Judy and the dog (she doesn't talk to her, call her by her name, etc.) and as someone who is obsessed with my dog and talks to her all day long, this made no sense to me.
The Dilemma by BA Paris: If you know BA Paris, you probably know her as a writer of thrillers. Based on that, I thought this was going to be a creepy thriller similar to her other novels. But it's definitely not and is more of a family drama. This wasn't a favorite of mine, mostly because it caused me extreme anxiety and wasn't an enjoyable read for me. I don't want to give too much away (though you do learn a lot early on), but The Dilemma takes place on the day of Livia's 40th birthday. She's dreamed of her 40th birthday party forever and her husband, Adam, wants to make it absolutely perfect for her. However, both Livia and Adam are holding secrets from each other that they know they need to share... But both feel like they should wait until the party is over. The secret Adam is holding onto is a pretty big one that needs immediate attention and I while I could relate to his procrastination/"no news is good news" attitude a bit, I also couldn't understand what he was waiting for. Yes, this book is a page turner, but for me that was only because I just needed it to be over (but I DID want to finish it because I had to know what would happen with Adam's secret).
The Heart's Invisible Furies by John Boyne: This one is SO good. I read Boyne's A Ladder to the Sky last year and have had this one on my list for a while So happy I finally picked it up. This is one of my fave books of the year. It's hard to even tell you what the novel is "about" because I feel like a summary of the plot won't properly capture all that this book is. But OK for a basic plot premise, the book follows Cyril Avery as he's born out of wedlock in Dublin, adopted by an extremely eccentric couple, and grows up struggling with his sexuality and identity in a country and time where Catholicism is pretty much the rule of law. It sounds heavy, right? And in many ways, it is heavy. But John Boyne is such a brilliant writer that he turns it all into a delightful novel with lots of humor, too (humor in the style of Roald Dahl; I kept thinking of The Twits when reading about Cyril's adopted parents). Is this book for everyone? Probably not (what book is?), but I've decided it falls squarely into the type of books I love- long literary sagas that follow a character throughout his or her entire life. I was so sad when this book ended and need to read another John Boyne book ASAP!
Woven In Moonlight by Isabel Ibañez: Neither young adult nor fantasy books are really my thing. This one is both, but I absolutely loved it, proving sometimes it's a good thing to step outside of your normal comfort zone of books. In the novel, the Illustrians and Llacsans are in a constant battle for power of Inkasisa. Illustrian Ximena is the decoy Condessa (queen) and has been ordered to marry the Llacasn king, Atoc. While staying in his court, she hunts for the Estrella, a magical relic that gives huge power to anyone who holds it. As she searches, she sees many terrible things the Llacsans are doing, but also gets to know some of them and begins to realize that people just like her are hurt terribly when the opposing party is in power. Is holding the Estrella, gaining power back, and righting the wrongs done to Illustrians and their ancestors worth hurting others? Ximena must undergo an inner battle about what power truly means. If you're not a fantasy reader, this probably all sounds really strange to you. But just trust me when I say it works. Ibañez says the novel is inspired by political events occurring in Bolivia, but I also think it's easy to make parallels to any nation's political system. The book is a beautiful reminder that there's people just like us everywhere; innocent people who are simply trying to get by while being greatly effected by the whims and decisions of their leaders. The lessons of this book are wonderful for young and old people, alike!
The Sun Down Motel by Simone St. James: This thriller has gotten a lot of attention and is very well loved by so many. It wasn't my absolute favorite, but I think it's a combination of me not necessarily being the biggest thriller fan (it just takes A LOT for me to love a thriller) and the fact that it was so hyped up. I enjoyed the premise of the book and the super strong female characters. I found it easy to connect with both Vivian and Carly and rooted for them throughout the book. The bounces back and forth in time from Vivian's life working at The Sun Down Motel to 30-something years later when her niece Carly is working the same job while she searches for Vivian were done nicely (though I did find myself getting slightly confused at some points over what happened to whom). There are ghosts and murder in the book, but I didn't find it particularly scary, at least not in a way that would keep me up at night. The ending was fairly satisfying. The book just didn't "wow" me in any big way.
The Love Story of Missy Carmichael: This is the kind of book I like to call a "comfort read." It's not groundbreaking or "omg the best book ever," but it's sweet, incredibly readable, and exactly what the doctor ordered for turbulent times. The book felt like a wonderful combination of Fredrik Backman, Elizabeth Berg, and Elizabeth Strout. Missy Carmichael is in her late 70s, living alone in London after losing her husband, having her son and grandson move to Australia, and having some sort of falling out with her daughter. She's lonely and a bit curmudgeonly, but you can see she has a good heart. After meeting a couple new unlikely friends, she reluctantly agrees to temporarily take care of a dog. Never one for dogs, Missy slowly realizes how much comfort and joy they can bring to life. It's a bit of a slower read and less about the plot and more about the characters and the emotions. For me, this is a good thing. There are parts that were sad and difficult to read, but for the most part the book is hopeful and sweet. I highly recommend it for anyone who isn't afraid of a realistic look at aging, loneliness, and relationships and/or believes that dogs can make life better.
Pretty Things by Janelle Brown: This is one I enjoyed, but didn't absolutely love. I think part of that is probably because it starts off SO strong. The first chapter is wild and I couldn't wait to dive into Nina's crazy lifestyle. But then the book slows down in a major way and Nina's next "project" isn't quite as crazy as I thought it would be. Nina and her boyfriend Lachlan are "grifters" and their target for much of the book is Instagram influencer heiress Vanessa Liebling. Nina was close with Vanessa's brother for a short period of time 10 years ago and believes she knows how to access the family's money. So, Nina and Lachlan take on new identities and move in to the guest house at Vanessa's estate as they attempt to complete their mission. There are some twists in the book, though nothing that totally shocked me. As far as the feel of the book, it reminded me a lot of Necessary People (Anna Pitoniak). It's definitely a thriller, but also touches on friendship, social media, family issues, feelings of isolation, etc. I do recommend this novel if you enjoy books like Necessary People... though it probably won't absolutely blow you away, it's still a good solid thriller that's a fun read.
The Pact by Jodi Picoult: I read this as part of a buddy read and probably wouldn't have picked it up otherwise. Picoult is kind of hit or miss for me; I've been enjoying a lot of her newer books, but this one it a bit older (from 2006). I didn't love this one, mainly because it didn't feel super believable to me. But it was definitely a page turner and was different than anything else I've read. The story is mainly focused on the relationship of teenagers Chris and Emily. Neighbors and friends since they were babies, it was only natural that the pair started dating in high school. So, when Emily is found shot dead and Chris is with her at the scene of death, many people immediately think he did it. He claims they had a suicide pact and that he was supposed to be dead, too. But, of course, he is arrested anyway and charged with her murder. So, what really happened? It's hard to discuss this book without giving spoilers and I don't want to do that. I'll just say that while I don't pretend to know a ton about suicide and mental health and whether or not Emily's behavior was "normal," I could not at all understand Chris's behavior in the situation. It didn't feel believable at all to me and for whatever reason, I just couldn't get past it. It's still an entertaining courtroom drama and many of the people I read it with loved it.
Have your reading habits changed since the world has changed?
To see what else I've read in 2020, check out other posts for the year:
What I Read in January 2020
What I Read in February 2020