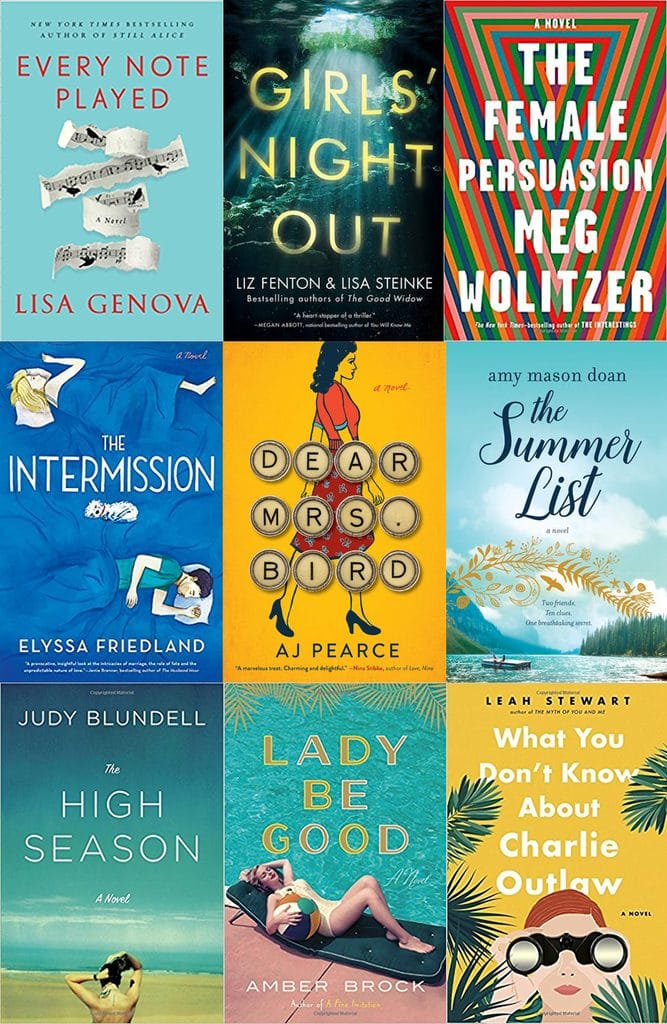 Hello, friends!! I'm so sorry my May book reviews are coming at you so late in June! This month has proven to be a crazy busy one (luckily, the good kind of busy) and I've barely even had time to read, though I'm attempting to make up for it throughout the rest of the month. One exciting piece of news is that I started a bookstagram account... Which is what crazy book lovers call book-specific Instagram accounts. I figured since I like to post so much about books, I should probably do so on a separate account since all my food loving followers aren't necessarily into books.
If you want to see what I'm currently reading, what's on my TBR (that's a book nerd acronym for "to be read"), and lots of pictures of books paired with food, follow me at booksontheside (because books are kinda like the "side dish" to my life). I may eventually launch a Books on the Side website, but for now I'm keeping my reviews here.
Also, can we talk about podcasts for a minute? I listen to a ton of podcasts while I'm in the kitchen cooking and baking (I probably should listen to books on tape, but I generally need something a little more mindless). I also love listening to them when I'm editing photos or doing something that doesn't require my full concentration. While I love podcasts that are focused on food and blogging, I've recently been getting into book podcasts, too.
My favorite is BookRiot's All the Books, which highlights new releases in the publishing world every week. I also love Anne Bogel's What Should I Read Next, which offers callers book recommendations based on their favorite (and least favorite) books. I'm always open to new podcasts, so let me know what you listen to! I also have to admit that I have a pretty sad obsession with podcasts from former Bachelor stars. They're just so lighthearted and silly and sometimes exactly what I need (specifically Scrubbing in with Becca Tilley, The Ben and Ashley I Almost Famous Podcast, and Off the Vine with Kaitlyn Bristow). Please don't judge me.
One more note... I recently discovered a book lovers' dream website called Book Outlet. Basically, it's an online outlet where you can get books for way cheaper than average prices. The books are excess inventory from publishers and are in new condition (in most cases), though they may have a have a small dot or line on their edge. I recently purchased a few books so will let you know when my order arrives, but if you want to check it out in the meantime, you can use my affiliate link for $10 off your first order!
OK, onto my reads from May! Just an FYI that links to some of the books below are affiliate links (meaning that at no extra cost to you, I will earn a commission if you click through and make a purchase) and some were gifted to me by their publishers. Thank you so much for supporting WANM!And don't forget to follow my book Instagram account (bookstagram!) at @booksontheside!
Every Note Played by Lisa Genova: OK, we're starting off with a tear-jerker here. You may know Lisa Genova from Still Alice, her novel about a woman with early onset Alzheimer's (which was turned into a move starring Julianne Moore). I also read her Inside the O'Briens, about a man who develops Huntington's Disease. Every Note Played is similar in that it's an account of person going through a debilitating illness. Richard is a renowned pianist who begins showing signs of ALS (also known as Lou Gehrig's disease). As his body becomes paralyzed and he loses more and more of his motor function, his ex-wife Katrina steps in to help care for him. Obviously there are a lot of emotions at play here (their marriage did not end well) and details that will make you wonder what you would do in a similar situation. But the most emotional part is Genova's descriptions of ALS and how it slowly takes over the body, rendering Richard unable to walk, speak, and breathe on his own. What an awful, awful disease. I cried at the end of this book and I have to say that books don't make me cry very often. I think this is an important book to read to be able to put yourself in the shoes of someone going through this horrible disease.
Girls' Night Out by Liz Fenton and Lisa Steinke: First of all, I have to say I am so impressed that two friends can sit down and write a book together. I mean, it's tough enough writing a book on your own, so I can't imagine collaborating with someone on every detail of characters and plot. The premise of the book will suck you in from the start. Three girlfriends on vacation in Tulum together, working on repairing their friendships, which have had some rough times over the past year or so. When Natalie wakes up one morning on the beach with no memory of the light before and can't find Ashley, she and Lauren immediately start searching for her. The book bounces back from the start of the girls' vacation to the search for Ashley and along the way, we're given more and more clues to what happened in their friendships and what occurred during their vacation together. I love how the details are doled out in this book and definitely wanted to read on, but I wasn't completely blown away by the ending. Some of the characters' interactions with each other bothered me a bit (specifically Lauren's anger toward Ashley), but overall, I still enjoyed the book. Girls' Night Out's official pub date is July 24, but you can pre-order it now. (thanks to NetGalley for my advance copy of this book!)
The Female Persuasion by Meg Wolitzer: Chances are you've been seeing this book everywhere. And you may have read Wolitzer's The Interestings, which came out in 2013. I love books written in this format, where we follow lots of characters throughout their lives with lots of different points of views and storylines going on. This book starts by following Greer when she's a freshman in college, feeling a bit lost and looking for herself. She has a bad experience with a boy at a party and soon after meets feminist writer and activist Faith Frank. She eventually goes on to work for Faith who becomes a central part of Greer's life. In addition to following Greer's storyline and young adult life struggles, we also follow her boyfriend Cory (definitely my favorite character in the book) and her best college friend Zee. The book seems to be getting a lot of criticism for being advertised as a "feminist" novel, while really, the characters' struggles are not very tough (and are the definition of white privilege). But honestly, this didn't bother me because a) I kind of think this is one of the big points Wolitzer is trying to make and b) I found it to be an enjoyable book and didn't need to put this sort of label on it. Overall, the book is a tad longer than it needs to be, but I liked it and am certainly looking forward to what's next for Wolitzer!
The Intermission by Elyssa Friedland: First of all, I am totally obsessed with the cover of this book! It's so bright and vibrant and makes me happy. Which is funny because it's actually a really sad cover, with a couple sleeping as far from each other as they can possibly get. And that's basically the premise of the book. Cass decides she needs a marriage "intermission" from her husband Jonathan and decides to move to LA for six months, while he remains in NYC. I definitely thought this was an interesting concept and was excited to see how it all played out. My main problem with it is that I just didn't like the characters at all! And I'm not someone who necessarily has to like the characters in every book I read, but Cass just drove me crazy with her totally self-centered motivations and plans. And while I liked Jonathan more, I hated the way he let Cass walk all over him (he flew back and forth from NYC to LA every freaking month so they could split custody of the dog!). Maybe I'm crazy and overly optimistic about marriage, but I feel like Cass should have dealt with her emotions a more of a mature way and if she couldn't, Jonathan should have said, "See ya!" However, I have to say that I love Friedland's writing and she's definitely "my" kind of author, so I'll be keeping a lookout for what she does next. The Intermission's official pub date is July 3, but you can pre-order it now. (thanks to NetGalley and Kathleen Carter Communications for my advance copy of this book!)
Dear Mrs. Bird by AJ Pearce: This book was SUCH a surprising delight for me. I picked it up on Amazon Vine having no idea what it was about, but quickly fell in love. The main character Emmaline Lake is such a sweet, likable career-driven girl living in London during the height of World War II. When she accepts a job as the assistant to an advice columnist in a woman's magazine (mistakenly thinking she was going to be a war correspondent!), she gets totally sucked in to the idea of helping girls with their struggles. In the meantime, she's also working as a volunteer for the fire department (dealing with the German bombs falling nightly in London), dating, and hanging out with her friends. This book might be a little light and "silly" to some (Pearce capitalizes words having to do with Emmy's emotions), but I found it to be perfectly enjoyable. I think it's the perfect balance of light fun and serious/emotional and was just the read I needed in my life right now. I actually miss Emmy now that the book is over and am not-so-secretly wishing A.J. Pearce would write a sequel. Hint hint. Dear Mrs. Bird's official pub date is July 3, but you can pre-order it now. (thanks to Amazon Vine for my copy of this book!)
The Summer List by Amy Mason Doan: Another book that I loved! I was a little nervous at first because I saw some comparisons to Judy Blume being made... But happily, the comparisons are totally fair! The Summer List is totally like a Judy Blume book for adults. Laura and Casey were best friends growing up, but had a falling out some time after high school graduation. This book starts off about 17 years later, with Casey inviting Laura back to her childhood home for a reunion. She apprehensively goes and when she arrives, she's learns the reunion isn't all that she thought. I love the way the details are revealed in this book; it's not a mystery or anything, but there's a lot of information withheld that will keep you guessing and wondering what the full story is. You'll likely become invested in the girls' friendship and won't want to put this one down. In some ways, this is a beach read, but only because it's perfect for enjoying by the water in the sun. It's a lot deeper than your typical beach read. This is the debut novel for Amy Mason Doan and I can't wait to see what's next for her! The Summer List's official pub date is June 26, but you can pre-order it now. (thanks to Kathleen Carter Communications for my advance copy of this book!)
The High Season by Judy Blundell: This one is another summery beach read. It's a solid book that I enjoyed, but wasn't totally in love with. The story place in Orient Point, Long Island, a spot next to the Hamptons where many live who a) can't afford the Hamptons or b) want to live somewhere a bit quieter and less glamorous... Though that is all changing as Orient Point is becoming an increasingly more popular place to be. Ruthie and her estranged husband Mike have a house in Orient, but rent it out every summer since they wouldn't be able to afford to live there otherwise. This summer, Ruthie and her teenaged daughter will be living at a wealthy friend's house (who is vacationing in Europe), while a wealthy woman rents their house out. I love this concept, but felt like the book wasn't overly exciting and was a bit slow-moving for me. I also didn't get as invested in the characters as much as usually like to. However, I would say the book is enjoyable and I did want to continue reading on to see what kind of resolutions would be made. And I'd certainly pick up another book from Blundell! (thanks to Amazon Vine for my copy of this book!)
Lady Be Good by Amber Brock: I really enjoyed this fun, light summer read and would highly recommend it as a beach read, especially if you happen to be vacationing in Miami and are planning to have a few cocktails on the beach. Kitty Tessler is the daughter of a wealthy and successful hotel/nightclub owner. She's her father's pride and joy and very well-off financially... But it's not enough for her. She has aspirations of being in the highest possible position in 1950s New York City society, where she will be "untouchable."But as we all know, love doesn't always care about our plans and this is a lesson Kitty will learn throughout the novel. It was so fun to read about Kitty and her friend Hen's nights out, shopping trips, etc., though a few of Kitty's schemes (girl is a go-getter!) were a little far-fetched for me. Overall, this is a fun read that should fit perfectly on your summer vacation reading list. Lady Be Good's official pub date is June 26, but you can pre-order it now. (thanks to Kathleen Carter Communications for my advance copy of this book!)
What You Don't Know About Charlie Outlaw by Leah Stewart: I picked this book up having no idea what it was about and it was another super pleasant surprise! Do you ever wonder how fiction writers can continue to come up with new innovative ideas? Well, this book is like nothing I've read before and highlights how crazy creative its author, Leah Stewart is. It focuses on two characters who have recently ended their relationship. Josie, is a 40-year-old actress best known for a TV series she starred in 20 years earlier. Charlie Outlaw, also an actor in his 40s is heartbroken over the breakup and decides to totally disconnect on a trip to a tropical island. But he ends up being way more disconnected than he hoped to be because soon after he arrives on the island, he's kidnapped! Josie's home in LA trying out for new roles, reconnecting with the cast of her old show, and wondering why Charlie isn't responding to any of her messages. The book jumps back and forth between Josie in LA and Charlie trying to survive with his totally inept captors. I found the book to be the perfect balance of entertaining and suspenseful, with just the right touch of weirdness. (thanks to Amazon Vine for my copy of this book!)
What a fabulous month!! I hope that you got a few good summer book recommendations to add to your reading list. I promise I'll have June's reviews out a lot earlier next month so you can keep your summer reading going. In the meantime, I need to go catch up on some major reading time!
Have you read any good books lately?
If you're looking for more book recommendations, feel free to take a look at my other book review posts from so far in 2018:
What I Read in January
What I Read in February
What I Read in March
What I Read in April