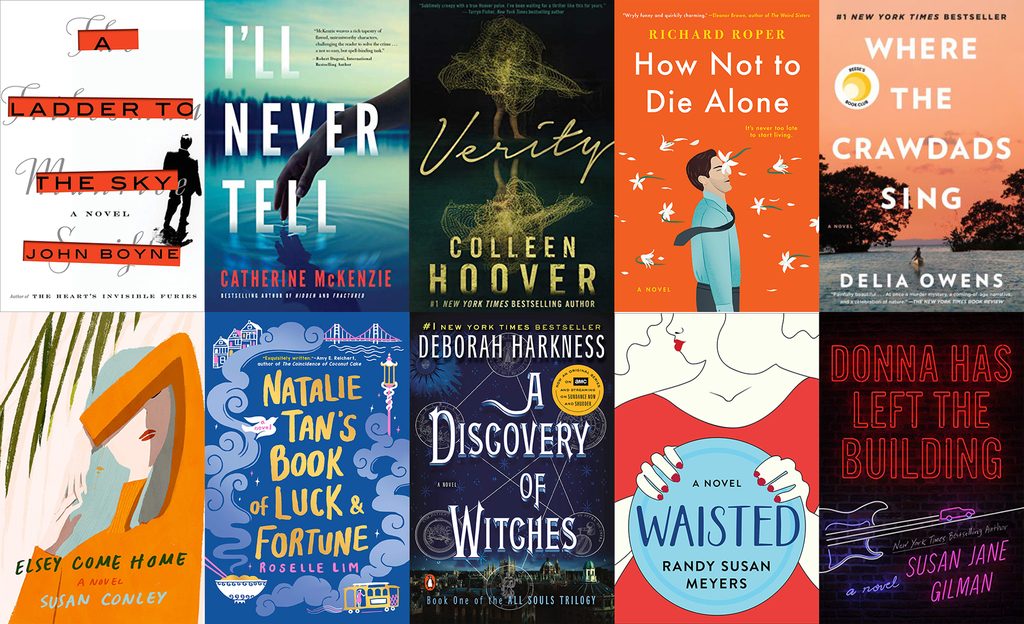 Hi, friends! I'm a bit behind on my book reviews for the year (too much summer fun!), but I'm finally catching up and getting these recommendations out to you. I have to say that May wasn't my absolute favorite month of reading though I do have two five star books on my list and some other really good ones, too! The best part? I discovered a new-to-me author who has a nice little catalog I can now jump into. I actually can't believe I read 10 books this month as I feel like I've been seriously lacking in reading time; not quite sure how that happened. Although you wouldn't know it from the looks of my current "TBR" shelves... They're absolutely overflowing with awesome summer books that I can't wait to get to and then share with you!
For now, let's jump right in to what I read in May. Just an FYI that links to some of the books below are affiliate links (meaning that at no extra cost to you, I will earn a commission if you click through and make a purchase) and some were gifted to me by their publishers. Thank you for supporting WANM!
A Ladder to the Sky by John Boyne: Wow to this book. Also, how have I not read any John Boyne before? BRB going to purchase all of his books immediately. But seriously, this book may not be for everyone, but it's exactly the kind of book I love. From the characters to the writing style to the plot to the book's structure, there's just so much I like about it. The book does start off a little bit slowly and you may not quite know where it's going, but keep reading! Seriously. Keep reading. Also, I don't want to give away too much of the plot as I think it's better as it unfolds in front of you. Just know that main character writer Maurice Swift is not a likable character at all (he's good looking and he knows it, he's fame hungry, he's a user and manipulator, and he's sadly just not that talented), but I couldn't help sympathize with him a bit and his strong desire for success. I think my passion for writing and publishing made me love this book even more. This is one of those books I wish I could read for the first time again. Even though that's not possible, I'll definitely be re-reading it, just as soon as I read Boyne's other novels. (thanks to the publisher for my copy of this book!)
I'll Never Tell by Catherine McKenzie: Don't go into this book thinking it's going to be a true "thriller." I feel like if you go in thinking it's a thriller, you're not going to like it as much as you could. I'd say it's more of a mystery "whodunit" with a lot of family dynamics at play. It's not scary at any time or super suspenseful, but you will likely find yourself trying to figure out what happened to Amanda Holmes at Camp Macaw all those years ago and pinning the blame on various family members as you go. It's a multi-POV book, which I really liked, but which also got somewhat confusing at times. I almost needed some kind of chart to differentiate between the five MacAllister siblings (or at least the four sisters) until about halfway through the book. But other than that, I like the sibling dynamics and the different POVs. The book bounces back and forth from current day to 20 years ago and the events of the fateful night Amanda went missing. I think I blamed every single person in the book on Amanda's death as I read and I was still pretty surprised by the ending. Overall, it's a great read as long as you don't go into it expecting anything crazy suspenseful or creepy. (thanks to the publisher for my copy of this book!)
Verity by Colleen Hoover: Holy moly. Have you read any Colleen Hoover books before? If so, you should know that Verity is NOTHING like those. She's typically a romance writer and while Verity does have some romance in it, it's definitely more of a suspense/thriller. This is the kind of book that makes your heart pound like crazy. The kind of book that you can't decide if you love or hate because as much as it's making you feel icky and anxious, you also can't put it down and feel the need to keep reading on and on. And really, I feel like it takes true talent to write a book that can have this kind of dichotomous effect. Lowen Ashleigh is a struggling writer who has just been offered the opportunity of a lifetime. She's been hired as a ghostwriter for a celebrity author who's been in a serious accident and can no longer write. But before Lowen can continue writing Verity's series of best-selling books, she has to dive into all of the old manuscripts, Verity's notes, etc. While staying at the house with Verity's husband and son and conducting her research, she stumbles upon Verity's unpublished memoir... and let's just say the content in it is a little bit shocking. I don't want to spoil this one in any way, but just know that this is crazy good, but also crazy disturbing. I'm pretty sure I read it as fast as possible, in part to see what would happen and in part because I just wanted to be done with it. But what I really want to know is... how the heck does Hoover's brain come up with this stuff? I don't know if I'm totally impressed or totally disturbed!
How Not to Die Alone by Richard Roper: This is the kind of book that I really enjoy, but that also causes me major anxiety (in a different way than Verity above!). Andrew is a single man working a thankless job in public health and spending his free time chatting about model trains in online forums. He's not married or in a relationship, but due to a misunderstanding during his job interview, everyone at work thinks he's married. He decides to just go with it and the lie gets bigger and bigger. But now it's been years and he's successfully avoided anyone trying to meet his "family" or finding him out. And then Peggy starts to work with him... And he realizes she could actually be a friend to him... Maybe even something more... But he's so deep in these lies and doesn't know how to get out. Great plot (I also creepily loved the details of Andrew's job going into homes of the deceased to determine next steps), but I just have issues with characters telling lies and then letting those lies spiral out of control when everyone knows it will not end well. I found myself internally yelling at Andrew to just end the lies. But overall, I thought the author did a good job with the story and resolution. And Andrew is a quirky and super likable guy who I found myself rooting for throughout the novel. (thanks to the publisher for my copy of this book!)
Where the Crawdads Sing by Delia Owens: This is my other 5 star book for the month! If you haven't heard about this book yet, you may be living in a hole. I mean, I can't even believe it's been out for so long and getting so much praise and I'm only now just reading it. I think I was worried that I wasn't going to love it as much as everyone else because the description didn't make it sound like my kind of book. Luckily, I ended up absolutely loving it (I actually think I like it even more a month after reading it than I did while I was reading it if that makes any sense at all). Kya has had a rough childhood with her family slowly abandoning her until she is left completely alone in a hut in the marsh at age 10. Surprisingly self-sufficient and fine on her own, Kya is really just missing one thing; human interaction. But every time she tries to let someone get close to her, things seem to go wrong. The townspeople aren't accepting of "Marsh Girl," but barely anyone tries to get to know her instead just feeding rumors about her. We learn early on in the book that a young man is found dead and as the story unfolds, we learn how Kya is connected to him and why some are suspecting she is the murderer. While this is an important part of the book, it almost feels like a side story at times. I was just so much more concerned with Kya's life and emotions. It's a tale as old as time, but this book really has the power to teach people not to judge a book by its cover and that oftentimes, you have to get to know someone and their circumstances to really understand them. I feel like Kya's story is so important for everyone to read!
Elsey Come Home by Susan Conley: This book was sent to me and it looked short and sweet, so I randomly decided to pick it up. It started off slowly, but I ended up really enjoying it though it didn't necessarily blow my mind and I don't think it's the book for everyone. I describe it as a quiet novel with a slower pace. The novel starts with Elsey getting ready to go on a yoga retreat that her husband has strongly encouraged her to attend. We get the feeling that Elsey's husband is at his wits end and that their marriage will be in danger if she doesn't attempt to make some changes. As Elsey attends the retreat, we learn more about her past, including her struggles with balancing her career as a painter with being a good mother to her two daughters, her recent thyroid surgery, and her urge to drink alcohol every night. We also learn about some of the other attendees at the retreat as she gets to know them and their own personal struggles. Through Elsey's story, the book explores the challenges of marriage, motherhood, and addiction in a manner that's likely to be relatable to most (even if you're not married, a mother, or an addict). I'm glad I picked this one up though it wasn't the most exciting book in the world. (thanks to the publisher for my copy of this book!)
Natalie Tan's Book of Luck & Fortune: First of all, check out the cover of this book! Seriously one of the most gorgeous book covers I've ever seen. I had super high expectations for this one because it's packed with the kind of stuff I love- family drama and lots and lots of food and cooking. Sadly, it didn't totally fulfill my expectations, mainly because I felt like the magical realism weaved throughout didn't totally work in this novel. When Natalie's estranged mother dies, Natalie moves back to San Francisco for the funeral and decides to stay and re-open the restaurant her grandmother once ran. Her grandmother left behind a book filled with her recipes with descriptions of the powers they hold (i.e. some foods bring comfort, some love, some courage, etc.). The problem for me was that the book was more "fantasy" in this way. The food she makes doesn't heal in a subtle way; it heals in a "one minute you hate your spouse and the next minute you're madly in love," which just felt so unrealistic to me. Lim is a truly talented writer and her prose is beautiful. She also writes great characters and clearly knows how to build a story; it was really just details with the plot that I had some issues with. Parts of the story felt rushed and underdeveloped, especially Natalie's budding "relationship" with a man she meets. Clearly, there were many things in this book that really bugged me. But I really would read another book from Lim and think she is such a wonderful writer. She also killed it with the food descriptions and I want to make so many of the recipes in the book! And obviously that book cover belongs in a frame. (thanks to the publisher and NetGalley for my copy of this book!)
A Discovery of Witches by Deborah Harkness: OK, I just said I don't really love magical realism and now I'm going to tell you how I enjoyed this book about witches, vampires, and daemons. That makes sense, right? But for me, the fantasy worked here. To be clear, this book feels kind of like a guilty pleasure. In many ways, it reminded me of the grown up version of Twilight. Which I also kind of felt the same way about. It's like, I know it's not the best book in the world and I know the love story is a bit ridiculous at best... But I keep reading on. And will most likely pick up the second and third books in the series, too. In part because I'm a finisher, but also because I think I was unwittingly sucked into these characters' lives and now I must know what happens to them. I love the concept of living in a world where witches, vampires, and daemons are roaming among us, all with their own powers and secrets. For whatever reason, this is so intriguing to me and definitely one of the reasons I enjoyed this book. When witch Diana meets vampire Matthew while she's conducting doctoral research, we're not quite sure what's going on, but only that things are about to get interesting. Different species aren't really supposed to co-mingle, but it turns out Matthew is working to protect Diana from other beings who are out to get her due to her strong powers (which she's never really cared to use, despite knowing she's a witch). There's cringe-y vampire love in this book (much like in Twilight) and lots of eye rolling moments, but still, I read on. I'm not going to pretend this book is high-literature, but if you need a little escape, let yourself get lost in this trilogy (oh, and there's a television show on AMC, too!).
Wasited by Randy Susan Meyers: I really liked the premise of this book and I started to get sucked in from the start. Meyers builds wonderful characters that are easy to relate to and that cause readers to really care about. I enjoyed getting the backstory of Alice and Daphne's lives and their current situations. Both women are wives and moms with pretty good lives aside from one major factor- they're constantly thinking about their weight and more precisely, how to lose it. When they hear about the chance to go to a weight loss resort and have their experience filmed, they both sign up. But the weight loss resort is not at all what it seems! Here's where I got major Nine Perfect Strangers vibes (the Liane Moriarty book). This is no ordinary weight loss resort and Alice, Daphne, and the five other women at the resort are basically abused by the coaches. It was actually difficult to read this section of the book for me and to hear the terrible things the coaches were saying. Despite my initial interest in the book, I just had a hard time caring after a while. The book seemed to drag on a bit and everything ended up feeling anticlimactic to me. I know the author was really working to make points about the struggles women face and how weight can enter every single part of your life and she does a good job of that. But the story just felt meh to me and I don't feel like I was left with any real resolution. Though maybe that's the point? Overall, I enjoyed the book for the most part and it definitely made me think about my relationship with my own weight/body image and how it seeps into other aspects of my life. It just wasn't a favorite book for me! (thanks to the publisher for my copy of this book!)
Donna Has Left the Building by Susan Jane Gilman: This book is a wild ride. Seriously, wild. I have such crazy mixed feelings about it; I don't even really know how to process it. I'll start by saying that Gilman is a really talented writer who knows how to build characters. She also knows how to make readers laugh out loud. I was dying for the first third of this book. The story bordered on realistic and totally over the top that I found myself telling my husband the plot and realizing how ridiculous it sounded. But I was really enjoying it. Then the main character, Donna, kinda goes off the rails in a way that I didn't find super realistic. I understood her need to get away, but her actions just seemed way over the top and not totally fitting for how her character was built up. But that's OK; at this point, I was willing to just let myself take it for what it was and just enjoy it without reading into it too much. But it just kept getting stranger, until the last quarter of the novel, which honestly felt like a completely different book. Let's just say this book has everything from men dressed as naughty maids, rendezvous with ex-boyfriends, alcohol, drugs, jail, and dying refugees. I don't even know. This book is definitely not for everyone. At all. You should read all the reviews and make your own decision on whether or not to read it. My feelings are mixed, but I can't deny that the book entertained me and Gilman is a talented writer. I'd definitely read another from her. (thanks to the publisher for my copy of this book!)
And that's my May in books! I can't wait to share my June books with you because there are some reallyyy good ones in there!
What's the best book you've read lately?
If you're looking for more book recommendations, feel free to take a look at my other book review posts from so far in 2019:
What I Read in January 2019
What I Read in February
What I Read in March
What I Read in April