Looking for a good book to read? This post is part of my monthly "What I Read" series and features the books I read in May 2020 with lots of recommendations for you! All of these books pair perfectly with donuts, cookies, pasta, or pizza… And always a glass of wine.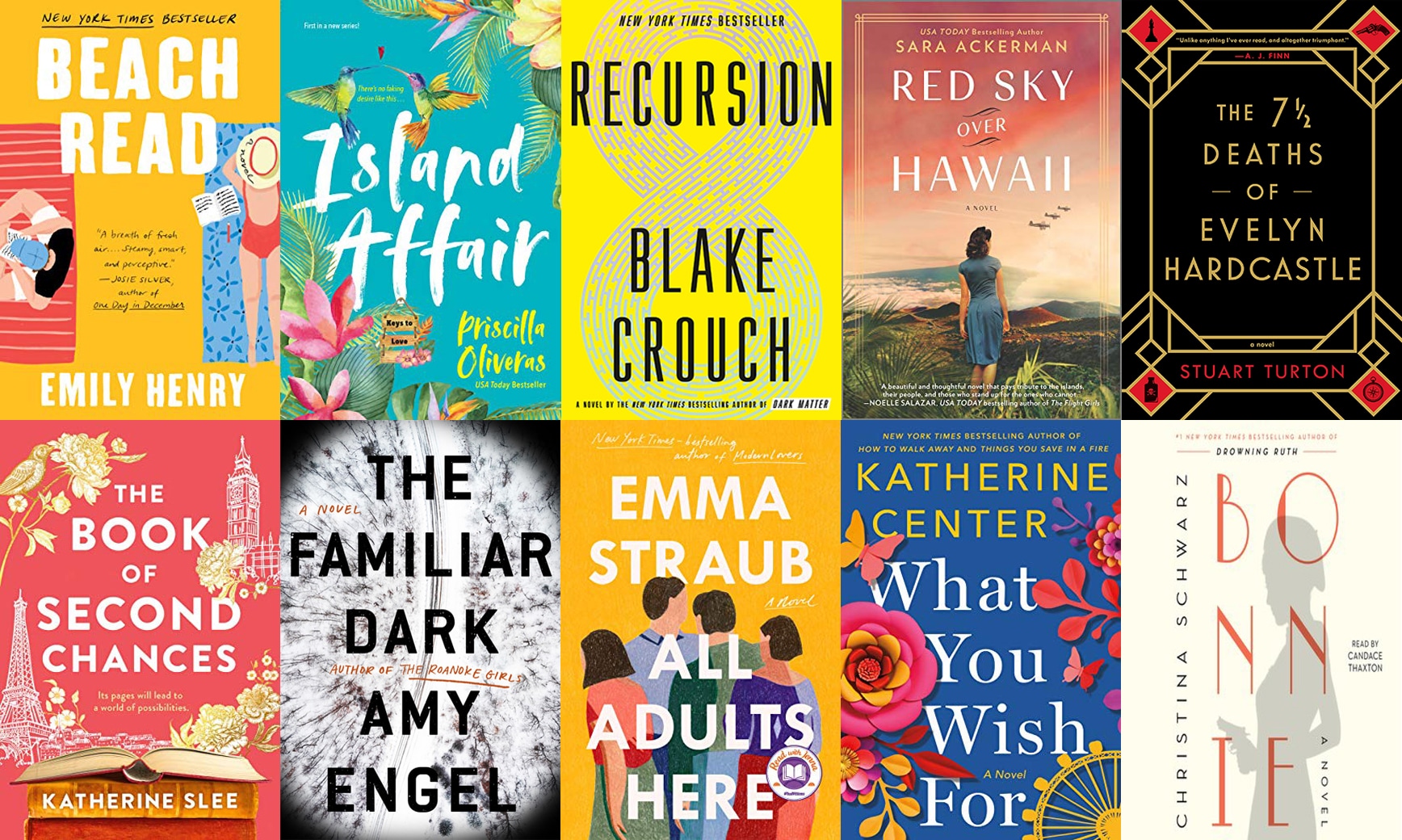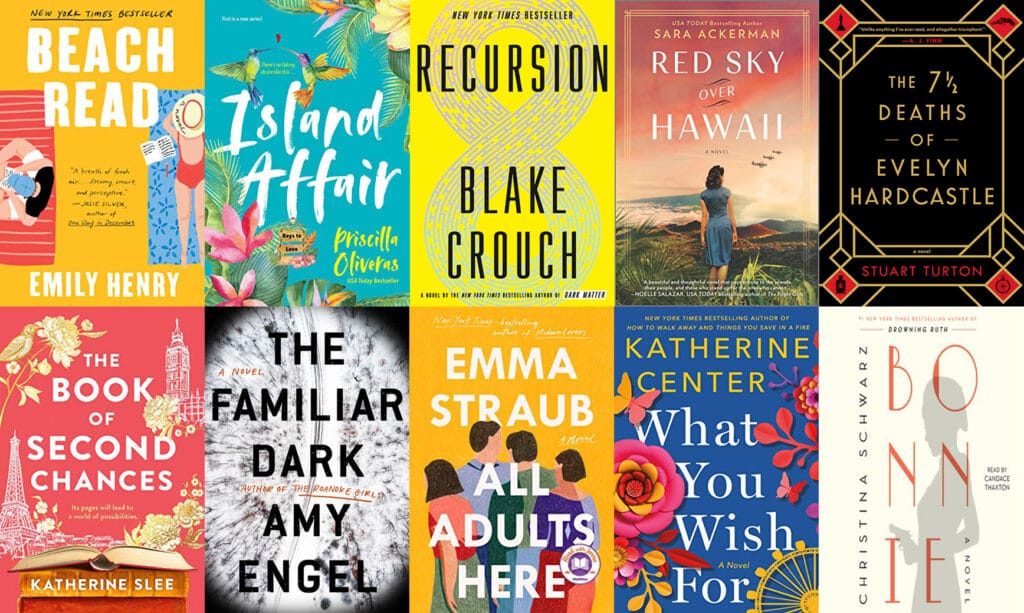 Hi, friends!! I hope you're enjoying your summer and have been able to find some downtime for a few good books. Since we're mostly still stuck at home, I've been able to read quite a bit this summer and May was a great month for me in terms of books (and spoiler alert: June has been even better!).
I'm more than ready for the world to get back to normal, but in the meantime, I'm doing my part to stay home and taking advantage of some extra reading time. Have you read anything good lately?
Just an FYI that links to some of the books below are affiliate links (meaning that at no extra cost to you, I will earn a commission if you click through and make a purchase) and some were gifted to me by their publishers. Thank you so much for supporting WANM!
Beach Read by Emily Henry: If you're looking for a fun summer beach read, this book literally called Beach Read is an obvious choice! I absolutely loved it because it's a light and fun romance book that's a lot deeper/smarter than the average romantic beach read. The book is about two writers who were once college rivals. Both went on to become successful authors, Augustus a "serious" literary writer and January, a romance author. When January's father passes away and she moves into the house he shared with his mistress for the summer, she discovers her old rival lives next door. They end up making a deal to try to understand each other's craft... Augustus will try to write a romance and January literary fiction. In the process, they connect in ways that weren't expected. I'm not making the plot sound very exciting, but I promise that this book is written in a way that helped me get really invested in the characters and feel really connected to the outcome of the novel. I want a January and Gus sequel and highly recommend this book!
Island Affair by Priscilla Oliveras: This is another fun summer read, though it didn't totally blow me away and was a little too much on the "steamy" side for me (but huge credit to Oliveras for writing really good steamy scenes!). When Sara's boyfriend bows out of her Key West family vacation at the last minute, she is incredibly disappointed. Desperate to show her family she's in a good place and in a healthy relationship, she takes a huge chance and asks a guy she just met (upon her arrival in Key West) to pretend to be her boyfriend. A lifelong resident of Key West, Luis agrees to pose as Sara's ex and the ruse is on. Honestly, this all felt super stressful and unrealistic for me and I had way too many questions about how this could work. But I had to just suspend my disbelief and go with it. I enjoyed seeing the chemistry between Sara and Luis and loved that Sara's job as an influencer was portrayed well. I should mention Sara has an eating disorder and there is some debate about how this portrayal was handled, so keep this in mind as a potential trigger warning. This book is part of a series that I believe will continue with different members of Luis's family as the focus and I'm sure I will continue to read them! (thanks to the publisher for my copy of this book!)
Recursion by Blake Crouch: I really, really loved Blake Crouch's Dark Matter, so I was super excited to read Recursion. Sadly, I didn't love it nearly as much... But I honestly think it's because my brain doesn't work well with alternate timelines/memories/etc. I was very intrigued by the book at the beginning and couldn't wait to see how things unfolded. It starts with Barry Sutton trying to convince a woman not to jump off a building and commit suicide. He learns she's experiencing False Memory Syndrome, a seemingly new syndrome that gives people vivid memories of alternate lives they've lived. I LOVED this concept. We then learn about Helena Smith, a scientist who has developed a machine that will help people with Alzheimer's recall memories. Also intriguing. But then it's determined that the device can actually send people back in time and lets them create new alternate timelines. Once they start experimenting with this, there's a ton of back and forth time travel, new/false memory creating, and, for me, a lot of confusion about what the heck is going on. If you enjoyed the movie Inception, that's the closest thing I can think to compare Recursion to. It's mind-bending and a wild ride that will give you A LOT to think about. For me, it just didn't live up to Dark Matter (Dark Matter hurt my brain, too, but was much easier for me to conceptualize). Some day I think I might try to give it another read, but my brain needs a break for now!
Red Sky Over Hawaii by Sara Ackerman: I fully admit that part of my love for this book is because I have a deep infatuation with Kilauea Volcano in Hawaii. But even if you've never visited Hawaii and know nothing about its volcanoes, I still think you'll love it! Everyone knows about Pearl Harbor and most people know that many Japanese people were placed in internment camps following the bombing. But did you know that many Germans living in America were also placed in camps? Red Sky Over Hawaii gives readers a peek at the lesser known parts of WWII while also bringing in a beautiful story that includes a little bit of love. When Lana returns to the Big Island to be with her ailing father, she instead ends up fleeing his home with a few neighbors and heading up to her father's secret house on the volcano. Pearl Harbor has been bombed and all Japanese and German people living on the island are suddenly suspects. Lana must hide her neighbors in her father's volcano home. But things get a bit complicated when she stars to get close to a military officer working at the detainment camp on the island. This is a beautiful story that also offers a history lesson. Annnd now I want to go back to Hawaii and learn more of its history! (thanks to the publisher for my copy of this book!)
The 7 ½ Deaths of Evelyn Hardcastle by Stuart Turton: Uh oh, another book about alternative timelines, shifting memories, etc. Can I handle it? Well, I probably shouldn't have read this one right after Recursion as my brain definitely needed a break. This book is about a man who lives the same day over and over, each day in a different person's body/mind as he works to solve a murder. If it were that simple, I may have been OK, but the fact that instead of just moving forward each day, there's also a lot of jumps back and forth in time, it was thoroughly confusing. Really, the concept of this book is really cool, but my brain just has a lot of trouble making sense of time switches, especially with so many characters involved. There are so many men in this book and I had a difficult time trying to tell them all apart... I probably should have made a chart (there is one in the beginning of the book, but it's not very detailed). I also admit that I'm not a very "careful" reader in that I read fairly quickly and though I savor books I'm loving, I don't generally want to spend a lot of time flipping back and forth and trying to figure out what I missed/where I went wrong. I did appreciate that the ending helped me make sense of some things, but in full honesty, this is just not the book for me.
The Book of Second Chances by Katherine Slee: I was left with mixed feelings about this one. The book is beautifully written and I loved how the story is woven together. But for whatever reason, it didn't suck me in and I felt like there was something missing the entire time I was reading it. After Emily's grandmother, a famous children's author, passes away, she sends Emily on a sort of scavenger hunt across Europe. Emily's childhood friend, Tyler, travels along with her, but there's a lot of mixed feelings there as the two lost touch after Emily was in a terrible accident as a young girl. Throughout their travels, Emily reads sections of her grandmother's diary from her own travels around Europe as a young woman. The book has all the elements of books I typically enjoy, but there was just something that prevented me from really sinking into this book. I enjoyed the excerpts from the grandmother's diary and there were some parts I found myself really enjoying, but then other parts would seem to drag on or not feel like they totally made sense. The scavenger hunt as a whole felt a little odd to me and I had trouble feeling really connected to Emily. Overall, this is a well-written novel that I think many will enjoy. I wish I could have gotten more sucked in! (thanks to the publisher for my copy of this book!)
The Familiar Dark by Amy Engel: For whatever reason, I'm not a huge thriller reader. I just have trouble connecting with them and while I occasionally really like some of them, I rarely absolutely love them. This thriller starts with the murders of two young girls. We are placed right on the scene as they take their last breaths, but we have no idea who is doing the killing. Flash forward to Eve learning about her daughter's murder. Raised by a not-so-great single mother in a very poor area of the Ozarks, Eve has always strived to do better for her daughter, despite the fact she was never able to leave the area she was raised in. She's obviously hit hard by the death of her daughter and vows to do whatever it takes to find her killer. As she hunts for her daughter's murderer, Eve is forced back into areas of her life she'd rather not return to, including reacquainting with her mother, connecting with an abusive ex-boyfriend, and communicating with the wealthier parents of the other girl who was murdered. The Familiar Dark has a lot of sadness to it. It's that age-old story of not being able to break away from how you're raised. There are definitely some twists that I didn't totally see coming and I felt like the author did a good job with the resolution of the novel. It's slightly too dark for me (another reason I don't usually love thrillers I guess!), but I think that's the point and obviously what the author is going for. If you like dark, slightly depressing, and want a couple twists and turns, you'll probably enjoy this one! (thanks to the publisher and NetGalley for my copy of this book!)
All Adults Here by Emma Straub: I'm a big Emma Straub fan and will read anything and everything she writes. Her newest one has some mixed reviews and though I really enjoyed it, I can certainly see why others may not have. I'm a huge lover of family dramas and while All Adults Here doesn't quite compare to my favorites (like The Most Fun We Ever Had), I still really enjoyed it! The book focuses on the Strick family, including the matriarch Astrid, her three adult children, and her granddaughter (and a friend of the granddaughter, too). In other books I may have thought there were too many characters being covered and would likely find myself drawn to some and bored by others but in All Adults Here, I was excited for every chapter. Each of Astrid's children are so different and I loved seeing how their childhoods and decisions Astrid and her husband made effected each of them. If I had one issue with the book it's probably that Straub almost seemed to be shoving hot button social issues in the novel. From a character coming out as gay to a character coming out as transgender to artificial insemination to racism to online predators to cheating to bullying... It was a lot. In some ways, I guess this is a commentary on life and it's ignorant to think you can live in a world where all of these things aren't happening all around us... We're just not used to seeing so much tackled in one book. On that note, I think this book could have been a lot longer... It deserved more pages and I would have happily read them. It's a character-driven novel (which I love), so if you're looking for a big conflict and resolution, you may be disappointed. I enjoyed that it's a commentary on life, family, and the "mistakes" all parents make along the way that can always be resolved in the future.
What You Wish For by Katherine Center: I know so many people who absolutely love Katherine Center and I know this is an unpopular opinion, but I just wasn't a fan of this book. I thought it would be a nice little lighthearted escape, but it honestly just left me annoyed. What You Wish For starts off OK, but it started feeling quite realistic to me quickly (the main character Sam quit her last job and moves cross country because of a crush she had on a colleague named Duncan and almost quits her current job due to him.... despite the fact they barely know each other and he doesn't even know she likes him). I have a hard time getting past unrealistic circumstances like this or characters I cannot relate to/understand at all, but probably could have managed if things got better. But the second Duncan comes to school, I knew exactly where the story was going and what would happen. It all felt so predictable. Also, the way Duncan is written borders on ridiculous and makes him seem like a cartoon or a clown. There were also so many incredibly obvious metaphors in the book that felt so elementary to me. I thought things might be picking up, but then the ending felt like a hot mess with so many strange things happening. I do know this book has a lot of fans and that speaks to the fact that we all love and enjoy different things. I wish I wasn't so nit-picky with some details, but if a book doesn't feel realistic to me and I can't understand characters' motivations, I have a hard time sinking into the story. And this is the kind of book I want to sink into; to turn my brain off and just relax. That said, the message of this book is a positive one and I really appreciate that and I can see why lots of people love this one! (thanks to the publisher and NetGalley for my copy of this book!)
Bonnie by Christina Schwartz: Everyone has heard of Bonnie and Clyde and most people know their basic story. But there's a lot many of us don't know, especially in terms of who Bonnie is and how she got caught up in a life of crime. This book was an interesting peek at Bonnie's life and does a great job at digging into how Bonnie got sucked into Clyde's crimes and why she didn't just break away when she could. First of all, I just have to say that man, crimes were so much easier to commit in the 20s than they are today! Somehow Bonnie and Clyde robbed banks, stole from citizens, broke criminals out of jail, and straight up murdered multiple people and got away with it for so long. And instead of going into hiding, they continuously returned home to see their families. I enjoyed learning about Bonnie and especially liked seeing how her mind worked. How she went back and forth between trying to be "good" and then reveling in the "fame" of being a criminal. It was also interesting to see how these criminals justified their actions against the "laws" and how once they got sucked into a life of crime, there was really no way out unless they did time in jail or got "the chair." I didn't absolutely love the choppy writing style of the book (especially in the beginning), but overall this was a super interesting peek at Bonnie's life. (thanks to the publisher and NetGalley for my copy of this book!)
My May in books definitely bodes well for the rest of my summer. Hopefully I can keep it up as I have a HUGE shelf of unread books currently waiting for me. Which books are you most looking forward to this summer?
To see what else I've read in 2020, check out other posts for the year:
What I Read in January 2020
What I Read in February 2020
What I Read in March 2020
What I Read in April 2020