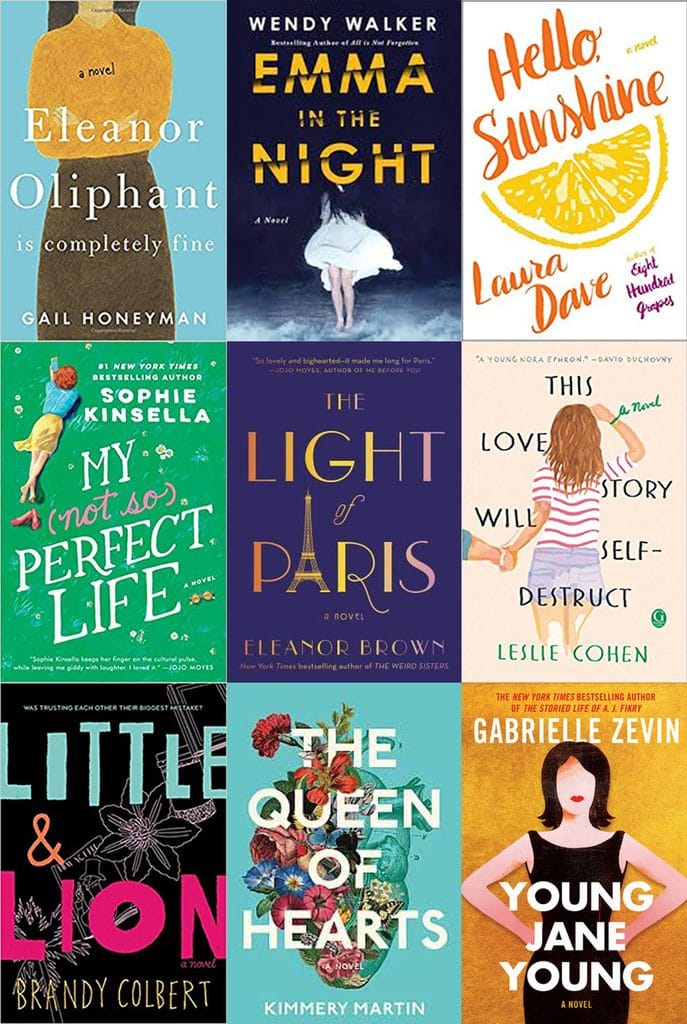 As promised, I'm slowly working to get my monthly book reviews up a bit earlier in the month, so at only halfway through December (wait, how is it already halfway through December??), here we are with November's reads! It was an awesome month of reading, in part due to the fact that I spent two weeks in Hawaii where I had plenty of time to read on the beach and by the pool. Ahh, can we go back yet?? It's suddenly 20 degrees in Boston and I legit cannot handle it. I'm going to post about my Hawaii adventures soon and I'm pretty sure I'll be crying onto my laptop as I remember everything.
I've read A LOT of books this year and am hoping to carry that into 2018, too. My reading "schedule" has been a bit disrupted since I now work from home and my precious commute reading time is gone (haha who actually calls their commute precious??), but I'm trying my best to take time every night before bed and sometimes when I first wake up. I'm actually toying with the idea of starting a new book review blog that ties books and food together, but haven't quite pulled the trigger. Thoughts??
For now, things are pretty busy with the holidays... If you're still in shopping mode, you should definitely consider books for gifts! For as long as I can remember, I've absolutely loved getting books on Christmas and I feel like there's nothing more intimate than giving someone a gift that's basically saying "this made me think of you and now I want it to bring you some joy." OK that sounds ridiculously cheesy, but it's true!! Of course, if you don't want to pick out a book for your loved ones who are a bit more picky, consider a subscription to the Book of the Month Club (affiliate link!). This service has been SO fun for me this past year and I got many of my favorite books of 2017 through it. Oh, and if you need any personal book recommendations for anyone in particular, feel free to shoot me a note!
Without further ado, here's everything I read in November! (Just an FYI that the links to the books below are affiliate links and my BOTM is an affiliate, as well. Thank you for supporting WANM!).
Eleanor Oliphant is Completely Fine by Gail Honeyman: This is one of those books I saw everywhere before I picked it up myself, but had no idea what it was about. Then, when I posted a pic of it to Instagram from Hawaii, so many people said they had read it or wanted to read it. It was so different than what I was expecting, but in such a good way. Eleanor is a one-of-a-kind woman and someone you will likely feel a special connection with... No spoilers, but I love that the story veered off in a direction I wasn't totally expecting.
Emma in the Night by Wendy Walker: Another book that wasn't super predictable for me! This one is about two sisters that have been missing for three years, when one suddenly returns home. We spend the novel trying to figure out where Cass has been and how to help her sister, Emma. It's one of those books where I didn't even try to figure out the ending too hard because I just knew it wouldn't be what I expected. It wasn't my favorite psychological thriller of all-time, but it's a good read and I loved the in-depth look of narcissistic personalities.
Hello Sunshine by Laura Dave: A book about a celebrity chef who is suddenly exposed for being a total fraud? Obviously I was going to pick this one up! I absolutely loved the concept of it, but really wanted to love the book more than I actually did. A lot of the details were a bit too unrealistic and far-fetched for me and while I loved Sunshine's character, there were parts of the book that were a bit boring and not fitting with the rest. That said, it's overall an entertaining read and I'm glad I picked it up! Also, it's making me question all food celebrities now....
My (Not So) Perfect Life by Sophie Kinsella: OK, so back in my day, I read every single Shopaholic book by Sophie Kinsella. I loved the first couple, but by book 3, I was like "omg is this girl going to keep getting herself in the same ridiculous messes??" and felt totally over them. So, I didn't have super high hopes for this book, but figured it would be a nice light beach read for Hawaii. And guess what? I LOVED it! This is Sophie Kinsella at her best. The main character, Kate, works at a marketing agency and I could relate to SO many of the goings on at her office. She is pretty miserable in most areas of her life, but works to portray a charmed life on Instagram (LOL). When she heads to her super small hometown to help her dad and stepmom set up a "glamping" business (love it!) she learns a bit about herself. I'm usually not a big fan of "character returns to small hometown and discovers what's important" books, but I loved Kat and all of the fun details in this book and really enjoyed this one. Great lighthearted read!
The Light of Paris by Eleanor Brown: I wasn't totally in love with this one, but I think it's just because I didn't like the main character, Madeleine, and her story bugged me a bit. She basically married her husband due to pressure from her mother/society, but it's clear they have zero chemistry and that he's a horrible person. I don't understand how she could have married him no matter how much pressure she felt! In addition to Madeleine's story, we get the story of her grandmother, Margie, and her time in Paris as a young woman. I enjoyed Margie's story more, but just couldn't connect the young Margie with how Madeleine described her grandmother and this really bugged me. This book has some awesome reviews though, so definitely check them out; it might be more your cup of tea.
The Love Story Will Self Destruct by Leslie Cohen: If you've been reading my reviews here for any amount of time, you know that I'm a huge fan of novels where we meet the main characters while they're in college or right after and then follow them throughout their lives. This is one of those books. Though a bit ridiculous at times, I really liked Eve and became super invested in her life and relationships, especially her relationship with Ben. I read this book in two days and was sad when it ended. It will officially be on sale on January 23 and is author Leslie Cohen's first novel! (I received the ARC of this book through NetGalley)
Little & Lion by Brandy Colbert: This is another book I picked pretty much based on the cover from Book of the Month. I didn't even realize it was a young adult novel until I stared reading it! It ended up being a really beautiful modern young adult novel about step-siblings dealing with things like mental illness, sexual orientation, family, and racism. Heavy stuff, right? But the characters are so dynamic and engaging that you don't feel like you're being lectured or educated. I loved the relationship between Suzette and Lionel and believe this is a book that's really important for young people.
The Queen of Hearts by Kimmery Martin: Another novel by a newcomer author and one that I'm super impressed by. Kimmery is a doctor who also happens to be an amazing writer and decided to write a novel about best friends, one a pediatric cardiologist and one a trauma surgeon. You'll literally feel like you're reading an episode of Grey's Anatomy, but with a lot more smarts. But still plenty of drama! And a few parts where you'll want to close your eyes due to all of the medical detail. Zadie and Emma have been friends since they were kids, went to medical school together, and remain friends years later. But when the mysterious Dr. Z (basically McDreamy!) comes back from their past, all kinds of old memories are dredged up, hence the drama. This book doesn't come out until February 18, but you can pre-order it now! (I received the ARC of this book through NetGalley)
Young Jane Young by Gabrielle Zevin: I LOVED this one. It's about a young woman, Aviva, who has an affair with a Florida Congressman while she's an intern (hello, Monica Lewinsky!). When news leaks, it basically ruins her life... To the point where she runs away from home, changes, her name, and tries to forget her past. The book feels timely in that it explores relevant women's issues... You know, like how unfair it is Aviva's life is ruined, but the Congressman's life remains unchanged. It's empowering and engaging and I found myself not wanting to leave Aviva/Jane behind. One of the quotes in the book, "When they came at me, I kept coming," absolutely gave me chills and made me realize how often I "move out of the way" to keep the peace and honestly has me looking at the world a little differently.
I think November was one of my happiest reading months yet and 2017 is definitely my biggest reading year yet.
Tell me, is there anything I need to read before the year is over??
Check out my previous lists of reads from earlier this year for tons more recommendations!
Here's What I Read in January
Here's What I Read in February
Here's What I Read in March
Here's What I Read in April
Here's What I Read in May
Here's What I Read in June
Here's What I Read in July
Here's What I Read in August
Here's What I Read in September (includes my FAVORITE book of 2017 so far!)
Here's What I read in October