If you're looking for a good book to read, you've come to the right place. This post is part of my monthly "What I Read" series, featuring the books I read the previous month with lots of recommendations for you! All of these book pair perfectly with donuts, cookies, pasta, or pizza… And always a glass of wine.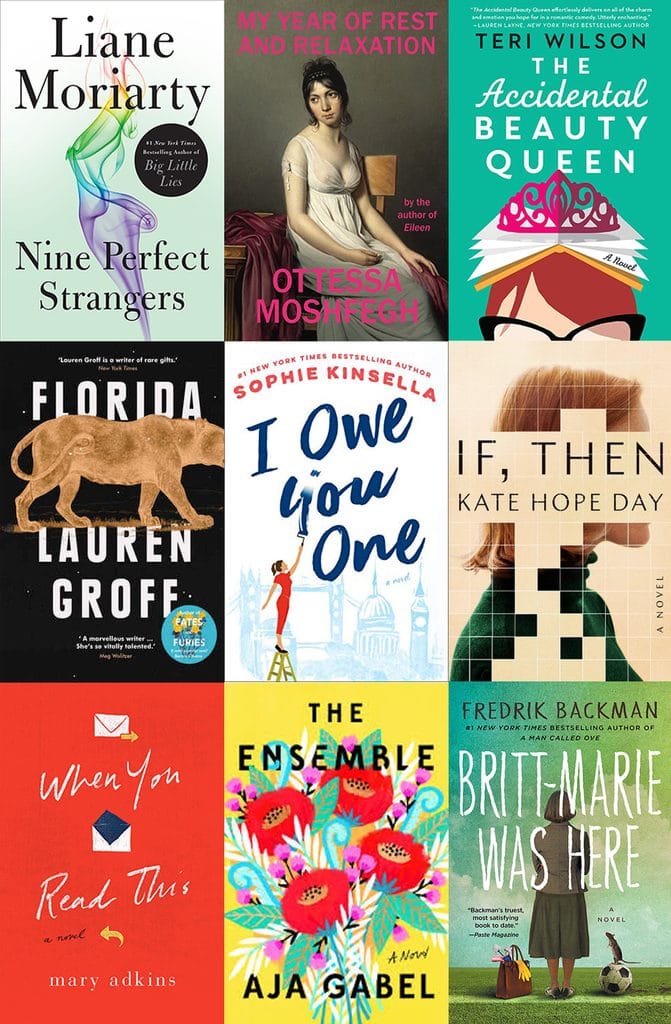 Hello, friends!! I hope you are in the midst of a very merry holiday season! My November reads post is coming to you a bit late... Mainly because I had too many fun holiday recipes to share with y'all and didn't have time for a book break. But it's here now... Right when I'm just about done with my December reads. I'm actually right on target to complete my 2018 reading goal of 100 books and I'm trying to decide how I want to structure next year's goals. I've had the 100 book goal for the past several years and it's worked out well for me, but it also feels like a bit too much pressure sometimes; especially when there's a longer book I want to tackle. I'll probably end up keeping the goal loosely, but not being too hard on myself with it.
Do you have yearly reading goals for yourself? I like to track all my books on Goodreads, which also tracks my goal progress. 100 books may seem like a lot, but when I think about all I want to read and how many new books come out each year, it's not nearly enough! But I know from experience, I can't possibly go any higher. If you're not a big reader, I think even starting with a goal to read one book a month is huge. And don't forget about audiobooks! They let you "read" while you're driving, cooking, getting ready in the morning, etc. There are so many ways to fit in some reading!
The week between Christmas and the New Year is one of my favorite for reading since it tends to be a bit quieter than average... It also lets me fit in my last-minute reads for the year. What books are you ending your year with? Even though, I still have another month of books to share with you from 2018, I'm ready to share my top three books of the year with you! If you only read 3 books in 2019, let them be these:
#1: Beartown by Fredrick Backman
#2: The Great Alone by Kristin Hannah
#3: A Place for Us by Fatima Farheen Mirza
OK, here we go! My last book post of the year... But I'll be sharing my December 2018 reads with you in January! Just an FYI that links to some of the books below are affiliate links and my Book of the Month Club is an affiliate link (which means that at no extra cost to you, I will earn a commission if you click through and make a purchase). Thank you for supporting WANM!). And don't forget to follow my book Instagram account at @booksontheside!
Nine Perfect Strangers by Liane Moriarty: This was one of my most anticipated novels of the year. I mean, Liane Moriarty (of Big Little Lies fame) can basically do no wrong and I always look forward to anything new from her. I admit, I didn't love her last new release as much as others, but I had high hopes for this one. And I ended up with very mixed feelings. I really, really loved the first half of it! It's about nine people who are at a health and wellness resort, all for different reasons. The main character, Frances, is a divorced romance writer who fell for an internet romance with a scammer. She's such a a great character and I loved her story and seeing her interactions with the other guests at the resort. I was warned that the book gets a bit weird, but wasn't too worried because I can generally handle weird. But I guess it just wasn't the kind of weird I enjoy. I don't want to give anything away, but basically, there's some sketchy business going on at the health resort that's all kinds of wild. It almost felt like Moriarty had this idea for a book, but didn't know quite where to take it. OR she took it her own way and her editor thought it would be better sensationalized a bit. Let's just say, I can totally see this book being a movie or miniseries. All in all, I will still read every book Moriarty writes and will watch this when (not if, but when) it comes to the big screen or my television.
My Year of Rest and Relaxation by Ottessa Moshfegh: Do you ever go into a book thinking you know what it's about only to realize halfway through that you're completely wrong? And then having a hard time wrapping your head around what the book is actually about? That was me with this book. I didn't hear a ton about it before I started reading, but I thought it was about a spoiled millennial who decides life is hard and that she wants to just chill for a year. And I mean, I guess it was kind of about that? But to a serious extreme. The main character (we don't even know her name) is in her 20s and going through a tough time. Both of her parents have passed away, she recently went through a breakup, and she's not fulfilled by her job (she also has a large inheritance). Basically, she's very depressed. And so she decides that what she needs is to sleep for a year. Yes, legit sleep. She gets her extremely unprofessional psychiatrist to load her up with some serious sleeping meds and gets to sleeping. The only problem is that some of the drugs are so strong that she often wakes up and realizes she actually left her apartment, went to bars, hung out with people, ran errands, etc. in her drug haze. But she can't actually remember what she's done. The book goes on like this, with the main character hiding her keys from herself before sleep, being a horrible person to her only friend, and going to her monthly therapist appointments for more drugs. I think I alternated between feeling like this book is a bit ridiculous and also understanding how serious it is and how it's a commentary on depression and wealth... I also liked it a lot more once I was done with it and had time to reflect on it.
The Accidental Beauty Queen by Teri Wilson- OK, time for something a bit more lighthearted! This book is a sweet and fun one that was a good pick for me in a busy holiday season. It's one of those books that feels a bit unrealistic, but in a way that doesn't seem overly important. It's about a girl named Charlotte who is supporting and cheering for her sister Ginny in the Miss American Treasure beauty pageant. But when Ginny suffers a severe allergic reaction the night before the pageant begins, she begs Charlotte to step in for her. Charlotte begrudgingly agrees, but considering she and her twin couldn't be more different (Charlotte is a school librarian and spends most of her free time reading and not thinking about her appearance or anything beauty pageant related), she's not happy about it and has a lot to learn about pageants. It's fun to read about the ensuing antics, even though it doesn't really feel quite so realistic that they could pull this off. There's also a bit of a love story between Charlotte and one of the pageant judges and, of course, some lessons learned by the end of the book. I felt a bit like I was reading a Sophie Kinsella book with this novel and recommend it if you're looking for something light and easy to end your year with!
Florida by Lauren Groff: This one has been on my list for a while since I loved Lauren Groff's Fate and Furies. I'm not generally a big reader of short stories, but I had heard so many good things about this book that I was happy to make an exception. The stories in the book really let Groff's beautiful writing shine through even more than it does in her novels. I don't necessarily know that the collection is a shining endorsement of Florida, but then, I think a book like this could be written about any state; it just depends on what you focus on. And Groff's Florida certainly does not focus on Disney World and happy beach days. It's snakes and wilderness, discontented motherhood, and not-so-happy relationships. Some (most) of the stories are pretty heavy, but they are all so well-written that I don't recommend skipping any here.
I Owe You One by Sophie Kinsella: I'm pretty sure I will always and forever read everything Sophie Kinsella comes out with (which is at least one book a year), even though I might not be crazy in love with them all. Her newest one is super cute, but I think I loved My Not So Perfect Life so much that I'm comparing all her subsequent books to it. The concept of this book is a lovely one- A meet-cute with Fixie, a 20-something living with her mom and helping run the family store, and Seb, a businessman who asks Fixie to watch his laptop while at a coffee shop. I also thought the concept of "I owe you" in a new relationship is a good one (Fixie saves Seb's laptop and from that point on, Seb says he owes her). But there are so many parts of the book that just didn't feel believable to me, that were over the top, and that felt a bit forced. It also didn't really feel like there was much of a "story" until the book was practically over. To be fair, I have to remind myself that most of Kinsella's books are like this and that's what most of us like about them. I mean, Becky Bloomwood wasn't a totally believable character and was super exaggerated, but we love her nonetheless, right? If you're already a Kinsella fan, you should definitely pick this one up, too, especially if you want something a bit lighter.
If, Then by Kate Hope Day: I went into this book knowing absolutely nothing about it. But I'm happy that I didn't because I don't know if I would have read it based on the description... And I ended up really enjoying it. The concept of multiverses seemed odd to me, but it totally works in If, Then and had me thinking about the potential multiverses in my own world. The story focuses on a neighborhood and the people living in it, each of whom have their own issues- Ginny is a doctor working through some marriage issues and discovering new things about herself. Her husband, Mark, is a scientist frustrated his wife works so much (and leaves him to raise their son) and starting to worry about protecting his family from natural disaster. Samara is a young woman back in town after the death of her mother. And Cass is a new mom, struggling with her new identity after quitting school to focus on her family. Things start happening in the novel that make you realize everything isn't as you originally thought in terms of chronology and details. Some of the characters begin seeing other versions of themselves throughout their day. It sounds weird, but somehow it works. Kate Hope Day's writing reminds me a lot of Don DeLillo- musings on the daily lives of normal people with some sci-fi thrown in. Because the book isn't necessarily classified as "science fiction," that makes the sci-fi feel that much more believable and like something that could actually be happening in our normal every day lives.
When You Read This by Mary Adkins: This book is the perfect balance of serious and funny. And it's all told through a series of emails, text messages, and blog posts... Some very heavy and some much more light-hearted. It centers on Iris, a 33-year-old who has recently passed away after battling cancer, and the people she leaves behind. It covers the close friendship (perhaps more?) she had with her boss, Smith; the complicated relationships she had with her sister and mother; and the content she shared with her blog readers as she learned she was dying. Sounds heavy, right? Well, parts of it definitely are. It made me think a lot about relationships and potential regrets and how to move on after the death of a loved one. But there are also lots of light-hearted moments and even ones that made me laugh out loud. Smith is really struggling with Iris gone, dealing with difficulties in his own relationship with his mother and a failing PR business, and navigating a new friendship (perhaps more?) with Iris's sister, Jade. But his buffoon of an intern lightens the mood quite a bit. I also loved the comments left on Iris's blog posts since they so accurately portrayed a typical internet audience. I definitely recommend this one and because of how it's told in short emails, texts, etc. it's a pretty quick read.
The Ensemble by Aja Gabel: I've had this book on my list for a long time, I admit, mostly for the gorgeous cover. I ended up reading it on my Kindle, so I didn't even get to enjoy seeing the cover every day, but at least I got to enjoy the beautiful story about four friends who play in a quartet together. The book follows them through the years and explores their delicate and ever-changing relationships with each other, with others, and with music. Anyone who has ever worked incredibly closely with others, to the point where you're more than co-workers and your lives are intertwined, will really connect with this book. I have always been a fan of novels that follow characters from their youth into adulthood and this one is beautifully written. I loved each member of the quartet in a different way and for different reasons. But it was the ways they interacted with each other that affected me the most; the ways in which they created music and harmony together both on and off-stage. I'm so glad that the cover of The Ensemble sucked me in and I eagerly look forward to whatever is next from Aja Gabel!
Britt-Marie was Here by Fredrik Backman: OK, it's no secret that I love Fredrik Backman. A Man Called Ove was good, but Beartown was amazing and ranks as one of my all-time top books. I've been saving the Beartown sequel and so decided to read one of Backman's other books in the meantime. When I first started Britt-Marie, I wasn't totally feeling it. But the further I got into it, the more I loved it, thanks to the character of Britt-Marie who is just so endearing. When recently separated Britt-Marie moves to Borg for a job, she has no idea what to expect. Borg is a strange town; there's not much going on, jobs are rare, and it's a sort of forgotten area. There are a bunch of kids whose parents aren't around much and who are obsessed with playing soccer. The people of Borg may seem a little odd and I'll admit the book started off a bit slowly for me and was a little too "weird" for my liking. But the more I got to know Britt-Marie and the characters, the more I liked them and felt connected to them. By the end, Backman had me in tears. Over soccer! OK, so it was over much more than soccer, but still. I always tell people "Sure, Beartown is about a hockey town and its teams, but it's about SO much more." And the same can be said about Britt-Marie is here. Yes, it's about a small town and a soccer team, but if you ignore the book because you don't care about sports, it's a big mistake. And if you find yourself not loving this book at first, keep reading because it will be worth it!
I'm going to try to get my December reads post up a bit earlier in January, so I can end 2018 with a bang and jump fully into 2019 reading! There are so many book releases I'm eagerly anticipating in 2019 and I know it's going to be a good year!
What were your favorite books of the year??
If you're looking for more book recommendations, feel free to take a look at my other book review posts from so far in 2018:
What I Read in January
What I Read in February
What I Read in March
What I Read in April
What I Read in May
What I Read in June
What I Read in July
What I Read in August
What I Read in September
What I Read in October