Looking for a good book to read? This post is part of my monthly "What I Read" series and features the books I read in November 2019 with lots of recommendations for you! All of these book pair perfectly with donuts, cookies, pasta, or pizza… And always a glass of wine.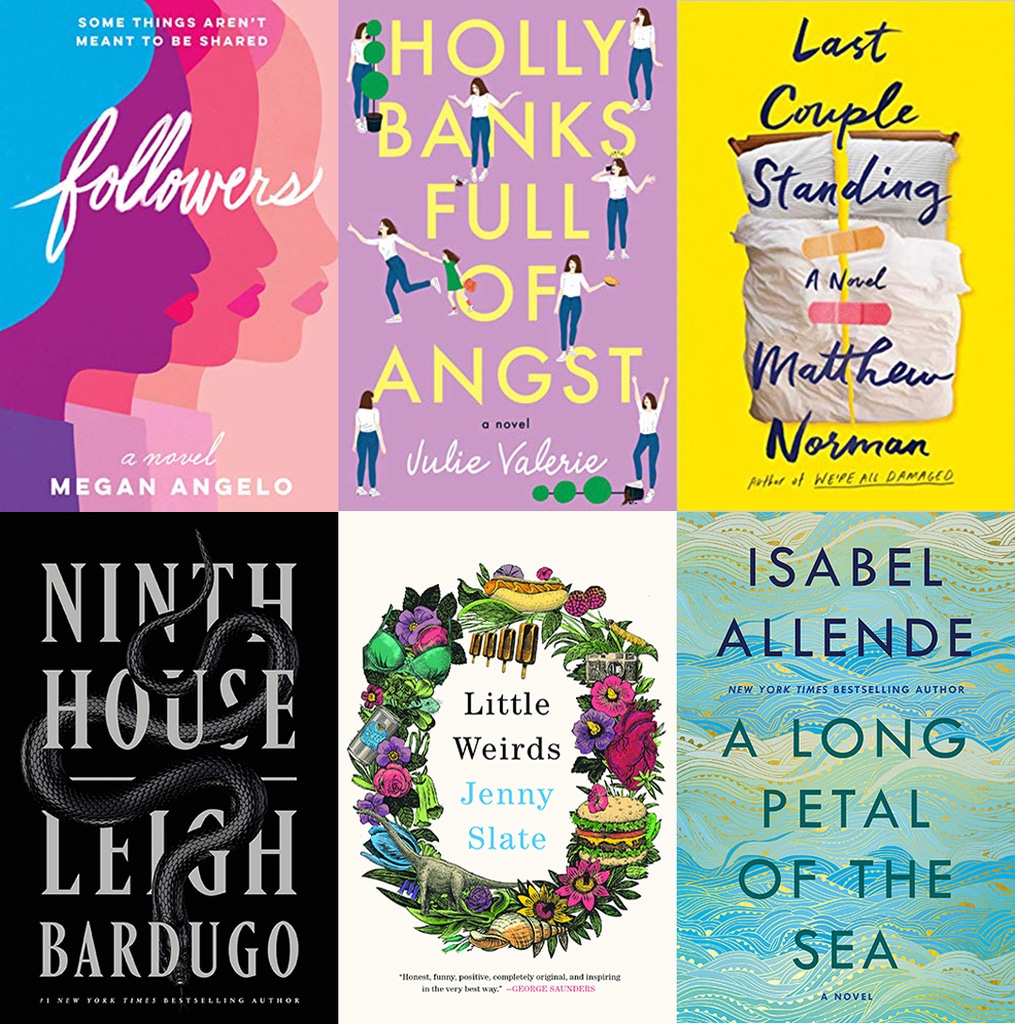 November was a pretty slow reading month for me, simply because I had a lot going on. OK, and also because a couple books slowed me down a bit. One that I didn't love took me soo long to get through (and put me in a bit of a reading slump) and one that I did love just happened to be a slower read for me.
How often do you decide midway through a book that you just don't want to finish it? I should probably do it more often, but I always aim to try to find enjoyment in whatever I'm reading. Also, some of my current favorite books actually took me two reads to really fall in love with and appreciate. It's happened to me so many times that I never like to give up.
Also, when a book has REALLY good reviews, I often try to convince myself that I need to like it, too. But I'm starting to learn that's not necessarily the case... Everyone has such different tastes and just because a majority of readers love something doesn't mean everyone will.
With that, onto my reviews for the books I read in November 2019. Just an FYI that links to some of the books below are affiliate links (meaning that at no extra cost to you, I will earn a commission if you click through and make a purchase) and some were gifted to me by their publishers. Thank you so much for supporting WANM!
Followers by Megan Angelo: If you like dystopian AND chick lit, this is the book for you! Orla is a 20-something living in 2016 working as a gossip writer trying to get her big break. When her roommate Floss desperately wants to become famous, she and Orla team up in ways that will benefit both of them. The book goes back and forth between 2016 and 2050 when we meet Marlow. Marlow is living in a community where everything she does is live-streamed to millions of fans. This is pretty much the only life she's ever known, but she's starting to realize all the ways it's not all it's cracked up to be. There is so much in the book that made me think, "oh man, this could really happen!" like the fact that millennials are all suffering serious health/memory problems as they age due to all the exposure to cell phones they've had (eek!). The book held my attention and I couldn't stop reading for the first half of it. Things slow down a bit in the second half and definitely doesn't end how how I thought it would... But it was still a very enjoyable read! Followers' official pub date is January 14, but you can pre-order it now. (thanks to the publisher for my copy of this book!)
Holly Banks Full of Angst by Julie Valerie: This book is all kinds of fun! However, there are lots of points of ridiculousness and sections of weirdness that go on a little too long, so it may not be for everyone. Holly Banks has just moved into a new wealthy "perfect" neighborhood with her husband and kindergartener. From the start, she realizes she's going to have trouble "keeping up with the Joneses" and seems torn on whether or not she even wants to try. The worst part of the town? The PTA president, Mary-Margaret St. James, is ridiculously obnoxious and won't quit until Holly basically signs her life away to volunteer with the school. This character is a little bit toooo wild for my taste; definitely larger than life and not totally realistic. But also pretty entertaining! In general, Holly Banks is a super relatable character (I love that she just has so much trouble getting her daughter on the bus every day) and I think this book is perfect for any mom who feels like she doesn't totally fit in (so, almost everyone) and is looking for an entertaining escape. (thanks to the publisher for my copy of this book!)
Last Couple Standing by Matthew Norman: When I first started this book, I was a little bit disappointed. It's the THIRD book I've read featuring couples that agree to sleep with other people in the last two months (the others were The Arrangement and Beside Herself). This seemed crazy to me and a sure sign that this plot is way overdone. But? I ended up really loving Matthew Norman's writing and finding myself enjoying the characters and story. Another thing all three of these books feature is the characters are in their 40s with kids and have friends going through divorces. I'm not yet in my 40s, don't have kids, and don't currently have friends divorcing, so I guess I don't totally understand the urge to make a deal with your spouse that allows you to sleep with other people, but I do see why it makes for an entertaining story. Last Couple Standing features four couples that have been friends since college. Three couples are going through divorces and though the last couple remaining (Jessica and Mitch) is relatively happy, they decide to keep their marriage fresh by letting each other sleep with other people. I feel like I really got to know the characters in this novel and was invested in them. There were a couple things that bugged me about the book- like how hard Jessica was trying to set Mitch up at some point with no discussion of how this would have emotionally effected her- but overall, I thought the book was well done and very entertaining. Last Couple Standing's official pub date is March 17, but you can pre-order it now (thanks to the publisher and NetGalley for my copy of this book!)
Ninth House by Leigh Bardugo: Clearly I am in the minority here, but this was just not the book for me! I can recognize that in many ways it's a wonderful book and I can definitely understand why so many people like it. But I personally did not love it. I was really interested the concept of the book and was excited to dig in. It's a fantasy book about Yale's secret societies and the campus organization that oversees all the houses. When a murder happens on campus, Alex Stern becomes obsessed with figuring out what happened (Alex has an interesting past and is at Yale as a freshman specially chosen to work for Lethe, the organization that oversees the societies.. She also sees ghosts). I really enjoyed some of the characters but overall, there was too much magic that didn't seem believable to me (I know magic doesn't have to be believable, but it was almost like "why try to figure out what's happening in this book because something "magic" will just happen to explain it however the author wants). I honestly felt like it was a chore to read. But be sure to read other reviews because lots of people LOVED it and it might be a fabulous book for you!
Little Weirds by Jenny Slate: This book is definitely WEIRD (with a capital "W"). In case you couldn't tell by the title or by knowing Jenny Slate and all her fabulousness. And I'm going to say that it's probably not the book for anyone. But if you're weird, too, and you often find yourself pondering life and all of its weirdness, you might find yourself really enjoying this! Some of the essays in this book are quick and some are a bit longer. Some feature kissing rabbits and some feature vaginas singing (what? yes.). My favorite one featured the time (times?) Jenny died while listening to a man talk. I could relate to this SO much and though I never imagined myself actually dying in these situations, now I do! And it actually helps. Little Weirds is the kind of book you want to read slowly and I don't recommend it if you're looking for something light and breezy to fly through. I think you really need time to take in each essay and fully appreciate what Jenny is trying to say. It's also the kind of book that I'll definitely return to at some point as I feel like the essays will have different meanings for me at different points in my life. (thanks to the publisher and NetGalley for my copy of this book!)
A Long Petal of the Sea by Isabel Allende: This is a beautiful book and I don't know why I haven't read more Isabel Allende. I'll admit that I went into A Long Petal of the Sea pretty clueless about the Spanish Civil War and I certainly knew nothing about the SS Winnipeg, which took Spanish refuges to live in Chile. And while it took me a little while to get into the book and definitely wasn't a quick read for me, I found myself crying by the end of it. The book starts in the midst of the Spanish Civil War, where Victor Dalmau is working as an army doctor and his brother is fighting on the frontlines. When his brother dies and the family is forced to flee Spain due to Francisco Franco's rise to power, Victor marries his brother's pregnant widow. Neither of them want the marriage, but it's the only way they can leave Spain together on the SS Winnipeg bound for Chile. The boat is being sponsored by poet Pablo Neruda, a man whose poems I know, but whose history I did not. Victor and Roser arrive in Chile and must make their new lives there, amongst a new world of political unrest. This isn't an easy book and probably not one you should read if you're looking for something light and easy. It's slow moving with lots of political details. It took me a while to get to know the characters and to feel connected to them, but once I did, I was fully in. If nothing else, this book will likely give you a new perspective on refugees and a deeper understanding of the life struggles so many people face.
Can you believe there's only one month left of books before we start a whole new year of reading?? This year felt like it flew by, but when I look back, I realize how many awesome books I read in 2019. To see all of them, check out all of my 2019 book review posts:
What I Read in January 2019
What I Read in February
What I Read in March
What I Read in April
What I Read in May
What I Read in June
What I Read in July
What I Read in August
What I Read in September
What I Read in October