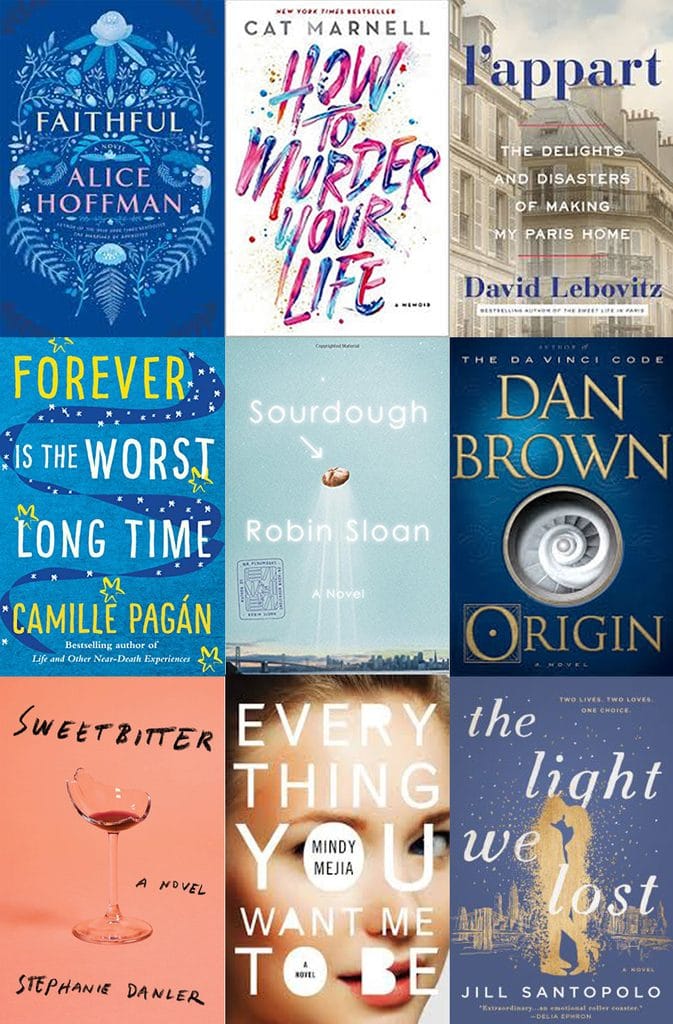 My book review posts are serious reminders to me of how fast time has been flying in 2017. Didn't I just write one of these posts?? But apparently not because tomorrow is the last day of the November (yikes!), so I really need to get October's reads up. In 2018, I resolve to start getting these up at the beginning of each month. But at the end of the day, you may not really care when I read these books since you can read them any time! But there are a few newer releases on here that I want to be sure you know about!
Speaking of time, do you tend to read more or less during the holiday season? Barnes & Noble just conducted a survey that determined the most popular day of the year for reading and it's surprisingly (at least to me) the day before Thanksgiving! I'm pretty sure the opposite is true for me and I don't know if I even cracked a book the day before Thanksgiving this year. But it does make sense when you think of how many people travel the day before the holiday and how reading and traveling just kind of go together. For me, I'm home cooking and baking and spending time with my family so I have less time to read.
I'm coming out with my 2017 Holiday Gift Guide for Food Lovers on Monday, but in the meantime, remember that books make the most perfect gifts and there are a few on my list this month that are perfect for food lovers!
(Just an FYI that the links to the books below are affiliate links (meaning that at no extra cost to you, I will earn a commission if you click through and make a purchase) and my BOTM is an affiliate, as well. Thank you for supporting WANM!).
Faithful by Alice Hoffman: Alice Hoffman is a favorite author of mine and I have been swooning over this book and its pretty cover for a while now. Faithful is very different from the Hoffman I'm used to (The Dovekeepers is a fave of mine!), but I loved it. It's follows the story of Shelby, a young woman who is involved in a car accident in which her best friend is seriously injured for life. Moving on with her life is incredibly difficult and she is affected by the accident forever. Sounds kinda depressing, huh? There are definitely parts that are, but overall, I feel like it's a story of hope and I found myself cheering for Shelby throughout. I also just got The Rules of Magic (prequel to Practical Magic) from Book of the Month and can't wait to dig in!
How to Murder Your Life by Cat Marnell: How do I even talk about this book?? If you don't know anything about Cat Marnell, get prepared to be shocked. In her twenties, Cat had a pretty sweet gig as Associate Beauty Editor at Lucky magazine... But she was also addicted to prescription drugs. Like, really, really addicted. This is her memoir and it's a serious rollercoaster of a book; much of it was written while she was under the influence. And she's still not really recovered. I had serious mixed feelings about the book as it was pretty entertaining, but at times, the writing was super rough (and childish) and I obviously wanted to shake Cat a time or two (or 300).
L'appart by David Lebovitz: I am a huge, huge David Lebovitz fan (OK, mostly for his amazing ice cream), so I was excited to get my hands on his new memoir. On the surface, it sounds a bit like a snooze fest. It's basically his memoirs from his experience getting his apartment renovated in Paris. At first, I was thinking, "why would I want to read about someone else's home renovation??" I'll tell you why! Because David Lebovitz is writing it. And also because man, things are different in France. Anyone who has gone through a home renovation probably has some crazy stories, but I highly doubt they're like David's. His contractor, Claude was simultaneously the most entertaining and the most annoying person ever and I think you'll be surprised by how much you get sucked into this one... Especially if you're a food lover and want to learn all about David's kitchen dreams. (I received this book through Amazon Vine)
Forever is the Worst Long Time by Camille Pagán: I'm not even quite sure why I picked up this book, but I'm so glad I did because it is right up my alley (I'm sure it was recommended to me based on something else I read!). It follows the lives of friends James and Rob and Rob's girlfriend turned wife Lou... Whom James also happens to be in love with. I don't want to give too much away, so I'll leave it at that! The book is a pretty easy read, but I'll warn you that it's also an emotional one!
Sourdough by Robin Sloan: I picked this one up from Book of the Month because when there's a food-focused book on there, I'm always likely to pick it up! I had mixed feelings about this one... I loved the premise of it and got sucked in from the beginning. I love that Lois discovers her passion for baking after her favorite San Francisco takeout spot goes out of business and she realizes she can't live without their sourdough bread. I also love she grows a little business and gets involved in the modern farmers' market scene. The book gets kind of weird in spots though and the quirks were a little too much for me. But I can say that this book has seriously made me want to make my own sourdough!
Origin by Dan Brown: I know, I know. But I've read every Dan Brown book and it's kind of tradition between Chris and I that we read all of his books as soon as they come out. I haven't really been into them since Angels and Demons (and nothing has lived up to The Da Vinci Code), so I wasn't totally psyched for the new one. But I can happily say that Origin is my favorite Dan Brown book in a long time! The topic is very timely and delves deep into science vs. religion. Yes, there's still the normal "omg Robert Langdon is about to die in a historic European church and/or museum. Wait, at the very last second, he made it out alive!" but I think we all kind of expect that by now.
Sweetbitter by Stephanie Danler: This one has been on my list for a long time since I obviously love books about the culinary industry. Sadly, I didn't love it as much as I was hoping (I had already lowered by expectations a bit after reading a bunch of reviews), but I'm still happy I read it. It's a work of fiction, but definitely written based on Danler's experience as a backwaiter at NYC's Union Square Cafe. It's a fun behind-the-scenes look at one of the most renowned restaurants in the city, but I felt like it was overly dramatic and detailed. I think this is one of the problems about writing about topics so close to you; you feel like you have to include every meaningful moment, but may not realize the reader doesn't need all of that information. That said, I've found myself thinking about this book during dining experiences and wondering about the secret lives of the staff.
Everything You Want Me to Be by Mindy Mejia: Another novel compared to "Gone Girl," which I admit will generally get me to pick a book up. As usual, this isn't quite "Gone Girl" level, but I thought it was a really enticing thriller, based on the murder of a high school student. The reason I loved "Gone Girl" so much is because the ending was completely unpredictable (for me at least), but once revealed, made so much sense. I kept feeling like I knew what was happening in this book, but then kept being surprised.
The Light We Lost by Jill Santopolo: Is it bad if you choose books 50% based on their covers? Because I admit that's partly why I picked this one up. But I'm glad I did because it's another book that is up my alley (I tend to love books that follow characters from college through their adult lives) about a couple who breaks up after college, but remains connected through the years. This book won't likely change your life and I admit it's a little cheesy at times, but it's the perfect light, but still emotional read for the holiday season.
I'm pretty thrilled with how many awesome books I've read in 2017 so far; it's been a fabulous year of reading and still not over.
What have you been reading lately?? Do you tend to read more or less during the holiday season?
Check out my previous lists of reads from earlier this year for tons more recommendations!
Here's What I Read in January
Here's What I Read in February
Here's What I Read in March
Here's What I Read in April
Here's What I Read in May
Here's What I Read in June
Here's What I Read in July
Here's What I Read in August
Here's What I Read in September (includes my FAVORITE book of 2017 so far!)