If you're looking for a good book to read, you've come to the right place. This post is part of my monthly "What I Read" series, featuring the books I read the previous month with lots of recommendations for you! All of these book pair perfectly with donuts, cookies, pasta, or pizza… And always a glass of wine.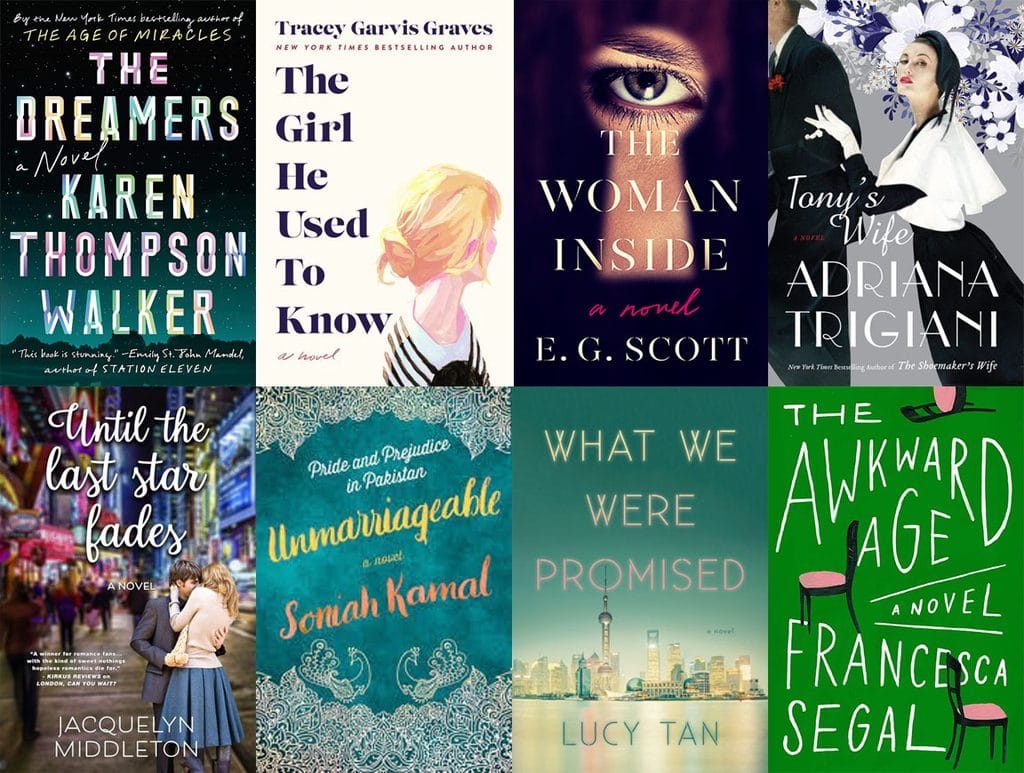 Do you have any memories that are so vivid they take you right back to the moment no matter how long ago it was? For me, it's those days in elementary school when the Scholastic Book Club flyers would show up in our classrooms. They were generally 4-6 pages of books on newsprint and I would spend hours pouring over them, carefully choosing the books I wanted, trying to make a balance between "educational" books and Garfield comics. Then I'd bring the flyer to my mom for approval. I remember bringing the flyer back to school with a check from my mom and then waiting for what seemed like forever for the books to arrive (hello, where was Amazon Prime??). And when the books arrived? Our teachers would wait until the end of the day to disperse them and I remember barely being able to concentrate due to my excitement. Despite the fact that the internet now offers us the opportunity to buy any book we want at any time and that I'm old enough to get in my car and drive to the bookstore, I still long for those book club flyers in my life.
In case you're wondering, yes, I have s similar sentiment about the Scholastic book fair (this popular tweet most definitely describes my feelings), but the flyers were much more frequent, which I think is why they've stuck with me so much. To be fair, I have a TON of book-related moments from my childhood that bring back strong feelings like this. And I still get them today. There's something about getting a new book (no matter how easy and frequent it is) that gives me such a feeling of excitement and boost of dopamine and I hope this feeling never goes away.
I'm excited to share my October in books with you! There are a few really good ones in the bunch and some that you can look forward to seeing on shelves in early 2019 (how is that so soon??). I'm off to fit in a few more before the year is over (my "to be read" list is SO SO long!). Just an FYI that links to some of the books below are affiliate links, meaning that at no extra cost to you, I will earn a commission if you click through and make a purchase. Thank you for supporting WANM!). And don't forget to follow my book Instagram account (bookstagram!) at @booksontheside! Also, if you're looking for a good holiday gift for book lovers, be sure to check out Book of the Month Club (my affiliate link). It ensures I get my dopamine boost every single month!
The Dreamers by Karen Thompson Walker: I was super intrigued by this book when I heard the premise- it's about a sickness that starts in a college dorm, causing students to fall asleep and not wake up. Though they're sleeping, it appears they're in a REM state with incredible active minds; they just can't be woken up. So creepy. Soon, the sickness spreads around the California town, which has to go on lockdown with nobody allowed to come or go. The book is mainly focused on the people who are awake and dealing with the moral issues of being quarantined and living with the constant fear that they or their loved ones won't wake up. This was definitely a page-turner for me, though I did expect it to be a bit "scarier" than it was. The premise of the sickness is super creepy, but there wasn't any sense of "horror" in the book; more mystery. I felt like I was waiting a bit for something big to happen and it never really came. However, I definitely recommend this book to anyone who's a fan of the creepy and science fiction and even think this could be a good novel for people who are kind of iffy about science fiction as it's a good entry into the genre. The Dreamers official pub date is January 15, 2019, but you can pre-order it now. (thanks to the publisher for my copy of this book!)
The Girl He Used to Know by Tracey Garvis Graves: This book is a super sweet story about Annika and Jonathan who fall in love in college, are apart for many years, and then reunite in their 30s. The story bounces back and forth between current day for Annika and Jonathan (2001) when they're in their 30s and their college days. Annika almost drops out of college because she doesn't do great in social situations and gets anxious/has trouble making friends. She has a difficult time understanding people and how to react to them. Almost immediately, you'll get the feeling she's on the autism spectrum, but highly functioning. Her roommate ends up taking her under her wing and encouraging her to join the chess club, one place she feels at home. Senior year, Jonathan joins the chess club, too, and the two become friends and soon a couple. Watching their relationship evolve is one of the best parts of the book. It's apparent from the start that Annika and Jonathan are no longer a couple in 2001, but you won't know why until you continue reading their stories. But one thing is for sure; if you are a living breathing person with any feeling at all, you will be rooting for Annika and Jonathan the entire time. This book is also just a really good reminder that everyone is different in social situations and just because someone doesn't react just like you, doesn't mean you should discount them. It ended up being a lot more emotional than I was expecting, but I don't want to spoil anything! The Girl He Used to Know's official pub date is April 2, 2019 (man, I didn't realize it was so far away!), but you can pre-order it now. (thanks to Netgalley for my copy of this book!)
The Woman Inside by E.G. Scott: First of all, did you know E.G. Scott is actually two people? They're actually two friends who have been writing together for years, though this is their first novel together. I'm always crazy impressed by people who can write a novel together; I imagine it's both super fun and crazy complicated. Anyway, The Woman Inside is one of those totally creepy thrillers that will likely have you turning the pages to see what's going to happen. The characters in it are not likable, so just a warning if you only like books with likable characters. I actually really like books where the main characters are not at all likable, but still make me want to continue reading because I think that says a lot. Rebecca and Paul are both not great people... Their marriage is majorly sketchy with lots of drug use, cheating, etc. You can kind of understand why when you learn about both of their childhoods, but they both seem like they've gotten themselves in messes that are impossible to get out of. But as you read, you'll learn that everything may not be as it seems and you'll want to know what the heck is going on and what everyone's intentions are. The book will keep you guessing and while I pretty much got what was going on early on in the book, the end still majorly gave me the chills. The Woman Inside's official pub date is January 22, 2019, but you can pre-order it now. (thanks to the publisher for my copy of this book!)
Tony's Wife by Adriana Trigiani: I LOVE me some Adriana Trigiani and will probably pick up everything she writes as her books are just plain consistently good. I wouldn't say they're ever necessarily mind-blowing or incredibly memorable (I read A LOT and to be honest, it takes a lot for a book to really stick with me, so this is not a knock at all). Tony's Wife is another one that sucked me right in and had me falling in love with the characters. The book is about Chi Chi Donatelli, a 20-something girl from a close-knit Italian American family on the Jersey Shore. From the start, you know this girl is going to be a star and you'll likely be obsessed with her and her family. When she meets musician Saverio Armandonada (who changes his name to Tony Arma), the two team up as a music act and a romance blooms. I love books that follow the characters throughout basically their entire lives and really enjoyed following Chi Chi and "Tony." There were a couple things I didn't totally buy (I mainly felt a bit too much of a disconnect between Saverio as a teenager and his behavior as an adult), but overall, I really enjoyed the book and would have been happy to read even more about Chi Chi and Tony. Another hit for Trigiani! (thanks to the publisher for my copy of this book!)
Until the Last Star Fades by Jacquelyn Middleton: The author, Jacquelyn Middleton, reached out to me to see if I wanted to read her new release and to be honest, I almost said no. Only because I get a ton of authors reaching out to me and I only have so much time to read the stacks and stacks of books currently in my home (and on my Kindle). But I took a look at Until the Last Star Fades and was interested enough to accept a copy. And then when it came in the mail, the cover was so gorgeous and Middleton was so sweet in her card, that I almost immediately started reading. And I'm glad I did because I really enjoyed it! The characters are a bit younger than I typically read and the book is a little bit more "romance" than I'm typically into, but it is such the perfect combination of light and sweet and serious and deep and exactly what I needed at the moment. It's centered on Riley, in her senior year at NYU balancing her school and workload, a boyfriend playing hockey in North Dakota, a mom who's sick with cancer, and bills that keep piling up. She definitely has way more on her plate than the typical college student, but handles it with grace, along with some help from her very loyal friends. On a trip home from North Dakota, Riley runs into Scottish Ben at the airport and suddenly everything changes. Ben, though flawed in some ways, is also a totally lovable character and I'm pretty sure most readers will be routing for both Riley and Ben throughout the book. My one question is... When is this book going to be a movie?? Because that needs to happen ASAP. (thanks to the author for my copy of this book!)
Unmarriageable by Soniah Kamal: Oh, how I loved this book. It's a re-telling of Pride and Prejudice, but taking place in modern day Pakistan. It focuses on Alys (AKA Elizabeth Bennet), a driven young woman who has no desire to get married, despite her family's wishes for her. I found it so interesting that Austen's Pride and Prejudice was written in the early 1800s and that thoughts on marriage and being female were so different than they are in most of the Western world today. But in places like Pakistan, these ideals are still widely held. In many cases, parents desperately want their daughters to get married to upstanding men and will push them incredibly hard. It's seen as odd to be a single woman in your 30s or to have a career. And it's not odd to get engaged after meeting just a couple times even when you're quite young. Anyway, Unmarriageable follows the P&P story line very closely. In some ways, a little too closely (the character' names were all plays off characters in P&P to the point where it felt silly), but I also understand how once you commit to a re-telling, it's tough to veer too much from the storyline. And I absolutely loved the Binat family and all of the sisters' different personalities and would happily keep reading about them. And though Alys is a tad bit stubborn and rigid, I still want her to be my friend. I am most definitely a new Soniah Kamal fan. Unmarriageable's official pub date is January 15, 2019, but you can pre-order it now. (thanks to the publisher for my copy of this book!)
What We Were Promised by Lucy Tan: I had heard so much about What We Were Promised and couldn't wait to pick it up. I absolutely love books about Chinese culture and I knew this book would appeal to my tastes. What We Were Promised bounces back and forth between a few different characters, including Wei Zhen, a husband and father who moved his wife and daughter from America to Shanghai for his high-powered job at an ad agency; Lina Zhen, Wei's wife who is trying to adapt to suddenly being wealthy in China instead of working in America; and Sunny, a housekeeper/nanny working for the Zhen family in their luxury apartment complex. When Wei's brother, Qiang, comes to visit them after having gone missing many years ago, there's potential for many secrets to come out. It's a serious book, but also an entertaining series of case studies of how people of different socioeconomic lifestyles interact in a place where wealth and status is very important. I do think it was a little too slow-moving at times, but I feel this was likely purposeful on Tan's part as she wants readers to truly focus on each character and their feelings and interactions. I also would have loved more at the end of the book, but I can definitely say the ending made the characters and the story stick in my mind. (thanks to netgalley for my copy of this book!)
The Awkward Age by Francesca Segal: This book has majorly mixed reviews, but it's the kind of book that's totally up my alley and I really enjoyed it. I don't want to give away too many details for risk of spoiling anything, but basically Julia Alden has fallen in love again, many years after the death of her first husband and father of her teen daughter, Gwen. Her new love, James, and his teen son, Nathan, move in with them. Gwen is having a bit of trouble adjusting, especially in light of the fact that she and her mom have been on their own for so many years and have always had an incredibly close relationship. But suddenly, Gwen and Nathan stop fighting and start flirting. Sounds like that could make for a bit of a mess, right? Right. The book was about a lot more than family drama though, and really makes you think about why people take the actions they do and how simply sitting down and having an honest conversation could fix a lot of problems. While I couldn't exactly relate to anything that happened in the book, I could completely understand the emotions that ran through it.
And that's October! I can't believe there are only two reading months left in 2018... Technically, 1.5 considering I'm posting this more than midway through November. I've been extra busy with work and home stuff this month and I'm sure things will get even crazy with the holidays, but I'm still trying to get as much reading in as I can! Winter reading is, in my opinion, even better than summer beach reading!
Have you read any books that I absolutely need to fit in before the year is over?
If you're looking for more book recommendations, feel free to take a look at my other book review posts from so far in 2018:
What I Read in January
What I Read in February
What I Read in March
What I Read in April
What I Read in May
What I Read in June
What I Read in July
What I Read in August
What I Read in September