Looking for a good book to read? This post is part of my monthly "What I Read" series and features the books I read in October 2019 with lots of recommendations for you! All of these book pair perfectly with donuts, cookies, pasta, or pizza… And always a glass of wine.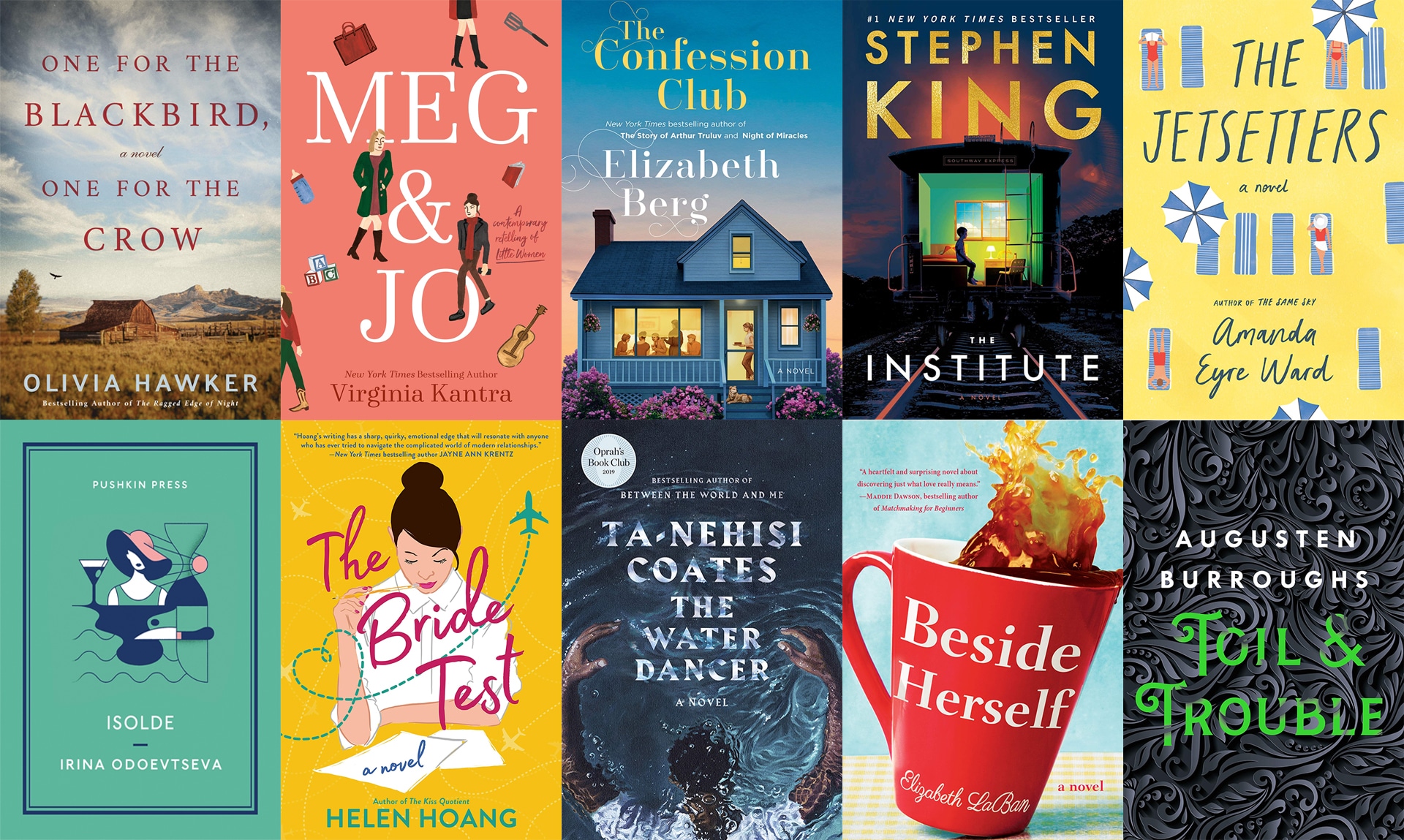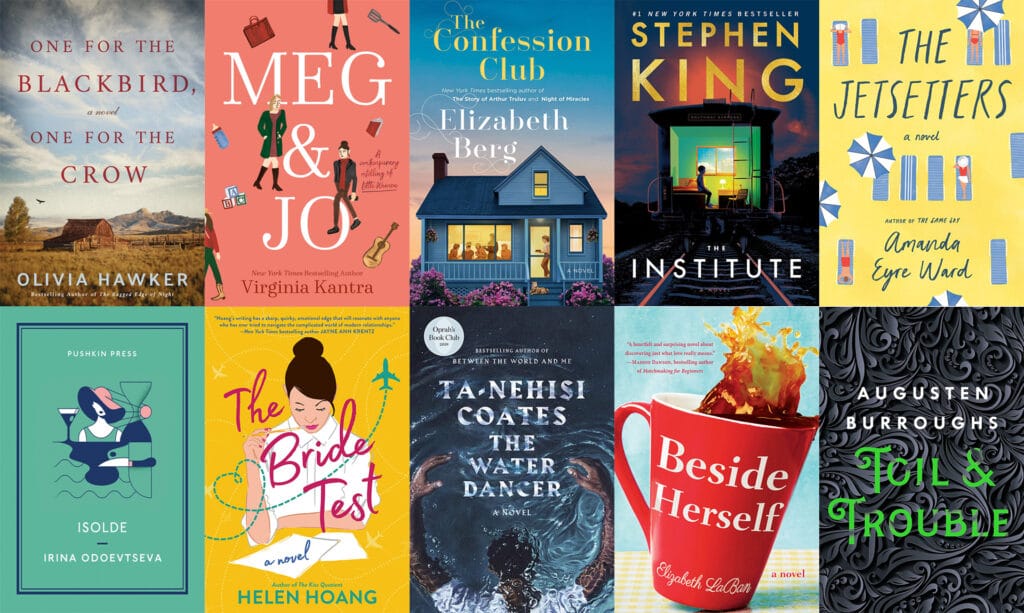 I'm coming to you a little late with my October reads, but I want to get them all in before the year ends and we start a whole new year of books! October was a really fabulous month for me (spoiler alert: I read my very first Stephen King book!), so I hope you'll add a few of these books to your 2020 reading plans.
Just an FYI that links to some of the books below are affiliate links (meaning that at no extra cost to you, I will earn a commission if you click through and make a purchase) and some were gifted to me by their publishers. One was from the Book of the Month Club, which I highly recommend if you'd like the chance to pick a new book every month; it makes a great gift, too (you can sign up with my affiliate link here). Thank you so much for supporting WANM!
One for the Blackbird, One for the Crow by Olivia Hawker: Wow, this book. This is one of my favorites for the year, though I will warn you it's a bit of a slow burn and may take a bit of time to get into. I wasn't sure at first, but I kept reading and was hooked by the beautiful story. I was transported to the 1870s Wyoming prairie, a place I never thought I'd go or have even ever thought about. The book starts with the death of Substance Webber at the hands of his neighbor Ernest Bemis. Ernest has discovered his wife, Cora, sleeping with Substance and doesn't think twice about shooting him. Now, Substance is dead and Ernest is in jail, leaving their families behind to fend for themselves in the rapidly approaching midwest winter. The problem? Surviving is going to take teamwork and Substance's widow, Nettie Mae is in no mood to work with the woman her dead husband was sleeping with. But Nettie Mae's song, Clyde, and one of Cora's daughters, Beulah, are becoming fast friends and make an excellent team. The writing is lyrical and I love the focus on strong females placed in difficult situations. If you're willing to take the time to get into this, I urge you to because it will really pay off! (thanks to the publisher for my copy of this book!)
Meg and Jo by Virginia Kantra: It seems like all the world is abuzz with talk of the upcoming Little Women movie adaptation. This book is loosely based on the story of Little Women, but takes place in modern times. It didn't totally blow me away, but I found it to be a nice reprieve from more serious fiction. I think of it as kind of an endearing Hallmark Christmas movie type book- sweet and enjoyable, but not incredibly impactful or memorable. The book starts off with the March sisters and mother at home on Christmas day waiting for their father to call from his deployment. From there, the book jumps to mostly tell about the lives of Meg and Jo when they're in their mid-20s and living very different lives. Meg lives in her North Carolina hometown with her husband and twin toddlers and Jo lives on her own in NYC working for a chef and as a food blogger (lol!). We get a deep dive into each of their lives and how different they are and learn a bit about their relationship with each other, their other sisters, and their mother and father. Again, it's sweet, but it probably won't blow you away. (thanks to the publisher and NetGalley for my copy of this book!)
The Confession Club by Elizabeth Berg: Elizabeth Berg is back with another Arthur Truluv book and I couldn't be happier! These books are like comfort food for my soul. This third book in the series is called The Confession Club and every few chapters we get a peek at this club, which consists of Mason ladies dining together and sharing their secret shames with one another. This is a cute concept and I loved getting to know the ladies, but even better is the plot that follows Iris and her new relationship with a homeless vet. We also get lots of Maddie and her daughter Nola in this book and even peeks at the neighbors who you may remember from the second book... Some Monica and Tiny, too! You don't have to have read the previous books to enjoy this one. But I highly recommend it and do think you'll appreciate the characters and themes more. Plus, you're going to want to read them anyway, so may as well start from the beginning! At its core, The Confession Club is a sweet book that will likely warm your heart and make you smile. It's not going to omg change your life, but that's partly what I love about it. It's comfort food that makes me feel like I'm at home, right where I should be. (thanks to the publisher for my copy of this book!)
The Institute by Stephen King: Can you believe this is my first Stephen King book?? With all the reading I do, that's probably a bit crazy, but I am not hooked and will definitely read more. I wouldn't necessarily classify The Institute as "horror," though it certainly is a "horrifying" story in many ways. I would say it's more dystopian and scary. It's about gifted children who are kidnapped in the dead of night and taken to an "institute" where they have various tests performed on them. I don't want to say too much or give many details away because I think the story is best gone into blindly. But I will say, I liked the way the first part of the novel (about a man who travels to a town in South Carolina and becomes their new "night knocker" eventually ties into everything else. The book went on a little bit longer than felt necessary to me, but in the first half and middle of the book, I found myself staying up very late into the night, absolutely needing to find out what would happen next. I'm happy I finally jumped into King with this book as it seems like it may be more "approachable" than some of his others. But from what I hear, many of his books are much better than this one, so I know I have a whole new world to discover!
The Jetsetters by Amanda Eyre Ward: The cover on this book is the cutest! I have to say I enjoyed The Jetsetters, but I didn't LOVE it. I thought it was going to be a bit more fun than it was. I love dysfunctional family stories and a dysfunctional family story that takes place on a cruise ship? Sign me up (I also recently read Floating with the Feldmans, which is pretty similar in overall plot). The Jetsetters is about a family cruising together, while keeping lots of secrets from each other. I enjoyed the fact that Charlotte, the matriarch of the family, is so gung-ho to go on this vacation that she enters an essay contest sharing the racy story of her first love. We meet Charlotte's three kids Lee, Cord, and Regan. None of them have particularly great relationships with each other or with their mother and all have secrets they're harboring, some bigger than others. I thought this book would be pretty lighthearted, but some of the family dysfunction is serious, including issues with suicide and alcoholism. I did find some of the European "day trips" the family went on to be a bit boring and not totally fitting with the rest of the story. Overall, I'm glad I read this book even if it wasn't totally what I was expecting and I'd definitely read more from the author. The Jetsetters' official pub date is March 3, but you can pre-order it now. (thanks to the publisher and NetGalley for my copy of this book!)
Isolde by Irina Odoevtseva: Isolde was written in 1929 and it's easy to see why it was a bit of a shock to the general public when first published. I went into it blindly, not knowing a thing about it aside from the fact this is the first time it's been translated from Russian to English (I fully admit I picked it out because I loved the cover!). Sister and brother teenagers Liza Nikolai are essentially left on their own for much of their days while on beach vacation in France (their mother is an interesting character) and Liza, who uses her beauty to her advantage, meets an older boy named Cromwell. He falls in love the instant he sees her (and calls her his "Isolde") and Liza is only too happy to take advantage of his wealth and status. When Liza and her brother return to Paris (and are essentially abandoned by their mother), Cromwell follows them and, along with Liza's Paris boyfriend, they get involved in some not-so-great situations. Despite the lightness and flighty ways of Liza, there's also a lot of darkness to the story. It was unlike anything I've read before and definitely more "scandalous" than anything I've read from the time period. A bit outside the norms of what I usually read, but I enjoyed it! (thanks to the publisher for my copy of this book!)
The Bride Test by Helen Hoang: I have to say I haven't been loving a lot of romance lately. Most of what I've been reading just feels a bit empty and predictable and I just haven't been crazy about it. So, I went into The Bride Test with a bit of a skeptical attitude... But ended up loving it! The concept is really cute and reminded me a bit of 90-Day Fiancé. Khai is on the autism spectrum and doesn't think he's capable of love. But that's something his mother just isn't going to accept. So, while in Vietnam, she meets a sweet girl and decides to bring her back and eventually make her Khai's wife. Of course, Khai is not OK with this, but in an effort to pacify his mom, he agrees to let Esme live with him for a few months. Of course, feelings start to develop, but you'll have to read to see how things play out! This book is filled with steam... Way more than I'm used to. Phew! But also has a serious tone at many points and not only explores what relationships can be like when one of the members is on the autism spectrum, but also dives into the immigrant experience. I was very pleasantly surprised by this book and am happy to say it gave me a newfound appreciation of romance. I'll definitely check out more from Helen Hoang!
The Water Dancer by Ta-Nehisi Coates: This book is powerful in a completely different way from anything I've read before. Honestly, the only think I didn't absolutely love about it was the magical realism as I felt like it took away from the book's story. But I honestly think I was probably just missing something and would love to learn more about Coates's intent with using conduction (that said, this would be an excellent book to read for a book club as there's so much to talk about). Hiram is born a slave in Virginia and while I've read many novels about slavery, Hiram's situation was unique to any others I've read. His father also happens to be the owner/master of the plantation where he lives and when his mother is sold, Hiram goes to live and work in his father's house. So yes, Hiram is the son of the master of the house, but he is still a slave and made to cater to his father's "true" son. What a difficult and terrible situation. When Hiram has the chance to run away, he takes it. And eventually ends up working for the underground railroad and attempting to master "conduction," basically a magical teleportation-like power that would allow him to spirit himself and others to freedom. Coates is a beautiful writer and even during the sections I wasn't totally into (the conduction scenes), I found myself being swept away by his language. Hiram's story is one that I've continued to think about more than a month after reading The Water Dancer and it's the kind of book I feel I'll return to again as I think I'd get even more out of a second read.
Beside Herself by Elizabeth LaBan: I'm a big Elizabeth LaBan fan and will happily read anything she writes. I love her funny and emotional stories about family and relationships and Beside Herself was definitely enjoyable for me. When Hannah finds out her husband Joel has cheated on her, she understandably feels like her world is ending. But guess what? Joel is incredibly remorseful and will do anything to stay married to Hannah. The two start therapy and we're sent on an emotional ride with Hannah trying to determine if she can get over her husband's infidelity. She decides that she needs to have her own affair to even the score and move on. But that sounds a whole lot easier than it is. I actually read this book right after I finished The Arrangement (and oddly enough, read a book with a similar premise, Last Couple Standing, right after) and rolled my eyes a little at another "let's have affairs to keep our marriage alive" premise. But I really appreciated how it was done in Beside Herself and the fact that it was really only a small plot point in a book with a lot going on. Overall, this novel is a light read that will entertain while also make you think a bit about what you would do in this situation! (thanks to the publisher for my copy of this book!)
Toil and Trouble by Augusten Burroughs: Did I believe in witches before I started reading this book? I'm not sure. Do I believe in witches now that I'm done reading it? I'm still not sure. But I think I do a bit more than before... Though I'm not quite sure I'd use the word "witch" to describe people who are prescient, which it seems like Burroughs is. Whether you believe or not, in Toil & Trouble, Burroughs tells an entertaining tale of his life from learning about his powers to how they effect his life with his husband and their move out of NYC to a Connecticut house in the suburbs. Burroughs is obviously a natural storyteller and even without all the witch stuff, his move to the suburbs is interesting and worthy of a memoir. But as someone who is pretty skeptical, but also open-minded about a world I don't fully understand, I was also interested in hearing Burroughs talk about how he's a witch. While some may say his stories are mostly coincidence and don't prove anything, if all true, I do believe he has too many of these stories to not have something special going on. But you should read it and decide for yourself! (thanks to the publisher for my copy of this book!)
Did you read anything good in October?
To see my other reviews so far in 2019, check out my other posts:
What I Read in January 2019
What I Read in February
What I Read in March
What I Read in April
What I Read in May
What I Read in June
What I Read in July
What I Read in August
What I Read in September