If you're looking for a good book to read, you've come to the right place. This post is part of my monthly "What I Read" series, featuring the books I read the previous month with lots of recommendations for you! All of these book pair perfectly with donuts, cookies, pasta, or pizza… And always a glass of wine.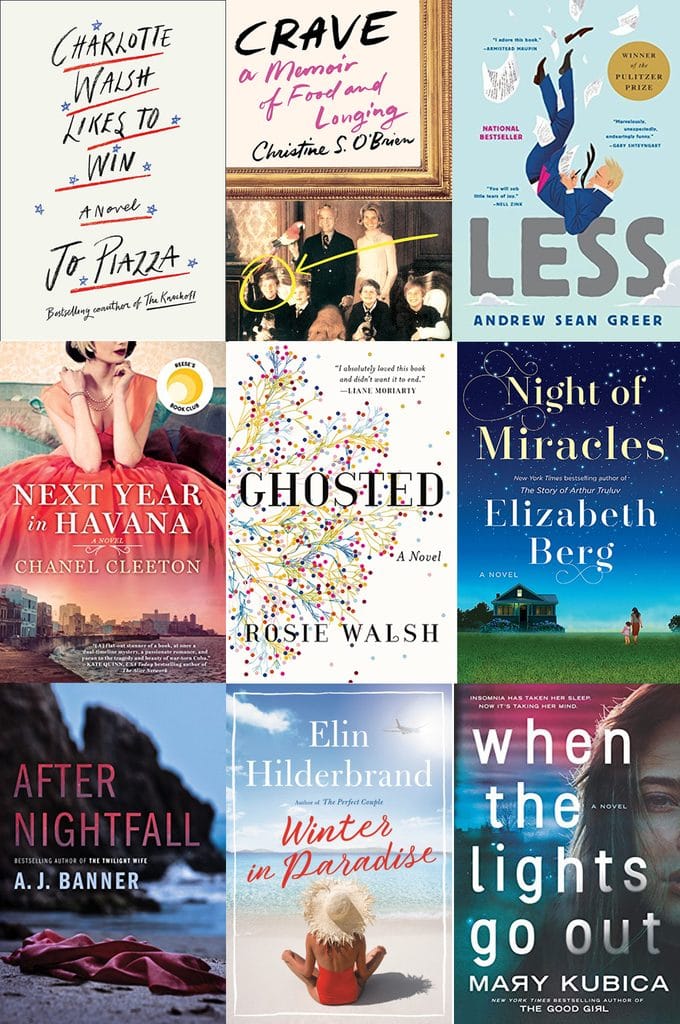 If you were to come to my house, you'd see books everywhere. We have a large bookshelf in our family room, but it's absolutely overflowing with books and there are now stacks on my coffee table, in my office (omg so many in my office), on my nightstand, etc. Don't even go in my basement because you'll find bins of books from my childhood down there (also, my basement is a gigantic mess, so trust me, you really don't want to go down there). Ever since I was a kid, I've loved being surrounded by books, so I'm excited to see that recent research has shown that growing up with lots of books could have powerful and lasting effects on the mind. Apparently, this is true even if you don't read the books... Just being surrounded by them is enough. OK, I'll take it!
According to the research, "adults with university degrees, but who grew up with fewer books, had the same level of literacy as those who left school in year 9, but who had a lot of household books as a teen." Isn't that crazy? The research also looked at which countries have households with the most books and discovered people in Estonia own the most, with an average of 218 books. Sadly, the United States average just 114 books (the average of all countries surveyed was 115). I've never counted my books, but think I must have at least 1,000? Especially if we're counting cookbooks! But now I'm wondering if electronic books count, too, because my kindle is a landmine of books! What about you?
Of the books I read in September, I own all of them but two that I read on my kindle. Keep reading on to see which were my favorites! Just an FYI that links to some of the books below and my Book of the Month link are affiliate links (meaning that at no extra cost to you, I will earn a commission if you click through and make a purchase) and some were gifted to me by their publishers. Thank you so much for supporting WANM!And don't forget to follow my book Instagram account (bookstagram!) at @booksontheside!
Charlotte Walsh Likes to Win by Jo Piazza: I'm sure I'm not alone in that I've been paying much more attention to politics in the last few years than ever before. I'm very interested in candidates running for public office and this book is like an insider's peek into a senate campaign. The good, the bad, and the ugly. Charlotte Walsh decides to run for Senate in her home state of Pennsylvania, despite the fact that she's been working a high powered corporate job in Silicon Valley for the past several years. She moves back to her hometown with her husband, toddler twins, and baby and jumps right in to her campaign. It's brutal to learn about all she has to deal with running as a woman (against a misogynistic man who has been in office for years and rarely even has an opponent), including being berated for not spending enough time at home/having her husband be home with the kids, what kind of shoes she's wearing during debates, etc. Not to mention, the constant worry that every little secret from her past will be discovered and analyzed. But Charlotte likes to win and she wants to have it all and she's willing to fight for it. Obviously, the book is fiction and is meant for entertainment, but I found it so interesting to learn about Charlotte's decision to run and her experience in the campaign. The story is entertaining and also thought-provoking. I'm so excited to see more woman political candidates than ever this year, but I hope we can continue making progress in changing expectations and you know, focusing on women candidate's shoes.
Crave by Christine S. O'Brien: Offer me a food memoir and I am all in always. I was excited about Crave and loved the subtitle "A Memoir of Food and Longing." The book ended up being not at all what I expected, but still really intriguing. The book focuses on Christine's childhood (with lots of info about her mother's childhood) and we don't even get much food until about a third into the book. And then much of the food comes in liquid form and much of the story is about restriction. Christine grows up in the 1970s in a privileged family- her dad is a famous movie producer and the family lives in a ritzy NYC apartment building. Her mother has serious food issues and is on a constant quest to be healthy. Nowadays, her mother's behavior may not seem so odd, but in the 70s, seeing "quack" doctors and going on strict diet regiments involving consuming mostly liquids was indeed odd. And though these things may be more socially acceptable these days, what remains controversial is forcing these strict diets onto your children. We learn about how her mother's food fears affected Christine throughout her life and how her constant need to to have her mother's approval is always there. The writing is a bit flowery in some places, but ultimately, it's a beautifully written memoir, just as long as you know what you're getting into. Crave's official pub date is October 13, but you can pre-order it now. (thanks to NetGalley for my copy of this book!)
Less by Andrew Sean Greer: Less has been on my must-read list for a long time now, in large part because it won a Pulitzer Prize this year and I've heard endless praise for it. Sometimes Pulitzer Prize books are a bit unapproachable, but Less is a fairly easy read, while still being smart and thought-provoking. It's hard not to feel for Arthur Less who is spending months traveling around the world mainly to avoid the wedding of his ex-boyfriend who he still harbors great feelings for.. But he's also traveling to ignore the fact that he's turning 50 and obsess about the fact that his most recent novel has been turned down by his publisher. Less's friend says it best when Less complains about his book not being published... It's a story about "a white middle-aged American man walking around with his white middle-aged American sorrows... It's a little hard to feel sorry for a guy like that." And yet. It's the kind of book that I think would be even better on the second read. Yes, it's a book about a white man wandering around feeling sorry for himself, but it's filled with humor, self-discovery, love, and so much anyone can relate to, even if you're not a white man.
Next Year in Havana by Chanel Cleeton: This is another book that got a ton of press and praise, in part because it was Reese Witherspoon's book club pick a few months ago. I wasn't as obsessed about it as everyone else seems to be, but I still found it to be an enjoyable read. Not to mention, I feel like I learned a great deal about Cuba and its history (a topic I admit I was unknowingly quite ignorant on prior to reading this) and I'm grateful for this better understanding. Of course, we all grew up knowing Fidel Castro is "bad," but I never knew who came before him or how Castro came to power. And it's a lot more complicated than I imagined. Cuba's history also has me truly understanding the difficulty of "choosing sides" and how most issues are not so black and white. This book bounces back and forth between two time periods, one following Elisa Perez in the 1950s and one following her granddaughter, Marisol Ferrera in 2017. We learn that Elisa and her upperclass family fled from Havana to the United States when Castro came into power. Before they left, Elisa fell in love with a revolutionary man, fighting for the opposite of what her family stood for. Jump to 2017 and Elisa has recently passed away and Marisol visits Havana for her first time to spread her grandmother's ashes and learn about her past. Not only does she meet a man she has instant sparks with, but she uncovers so much about Elisa's past and is forced to face a lot of issues she's never had to deal with as an American citizen. I enjoyed Elsa's story much more than Marisol's as I felt like the romance between Marisol and the man she meets, Luis, was a bit contrived But I'm still happy I read this one!
Ghosted by Rosie Walsh: I've had this Book of the Month Club book sitting in my TBR for months and I finally decided to pick it up. I think most everyone knows what the term "ghosted" means these days. I was expecting this book to be a light and funny book about dating millennials, but it was much heavier than that. In a good way, though! Sarah meets Eddie while visiting family and friends in England and they spend an entire week together (both are in their late 30s). Before he leaves for an already planned trip (that he almost cancels so he can stay with her!), he tells her he's falling in love with her. And then? He stops communicating with her all together. We, along with Sarah, have no idea what happened to Eddie. Of course, she's obsessed with figuring out why he stopped communicating with her and though her friends urge her to move on, she just can't. Eventually, she has to return home to California with no clear idea of what happened. I can't share too much without giving away any spoilers, but there were some twists in thie book I definitely didn't see coming. Some parts of it dragged on a bit too long, but overall, this is a really enjoyable read.
Night of Miracles by Elizabeth Berg: I will always and forever read everything Elizabeth Berg comes out with! This book is the sequel to last years The Story of Arthur Truluv (which I reviewed here) and I loved this one even more. This book focuses on Lucille Howard, Arthur's nosy neighbor from the first book who he ends up living with for a little while, though there are also several new characters introduced (this book can definitely stand on its own, but I do recommend reading the first one of you have time). I feel like this book IS Elizabeth Berg. It sounds silly, but I follow her posts on Facebook and I can just hear her true voice so loudly and distinctly throughout Night of Miracles. She is such a genuine, sweet woman who's just a little bit quirky. And Night of Miracles fully encompasses all of these characteristics. I believe that all of the characters have a little bit of Elizabeth Berg in them and that Lucille is who she sees herself becoming at some point. Such a delightful read! Night of Miracles' official pub date is November 13, but you can pre-order it now. (thanks to the publisher for my copy of this book!)
After Nightfall by A.J. Banner: This is one of those thrillers that you'll get super sucked into and will likely fly through since you feel like you can't live without learning what happened! It starts with Marissa and her new fiance, Nathan, having a dinner party to announce their engagement to their friends/neighbors and Nathan's brother and his wife. The friend, Lauren, was actually Marissa's best friend from high school, though they had some kind of fight and ended up losing touch until they recently reconnected. There are bad vibes from the start from many of the people at the dinner party. But things really go wrong the next morning when Lauren's body is discovered at the bottom of the cliff outside their homes. We have no idea who murdered her and start to learn why she and Marissa lost touch and details about Nathan, his ex-wife, and their daughter; Nathan's brother and his wife; and Lauren's family. From the start, it felt to me like everyone was a suspect and I think at one point, I really did suspect everyone! The ending wasn't a homerun for me and brought up a lot more questions for me (maybe there will be a sequel?), but overall, it was an enjoyable read. (thanks to the publisher for my copy of this book!)
When the Lights Go Out by Mary Kubica: This was another thriller that I really enjoyed reading, until the ending! When Jessie's mom passes away from cancer, Jessie is totally on her own. And when she can't get a copy of her birth certificate and in fact, there is a record of her apparent death, she realizes she isn't quite sure who she really is. She rents a carriage house apartment and creepy things start happening. But she also hasn't slept in days, so readers are left wondering how reliable she is. Jessie's story is interspersed with the story of Eden's story, a newly married woman having trouble getting pregnant. Her obsession with having a baby takes over and you start wondering what lengths she'd go through to have one. I read this one so quickly because I couldn't wait to see what would happen and then the ending was just not what I was expecting. I can't say more without giving anything away, but if you've read this, I'd love to discuss it with you! I know Mary Kubica is an awesome writer and I have so many of her other books on my TBR that I can't wait to get to. (thanks to the publisher for my copy of this book!)
What was the last great book you read?
If you're looking for more book recommendations, feel free to take a look at my other book review posts from so far in 2018:
What I Read in January
What I Read in February
What I Read in March
What I Read in April
What I Read in May
What I Read in June
What I Read in July
What I Read in August