Looking for a good book to read? This post is part of my monthly "What I Read" series and features the books I read in September 2019 with lots of recommendations for you! All of these book pair perfectly with donuts, cookies, pasta, or pizza… And always a glass of wine.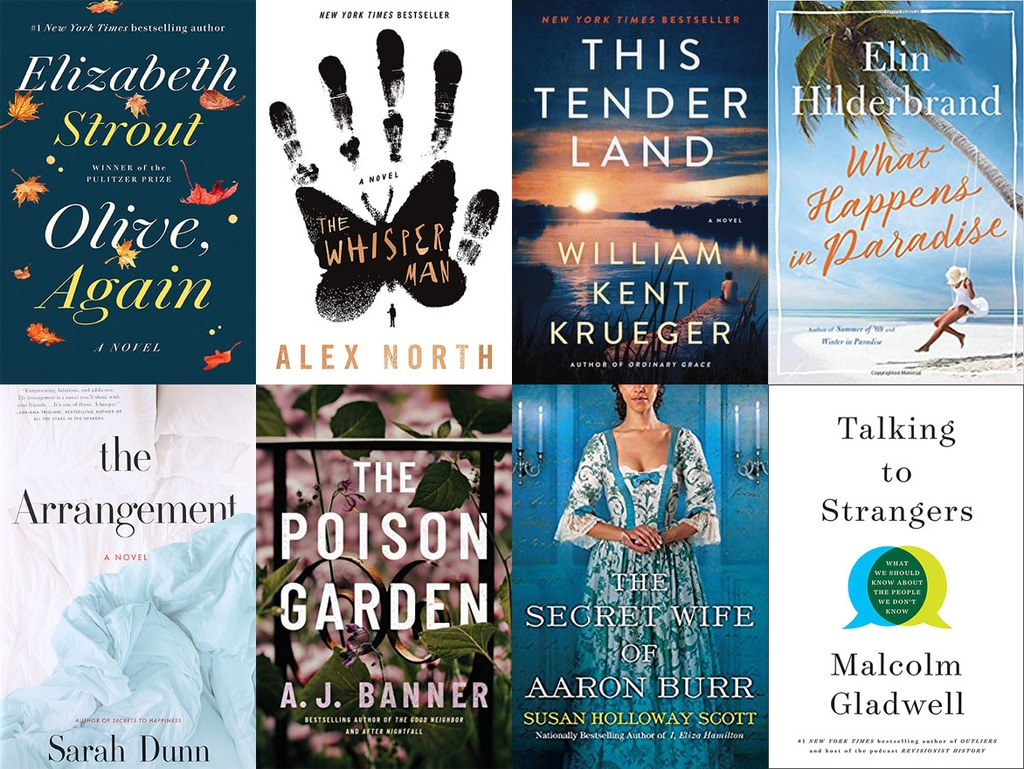 Doesn't it seem like every book is being adapted into a movie or TV miniseries lately? I don't hate it. While it's almost always true, in my mind at least, that the book is better than the movie, I still love seeing some of my favorite characters and storylines come to the big screen or my living room (let's be real, I almost never go to the movie theater and much prefer the new craze of television adaptations). Of course, adaptations can be major fails, but they can also be absolutely awesome and not only garner huge audiences, but also help sell lots of additional books. Big Little Lies will always be one of my favorite adaptations. And remember how big Tom Perrotta's The Leftovers was on television? His (very different) Mrs. Fletcher is about to come to HBO, too. One of my all-time favorite books, Olive Kitteridge, was adapted into a 4-episode series on HBO and was SO good. It truly brought the book to life and made me fall in love with it even more (I review the sequel below and am crossing all my fingers that HBO adapts this, too!).
I'm loving this list of books being adapted to film or television in 2020... But I think I'm most excited for Little Fires Everywhere! What about you?? Also, I'm pretty sure almost every book on my list of September reads should be adapted; I'd be thrilled to watch any of them! Let me know if you've read any of the below... Or if you've read any good books lately that you think would make good movies or television shows!
Just an FYI that links to some of the books below are affiliate links (meaning that at no extra cost to you, I will earn a commission if you click through and make a purchase) and some were gifted to me by their publishers. Two were from the Book of the Month Club, which I highly recommend if you'd like the chance to pick a new book every month; it makes a great gift, too (you can sign up with my affiliate link here). Thank you so much for supporting WANM!
Olive Again by Elizabeth Strout: Hi, have you met Olive yet? The book I wrote about with the HBO adaptation above (and also I wrote about in my August roundup) got a sequel! It's rare that a sequel lives up to its original, but Olive, Again, does just this. Yes, that means this is another book that will break your heart and make you realize how much sadness and loneliness there is in life. But somehow, it will also make you feel not so alone. Similarly to the first book, this one is set up as a series of stories, all with a tie to Olive. We get to know more of the people of Crosby, Maine, and get sneak peeks into their private lives. However, this book definitely has a bit of a heavier focus on Olive and her continued changes in life, from her time with her second husband to going through health troubles and entering her 80s. Anyone who says this book is depressing, well sure, in many ways, it's not the most uplifting book in the world. But this is 100% real life. If we're lucky, we all get older, we all experience loss, we all face disappointments whether it's with our family, friends, or self. And I truly think all of these life changes and obstacles will be made much easier if we take off our rose-colored glasses and know what we're getting into. And know we're not alone in these things that so many people are reluctant to talk about. But don't worry because like the first book, this one is also filled with hope, second chances, beauty, and making the most out of what we have. I honestly would have read 1,000 more pages about Olive and the people of Crosby, Maine. (thanks to the publisher for my copy of this book!)
The Whisper Man by Alex North: I liked this book, but think I got caught up in the hype machine a little too much and didn't love it as much as I thought I would. I'm not even the biggest scary book person, but I thought this book was going to be a whole lot scarier than it was! It's about a serial killer who whispers to young boys before abducting them and ultimately killing them. The serial killer was caught and sent to prison years ago, but suddenly, the same thing is happening again. And when Jake and his father move to town, Jake starts hearing the whispers and other odd things start happening. OK so yes, that is creepy and in many ways, the book gives off Sixth Sense vibes. I didn't feel like the story arc totally lived up to what it could have been. I wasn't surprised at any point and nothing super unexpected seemed to happen. While I can definitely see this being made into a movie, it's the kind of movie we'd see on Lifetime and not in theaters. I'm not saying that as a bad thing as I love a good Lifetime movie, but it just doesn't have the "omg!" factor necessary to really get people talking.
This Tender Land by Kent Krueger: Speaking of books that would make great movies, I have no doubt This Tender Land will be made into a movie and it will be a freaking amazing one. I honestly almost didn't pick this one up because it felt a little too Huck Finn-ish for me. But it was an absolutely awesome book and I'm so glad I gave it a chance. The first part of the book takes place at the Lincoln School in Minnesota the 1930s. The students at the boarding school are mainly orphans or kids who have been sent away by their parents. It's a tough place to live, especially if you're like Odie O'Banion and not really a rule follower. We'll get to know Odie, his brother Albert, and their friend Mose quite well. We'll also meet Emmy, who joins the boys as they eventually make their excuse. The rest of the book is about their travels (they're trying to get to St. Louis where Odie and Albert have an aunt). I have to admit there were a few parts that made me roll my eyes... parts where I felt predictable, but for the most part, everything that happens to this crew while they're on the run feels authentic. I got totally sucked in to the descriptions of the landscape and the people and the struggles each of the boys and Emmy were going through. When the book ended, I was satisfied with how it did. But I also felt SO sad that it did. I didn't even realize how much Odie and the gang meant to me until they left me.
What Happens in Paradise by Elin Hilderbrand: You probably already know that I'm obsessed with Elin Hilderbrand and will read absolutely everything she comes out with. That doesn't mean all of her books blow me away... But they do bring me a certain level of happiness and comfort and I eagerly anticipate them (she generally comes out with one summer book and one winter book). What Happens in Paradise is the second book in Hilderbrand's winter series. I enjoyed Winter in Paradise was excited for this new book. It definitely wasn't my favorite Hilderbrand book and I can't rave about it, but I do think it's a nice continuation of the series. For me, these books seem to be most about characterization. I like that I got to know some of the characters so much better, including a relationship that brought a lot of questions with it in the first book (though I always roll my eyes a bit when all relationship details are conveniently written down in a journal for us to read). While I'll definitely read the third book in the series (and happily, too!), I'm pretty sure I can guess at how almost everything will happen. If you want to jump into this series, I highly recommend you read Winter in Paradise before picking this one up. It could potentially stand on its own, but I think you might be a bit confused by the characters and will have missed out on a lot of backstory that will help you enjoy the story more. (thanks to the publisher and NetGalley for my copy of this book!)
The Arrangement by Sarah Dunn: The Arrangement is a cute book that takes a semi-ridiculous concept and turns it into a pretty realistic story. And I guess I shouldn't even call it "ridiculous" because in this day and age, so many different things work for different people when it comes to marriage and I certainly shouldn't judge! Lucy and Owen have been married for 9 years and while they're not necessarily unhappy in their marriage, they're overly stressed (living in New York, trying to keep up with the Joneses, and raising a son who has autism) and haven't really been connecting lately. So, when they hear about another couple with an "arrangement," they figured why not. They set a few ground rules and give themselves 6 months to see what happens. So, what is the "arrangement"? It basically gives Lucy and Owen permission to sleep with other people. Some of the rules include no falling in love and no discussing what they're doing with each other. Owen jumps right in and meets a woman while Lucy takes a little bit more time. But when she does meet someone, she starts really falling. You knew it couldn't be easy, right?? This is basically like a little social experiment that gives us a little look at why this could be a great idea for a marriage and why this could be the worst idea ever for a marriage. This is a fun and entertaining book that will also make you think.
The Poison Garden by A.J. Banner: I've been having trouble finding thrillers that I really enjoy lately, so was happy to get sucked into The Poison Garden. Elise is a wealthy young woman, especially since the death of her mother who owned an herbal boutique and taught her all about plants, including an herb that can silently kill its victims. Though devastated by the loss of her mother, she takes over the business and is enjoying life as a newlywed after an earlier failed marriage. But on their first wedding anniversary, Elise discovers her husband is cheating on her. Not only that, but it looks like he may be trying to kill her. But maybe she's just paranoid? This book was a super quick read for me as it's relatively short and a definite page turner. There are a lot of twists and turns and I can definitely say it went in directions I wasn't expecting. Which is exactly what I like in a thriller. There are a few things I didn't love (the protagonist's sleep issues and some things about her that didn't feel super believable), but overall, I recommend The Poison Garden if you're looking for a quick read that will take you on a wild ride! (thanks to the publisher for my copy of this book!)
The Secret Wife of Aaron Burr by Susan Holloway Scott: This is such a powerful book. As someone who is obsessed with the Hamilton musical, but can't yet commit to reading Ron Chernow's full book (SO LONG), I've been building my library of historical fiction about the family and times. So, when I was offered a copy of The Secret Wife of Aaron Burr, I figured it would fit in perfectly. And yes, it gave me a great peek of the Revolutionary War and aftermath and the main actors involved, but it's also about SO much more. The book follows the life of Mary Eammons, beginning from her childhood when she's sold into the slave industry. It's difficult to read everything that she had to go through as a girl, but also so necessary to open our eyes to the realities of what happened during that times. When she's sold to the wife of a revolutionary soldier, Theodosia Prevost, she eventually meets Revolutionary War hero Aaron Burr. Aaron is taken by Mary from the start, but do not be fooled into thinking this book is a romance. Throughout everything, Mary is a slave and Aaron is in full control. It's a painful book, but one that will suck you right in and make you want to keep reading to see what happens to Mary. (thanks to the publisher for my copy of this book!)
Talking to Strangers by Malcolm Gladwell: OK, I'm sure many of you have read Malcolm Gladwell before. I've read a couple of his older books and always find them super engaging and informative. There were parts of Talking to Strangers that I found to be quite eye-opening, but I also think there were a few highly problematic issues (in my opinion). Overall, I definitely didn't enjoy this book in the same way I enjoyed Gladwell's other books, though I can see why it was an important one for him to write. Interacting with strangers is probably one of the toughest things we have to do in society today and there are obviously a lot of things that can go wrong. I love that Gladwell chose to examine this and how we can talk to people in a better, more effective way. I understand why he dove into issues in this way, but much of what he said was just cringe-y to me. I especially had issues with his chapters on Sandra Bland and Chanel Miller and Brock Turner. That's not to say I'm sorry I read this book because I do think these are important conversations to have. And there were some sections I found genuinely interesting, like the chapter about Amanda Knox and the transparency of the feelings of the characters on Friends due to their facial expressions. Overall, it's likely you'll learn a thing or two from this book and it will help you look at the world in a different way... But there's also the strong chance parts of it will rub you the wrong way and leave you questioning Gladwell's overall judgement. (thanks to the publisher and NetGalley for my copy of this book!)
The reading year is almost over (I can't even believe it!), but I feel so lucky to have read so many good books already this year and am hoping for a few more gems in the final months of 2019!
What book would you most like to see adapted for film or television?
To see my other reviews so far in 2019, check out my other posts:
What I Read in January 2019
What I Read in February
What I Read in March
What I Read in April
What I Read in May
What I Read in June
What I Read in July
What I Read in August