A bunch of the girls and I were planning a night on the town this past weekend and we decided to all meet at Erin's to sip some wine beforehand. I figured, what's a gathering without something to snack on? so I whipped up a little dip to have with the wine.

I'm a huge fan of avocados (as is Chels), so when I saw a recipe for Chunky White Bean-Avocado Dip, I knew it's what I wanted to make. Fast and easy; I just crossed my fingers that Trader Joe's would have avocados that would be ripe enough, but not too ripe. This was a risk (walking the extra 5 minutes to Stop and Shop after the gym was just not an option). And yay! TJ's had a bag of 4 avocados that were perfectly ready to be made into dip.

I think avocados are one of the prettiest fruits (yes, they're fruits!):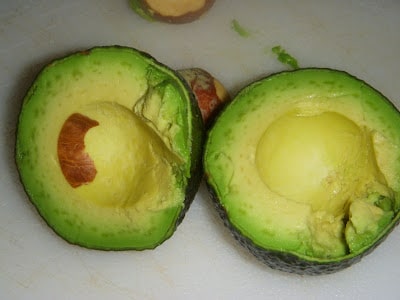 Because the recipe said it served 4 and I knew there would be at least 9 of us snacking on it, I decided to use all 4 avocados instead of just 2. I halved, pitted, and peeled the avocados (if you are not sure how to do this, watch this quick and extremely informative video) and threw them all in a bowl.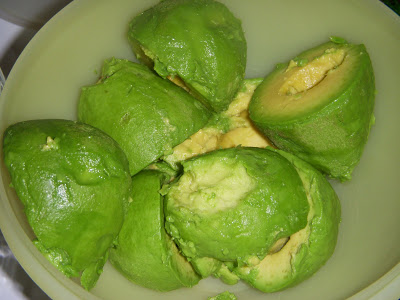 Then I tossed in a cup of white pinto beans.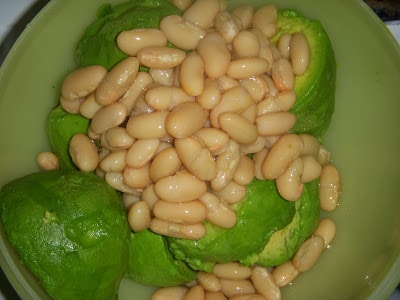 I added about 4 cloves of minced garlic and some salt and pepper and mashed it all up with a fork.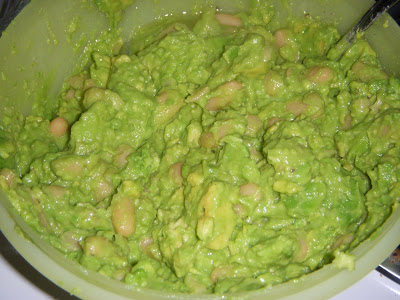 Then I tossed in a bunch of cilantro and lime juice, trying to go easy on the cilantro as I know some people (my roommate!) don't like it. I used to find cilantro pretty off-putting, but the more I eat it, the more I enjoy it. ESPECIALLY when it is combined with lime juice. Makes me feel like I'm in Mexico (just add tequila!).

Of course, I threw some cilantro on top for garnish as well. I put the dip in an easy-to-travel-with bowl and brought it over to Erin's with some tortilla chips. I loved it because it was deliciously creamy with just the perfect touch of garlic (though we all needed some gum before going out). And I'm pretty sure everyone else loved it too because the bowl was empty by the time we left to go to Clery's. This is probably one of the quickest things you can make before a party; it will only take you about 10 minutes!