It's been a few weeks since I posted a dessert made with some sort of alcohol 🙂 I know, who am I?? But don't fear because I have another one all ready to go. And this is a good one. I actually made these white beer cookies to go along with my chocolate stout ice cream, but quickly realized that was a) weird and b) overkill. I'm not quite sure what was going on in my head when I thought "let's have double alcohol dessert night!" but these cookies were a lot milder on the beer taste than the ice cream was. And honestly, I would make these over and over again, simply as a fun summery cookie.
Just sans the chocolate stout ice cream. But maybe with Limoncello cookies? Hmmm. I hope you don't all think I have a problem here 🙂 Please just remember alcohol compliments sweets really, really well. And in all seriousness (and sadness) all of the alcohol is completely burned off by the time it makes it into these cookies. So, you may as well poor yourself a glass of beer to enjoy with these cookies. Kidding. Kind of.
White Beer Cookies (makes about 24 cookies):
Adapted from Food Network
• 2 bottles (12 oz. each) Belgian-style white beer (I used White Rascal)
• 5 T honey
• 1 ½ sticks unsalted butter, room temperature
• 1 ¼ C powdered sugar
• 1 large egg
• ½ t vanilla
• 1 medium orange, zested
• 2 t ground coriander
• 2 C all-purpose flour
• ½ t baking soda

(Pre-heat oven to 350 degrees)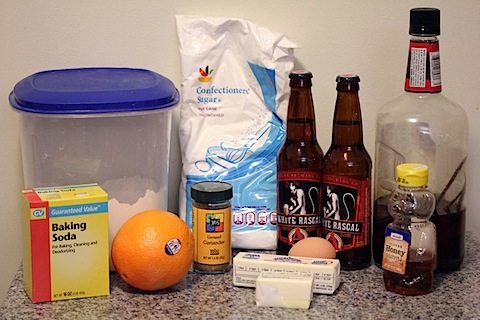 If you live in the Boston-area, have you been to the Craft Beer Cellar yet? It's an absolutely amazing little shop in Belmont that is filled with the best of the best in craft beer. I've always enjoyed beer, but it wasn't until I started dating Chris that I really got into it. He has a beer blog and is always trying new, interesting beers. So, we practically ran to Craft Beer Cellar when it first opened. And have made trips back since. The last time I was there, I ran into Beth who actually recognized me from WANM! She works at the Craft Beer Cellar and has a blog with her husband called Ben, Beth, and Beer. And she helped me out when I told her I was looking for an inexpensive white belgium to make cookies with. Thanks, Beth! Also, Belmont is a super cute town... I love it there!
Beth recommended Avery Brewing Company's White Rascal. I've heard of Avery Brewing, but have never tried White Rascal. Cool (kind of creepy) bottle? I'm down!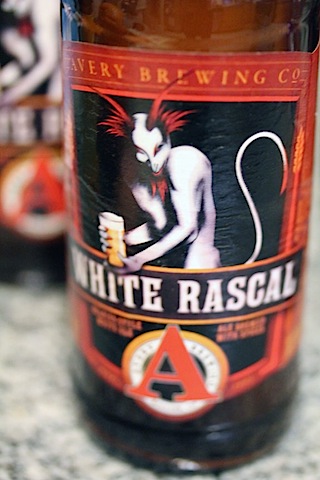 The sad thing about this recipe? You take 2 bottles of beer and reduce them down to practically nothing. I had tears in my eyes as I stood over the stove watching the beer disappear (not really, but still). Just trust me, it's worth it.
To start, put all the beer and the honey in a medium saucepan over medium heat and reduce until you have ⅓ C of liquid. I know. You're starting with 24 oz. of beer and reducing it to ⅓ cup. That's crazy. But worth it because you want all that yummy beer flavor to be concentrated, which is what happens when you reduce. But still, this is why I don't recommend using expensive beer.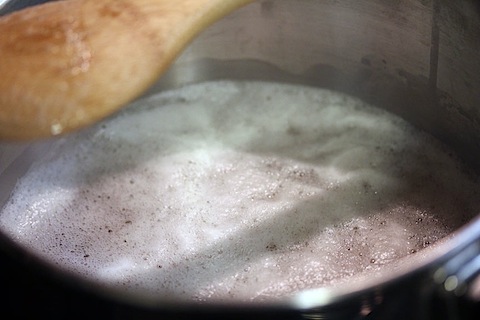 It seemed to take my beer forever to reduce... about 40 minutes or so. You'll want to keep skimming that foam off the top of the liquid and discarding it, too.
The recipe told me I'd know there was ⅓ C liquid when the liquid suddenly begins to aggressively foam because of the high sugar concentration. I didn't believe it.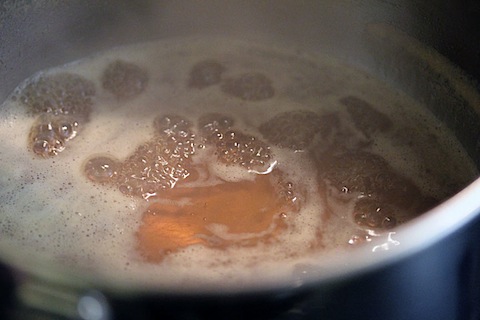 But I took my pot off the heat when it started "aggressively foaming" and let it cool for a bit. When I measured it, there was ⅓ of a cup!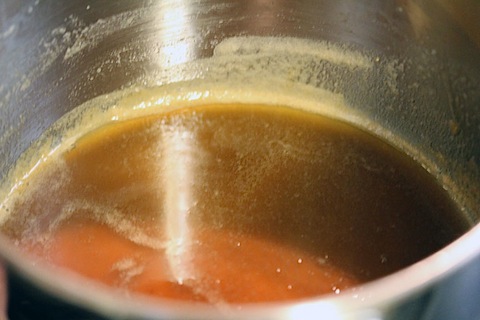 While your reduction is cooling, cream the butter and sugar together.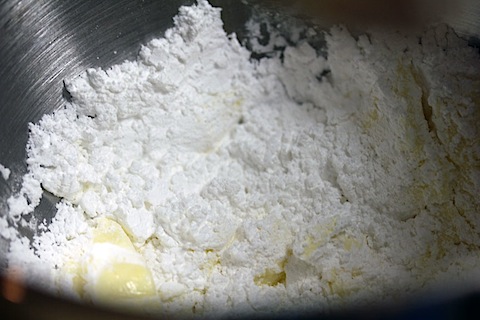 Add the egg and blend the mixture together. Then add vanilla, orange zest, coriander, and the beer reduction. Blend together.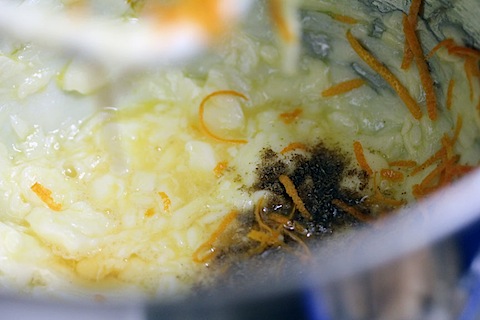 Whisk the flour and baking soda together in a separate bowl and slowly add it to the batter. Mix until just blended.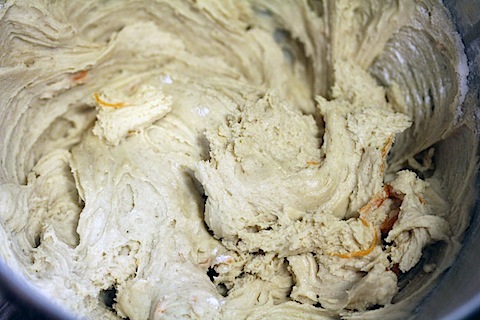 Scoop mounds of cookie dough onto an aluminum cookie sheet lined with parchment paper, fitting about 12 cookies on a pan. Bake at 350 degrees for about 16-20 minutes.
Let the cookies cool for about 10 minutes.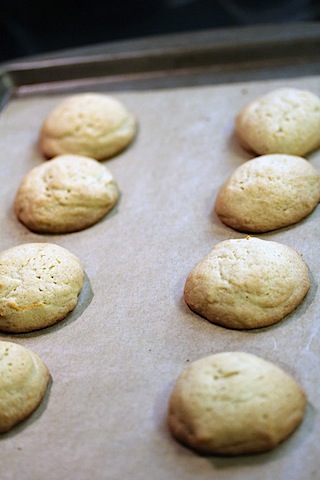 Then move them to wire racks to finish cooling. Aren't they pretty cookies? I generally consider myself a horrible cookie baker, so I was at least happy with how these looked!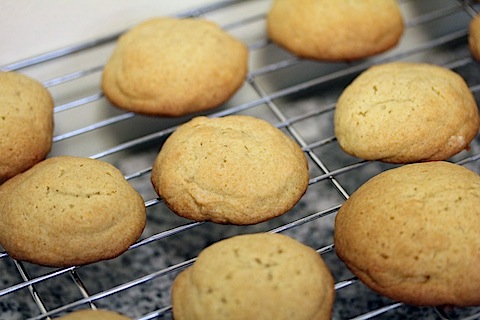 On to the icing! They say this icing is optional, but it's not really. Because, while these cookies are delicious, the icing makes them so much more! So just suck it up and make the icing. It's really not hard. In fact, I'll show you 🙂
Icing (optional, but not really):
• ½ t vanilla
• 1 C powdered sugar
• 1 T orange juice
• 1 T whole milk
• 1 orange, zested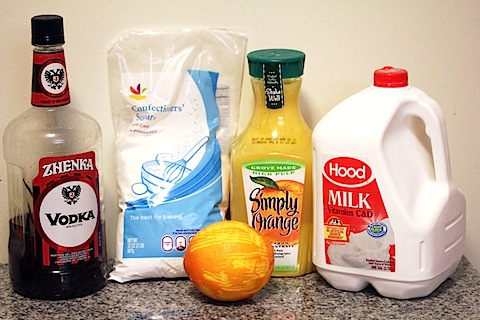 By the way, I've mentioned this before, but people always ask... I'm not really baking with vodka (though beer and vodka cookies?? hmmm) all the time. My mom makes her own vanilla in vodka bottles 🙂 I don't even think twice about it but I always confuse people with my photos, so I try to turn the bottle around for photos. But sometimes I forget. And this looks like I'm making some kind of creamy screwdriver or something, right?
Anyway, start by whisking the vanilla into the powdered sugar.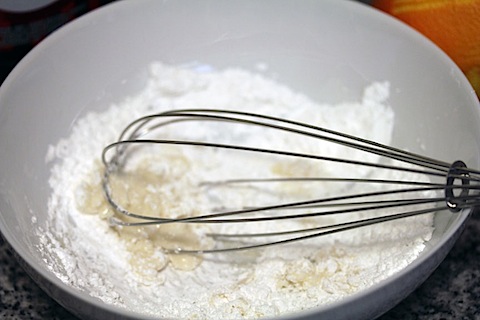 In a separate bowl, mix the orange juice and milk together.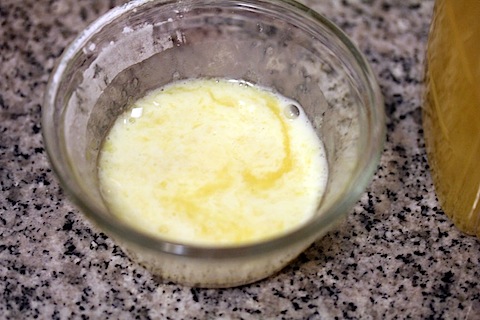 Then add pour the OJ/milk mixture into the sugar, until you reach your desired consistency of a thick paste (probably only 1 T of the OJ/milk).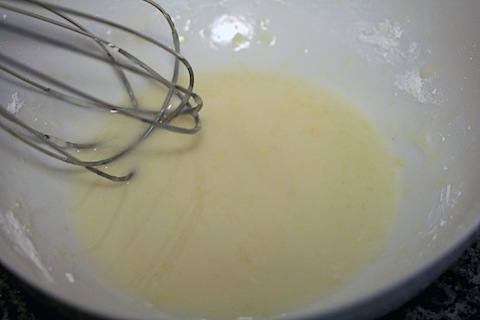 Make sure your cookies are completely cooled! Now, using a butter knife, put a dollop of icing on each cookie and spread it a bit over the top. Then put a small piece of orange zest on top of the cookie as garnish. Let the icing harden a bit.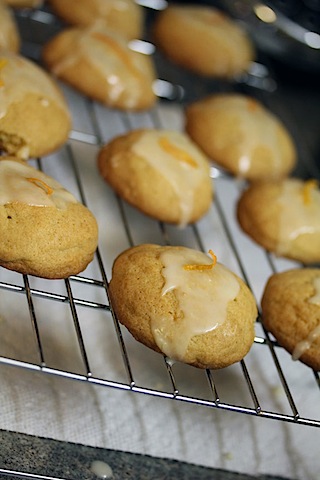 And then eat!!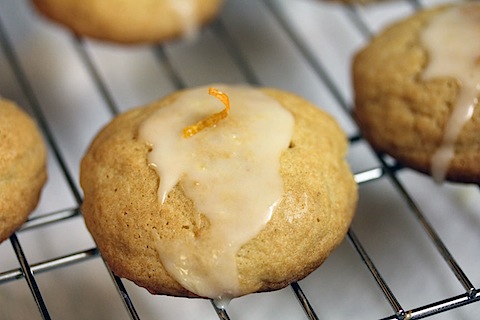 Like I said, I LOVED these cookies! They're light and moist and citrusy. If you didn't know there was beer in them, you might not guess, but once you find out, you'll say, "ahh, yes."
While these cookies would be amazing with a nice cold mug of beer (sitting on a patio, perhaps?), I also kind of like them with a nice hot cup of tea. Imagine that- tea cookies with beer in them 🙂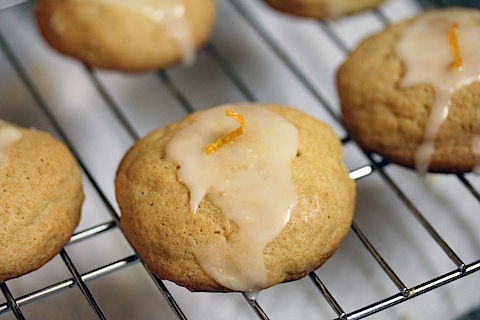 Surprisingly, I don't have any more alcohol desserts up my sleeve for the time being, but give me a few weeks and I'm sure that will change. Oh wait, I'm making chocolate stout cupcakes with Irish whiskey buttercream for my family's belated St. Patrick's Day this weekend. I'm thinking it's high time I purchased a copy of The Boozy Baker.
Other Boozy Desserts I've Made:
-Young's Double Chocolate Stout Brownie
-Mint Chocolate Chip Cupcakes with Bailey's Frosting
Tomorrow I'm cooking up an Indian feast for Chris, my sister, and Adam. We've been trying to plan a lamb vindaloo night forever and it's finally happening! And then Saturday is corned beef and cabbage at my parents' house (a little late, but just fine by me). So, lucky for me, I have lots of good food in my future 🙂
Is there any food you're looking forward to this week/weekend?
[Sues]