This post is sponsored by Whole Foods, but as always, all opinions are 100% my own.
One of my favorite things in the world is when I spot a recipe I need to make ASAP and realize I have all the ingredients in my pantry and fridge. Or when I don't have time to make dinner and am able to whip up something delicious and healthy with whatever is in my pantry or fridge. I can't even tell you how much I value keeping a well-stocked fridge and pantry.
We often get questions about what we always keep stocked in our pantries and fridges. So, when Heather from Whole Foods asked if we wanted to do a giveaway for their Healthy Starts Here program, I jumped at the chance. After all, I think one of the toughest things about keeping your pantry stocked with healthy whole foods is getting started. If you're living from grocery store trip to grocery store trip, stocking it up can cost a little bit of money. That's why Whole Foods is stocking one of our readers' pantries with $140 worth of goodies! Check it out: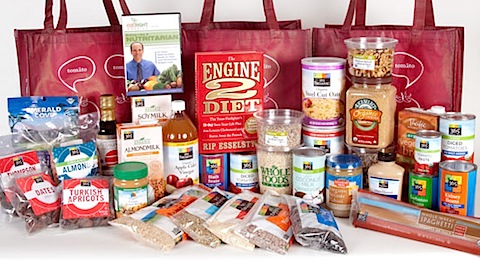 I was also excited to hear that judging by what Whole Foods says, I already follow many of their Healthy Pantry guidelines. Go me!
Here are their 4 steps to a healthier pantry:
Step 1: Focus on whole food
Keep the pantry and fridge stocked with whole, fresh foods and avoid refined, highly processed foods with artificial ingredients and hydrogenated fats. Stock it with cans of diced tomatoes and frozen veggies. Unsweetened, 100 percent fruit juices and apple sauce are kid favorites. Instead of white rice, go with brown rice. Keep whole wheat and brown rice pasta in the pantry for a quick pasta dish.
Step 2: Stock more plant-based foods

Your fridge should be full of fresh and frozen fruits and veggies. Keep the pantry stocked with beans (canned or dried) and whole grains like quinoa and barley. Whole grain flatbreads, rice crackers and tortillas are perfect for snacks and wraps. Keep raw almonds, walnuts and sunflower seeds on hand to make salad dressings and to add a nutritious crunch to all kinds of dishes. Choose apricots, dates and raisins as natural sweeteners.
Step 3: Consider nutrient-dense foods

Make sure to keep the pantry full of foods rich in vitamins, minerals, phytonutrients and antioxidants.
This includes easy-to-prepare lentils, kidney beans, and oatmeal as well as quick snacks like nuts and seeds, 100 percent fruit juices and nut butter. Fresh nutrient-dense foods should pack the fridge, including greens, carrots, strawberries, blueberries and oranges.
Step 4: Switch to healthy fats

Keep the pantry stocked with nuts, avocados, seeds and unsweetened, no-salt peanut and almond butters for healthy fats.
Do you already follow the steps to a healthy pantry? If you win this giveaway, you'll get all those awesomely healthy shelf-stable goodies from Whole Foods!
I'm totally proud to stay I have most of the suggestions in my pantry! And now I'm going to tell you what else I have… all the non-shelf stable stuff 🙂 Admittedly, I have a lot of stuff. My pantry can actually get kind of scary at times. But don't worry, it's an organized mess! I swear.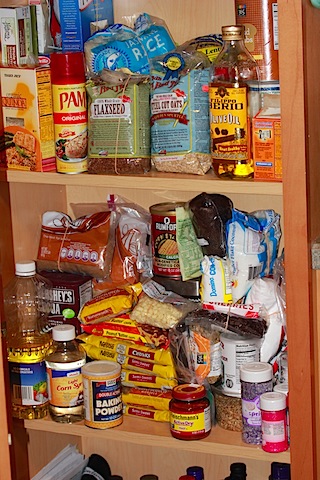 In the Fridge:
-Eggs
-Soy milk ( I like Silk Light Vanilla)
-Butter, unsalted (always at least 8 sticks)
-Whole milk (usually a little container for baking)
-Heavy cream
-Yogurt (most always Chobani)
-Big container of light vanilla or plain yogurt
-V-8 (I don't drink a lot of juice, so if it's not water, coffee, or tea [or wine], it's usually low-sodium tomato juice)
-Apples (I almost always have a bag of granny smith and a bag of macs in the fridge)
-Pears (for chopping up and putting in yogurt)
-Lemons and limes
-Baby carrots, cucumbers, baby spinach (good for snacking or quick salad)
-Other fruits and vegetables (whatever looks good, is on sale, or is involved in the week's recipes)
-Parmesan cheese
-Shredded cheese
-Maple syrup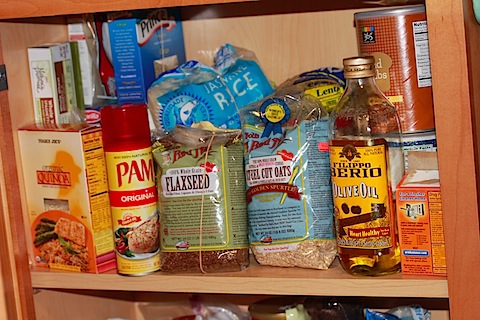 In the Pantry:
-Whole wheat pasta (my go-to for quick dinners)
-Whole wheat bread
-Olive Oil (regular and extra virgin)
-Quinoa
-Oatmeal
-Beans (black, kidney, etc)
-Rice (brown and jasmine)
-Peanut butter
-Granola for topping yogurt
-Honey
-Chicken broth
-Vegetable broth
-Low-sodium soups
-Bread crumbs (regular and whole wheat)
-Lentils
-Orzo
-Vegetable oil
-Vinegar (white and red wine)
-Dijon mustard
-Frank's Red Hot
-Light mayonnaise
-Jam or preserves
-Soy sauce
-Garlic
-Yellow onion
-Sweet potatoes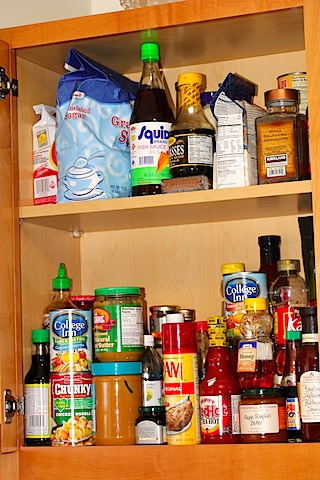 In the Freezer:
-Meat (I always have at least some chicken and ground turkey frozen)
-Frozen peas (to put in whole wheat pasta)
-Ice cream (just in case)
-Frozen blueberries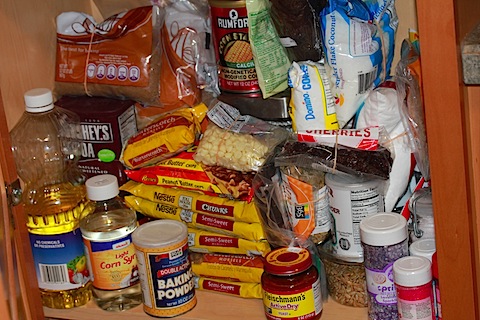 Baking:
-Flour (I always keep all-purpose unbleached white and whole wheat)
-Sugar
-Brown sugar (both light and dark)
-Confectioner sugar
-Baking soda
-Baking powder
-Vanilla (made from scratch by mom)
-Cocoa powder
-Chocolate chips (and white chocolate chips and butterscotch chips)
-Bars of good quality chocolate
-Coconut flakes
-Dried cranberries
-Yeast
-Corn starch
-Molasses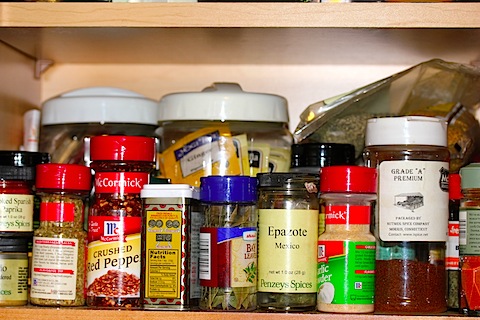 I own just about every spice in the book, too 🙂 Your spice cabinet is definitely something you can build up as you continue cooking- no need to go out and buy everything at once!
Oh wait, I guess this is an important pantry shelf to have, too 🙂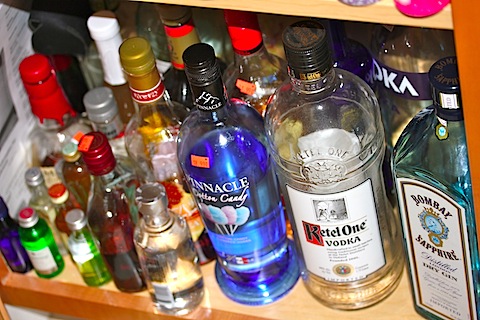 Anyway, those are the essentials I keep in my kitchen. Yes, it's a lot, but when you're cooking and baking all the time, you want to be ready!
How to enter to win the Whole Foods Healthy Pantry Makeover:
Want Whole Foods to give you the ultimate healthy pantry makeover? All you have to do is comment on this post and tell me why you need your pantry to be stocked with these healthy goodies from Whole Foods (everything from the first photo at the top of the post; listed here).
Anyone in the U.S. can enter, as long is your entry is in by Monday, February 14 at 11:59 p.m. (Valentine's Day!!). And, of course, you can get an extra entry by tweeting about this giveaway and commenting again to let us know!
Good luck! You pantry could soon be super stocked!
[Sues]