When I was a kid, my mom told me that parsley was packed with antioxidants. I didn't know what that meant. So, she put it in kids terms and told me that eating parsley would help prevent me from getting a cold. From that moment on, I became a parsley fanatic. Every time a meal was served with parsley garnish, I devoured it. And I felt SO healthy doing so. Like I was warding off all evil ailments by eating my leafy green garnish. I prided myself on finishing all the parsley on my plate. And you know, I rarely got colds and never had the flu or strep throat.
My mom's words have stuck with me and to this day, I'm a huge parsley fan and hate that many people think of it as a simple garnish and push it aside when it comes atop their meal. I sometimes eat it for a snack. Or at least throw it in my salads. I've got a killer parsley soup recipe I've been dying to try... that will likely convince all you parsley haters or ambivalents of the magic of parsley. I'm convinced parsley has saved me from many ailments.
I don't really have to tell you how I feel about garlic... You can probably smell it on me as we speak. But anyway, parsley and garlic knots have been on my list of must-make breads for a while now and my old trusty Healthy Bread in Five Minutes a Day provided me the perfect recipe.
Whole Grain Garlic Knots with Parsley (makes 5 knots):
• 1 lb. (grapefruit size portion) master dough recipe (see below)
• 1.4 C extra virgin olive oil
• ½ C fresh parsley, finely minced
• 4 cloves garlic, finely minced
• 2 T parmesan cheese, grated
A lot of the recipes in Healthy Bread in Five Minutes a Day tell you to start off by making one of their basic dough recipes.... These garlic knots had me making their big master dough recipe. I cut the recipe in half since it was set to give me 4 lbs. of dough. The recipe you see below will give you 2 lbs.
Master Dough Recipe (makes 2 lbs of dough):
• 2 ¾ C whole wheat flour
• 1 C all-purpose flour, unbleached
• 2.5 t granulated yeast (1 packet)
• ½ t kosher salt
• ⅛ C vital wheat gluten
• 2 C lukewarm water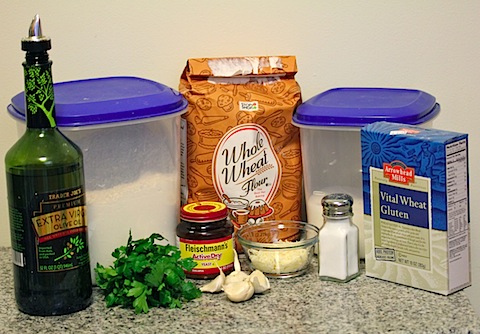 Whisk together the flours, yeast, salt, and vital wheat gluten in a large bowl.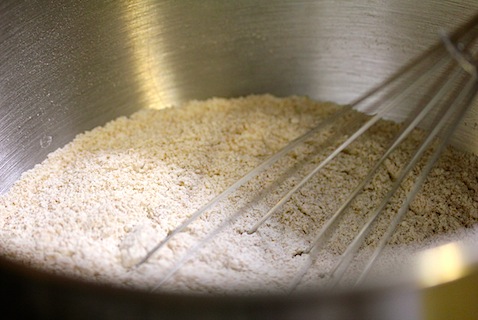 Warm the water until it's "lukewarm," which is about 100 degrees F. Add it all to the fry ingredients and mix without kneading, using a spoon, food processor, or paddle attachment on the KitchenAid. I used my KitchenAid, of course!
Just mix until everything is uniformly moist... Don't knead!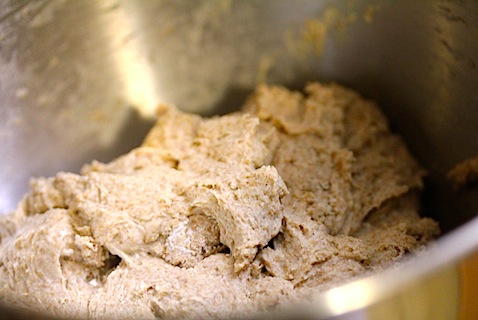 Cover the bowl with a non-airtight lid or loose plastic wrap and let rest at room temperature for approximately 2 hours. I like to take photos of what my dough looks like before it starts rising: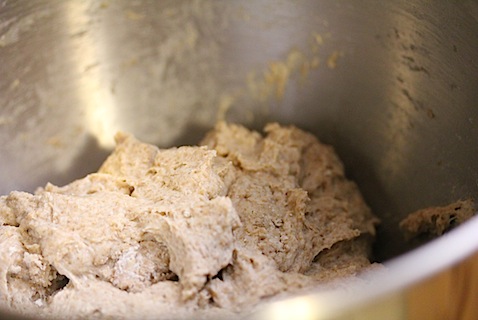 And two hours later, when it's done rising: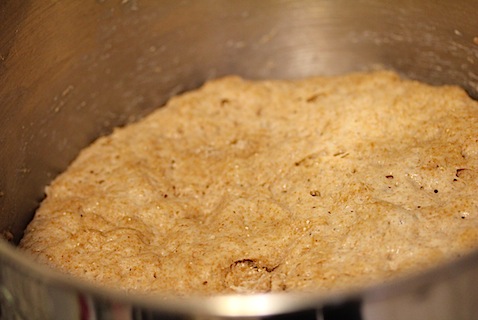 After the rising is complete, you should let the dough rest in the refrigerator for at least 3 hours. You can keep it in the fridge for up to 14 days.... or use it after it's cooled.
When you're ready to start your knots, take half the dough out of the fridge (or the whole thing if you want to double the recipe and make about 10 knots).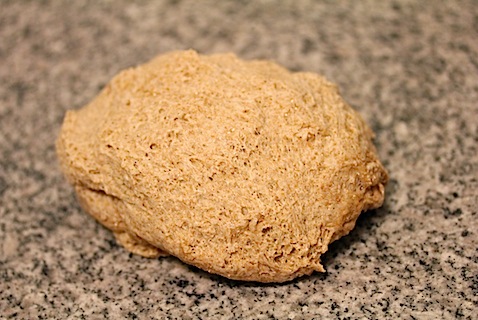 Dust the surface of the dough with flour and separate into about 5 3-oz. pieces (the size of small peaches). Dust each of these pieces with some more flour.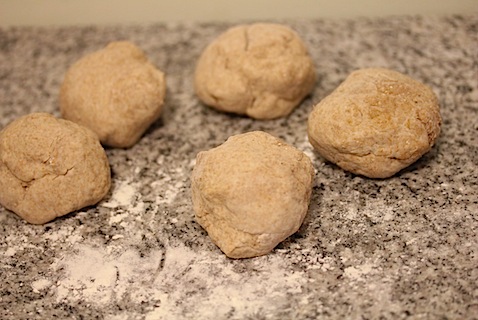 Elongate each ball into a rope a little less than ½ inch in diameter and tie it into a knot. This was a little tough to do because the vital wheat gluten had my dough wanting to go back to it's original position. No bit deal... My knots aren't the prettiest in the world 🙂
Place on an olive-oil greased cookie sheet and let them rest, loosely covered with plastic wrap, for about 30 minutes.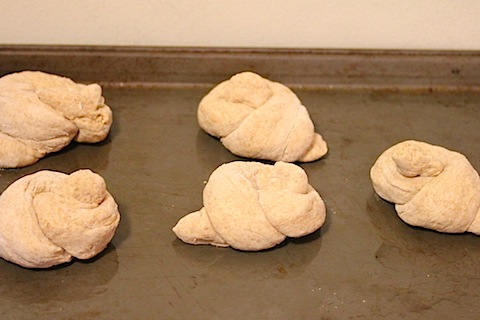 At this point, you should preheat your oven to 450 degrees.
And saute your parsley and garlic in a skillet with olive oil. Stir for about 4 minutes, until garlic is soft and mixture is aromatic. Mmm! You can add more olive oil if it's dry looking.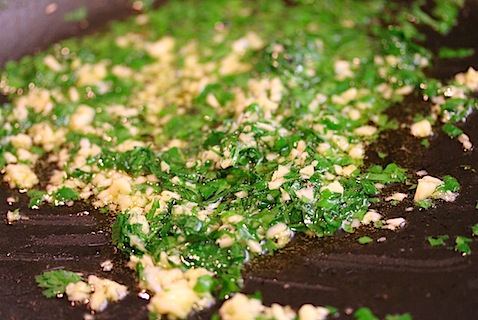 I cooked my garlic and parsley mixture a bit too long I believe. Let's just say my garlic was extra crispy and incrediblyy aromatic.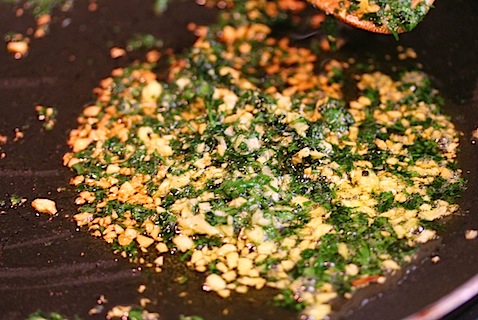 I topped the dough knots (sounds kinda like doughnuts, eh?) with the parsley/garlic/olive oil mixture.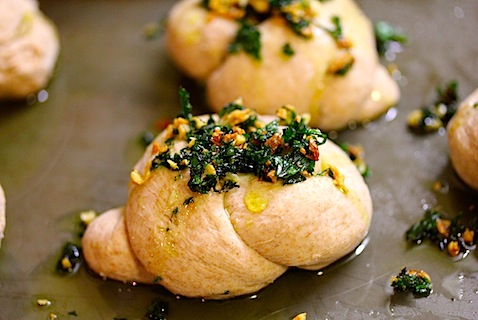 And shed a little tear at the beautiful fragrance permeating my kitchen. Which therefore means my entire apartment.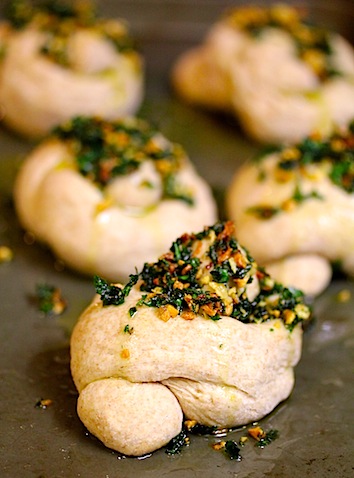 The recipe failed to mention when to sprinkle on the cheese, so I decided to play it safe and apply the cheese before and after. We don't mess around with cheese and any possible fiascos in my kitchen.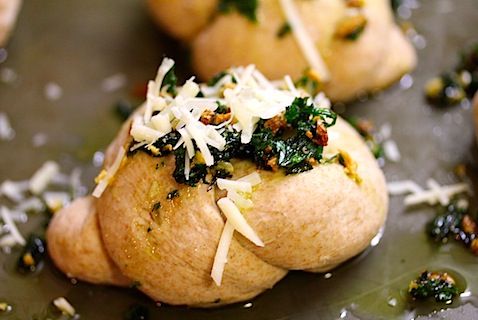 Pop the knots in the oven for about 20 minutes. Technically you're supposed to put them on a pre-heated baking stone with a broiler tray full of water underneath... but my baking stone almost started a fire in my oven and I ended up simply baking the garlic knots on the cookie sheet. And had no problems at all.
And then I obviously topped the garlic knots with more parsley. And more cheese.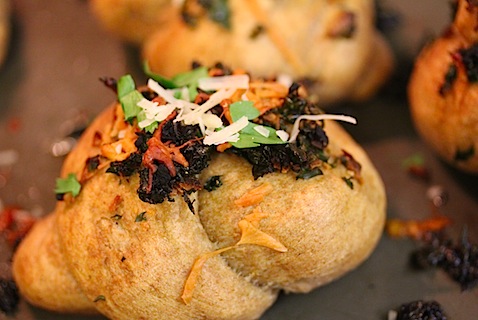 Hello, flavor! I already think whole wheat bread is a fabulous thing, but the garlic and parsley took this to a whole new level. I didn't even put any butter on these rolls because it was definitely not needed.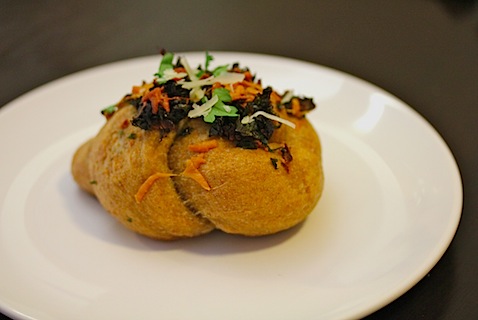 Served warm, the rolls were near perfection. I was a little worried about the vital wheat gluten because in the past, it's made my baked goods a little too "rubbery." But I think because I used so little, it was barely noticeable. The rolls pulled apart wonderfully and were anything but tough.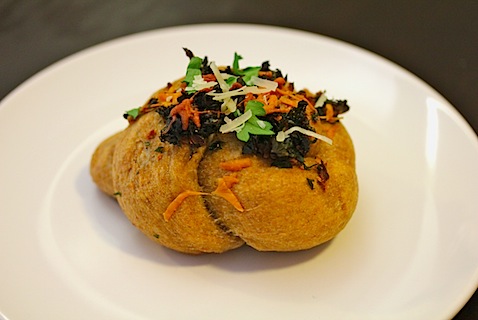 Though I loved everything about these knots; they're also the kind of rolls I would make for all occasions, with or without the topping. And think about the possibilities for toppings? Though, in my mind, nothing beats garlic and parsley!
Are you with me that parsley makes the world a better place? Or are you kind of "meh" about it?
[Sues]