I can tell, almost instantly, if I'm going to like something based on this one feeling I get. I have a difficult time describing it, but It's sort of a sense of being extremely overwhelmed to the point where I think my head is going to explode, so excited that I want to break out and dance around in little circles stomping my feet and flailing my arms above my head, and also so happy that tears fill my eyes and I want to cry. Does this make sense or do I sound like a complete and utter moron? Because it happens to me quite often, usually when I'm in a new city, at a really great restaurant, or really any time I see something that is beautifully designed whether it be a unique outfit, a wedding invitation, a storefront window, or a magazine layout. It's this feeling that makes me stop…look… and try my absolute hardest to soak it all in.
I got this feeling in Vancouver and also in Seattle. It happened in Seattle the day I was wandering around for about 5 hours one afternoon by myself. I took a cab from my hotel, which was near the Space Needle, down to Pioneer Square.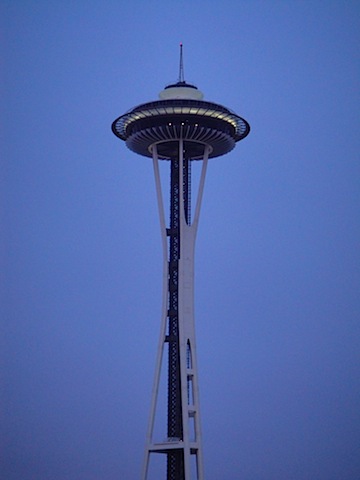 When I got out of the cab, I walked a few feet and looked down the street, then up the street, to see endless tiny shops and bookstores, boutiques, and restaurants. All with personality and quaintness and none that I'd ever heard of before. As much as a love a big-name store (ahem, Target, Crate and Barrel, and Anthropologie 4eva!) there is nothing in the world like a local or family run shop. I think it's partly knowing that no one else will have what you have, it's a sense of individuality and relief you don't get at a huge store. I stood there for a minute trying to figure out how I was going to tackle both sides of the street and if my stomach were larger, how I'd eat something at every restaurant I passed.
One of my favorite shops I stumbled upon was Watson Kennedy. Think a cross between Anthropologie, but without the clothing and only two locations in Washington state, and Etsy. When I passed the window filled with vintage luggage and signs dripping with good typography, I knew I had to go in.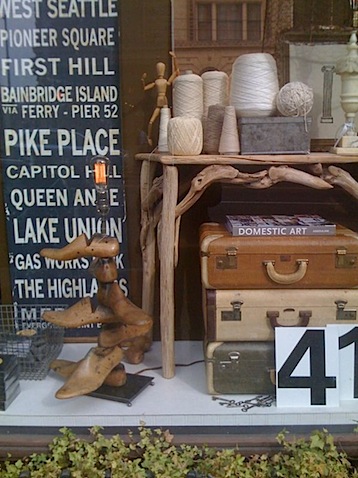 Another one of my favorite shops was the Endless Knot boutique in Belltown. Lots of unique one of a kind pieces of clothing and accessories for women at affordable prices. Plus, a very helpful and engaging store manager didn't hurt either!
Some of my other favorites from Seattle:
First Starbucks
Starbucks are literally on every corner these days, but it was so neat to see their very FIRST location! Check out the sign and old logo!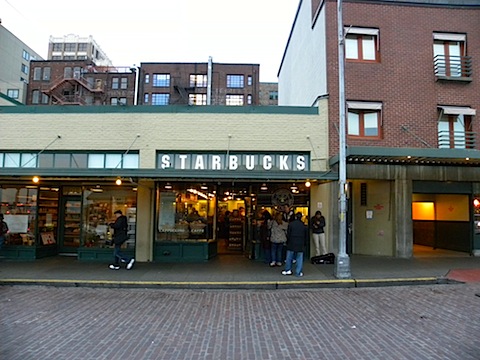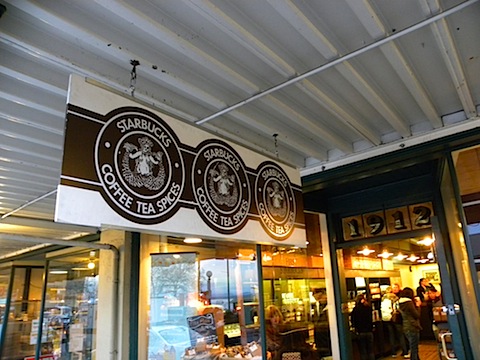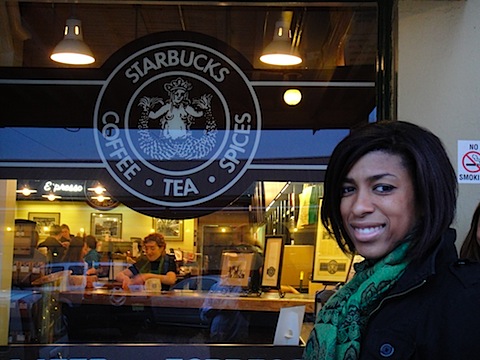 The Public Market:
As often as you see major tourist attractions on TV and in movies, nothing beats seeing the real thing in person and being able to experience it firsthand.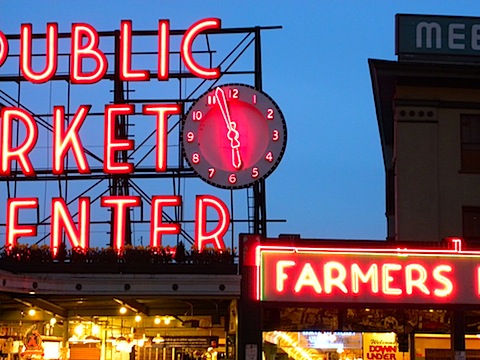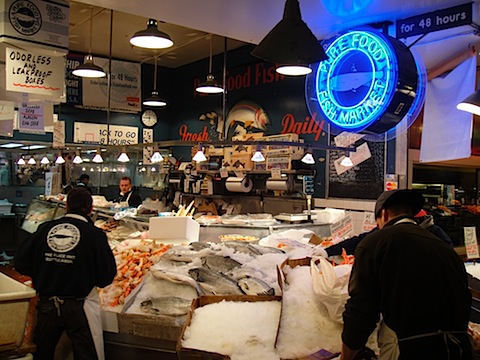 Uhhhhh. Where ever shall I begin? I'd heard about the Fremont Troll recently but never quite imagined what it would look like in person. It's a piece of public art made of stone in the form of a troll basically. Quite interesting and if you're in the Fremont neighborhood of Seattle I highly recommend you stop by… it makes for some fun pictures! The homeless often are found sleeping under the bridge as well… so be polite 🙂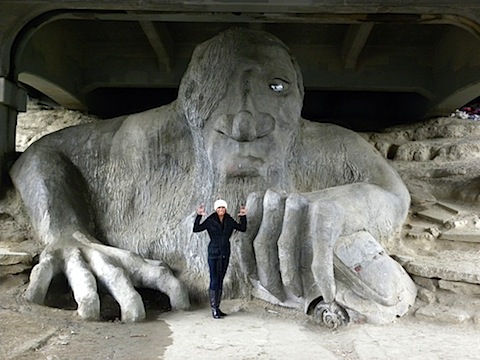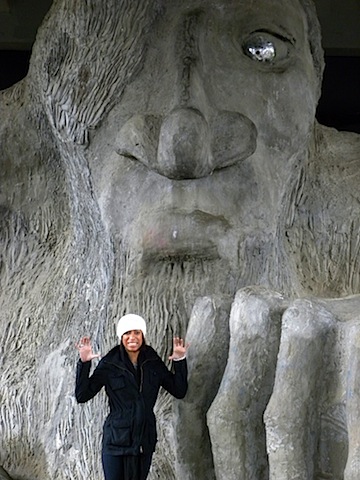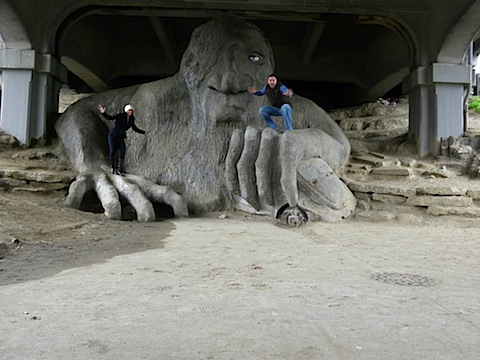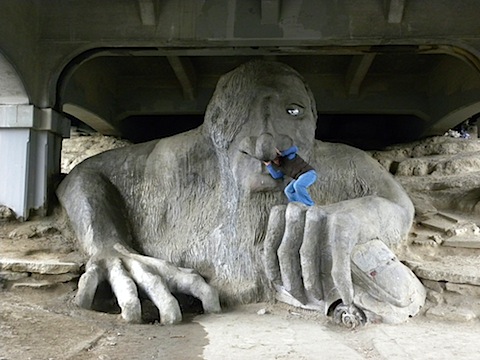 My friend Corey had seen an episode of Diners, Drive-ins and Dives on the Food Network where Bizaro Cafe was featured, so naturally we felt it was appropriate to check it out. The food and staff were both delightful and besides the quirky decor, nothing else was really that bizarre.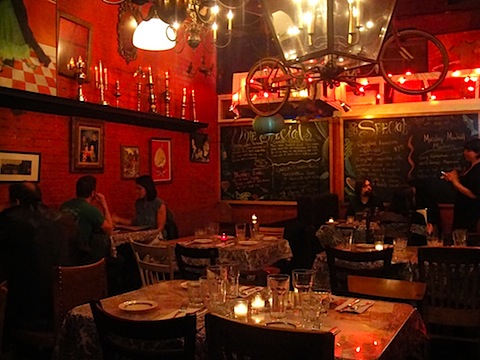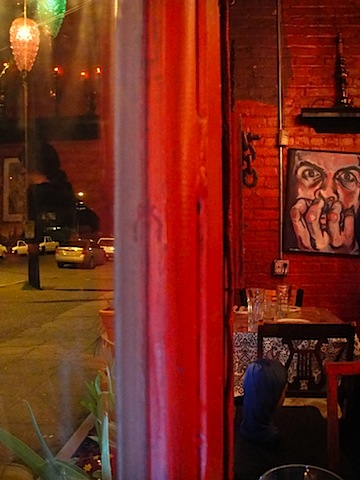 The bread and dipping oil were insane, in the best possible way. I fill up pretty fast so I usually try to skip bread for the most part, but after a piece of this I kept going back for more. We may or may not have devoured the entire loaf.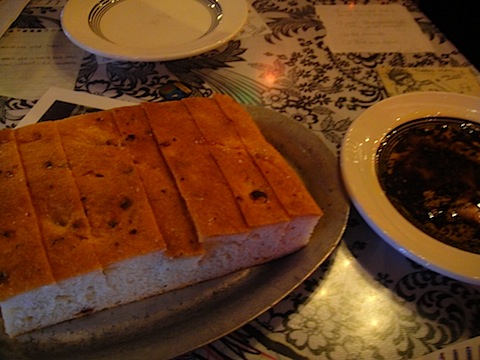 I got the starter salad which was simple and tasty. It was a mix of seasonal greens, organic carrots, dried cranberries, and balsamic vinaigrette. Cranberries in salads are a win/win!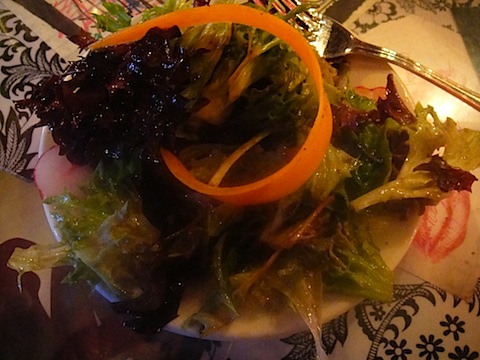 … and when I finished the salad Corey noticed my plate looked like a face. So naturally, we photograph it… like 10 year olds.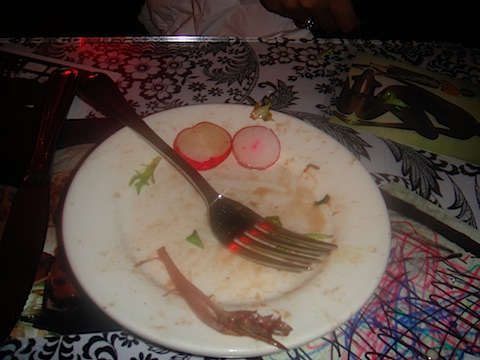 The potato, leek, and chive oil soup was out of this world. I've now been inspired to try to recreate it….stay tuned. It was so smooth, light, and comforting.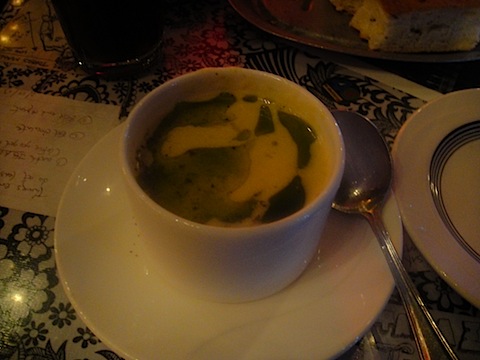 For my meal I got the house-made gnocchi with pancetta in a parmesan cream sauce. For a cream sauce, it was pleasantly light.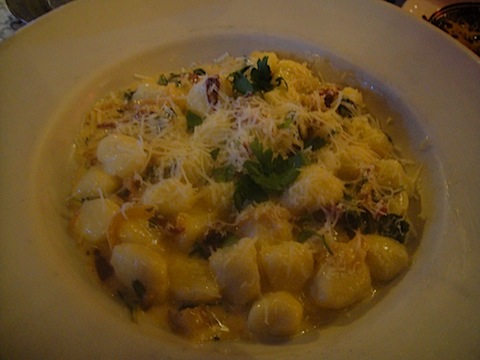 Needless to say, I'm quite glad that my roommate is from Seattle. The next time she heads home, I just might hop in her suitcase with her so I can visit again 😉
[Chels]